10 Keys to Success in NL West for the San Francisco Giants: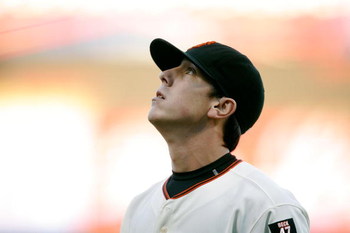 With 2008's dismal season behind them, the San Francisco Giants are looking to bounce back in 2009.
Boasting one of MLB's best starting rotations and an unproven defense, the Giants will look to make a run for the National League West title.
Manny Ramirez and Dodgers loom as the obvious choice for the division leaders.
The Padres, Diamondbacks, and Rockies all have more recent post season appearances than the Giants.
Still, if the Giants can play to their strengths and limit their weaknesses, they might have a fighting chance. The NL West has been an "anything goes" division for a long time.
I have broken down what I believe to be the "10 Keys for Success" in fighting for the division.
Key No. 1: Keeping Bengie Healthy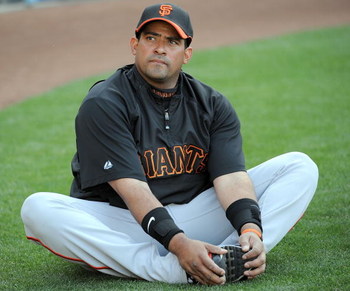 Bengie Molina might just have a big enough backside to put this organization on it, again.
In 2008, Molina was the first and last word of San Francisco's offensive production. He batted .292 and drove in a team leading 95 RBI. He also led the team in home runs, knocking out 16 dingers.
The Giants have once again put a ton of stock into Molina. They began season with backup catcher Steve Holm in Fresno. The only other catcher on the team is Pablo Sandoval, and he is the Giants' starting third baseman.
San Francisco cannot afford to lose Bengie to injury, or to burn him out. The 35-year-old catcher will need his periodic rest if they want to count so heavily on his bat in the lineup.
Key No. 2: A Repeat Perfomance from Tim Lincecum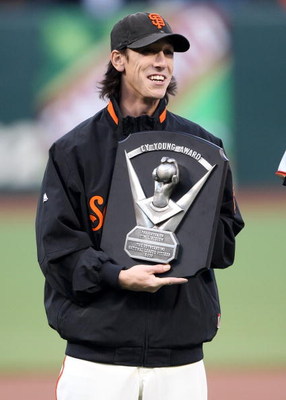 With a team built clearly around starting pitching, the Giant's will need to see another brilliant season from reigning NL Cy Young winner Tim Lincecum.
Every batter he dominated last year will be out for personal redemption every time they face the young righty.
If Lincecum can stay healthy and stay out of his head, he and the Giants should be fine whenever he takes the hill.
Key No. 3: Zito Must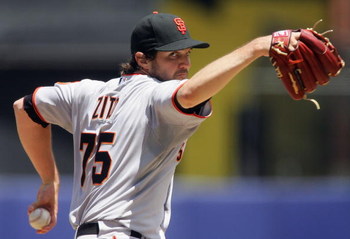 Contract Schmontract. What the Giants now need most out of Barry is a positive win-loss record.
San Francisco put up big dollars to sign Zito in 2007. They expected the world, and got Barstow.
As I mentioned, if the Giants want to compete with their starting pitching, Barry's spot in the rotation needs at least five more wins to salvage a serviceable season.
Key No. 4: Unlikely Run Production from Ishikawa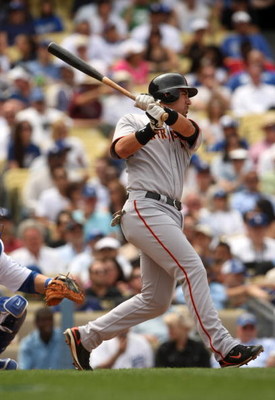 In order to win with Pitching, you absolutely must have good defense.
If the offseason, the Giants opted for defense in giving the starting job to Travis Ishikawa.
Around the clubhouse, Ishikawa is talked about as being the best defensive first baseman since J.T. Snow. While this fits with the Pitching and defense philosophy, the Giants will need every run they can get this year to prolong their bullpen.
Even though he has a sweet lefty cut, Travis Ishikawa needs to drive in runs if he wants to really help the Giants fight for the NL West.
Key No. 5: Sandoval Taming the Hot Corner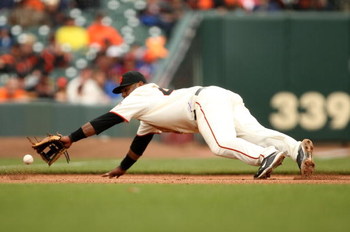 Pablo Sandoval wowed the Giants coaches and fans in his limited plate appearances in 2008. In just 41 games, Sandoval hit .345 and had an on base percentage of .847.
Sandoval's numbers were a welcome sight in an otherwise inept line up. And if the Giants could figure out a way to field two catchers at the same time they would...and did.
San Francisco didn't address the need for a bat at Third Base through free agency, they did it in-house. By converting Sandoval into a third baseman, they were able to keep his hot bat in the line up.
Can the Kung-Fu Panda (aptly nicknamed by his teammates) handle the hot and heavy action at third cleanly enough to keep his bat in the everyday line up as the Giants third baseman?
Key No. 6: Aaron Rowand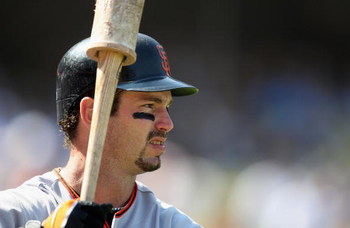 Aaron Rowand is a guy you want in your clubhouse. This guy is a gamer.
The Giants centerfielder is 100 percent hustle and has the best attitude when it comes to effort and accountability. A stand-up guy.
Now if only this stand up guy thought he was still a Phillie. Rowand's play, both on defense and at the plate has fallen off since coming over from Philadelphia.
A lot can be said for the park he plays in: AT&T has long-ranging expanses in the outfield. AT&T is tough to field and hit in.
With that being said, San Francisco will need Aaron Rowand to dispel the rumors of declining ability and hit the cover off the ball like he did in Phillie and Chicago.
Shooting a guy at home or hitting the cut off man cleanly more often than not would be a nice bonus.
Key No. 7: Randy Johnson's Influence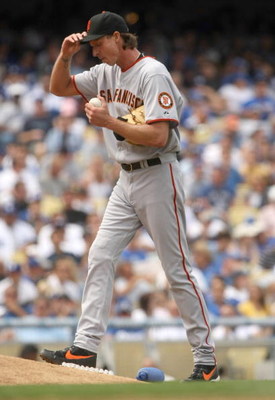 The Big Unit arrives in San Francisco. A nice move in the off season, even if the Giants seemed to be repeating a bad habit of signing veterans past their prime.
The 45 year old lefty is still one of the fiercest competitors on the mound and when right, can dominate an unprepared line up.
The Giants will not only count on him to pitch behind Lincecum in the rotation, but to rub off some of his savvy on their young pitching staff.
Johnson is gunning for his 300 wins early this season, a Giant milestone. Let's hope he can mentor some of the younger guys along the way.
Key No. 8: Getting All Fred Lewis Can Give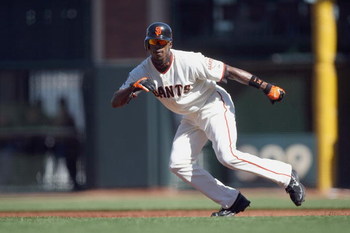 Fred Lewis hopes to be more dependable in 2009. The Giants desperately need him to be just that.
Lewis was plagued by a nagging bunion on his right foot most of last season. It clearly affected his speed and comfort at the plate.
After undergoing surgery in the off season to rectify his ailment, Lewis was designated the starting left fielder for San Francisco.
Foot problems aside, Lewis has had moments of brilliance. He hit for a cycle already in his young career. But like many other Giants in 07-08, he had more than his fair share of dull moments.
Often inconsistent and prone to strike outs are things experience in the majors can either fix or amplify.
If San Francisco wants make a run at the Dodgers and the NL West, they will need every little bit Fred Lewis can give them.
Key No. 9: Two Good Halves of Baseball from Sanchez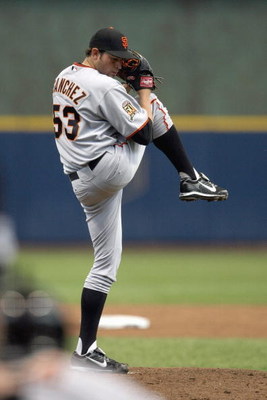 The ninth key to success is also No. 5 in the Giants high-powered rotation. Jonathan Sanchez needs to establish himself as a full time starter in 2009.
Although he started 29 games in 2008, he finished with a 9-12 record. Sanchez has the talent but does he have the moxie to be a dominant pitcher in this league?
Early in counts and even games for that matter, the young lefty is just wicked. But if the pressure begins to mount, Sanchez has been known to lose his poise.
Jonathan Sanchez won eight games before the break in 2008, but only won one game after.
If the Giants are to win with pitching and defense, Sanchez will have to be good in August and September.
And Finally Key No. 10: Keeping the Head Scratching to a Minumum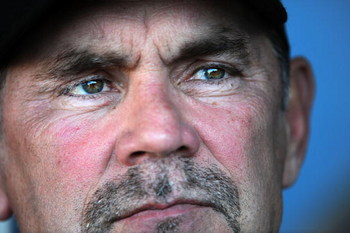 Key #10, the Skipper. The jury is still out about whether or not Giants Manager Bruce Bochy has helped the Giants rebuild in a positive light or not.
One thing is for certain, he was not given the best tools, or even the best of the mediocre tools to work with.
Some will say Bochy has done a fine job with the talent he was handed. Others will question his use of 'cold' players, or his lack of ability or desire to play effective small ball.
At least Giants fans will be not subjected to the painful use of former reliever Tyler Walker any further in 2009. Good grief Skip!
Armchair coaching is easy to do. Working with Bochy's cast of characters is a real challenge. The Giants will depend on his very best instincts and decisions this year if they hope to make a run for a pennant.
Keep Reading

San Francisco Giants: Like this team?