Picking a Chelsea Starting XI to Include Christian Benteke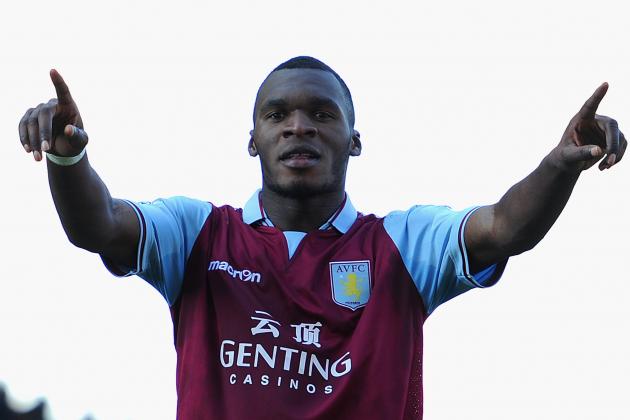 Chris Brunskill/Getty Images

Christian Benteke's scoring exploits of the 2012-13 campaign were always expected to earn the striker a raft of summer attention.
However, rumours were sent above and beyond their usual tempo after the Belgian international submitted a transfer request as he looks to cash in on his good form, per BBC Sport.
With talent very much evident all over the squad, it's in the striking ranks that Chelsea could almost certainly do with a changing of the guard, Fernando Torres and Demba Ba looking like slightly unreliable figures up front.
With both parties bringing something the other needs to the table, the following setup is one of a few possibilities should Jose Mourinho bring Benteke to Stamford Bridge, lined up in a 4-4-2 formation.
All statistics courtesy of Squawka.
Begin Slideshow

»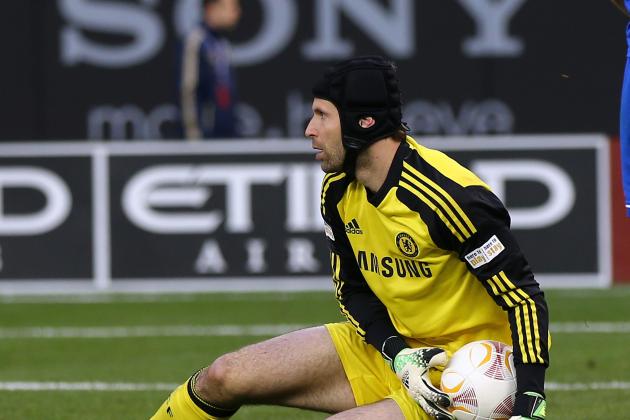 Elsa/Getty Images

The arrival of a news striker would mean little for Petr Cech, who remains one of the world's finest goalkeepers despite not having the sternest defence ahead of him.
With Thibaut Courtois heading to Atletico Madrid on loan for the third consecutive season, it's now Mark Schwarzer who will play as backup to the Czech international.
That being said, Benteke would offer Cech a stronger target up top, one who's more accustomed to turning his back to goal, taking the ball into his feet before interchanging well with his midfielders.
While Torres and Ba are no dwarves, Benteke certainly provides a stronger target to aim for in attack, winning 57% of his headers last season, compared to Torres' 41% and Ba's 44%.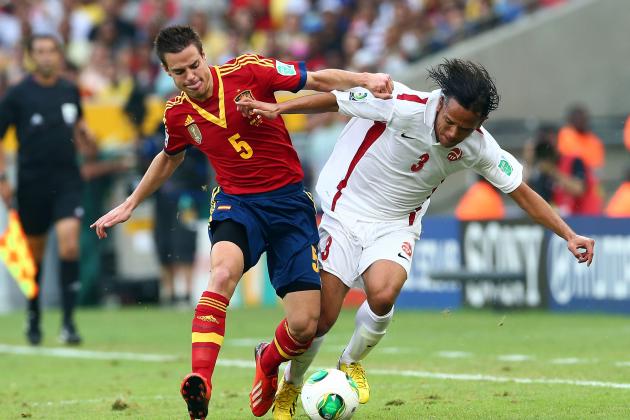 Ronald Martinez/Getty Images

A man who actually could influence Benteke's success rate exponentially if the 22-year-old were to arrive in West London, the width offered by Cesar Azpilicueta has already been a telling contribution to the Chelsea cause.
Swiftly playing his way into the Spanish national first team, the former Marseille right-back had a terrific debut season under Rafa Benitez.
That being said, Azpilicueta can now only hope to improve under Jose Mourinho and can rely on the manager's tactics to involve a unified attack starting right at the back of the squad.
In 24 Premier League starts last season, "Dave" managed to inject his influence into the side with six assists and could only hope to better that number with the frame of Christian Benteke to aim at.
Stanley Chou/Getty Images

Just as is the case for Azpilicueta at right-back, the responsibility of giving a similar supply from the opposite flank falls to Chelsea veteran Ashley Cole.
At 32 years of age, the England international isn't quite in his prime anymore, but is still a very, very strong asset for Jose Mourinho to have back under his management.
More rounded than Azpilicueta, Benteke may not find as much ammunition fired his way courtesy of Cole, but whoever does play ahead of the full-back will find their job made far easier.
That being the case, Cole's tendency to help out going forward would give Benteke that one extra outlet to look for when holding the ball up, an invaluable tool in a tight situation.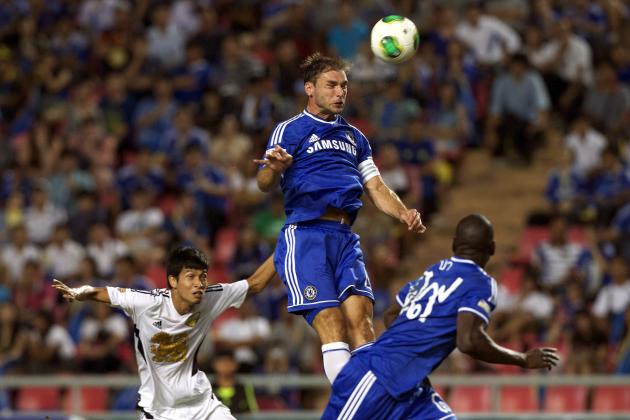 Stanley Chou/Getty Images

A ball-playing centre-back by reputation, Branislav Ivanovic's 2012-13 campaign showed off the defender's habit to bring the ball forward from the back, initiating the attack when possible.
Last season saw the Serbian stalwart feature in 59 matches for the Blues, playing an integral part in just about any success the club had in the process.
With five Premier League goals to his name for the term, Ivanovic proved himself further as not just a very real attacking threat from set-pieces, but also from open play, more specifically from long range.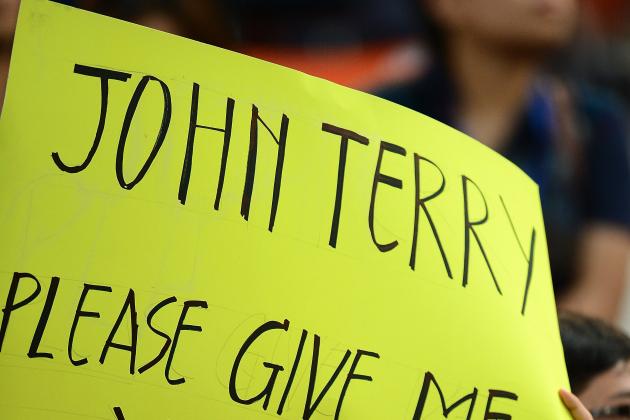 Thananuwat Srirasant/Getty Images

The man who sees David Luiz miss out on a spot in this Chelsea XI, John Terry's previous relationship with Jose Mourinho is likely something the Portuguese will look to revive in the coming season.
The pair experienced great success together in Mourinho's first stint as Chelsea manager, and it doesn't exactly help Luiz that his new boss isn't the biggest fan of his more adventurous side, per the Express.
As long as Terry can remain fit, the 32-year-old can be a key cog in the Blues' machine, evidently being strongest in his defensive game but also posing a threat in enemy airways.
While his struggles both on the field and off of it make him a contentious character, Terry remains one of the most accomplished defenders in the Premier League, using some excellent positioning and tackling skills to win possession for his side very frequently.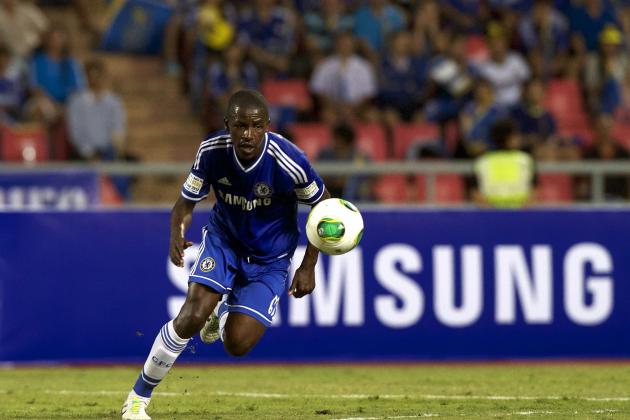 Stanley Chou/Getty Images

In the last year or so, Ramires has seen his game come on a lot in terms of versatility, with the Brazilian appearing to round off some of the weaker edges to his game.
A very capable tackler, confident passer of the ball and decent shooter of the ball with 48 percent of last season's attempts on target, there isn't one very evident weakness to the South American's performance.
However, to be a Jack-of-all-trades, but a master of none could be viewed as unwise by some, with Ramires never really sticking out as a Man of the Match player as a result.
In truth, it's when playing without the ball that Ramires does his best work and Benteke would undoubtedly see more of the ball thanks to the link-up play which the Brazil international is so proficient at.
Regularly starting from the centre of the pitch, one could expect to see Benteke and Ramires giving more than a few give-and-go's should the former move to Chelsea this summer, ultimately resulting in a boost to their side's momentum.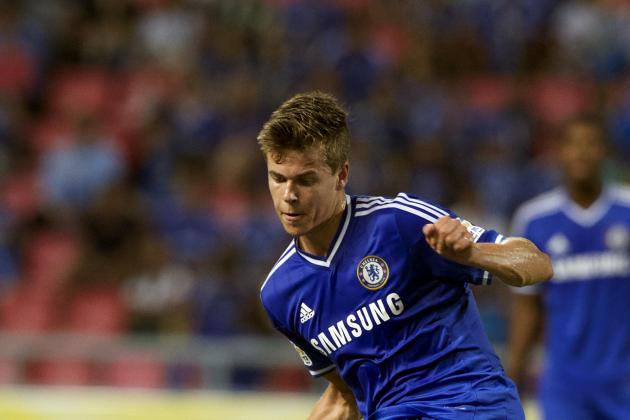 Stanley Chou/Getty Images

Simply due to experimentation, Marco van Ginkel has been included in preference to Frank Lampard, John Obi Mikel or even David Luiz.
Having arrived at the club this summer, there was some speculation that the 20-year-old would either be sent straight out on loan or be forced to ride the Stamford Bridge bench.
However, according to the Guardian's Dominic Fifield, Jose Mourinho sees the youngster as the long-term successor to Lampard and has been promised a "starring role" at the club this season.
In 33 Eredivisie matches for Vitesse Arnhem last season, Van Ginkel registered with eight goals and 10 assists, not too dissimilar to the split between scoring and providing that Lampard has become famed for.
With Benteke, the Dutchman would have a similar target up front to that of Wilfried Bony, the strong, powerful top scorer in Holland's top flight last term, now of Swansea City.
With that in mind, the transition from one scoring power to the next should be an easy one were it to come off, and Ramires' high work rate would take some burden away from Van Ginkel to perform.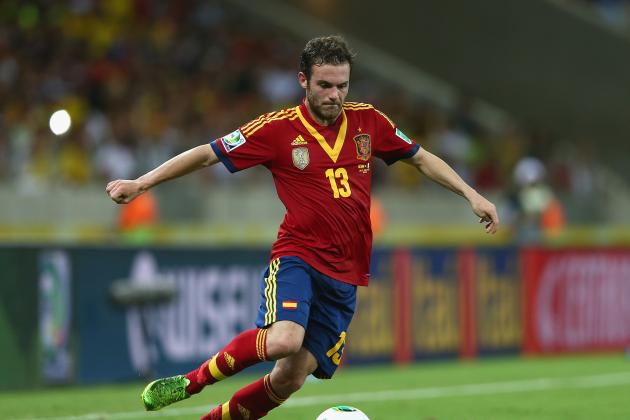 Clive Mason/Getty Images

Having won Chelsea Player of the Year for the last two consecutive seasons, there's not much way that Juan Mata could be excluded from a dream Chelsea lineup right now, regardless of formation.
Although Mata functions best in a central role, this stratagem sees him lined up in an ever so slightly withdrawn role out wide.
The 25-year-old pitched in with no less than 17 assists in 31 Premier League starts in the 2012-13 term, and was easily one of the division's top performers when it comes to providing for those around him.
Having already managed to pull up the socks of Fernando Torres and Demba Ba, Mata might see himself not having to try as hard to make others look better if it were Benteke lined up ahead of him, a striker in a richer vein of form and with confidence coming out of his ears right now.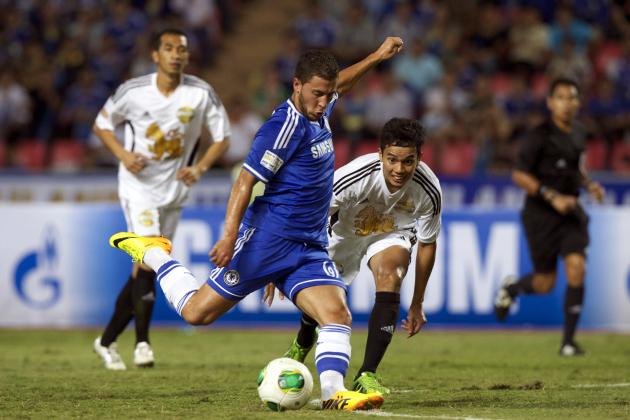 Stanley Chou/Getty Images

The other ammunition machine in the Blues' ranks is of course Eden Hazard, one of last summer's biggest transfers and the man with the weight of the world perched on his shoulders last season.
Fully capable of using both his feet, Hazard's assets are undoubtedly best utilised down the flanks, making the Belgian an unpredictable star.
Able to stretch the play to the by-line or cut inside before delivering just as useful supply, Hazard's assist count would assuredly rise if it were Benteke latching onto his chances and not someone else.
Another great aspect of the former Lille hotshot is his tendency to test the goalkeeper from range, many of which are bound to be spilled within the area, a poacher's hunting ground and easy picking for a player like the Aston Villa talisman.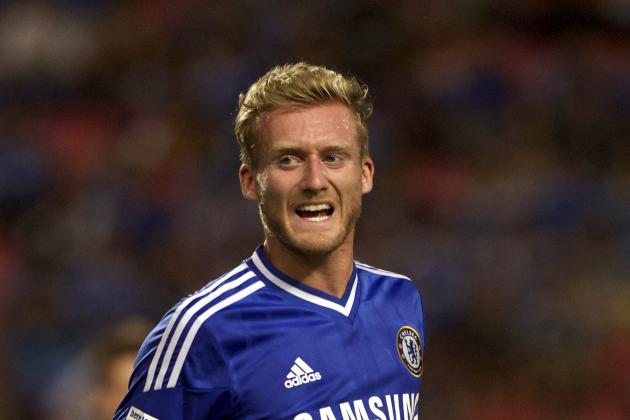 Stanley Chou/Getty Images

Another obvious omission from this starting XI would be Oscar, a gem of the Brazilian national team in their Confederations Cup triumph and growing as part of the Chelsea squad day by day.
For the sake of Benteke, however, it's Andre Schuerrle's presence that would help more than the young South American.
In Schuerrle, Benteke would have more of an striking partner as opposed to a player who was simply there to create for his front man, and looked predictable as a result.
Instead, the German international would be more likely to pose a threat on goal himself, but still with the modus operandi of feeding Benteke wherever possible.
Helping guide Bayer Leverkusen back to Champions League football in 2012-13, it was Stefan Kiessling who benefitted greatly as a result of Schuerrle's provisional endeavours.
Although Schuerrle would line up on the left flank for most of that season, the forward would often cut into the more central channels, showing off some of his ability to also play as a front man himself.
The perfect combination between the two roles would be for Schuerrle to line up just behind Benteke, perhaps akin to that of Gabriel Agbonlahor or Andreas Weimann have done at Villa Park at times, acting as the primary catalyst in attack.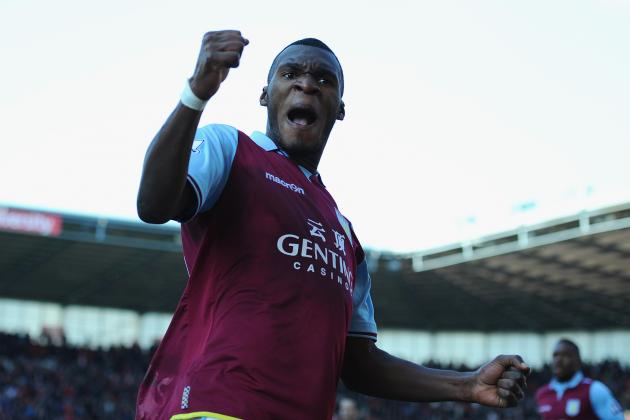 Chris Brunskill/Getty Images

The man himself, Christian Benteke, would quite simply be the spearhead in Jose Mourinho's setup.
Although he's had just one season in the Premier League, the 22-year-old has already shown of assets needed to cut it at the top of English, and perhaps even European football.
As well as the more predictable "strong, powerful" descriptions one hears being tossed about on a regular basis, it's actually Benteke's more acute skills than warrant lauding.
His touch, for example, is sublime. Dropping deep to come to the ball, as opposed to just waiting for it to come to him, is a quality not every big striker has in their locker, but Benteke's work rate Is higher than average.
Then there's the forward's shooting: more than just a hit-and-hope policy, the player has an incredible gift for shot placement, regularly plopping shots into the corners like it were nothing to him. With the midfield supply that Jose Mourinho has at his disposal, Benteke would deliver more than the likes of Torres or Ba, not necessarily because of superior talent, but because he has more hunger.
Still looking to take his name to unparalleled heights, the Belgian international star could partner up fantastically as part of an attacking duo or lead the line solo, eventually coming to rekindle as a pair with compatriot, Romelu Lukaku.