In golf, all things are relative.
If someone put on the early morning coverage of the Open Championship on Thursday and watched only Rory McIlroy, this would have looked like the hardest tournament in years.
With a steady but relatively light wind, McIlroy could not find the fairway all day, hitting just five fairways in his round and repeatedly landing in the wheat-like rough off the tee. He finished at eight-over 79.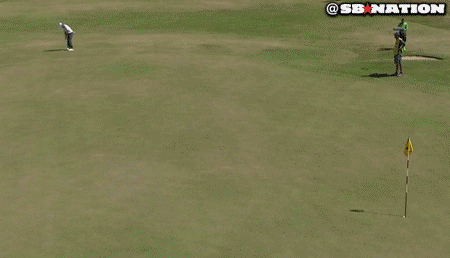 McIlroy's Nike shoes must have been loaded with sand, as he was unable to avoid the greenside bunkers on several holes. When he did find the green, McIlroy struggled to find the cup, pulling many putts to the left, missing the hole completely.
This must be the hardest tournament in years.
But it hasn't been, at least not for many of the other top players in the world. At the time McIlroy finished his first round, 20 players were under par. While his playing partner, Phil Mickelson, was carding a two-under 69, McIlroy had to scramble up the 18th fairway just to break 80.
The back nine for McIlroy was, in a word, disastrous.
Rory McIlroy cards 79, his worst ever opening round score in a major. Rory is now a combined +24 in the majors in 2013.

— Justin Ray (@JRayESPNGolf) July 18, 2013
He hit just one fairway on the back nine and posted three bogeys, two double bogeys, two pars and a birdie for a 37—before he teed off on the 18th hole. McIlroy bogeyed 18 to come in at 42 for his 79.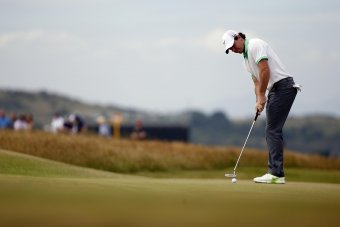 Paul Cunningham-USA TODAY Sports
On the 15th hole, McIlroy putted his ball through the green and into a bunker, where he had to blast out over the deep face, leaving a lengthy putt for bogey.
Peter Alliss, spending time with the ESPN television crew, quipped, "The good news is, he's getting closer." The bad news was he missed the putt.
This shaky first round at the British Open is the latest in a bad summer for McIlroy. Something isn't right with him.
He says all the right things in press conferences, but his body language on the course makes it look like it's the last place he wants to be. Having said that, if you had to walk 250 yards to a ball in a wispy pile of straw, your demeanor might not be too jubilant either.
Rory McIlroy says he feels 'unconscious' and 'brain dead' on the golf course after carding another poor round of 79 on day one at Muirfield.

— Rob Hodgetts (@RobHodgetts) July 18, 2013
Is it the equipment, as so many people have suggested since he switched to Nike at the start of this season? McIlroy had four victories, seven top threes and double-digit top-10 finishes last season. To this point in 2013, Rory has zero victories, just four top 10s and one finish in the top three.
Rory McIlroy after a 79: "You've just got to play through it. It's got nothing to do with technique. It's all mental." #TheOpen

— Alex Myers (@AlexMyers3) July 18, 2013
Is it the distractions, as Nick Faldo suggested during his pre-tournament media session? Faldo claimed that later in his stellar career, the business side of the game distracted him from focusing enough—and practicing enough—to win. McIlroy rebuked that assertion to the press, explaining that he had a 12-hour work day in preparation for the Open and suggesting Faldo should "know better" than to make such claims.
What is it, then? If it's not the clubs or a lack of focus, what can it possibly be?
Reporter: "Is it a lack of confidence?" Rory: "Yeah, it's definitely that." #TheOpen

— Alex Myers (@AlexMyers3) July 18, 2013
"What difference does it make what the problem is right now?" offered Paul Azinger during the ESPN telecast. "He's just got to fix the problem."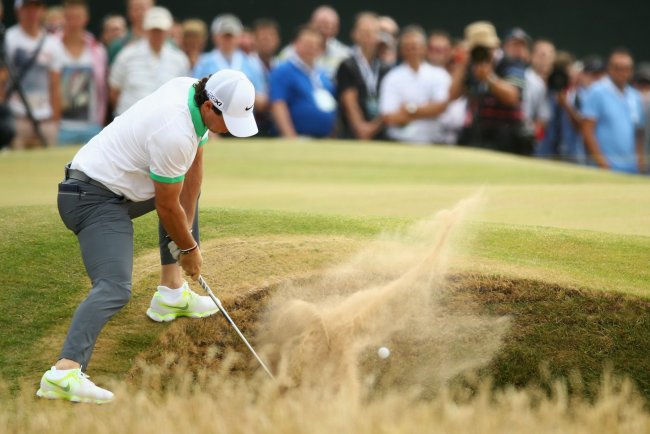 Matthew Lewis/Getty Images
It doesn't seem likely he'll "fix the problem" right now. At the time he completed his round, McIlroy was 12 shots off the posted lead. Even if he goes out on Friday and shoots 63, he will just be at even par for the tournament.
He's going to struggle to make the cut, let alone compete. Maybe missing the cut would be better for him, giving him a few days to get away from the game and relax rather than slog through two more inconsequential rounds on the weekend.
Look, I'm not suggesting McIlroy should go out and tank on Friday, but if he does, will anyone know the difference?
*For complete scores, visit PGA.com