Stars from across the world of sports gathered at the ESPYs Wednesday night to pay homage to another year of excellence in athletics.
The Nokia Theatre in Los Angeles was filled, or nearly so, as several rows of seats in the venue were noticeably empty. It might be that one those spots belonged to Alabama quarterback A.J. McCarron, the leader of the Crimson Tide football team that was nominated for the "Best Team" category.
McCarron's girlfriend Katherine Webb was in attendance, as was Texas A&M quarterback Johnny Manziel, making McCarron's absence at the ESPYs quite noticeable. Seeing the quarterback missing in action, viewers took to Twitter to ask the Alabama quarterback why he wasn't in the building.
AJ McCarron may not be at the ESPYs, but you know who is? pic.twitter.com/DitJqInqzl

— Josh Sanchez (@jnsanchez) July 18, 2013
Screw Katherine Webb, where is AJ McCarron?

— amy tran (@aimelynnn) July 18, 2013
I'm just going to say it: I don't like Katherine Webb's dress. And if McCarron isn't there, why in the world is she? #weird

— Rachel Demaree (@pearlsNfootball) July 18, 2013
Seemingly miffed by the flood of "Your girlfriend's here. Johnny is here. Where are you?" questions he was receiving, McCarron responded on the social media site with a tweet that was meant to clear up why he wasn't in attendance.
The tweet was noticed by Kiley Kmiec of Next Impulse Sports, and its message was quite clear: Unlike some people, McCarron is too busy winning championships and micturating excellence to attend award shows.
You're right I'm not at the espy's! I don't have to be at a award show to know what my team did. I'm back at school working to get another

— AJ McCarron (@10AJMcCarron) July 18, 2013
Boom. You've been scoreboarded, Johnny Football.
Granted, McCarron doesn't call out anyone by name in his tweet, but it's probably safe to assume that was a veiled shot at Manziel, who has been tanning in the media spotlight for the last six months but has yet to win a BCS title.
While Manziel has been living it up and raising eyebrows, McCarron has been keeping a low profile, adding what appears to be the skyline of Hogwarts or the city of Mobile, Ala. to his growing giant chest tattoo.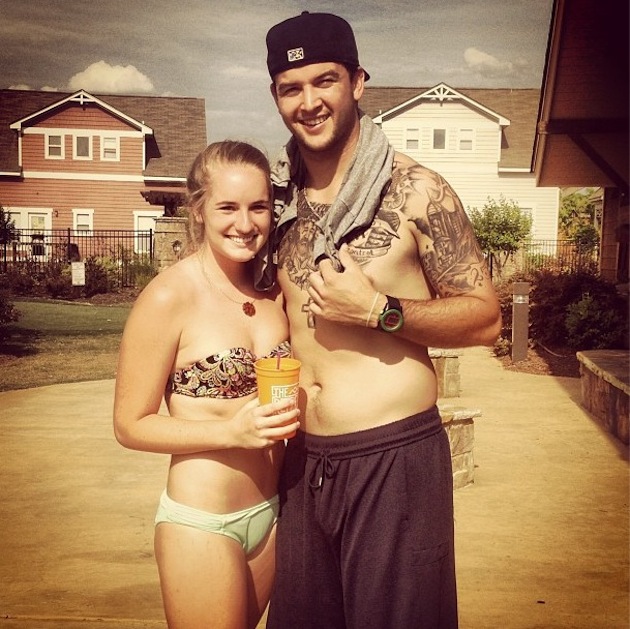 If there's anything to milk out of this exchange, it's that college football is right around the corner, and the excitement is building for the showdown between Texas A&M and Alabama.

If you haven't already, mark Sept. 14 on your calendars, everyone. If you don't have tickets, start selling blood and pawning jewelry, because they're going to be expensive.
*Update*
McCarron denied to reporters at SEC Media Days that his tweet carried any implications concerning Johnny Manziel, per ESPN's Joe Schad.
AJ McCarron laughs and shakes head and says he wasn't digging Johnny Manziel with tweet about ESPYs

— Joe Schad (@schadjoe) July 18, 2013
*End of Update*
There will be (bad) blood.