Worst Beatdowns from the First Half of 2013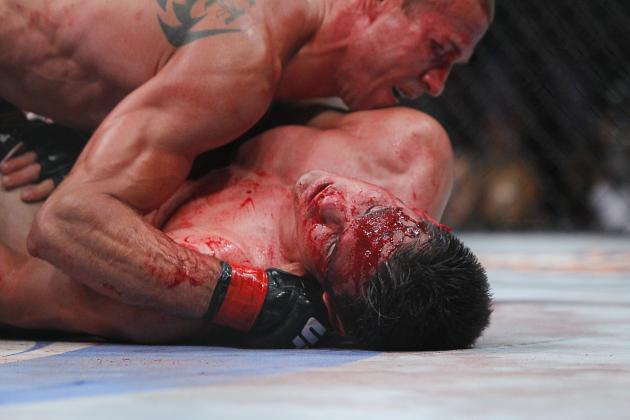 Gary A. Vasquez-USA TODAY Sports

Losing sucks.
In the sport of MMA, unlike checkers or, say, flag football, a loss is oftentimes brutal and violent, a scary reminder of how capably the human form can dismantle an adversary.
To reflect on these instances and to remind ourselves of our ever-vulnerable state of mortality, let us recap the top 5 beatdowns from the first half of 2013.
Since the word "beatdown" is subjectively defined, here are some qualities I considered when compiling the list:
A one-shot knockout is not a beatdown unless the knockout occurred after a prolonged beating.
The longer a beatdown carries on, the better.
A beatdown is completely one-sided.
Some factor of humiliation is involved. The loser is crushed physically and mentally.
Blood always helps.
If asked to choose between a rematch and an all-day marathon blasting Justin Bieber's latest album, the loser grabs the headphones and dies a little inside.
Still with me? Click on to see which matchup comes in at No. 5.
Note: All stats provided by Fightmetric.
Begin Slideshow

»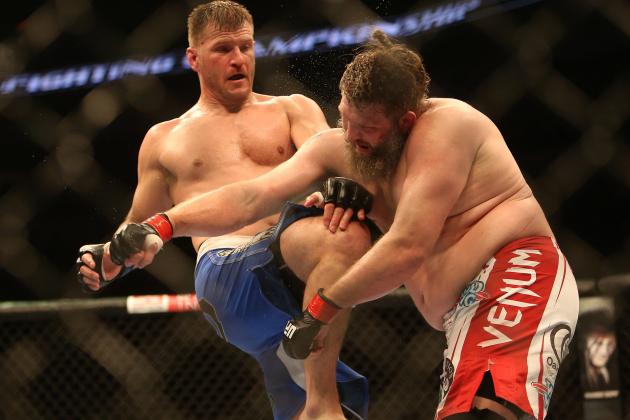 Tom Szczerbowski-USA TODAY Sport

Stipe Miocic destroyed Roy Nelson at UFC 161.
While Miocic did not finish the bout in dramatic fashion, this beating was made worse by its duration, as the rising Ohioan blasted Nelson with a variety of powerful strikes for the fight's full 15 minutes.
Slower, older and less motivated, Nelson never had a chance in this fight.
Significant Strikes Landed:
Miocic: 106 of 172, 62 percent
Nelson: 23 of 127, 18 percent
Total Strikes Landed:
Miocic: 129 of 197, 65 percent
Nelson: 25 of 130, 19 percent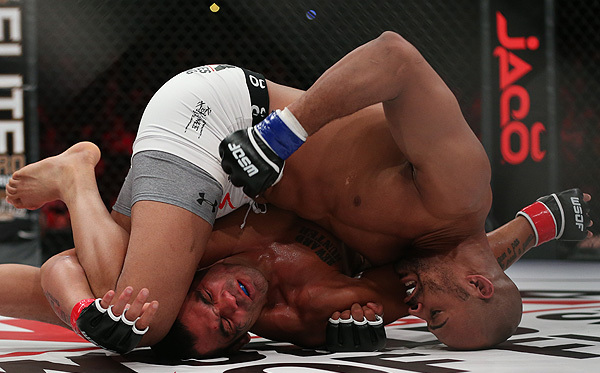 CREDIT: sherdog.com
There was a time, legend has it, when Paulo Filho's name was mentioned in the same breath as elite middleweights like Anderson Silva, Dan Henderson and Rich Franklin.
That time is long, long gone, a point splattered into the World Series of Fighting canvas at the hands of David Branch.
Filho, who is was regarded as one of the finest Brazilian jiu-jitsu practitioners in all of MMA, was treated as a grappling dummy for 15 minutes as Branch punched, passed and slammed his way to victory, cementing this bout's beatdown status.
Unfortunately for Filho, Branch was not a ghost, and he wore the evidence of this fact on his face after a humiliating, utterly one-sided defeat at World Series of Fighting 2.
Statistics unavailable.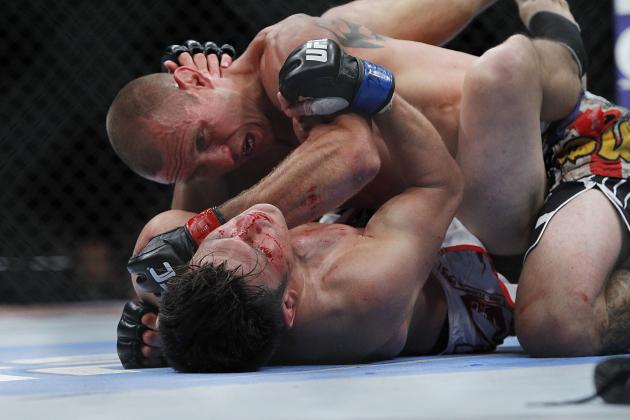 Gary A. Vasquez-USA TODAY Sports

Remember that whole "blood helps" bullet point I included in the first slide?
Yeah, that applies here.
At UFC 160, Donald Cerrone needed to rebound from an embarrassing loss against Anthony Pettis at UFC on Fox 6 earlier in the year to restore his relevancy in the ever-deepening UFC lightweight division. Now facing KJ Noons, the "Cowboy" needed to make a statement.
He needed to deliver a beatdown.
With ferocious elbows from top position, Cerrone did just that, opening up a cut on Noons' head (and his own elbow) that oozed crimson life all over the Octagon.
Cerrone was sharper, faster, better conditioned and just plain more skilled in this one, and the result was devastating.
Significant Strikes Landed:
Cerrone: 78 of 152, 51 percent
Noons: 42 of 122, 34 percent
Total Strikes Landed:
Cerrone: 130 of 213, 61 percent
Noons: 56 of 136, 41 percent
Takedowns:
Cerrone: 4 for 7, 57 percent
Noons: Zero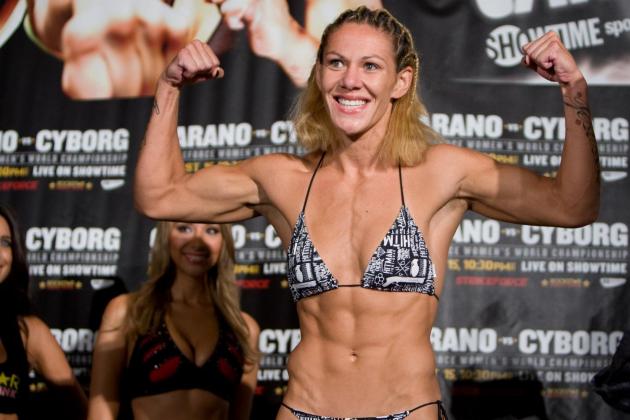 CREDIT: mmahq.net
If you fight Cristiane "Cyborg" Santos, you're gonna have a bad time.
In 2013, Cyborg has fought twice under the Invicta Fighting Championships banner, and each instance yielded a horrifying result.
First up was Fiona Muxlow at Invicta FC 5: Penne vs. Waterson.
Poor, poor Fiona.
Cyborg needed just under four minutes to dispatch of her foe, leaving Muxlow crumpled on the mat after a series of strikes forced the referee to intervene and stop the bout.
A quick victory does not qualify as a beatdown by my standards, though. Cyborg decided to play with her next opponent, Marloes Coenen, a bit more and really draw out the terror in order to make my exclusive list.
Having five rounds to inflict pain at Invicta FC 6, Cyborg delivered what is possibly the scariest beatdown in WMMA history against Coenen.
For four violent, rage-fueled rounds, Cyborg unleashed a beatdown of epic proportions through slams, throws, punches, kicks, elbows and knees.
If the start of 2013 is any indication, Cyborg is fighting at an unreal level right now, so if you're a top 145-pound lady waiting on your next matchup, you might just want to pocket your phone and put it on silent—forever.
Statistics unavailable.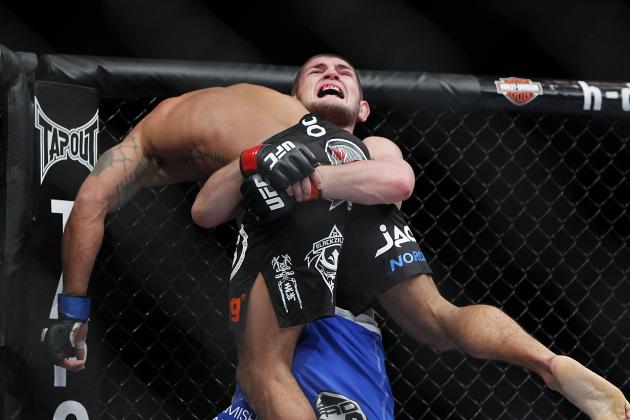 Gary A. Vasquez-USA TODAY Sports

"Anything you can do, Cyborg, I can do better." — Khabib Nurmagomedov, UFC lightweight, would say.
Nurmagomedov is arguably the UFC's breakout star of 2013 so far, and he has two massive beatdowns to thank for that distinction.
Like Cyborg Santos, Nurmagomedov turned in a quick stoppage early in the year and followed it with a prolonged beating, but he did so in what is possibly the most talent-filled division in all of MMA, so the 24-year-old Russian gets the nod for that reason.
If not for its brevity, Nurmagomedov's first performance at UFC on FX 7 against Thiago Tavares would stand as an all-time classic beatdown. After an early knockdown, Nurmagomedov knocked Tavares out cold with a series of elbows from half-guard, a rarity in the sport and a shining example of Nurmagomedov's skill, power and killer instinct.
Despite only lasting two minutes, MMA fans caught a glimpse of just how high Nurmagomedov's ceiling could be in this one.
Significant Strikes Landed (All strikes in this bout were deemed significant):
Nurmagomedov: 22 of 31, 71 percent
Tavares: 2 of 10, 20 percent
Next up for the Russian standout was Abel Trujillo, a rising prospect in his own right who was expected to truly test Nurmagomedov at UFC 160.
That didn't happen. At all.
Nurmagomedov utilized his exceptional grappling in this contest, taking Trujillo to the mat a record 21 times throughout the three-round contest (although, to be fair, that record is slightly debatable).
While this outing did not showcase an abundance of violence or blood, Nurmagomedov straight up emasculated Trujillo by tossing him around and proving that he did not belong in the cage with a man of his talents.
Humiliating.
Significant Strikes Landed:
Nurmagomedov: 23 of 40, 57 percent
Trujillo: 11 of 30, 37 percent
Total Strikes Landed:
Nurmagomedov: 46 of 68, 68 percent
Trujillo: 18 of 39, 46 percent
Takedowns:
Nurmagomedov: 21 of 27, 78 percent
Trujillo: 1 of 1, 100 percent