A surprise is something you weren't expecting. In Major League Baseball, there are always teams who storm out of the gate, hanging around the playoff race longer than anyone thought.
But every so often, the surprise lasts for the entire 162-game season and a team is able to make the playoffs, or at least stay in the chase until the final days of the season.
It is thrilling to see, for example, a team like the Pittsburgh Pirates at 56-37 right now coming out of the All-Star break. You can practically feel the optimism in that city, as fans are hoping that this will be the year the Pirates end their 20-year losing streak.
However, given the fickle nature of baseball, these things can turn on a dime, especially if we are talking about a team whose talent level suggests the players are playing over their heads.
After all, we have seen this act from the Pirates before. At the break in 2011, the Pirates were 47-43, one game behind Milwaukee and St. Louis in the National League Central. They went 25-47 in the second half to finish 72-90.
Last year, same story. They were 48-37 and leading the division by a game over the Cardinals. They were playing well over their heads, and it caught up to them. They went 31-46 to finish fourth in the division.
I'm picking on the Pirates, but this happens all the time. Cleveland has done it the previous two seasons with worse results in the second half (91-83 combined in the first half, compared to 57-93 after the break).
Some teams are able to avoid the collapse either because they are really good and have hit their window (Tampa Bay Rays in 2008) or just have a lot of things fall into place (Oakland A's and Baltimore Orioles in 2012).
But is there a list of rules for a first-half surprise contender that will keep them in the playoff race, if not help them make it to the postseason?
The easy answer is not something entirely definable. Things break differently for teams. The Orioles made the postseason last year because their bullpen was ridiculously good, making up for bad starting pitching and a middle-of-the-road offense.
The Orioles went 29-9 in one-run games and won 16 straight in extra innings in 2012.
Baltimore continues to play well this year with no starting pitchers capable of staying healthy or performing up to expectations and a middle-of-the-road bullpen. That's thanks to a much-improved offense, centered around Chris Davis.
However, putting on my pragmatic hat, here are my best answers for what a surprise contender can do to avoid falling off the map in the second half of the MLB season.
Why Does the Collapse Happen?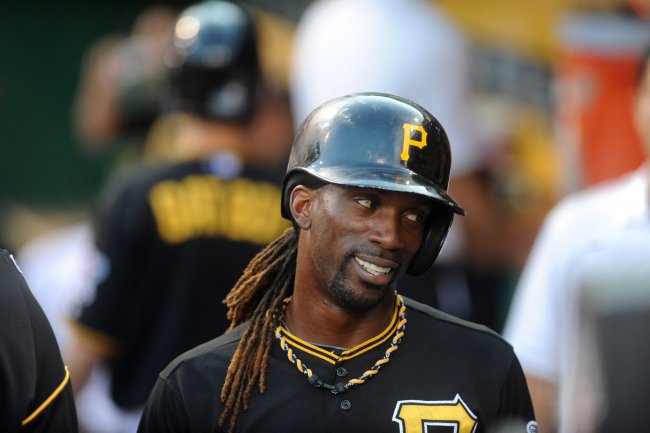 Vincent Pugliese/Getty Images
This is the fundamental question that everyone asks, either as the fall from grace is happening or after the season is over.
Let's take a deeper look at recent teams who have fallen apart in the second half, starting with the 2012 Pittsburgh Pirates.
Their 48-37 start was largely attributed, and rightfully so, to their pitching. Pittsburgh's staff posted the fourth-best ERA in baseball before the All-Star Break last year at 3.47. It needed to be that good too, because the offense was just 21st in runs scored and 29th in on-base percentage. That was with Andrew McCutchen having an MVP-caliber season.
In the second half, the Pirates' collapse coincided with the pitching staff posting an ERA of 4.29 and allowing 77 home runs in 686.1 innings.
All the while, the offense stayed 21st in runs scored with 306 in 77 games. Its collective on-base percentage did rise a bit to .308, good enough for 23rd.
Another epic collapse in 2012 came from the Cleveland Indians.
They were just three games behind the White Sox at the break, though there really was no discernible reason for them to contend. They were 28th in team ERA (4.50) and 11th in runs scored (385). The latter stat might explain it, but not when you have a pitching staff that bad.
When the nature of their success caught up to them in the second half (luck), the Indians found themselves drowning in a sea of emptiness that saw them win 24 games after the break.
Luck, schedule, weakness of division injuries and the teams around them underachieving are all sound reasons a team can become a surprise contender in the first half. Those first two reasons also contribute to the collapse, because if you are getting by on luck and a soft schedule, eventually things will regress to the mean when you hit the more difficult part of the calendar.
Make the Right Decision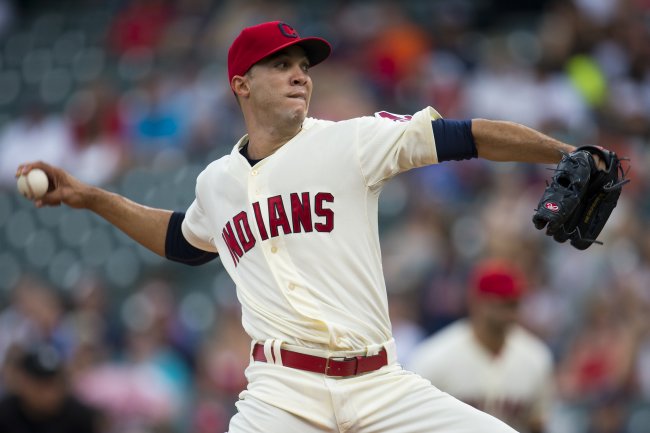 Jason Miller/Getty Images
Surprise contenders are often going to start feeling the pressure, be it from inside the clubhouse or from fans and the media, to upgrade the roster before the July 31 trade deadline.
After all, what can send a clearer message that you are "going" for it now instead of adding a known commodity through a trade?
But there is a right time and a wrong time to make a trade, not to mention making the right move for both the immediate and long-term future of the franchise.
Going back a long time to 2002, the Montreal Expos were convinced that they were contenders because they were staying just over the .500 mark. They wound up trading Grady Sizemore, Cliff Lee and Brandon Phillips (all minor leaguers at the time) to Cleveland in exchange for Bartolo Colon.
That turned out to be one of the most lopsided trades in baseball history. Sizemore was arguably the best player in the American League from 2006 through 2008, Phillips has turned into one of the best second baseman in baseball (with Cincinnati after the Indians traded him) and Lee evolved into one of the top left-handed starters in baseball.
Which surprise team in the first half is most likely to sustain its performance in the second half?
Colon pitched well enough for Montreal (10-4, 3.31 ERA, 74-39 K-BB in 117 innings), but the Expos finished the season 83-79, 28 games behind Atlanta in the NL East, and emptied their farm system hoping to compete.
That was a unique circumstance. Major League Baseball owned the team, and the franchise was desperate to drum up interest in hopes of bumping attendance.
To use a more recent example, the Texas Rangers completely changed the course of their franchise on July 31, 2007. They traded first baseman Mark Teixeira, who had one-and-a-half seasons before hitting free agency, to Atlanta in exchange for Elvis Andrus, Jarrod Saltalamacchia, Neftali Feliz, Matt Harrison and Beau Jones.
Teixeira performed well for the Braves down the stretch, hitting .317/.404/.615 in 54 games, but the team finished third in the division and Teixeira was traded once again in July 2008 for Casey Kotchman and Stephen Marek.
The Braves didn't exactly replace the pieces lost.
The big picture was lost on the Expos and Braves, replaced by the allure of today.
So bringing things forward, for teams like the Pirates, Rockies, Indians, et al., the smartest thing to do is not overreact and let "right now" interfere with the process.
The Indians overreacted two years ago when they acquired Ubaldo Jimenez from Colorado at the deadline. While it is true the pieces they gave up in that deal, notably Drew Pomeranz and Alex White, haven't worked out as big leaguers, Jimenez continued to regress and cost them more money than those two would have had they been installed into Cleveland's rotation.
The Pirates never really overreacted to their hot starts. Two years ago, they made a few small moves, like acquiring Derrek Lee and Ryan Ludwick to try upgrading the offense, but those didn't work out.
But they also didn't mortgage any part of their future in those deals, and we are starting to see some fruits of the front office's labor in the big leagues with last month's promotion of top prospect Gerrit Cole and the eventual arrival of players like Jameson Taillon, Gregory Polanco and Alen Hanson.
That isn't to say there aren't moves out there this year for surprise contenders, but it has to be the absolute right deal at the right time. If the Indians believe they are title contenders, then they should press for Matt Garza or another starting pitcher.
Make the Call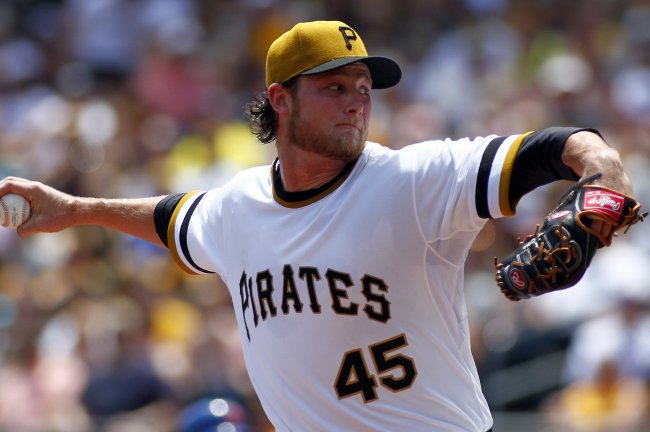 Justin K. Aller/Getty Images
On the flip side, if a team doesn't want to make a deal, there is always the possibility of dipping into the farm system for help.
Given the way that teams value prospects today, not to mention the fact they don't have to part with their own players to bring in someone new, it makes all the sense in the world to stop worrying about grabbing headlines with a trade.
If your team is going to need help down the stretch, the best and easiest way to get it is from the farm system.
Again, let's use the Pirates as an example. They needed help in their rotation and called up Cole from Triple-A. His numbers weren't overwhelming (47 strikeouts, 28 walks, 44 hits allowed in 68 innings), but his upside was much higher than anyone else the team could hope to acquire.
So far, so good for the former No. 1 overall pick, though the fact that Cole still doesn't miss bats with the kind of stuff he has is a little alarming.
Not every team has the luxury of getting a high-impact, high-ceiling prospect from the system when needed. Some teams don't develop talent as quickly or as well as others, or they aren't as lucky in keeping their top players healthy, so it becomes harder to bring someone up who can really help.
But every good and potentially great team in baseball has a certain level of depth.
Also, finding the right moment to bring a player up is critical. It is easy to say when a player should be called up, but we are not talking about robots who can just flip the switch.
Ride What Brought You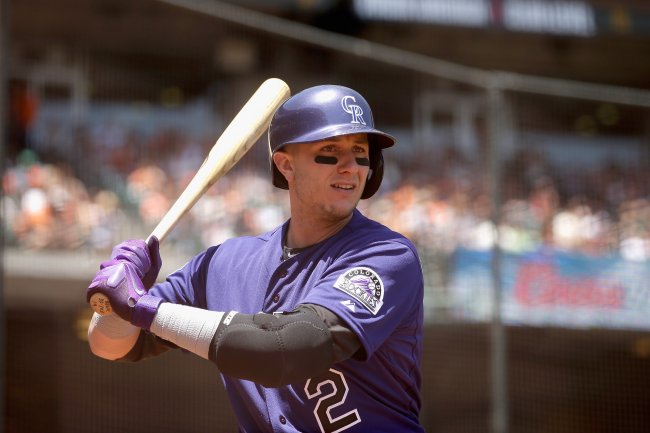 Ezra Shaw/Getty Images
This is going to seem contradictory to the previous two items, since it sounds like I am telling a team to stand pat. But that isn't exactly the case.
What I am talking about is sticking with the formula that made you successful in the first half.
The biggest problem the Pirates had last year was on offense. No one outside of McCutchen provided anything of substantial value. Even Pedro Alvarez's 30 home runs weren't enough to offset the fact that he had a dreadful .317 on-base percentage and 180 strikeouts in 525 at-bats.
This season has been more about their pitching, which owns the best ERA (3.07) in baseball right now. The starting staff has a 3.27 ERA and the bullpen has been incredible with a 2.78 ERA, second in the league.
Their offense remains one of the worst in baseball, ranking 27th in the league in runs scored. That, along with some overachieving by the pitching staff, could catch up to them, and we could see another collapse.
But until that time, manager Clint Hurdle just has to stay with the girl he brought to the dance—his pitching staff. At this point in the season, the odds of getting a huge upgrade that will turn everything around via trade or in the system is negligible. Baseball is not as much of an individual sport as people like to think.
Hope for More Luck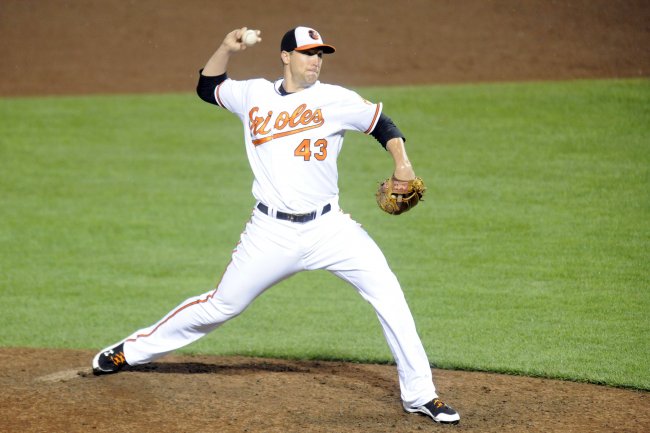 Mitchell Layton/Getty Images
At the end of the day, this is the best advice I can give a team hoping to stay in contention for an entire season. And the sad part is, it really isn't advice, since no one can actually predict or buy luck.
Everything about the Orioles' 2012 season suggested that they were going to fall apart at some point. They were winning every close game and every one-run game they played, which is not usually sustainable over the course of 162 games.
But sometimes things just happen to fall into place and there is a year where everything goes right. The 2012 Athletics are another team that comes to mind.
As it turns out, both teams have found something that works better for them this season. That doesn't necessarily mean either or both will make the playoffs, but they are more complete now than in 2012.
The Pirates have a group of pitchers playing way over their talent level right now, both in the starting rotation and bullpen. Raise your hand if you had Francisco Liriano with an ERA of 2.00 and 80 strikeouts in 76.2 innings.
They are going to need a lot more of that if they want to break their streak of losing seasons.
The Indians have gotten better-than-expected showings from Justin Masterson, Corey Kluber and Scott Kazmir. As a result, they're just 1.5 games behind Detroit in the AL Central.
All that these teams can really do is hope that whatever is working for these players now holds out for the entire season. That can make it difficult to evaluate where a team is going to go in the future, but everyone is focused on the present and trying to win a championship now.
As we have seen in the past, all a team needs is to get into the dance to win it all.
If you want to talk baseball, feel free to hit me on Twitter with questions or comments.