England vs. Australia: Scores and Session Recaps for Ashes 2013 Second Test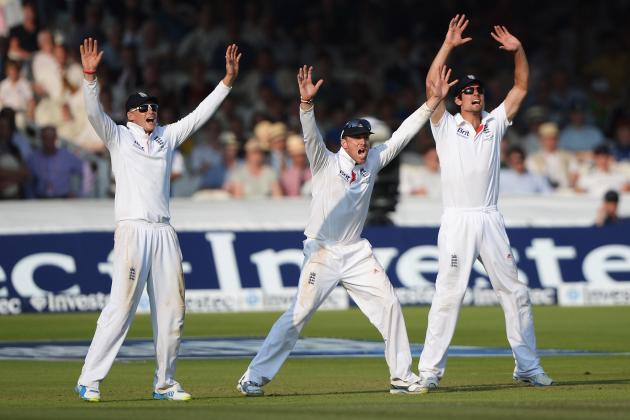 Gareth Copley/Getty Images

The Ashes 2013 Second Test is proving to be a special occasion for England and Australia's cricketers. Not only was the first session at Lord's caressed with rare British sun, Her Majesty the Queen met both sides before the start of play.
Can the England team capture yet another victory and produce a 2-0 series lead? Or will Australia level proceedings with an improved display?
Read on to find out.
Begin Slideshow

»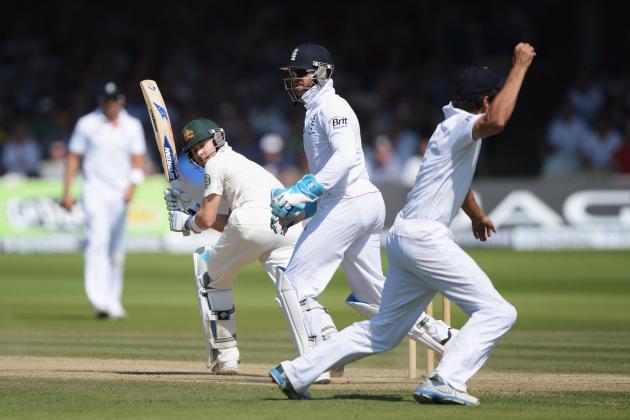 Gareth Copley/Getty Images

Final Score

England win by 347 runs
England 361 & 349/7 v Australia 128 & 235

Second Innings
England: 349/7
Batting Details
Out (Runs/Balls): Alastair Cook (8/28), Jonathan Trott (0/6), Kevin Pietersen (5/11), Tim Bresnan (38/137), Ian Bell (74/103), Jonny Bairstow (20/54), Joe Root (180/338).
Not out: Matt Prior (1/8).
Bowling Details
Ryan Harris 2/31 (18.1 overs), Shane Watson 0/25 (12.0 overs), Peter Siddle 3/65 (21.0 overs), James Pattinson 1/42 (20.0 overs), Steven Smith 1/65 (14.0 overs), Ashton Agar 0/98 (29.0 overs).
Australia: 235
Batting Details
Out (Runs/Balls): Shane Watson (20/23), Chris Rodgers (6/29), Phillip Hughes (1/21), Usman Khawaja (54/133), Michael Clarke 51/85, Steven Smith (1/14), Brad Haddin (7/32), Ashton Agar (16/13), Peter Siddle (18/62), James Pattinson (35/91).
Not out: Ryan Harris (16/40)
Bowling Details
James Anderson 2/55 (18.0 overs), Stuart Broad 0/54 (21.0 overs), Graeme Swann 4/78 (30.3 overs), Tim Bresnan 2/30 (14.0 overs), Joe Root 2/9 (7.0 overs).
First Innings
England: 361 (101.1 overs)
Batting Details
Out (Runs/Balls): Alastair Cook (12/14), Joe Root (6/14), Kevin Pietersen (2/4), Jonathan Trott (58/87), Ian Bell (109/211), Jonny Bairstow (67/146), Matt Prior (6/18), Tim Bresnan (7/29), James Anderson (12/29), Stuart Broad (33/29).
Not out: Graeme Swann (28/26)
Bowling Details
James Pattinson 1/95 (20.1 overs), Ryan Harris 5/72 (26.0 overs), Shane Watson 1/45 (13.0 overs), Peter Siddle 0/76 (22.0 overs), Ashton Agar 0/44 (13.0 overs), Steven Smith 3/18 (6.0 overs).
Australia: 128 (53.3 overs)
Batting Details
Out (Runs/Balls): Shane Watson (30/42), Chris Rogers (15/45), Phillip Hughes (1/8), Usman Khawaja (14/35), Steve Smith (2/14), Michael Clarke (28/41), Ashton Agar (2/21), Peter Siddle (2/24), Brad Haddin (7/42), Ryan Harris (10/25).
Not out: James Pattinson (10/24)
Bowling Details
James Anderson 1/25 (14.0 overs), Stuart Broad 1/26 (11.0 overs), Tim Bresnan 2/28 (7.0 overs), Graeme Swann 5/44 (21.3 overs).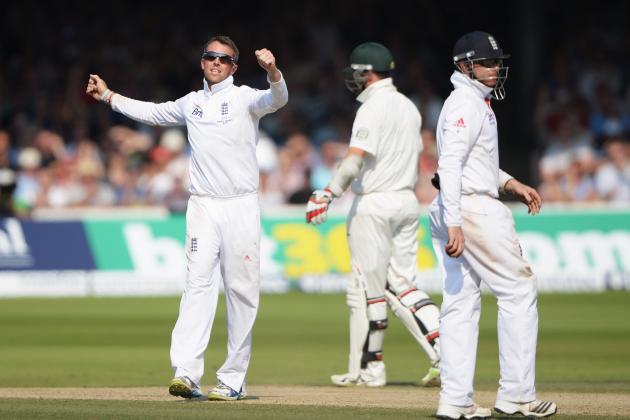 Gareth Copley/Getty Images

Australia tried to force the Second Test into a fifth day but it wasn't to be.
Michael Clarke's men were in a hopeless situation after returning from the afternoon break. With Brad Haddin and Ashton Agar batting, it was only a matter of time before England began wrecking through the low order.
Agar fell after by making 16 from 13 balls. A wild swing at Tim Bresnan's delivery ended with a Matt Prior catch, although England were forced into using their final review to claim the decision. Hotspot showed no touch, but deep from upstairs, the Third Umpire indicated a significant clink could be heard.
Swann carried on a strong series by dismissing Haddin. The Australian shouldered arms to a straight delivery and was given out lbw although replays indicated the ball was turning too much and would have narrowly missed leg-stump.
Peter Siddle and James Pattinson offered a decent snippet of resistance but the former fell for 18 as Jimmy Anderson got one to nip back through the gate and peg back his off-stump.
Alastair Cook was forced into asking for an extra 30 minutes at the close of play. Luckily for the England skipper, Swann finished the match in the final over by trapping Pattinson plumb LBW for 35 to earn the hosts a comprehensive 347-run win and a 2-0 series lead.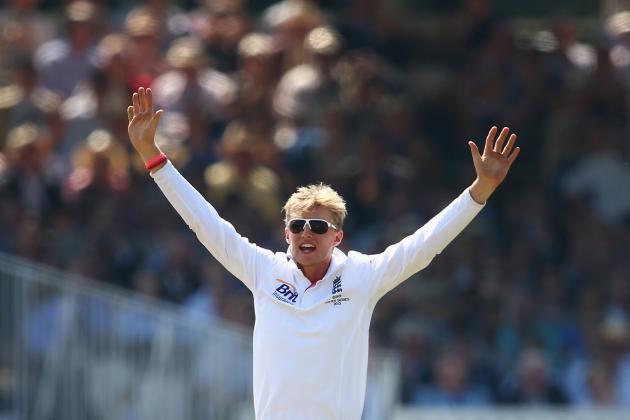 Ryan Pierse/Getty Images

Joe Root is determined to win this Test on his own.
Australia proved resistant after lunch, with Usman Khawaja and Michael Clarke each making fifties. Alastair Cook may have been regretting his decision to not bowl late on Day 3, but it was Root who once again made the difference for England.
This 22-year-old part-time off-spinner removed Clarke for 51 when the Australian skipper tried to glance a delivery down the leg-side but only found opposite number Cook at leg slip.
A score of 134/4 then became 135/5 when Khawaja edged into James Anderson's hands at gully, providing Root with his second wicket in as many overs.
Shortly after Root's quick double, Tim Bresnan grabbed his first wicket of the innings after Steven Smith's faint inside edge was taken by Matt Prior. Australia will start with Brad Haddin and Ashton Agar both on zero after tea.
Australia 136/6.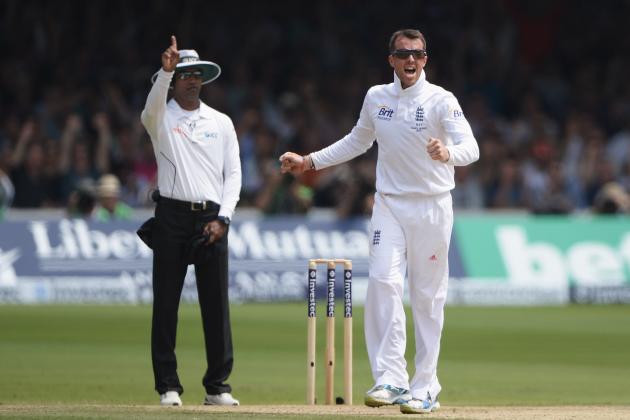 Gareth Copley/Getty Images

The hard work was already done by the time England headed out to bat on Day 4 with Joe Root's heroic 178 putting the hosts in strong command.
Resuming on 333/5, Jonny Bairstow fell in the third over of the morning as the Yorkshireman edged Ryan Harris to Brad Haddin behind the stumps for 20.
Root had added two to his overnight score but his quest for a maiden Test double century came to an end when chasing quick runs, his attempted scoop shot off Harris was caught by Steve Smith at third man.
England declared immediately, setting the Aussies a world record 583 to win.
There's little signs of that happening. Shane Watson once again planted his front pad to James Anderson and fell victim to an LBW decision with just 18 on the board.
Graeme Swann then bowled an arm bowl and took Chris Rogers' wicket as he shouldered arms, expecting the ball to turn out of the rough.
A perilous 32/2 soon became 36/3 as Phil Hughes was trapped lbw by Swann, having made just one.
Australia 48/3 at the break.
Mike Hewitt/Getty Images

England entered the final session of the day with a 400-run lead. Joe Root was three away from hitting his first Ashes century, a feat he duly achieved off Ashton Agar.
Root's dominance is the main story from a third day that has never threatened to exit second gear. After Ian Bell's early scare, the 31-year-old plodded towards another 50 against opposition bowlers who simply couldn't find a breakthrough.
Unfortunately for Bell, the experienced batsman smashed a half-tracker from Steven Smith straight to mid-wicket on 74.
Jonny Bairstow joined Yorkshire colleague Root, but it was the latter who continued to generate headlines. Not content with 100, the brilliant youngster grabbed his 150th run with a single off Smith. Root finished the day on 178 and Bairstow was unbeaten on 11.
England's lead sits at 566 runs, meaning Australia must set a new world record to claim the win.
England 333/5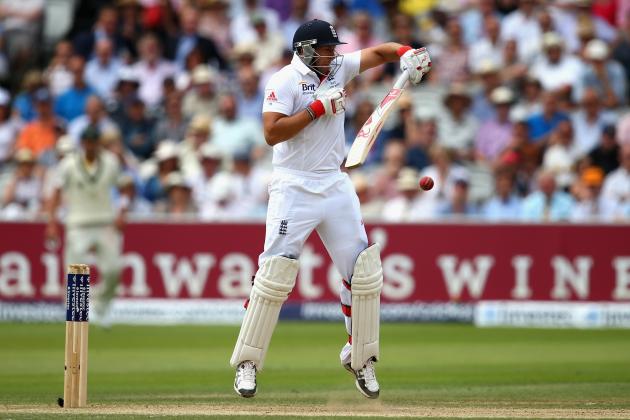 Ryan Pierse/Getty Images

Another low-key session suited England at Lord's.
The hosts were more than happy to slow the pace in order to continue building a hefty score. James Pattinson and Peter Siddle began bowling after lunch but were unable to grab an early wicket. Ian Bell and Tim Bresnan dealt with everything the Australians could muster, defended at the right time, and tightened England's grip on Second Test victory.
After yesterday's amazing drama, the second session progressed rather boringly. Pattinson did at least have something to cheer when his delivery was pulled towards mid-wicket by Bresnan. Chris Rogers took the catch, but Australia needed more.
More they did not get.
Ian Bell has been England's standout batsman this series and entered the crease after a sterling 38 from nightwatchman Bresnan. A controversial decision followed when he was on just three, as Bell was seemingly caught at gully by Steven Smith off Ryan Harris. The youngster looked to have taken a clean catch with his fingers under the ball but the third umpire was not convinced and it was not out.
Bell and Root powered through to finish the session on 16 and 97 respectively.
England 171/4.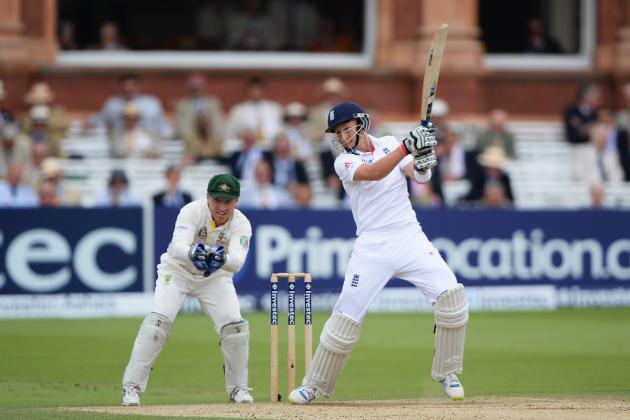 Gareth Copley/Getty Images

England reinforced their overwhelming grip on the second Test in the opening session of day three.
After Alastair Cook decided not to force the follow-on, England lost three quick wickets late on day two after a devastating burst by Peter Siddle.
But unfortunately for the visitors, the fast bowler had no impact before lunch.
In fact, none of the Australian bowlers did. A quiet morning has seen Joe Root and Tim Bresnan steadily form a good partnership. Root opened the day with a four off the first delivery and and reached his first half-century as an opener for England off 122 balls.
Bresnan took 30 balls to get off the mark. With nine to his name, the 28-year-old edged Siddle and breathed a sigh of relief as the ball failed to carry.
But the nightwatchman had moved to 30 at the adjournment with Root unbeaten on 63 as England added 83 in 31 overs during the first session without loss.
England lead by 347 runs with seven wickets remaining and Michael Clarke is left scratching his head.
England 114/3.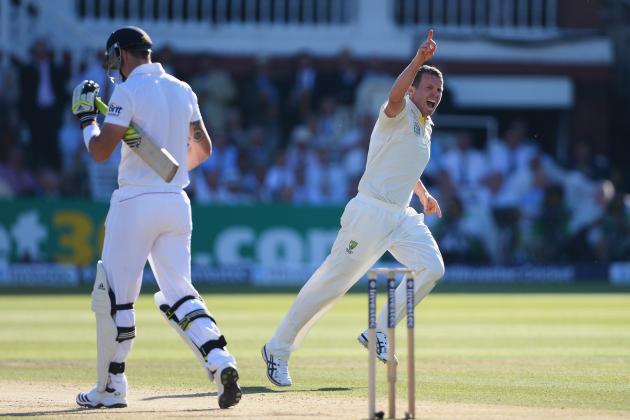 Mike Hewitt/Getty Images

Is that the sound of the Barmy Army celebrating?
Resuming on 96/7 after a disastrous second session, Australia added just another eight runs before James Anderson finally got his first wicket of the Test.
The Trent Bridge hero saw his out-swinging ball edged by Peter Siddle to Graeme Swann at second slip.
Brad Haddin soon followed after attempting to slog Swann through mid-wicket only for an edge to be snared by Jonathan Trott at slip.
Bowling hero Ryan Harris was the last man out as his attempted drive off Swann was well taken by Kevin Pietersen, sprinting around from mid-on.
Swann finished with 5 for 44 as Australia were bowled out for 128, a first innings deficit of 233, but England decided not to force the follow-on.
But Peter Siddle then ripped through the England top order, firstly dismissing Alastair Cook for eight after the England captain got an inside edge onto his leg stump.
The fast bowler then forced Jonathan Trott to also play on - an inside edge pegging back leg stump and the batsman departing for a duck.
It didn't take long for Siddle to grab his third wicket of the innings when Pietersen drove on the up straight to Chris Rogers at point and he fell for five.
Nightwatchman Tim Bresnan joined Joe Root to see out the final five overs which brought to an end an incredible day of Test cricket that saw 16 wickets fall.
England 31/3 heading into Day 3.
Mike Hewitt/Getty Images

If one session is going to define the Second Test, this is it.
Resuming after lunch at 42/1, Australia capitulated in the afternoon session. Usman Khawaja joined Chris Rogers at the crease but saw his partner succumb to a freak dismissal.
Graeme Swann's horrific waist-high full toss was missed by Rogers and he was given out lbw by umpire Marais Erasmus. The opener failed to challenge the call and Hawkeye confirmed the delivery was missing leg stump.
Phil Hughes joined Khawaja, but much like the rest of the series, controversy quickly ensued. Hughes attempted to drive Tim Bresnan's ball but only managed a thin edge into the hands of Matt Prior. Hotspot failed to pick up a touch, but the decision was confirmed on sound evidence.
Khawaja summed up Australian frustration when his wild shot off Swann only found Kevin Pietersen who took a steepling catch at mid-off.
Steven Smith couldn't turn his Day 1 bowling heroics into a similar performance with the bat and was excellently caught by Ian Bell at short leg off Swann.
Then a yorker from Stuart Broad saw Australia captain and key batsman Michael Clarke dismissed LBW. England had time for one more wicket before the second session's conclusion, and remarkably, it was the most calamitous of the day.
Ashton Agar called Brad Haddin through for a quick single but the keeper didn't respond and Prior pounced on the ball and James Anderson coolly whipped the bails off at the non-striker's end.
Australia 96/7 at tea.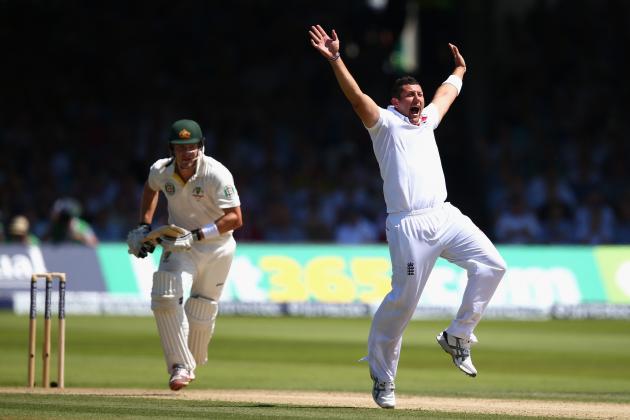 Ryan Pierse/Getty Images

After Steven Smith's heroics the night before, England entered the second day on 289/7.

Ryan Harris instantly delivered for Michael Clarke's side as Tim Bresnan edged the first delivery of the morning into the gloves of keeper Brad Haddin.

Stuart Broad entered proceedings to a ring of boos from Australian fans after allegations of bad sportsmanship in the First Test. The 27-year-old decided to wait for a decision during the opening encounter, and before long, the Englishman was forced to do the same again.

James Anderson fell after edging another Harris corker to Haddin with the Aussie quick finishing with five for 72.

It was Broad's dismissal that signalled the conclusion of England's innings. Broad (33) and Graeme Swann (28*) added 48 for the final wicket before the former nicked James Pattinson to Haddin - a decision that was confirmed after review - as the hosts ended on 361.

The home nation must be pleased with this score after losing three wickets so quickly on the first day.

Shane Watson and Chris Rodgers opened Australia's batting and James Anderson's first ball saw a huge appeal after appearing to take Watson's edge but it was pad first and Alastair Cook opted not to review.

Anderson and Bresnan struggled through their opening overs and Watson and Rodgers steadily built a partnership before the Yorkshire quick forced Watson to play around his front pad. Watson fell LBW, ensuring Australia entered the break at 42/1.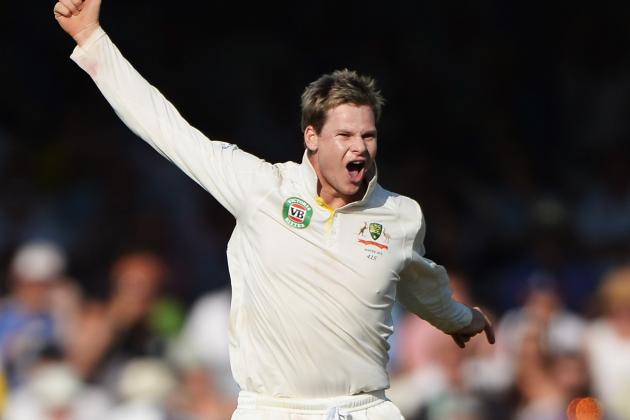 Gareth Copley/Getty Images

England may have finished the second session strongly, but Australia will be jubilant at the end of play on Day 1.
Shane Watson, James Pattinson, Ryan Harris and Peter Siddle failed to challenge Ian Bell, who notched his second successive Ashes century before being caught at slip by leg-spinner Steven Smith for 109.
Michael Clarke's decision to change strategy worked in the morning, and once again, the Australian skipper's pro-activeness saw his side take the initiative. The captain took the catch to remove to Bell.
The visitors have Smith to thank for a thunderous end to play. He took the return catch after a dipping full toss to Jonny Bairstow. The 24-year-old picked up his third wicket when Matt Prior misread the length and edged his shot straight into the hands of Brad Haddin.
England will go into the second day on 289/7.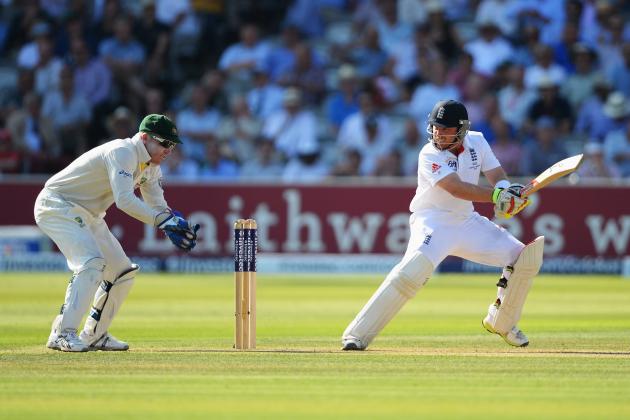 Mike Hewitt/Getty Images

Score at end of play on Day 1

England: 289/7 (89.0 overs)
Batting Details
Out (Runs/Balls): Alastair Cook (12/14), Joe Root (6/14), Kevin Pietersen (2/4), Jonathan Trott (58/87), Ian Bell (109/211), Jonny Bairstow (67/146), Matt Prior (6/18).
Not out: Tim Bresnan* (7/28), James Anderson (4/16).
Australia: Yet to bat
Bowling Details
James Pattinson 0/79 (18.0 overs), Ryan Harris 3/43 (20.0 overs), Shane Watson 1/41 (12.0 overs), Peter Siddle 0/53 (20.0 overs), Ashton Agar 0/44 (13.0 overs), Steven Smith 3/18 (6.0 overs).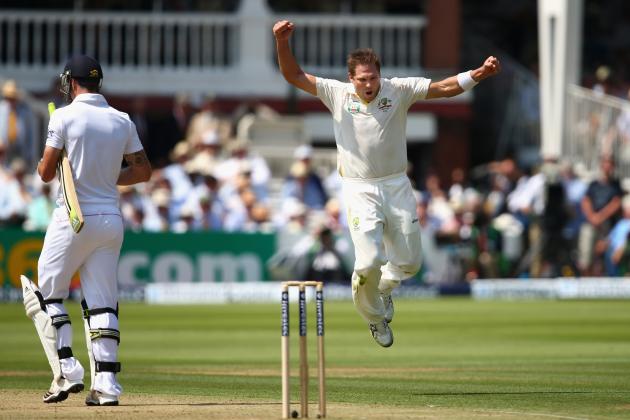 Ryan Pierse/Getty Images

Strong individual performances defined early play, but unfortunately for the Queen, most of these came from the Australian visitors. The Baggy Greens did exceedingly well to bowl aggressively after losing the toss. England elected to bat in perfect conditions, but much like the First Test, failed to create an early advantage.
The visitors dropped Ed Cowan and Mitchell Starc. Usman Khawaja and Ryan Harris took their places, the latter of whom dictated large proceedings in the first session.
An inspired decision from Australia captain Michael Clarke saw the first wicket fall in the fourth over. Shane Watson bowled his first spell after a slow start from Harris, and with his second ball, a straight ball smashed against Alastair Cook's pads. Cook fell lbw for 12, with the score at 18-1.
Harris then got into gear, striking the pads of Joe Root. The England opener reviewed, but with Hotspot convincing the Third Umpire that the ball had struck the batsman's pads before he got an inside edge, Root joined Cook in the Pavillion. England, 26/2.
At this point, Kevin Pietersen came to the crease. Harris' confidence grew and he extracted Pietersen's outside edge after just four balls and he quickly found himself back in the shade. England, 28/3.
Harris and Australia slowed from here, giving Jonathan Trott and Ian Bell the chance to rebuild for the home nation. As the first session closed, Trott and Bell reach lunch at 34* and 23* respectively. The unbeaten 52 partnership will disappoint Australia after such a strong start.
England 80/3 at the break.