Big 12 Football: Bleacher Report's All-Time All-Conference Team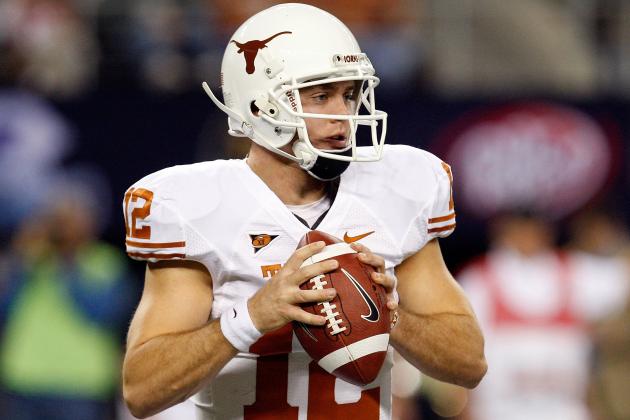 Ronald Martinez/Getty Images
Colt McCoy
On the heels of the Big 12 announcing its 2013 preseason All-Conference team, Bleacher Report has put together an all-time All-Big 12 team.
The Big 12, which started back in 1996, has produced some of the most memorable players in recent history. Who can forget Colt McCoy, Ricky Williams or Ndamokong Suh?
The only real criteria for this list goes as follows: you must have played for a Big 12 team, current or former, during the Big 12 era. Guys like Barry Sanders who played in the Big 8 don't count.
The format of the all-time team follows the same format that the Big 12 follows for its preseason team. So one quarterback, two running backs, two wide receivers, a tight end and four offensive lineman.
Then on defense, there's four defensive lineman, three linebackers and four defensive backs, which can either be safeties or cornerbacks.
For special teams, there is one kicker, one punter, and two return specialists.
With that, here's the all-time All-Big 12 team:
Begin Slideshow

»
The Texas Longhorns have never had a better signal-caller than Colt McCoy. This guy holds nearly every passing record in Austin, including total touchdowns, touchdown passes in a career, season and a game and career wins (45).
He was also a winner during his time under Mack Brown.
He won the Big 12 title in 2009 with a perfect 12-0 record and took the Longhorns to the BCS National Championship game against the Alabama Crimson Tide. Many speculate that had he not left that game with an injury in the first half, the Longhorns would've won.
McCoy currently ranks third all-time in the Big 12 in passing yards with 13,253. He only trails Landry Jones and Graham Harrell in that category.
Just like Texas never had a better quarterback than Colt McCoy, it never had a better running back than Ricky Williams.
The list of backs to put on the burnt orange jersey is lengthy indeed and includes Jamaal Charles, Cedric Benson and Priest Holmes. But none topped Williams.
Williams sits second on college football's list of all-time rushing leaders as he racked up 6,279 yards during his time in Austin. The only man in college football history to get more yards is Ron Dayne with 6,397.
He was also the recipient of the 1998 Heisman Trophy.
It can be argued that no player was more electric in the entire Big 12's history than former Kansas State running back Darren Sproles.
Nicknamed "Little Tank" due to his 5'6" stature, Sproles helped lead Kansas State's 2003 squad to the program's first ever Big 12 title with win over then-top-ranked Oklahoma. The Wildcats just got their second conference title in 2012.
Sproles currently ranks third all-time in the Big 12 in rushing yards with 4,979 over his career. He only trails Ricky Williams and Cedric Benson in that category.
Since Sproles left Manahttan, he has since done pretty well for himself in the NFL. In 2011, he set the NFL's all-purpose yards record in a season with 2,696.
With quarterback Graham Harrell as his partner in crime in the then-revolutionary no-huddle offense, Michael Crabtree brought the Texas Tech Red Raiders to relevance.
While only spending his freshman and sophomore years in Lubbock before bolting for the NFL, Crabtree was an All-American in both 2007 and 2008.
He finished his time as a Red Raider with 3,127 yards receiving and 41 touchdowns.
His most memorable play came in the last seconds against top-ranked Texas, when he broke free after a catch on the right sideline and scored the game-winning touchdown.
Rashaun Woods is up there with the best wideouts to ever play college football. When he was done in Stillwater, he held basically every meaningful receiving record.
Currently, Woods is second only to Ryan Broyles in receiving touchdowns and yards in Big 12 history with 42 and 4,414 respectively.
He also set an NCAA record in 2003 with seven touchdown receptions against SMU.
Surprisingly, Woods didn't have a successful NFL career. He only played one season with the San Francisco 49ers and caught seven passes.
Athlon Sports ranks Missouri's Chase Coffman as the best tight end ever in the BCS era, and for good reason.
During his time as a Tiger, he racked up 30 touchdown catches and 2,659 receiving yards. He did that on a whopping 247 catches.
As a senior, Coffman earned himself the John Mackey Award, honoring the nation's best tight end.
According to Athlon Sports, Coffman was a huge part of the Tigers' 22-6 run during his last two seasons, arguably the best run in program history.
Yes, Joeckel finished his Texas A&M career in the SEC.
But he was still dominant in the Big 12 when the Aggies were in the conference and was a big reason Ryan Tannehill was as successful as he was.
In 2011, Joeckel was a Second Team All-Big 12 member despite a less than impressive showing from the Aggies as a whole.
After blocking for Johnny Manziel last season, Joeckel earned the honors as the No. 2 selection in the NFL draft to the Jacksonville Jaguars earlier this year.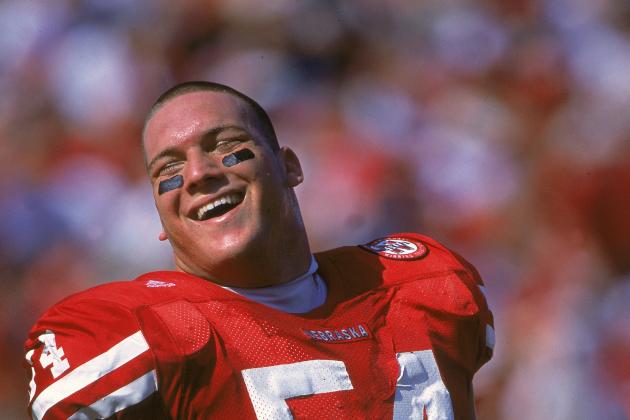 Brian Bahr/Getty Images
Dominic Raiola
Arguably the best center in Big 12 history, Raiola started all three years at Nebraska.
During his time as a Cornhusker, according to Athlon Sports, Raiola set a school record for knockdowns. He also won the Rimington Trophy, honoring the country's top center, in his junior season.
The Hawaii native has since had a successful career in the NFL. Currently, he is with the Detroit Lions, where he has spent his whole career since 2001.
This guy was a huge part of the Oklahoma State Cowboys' entrance to the national stage over the past few seasons.
In 2008 and 2009, Okung was not just a First Team All-Big 12 selection, he was a First Team All-American as well.
2009 was the star season for Okung, as he was named the Big 12 Offensive Lineman of the Year and won the Jim Parker Trophy for the nation's best offensive lineman.
By the time he finished his career in the 2009 Cotton Bowl, he had recorded 47 straight starts.
Since then, he has gone on to have a pretty good career on Sundays. Since being drafted by the Seattle Seahawks in 2010 as the sixth overall pick, he's made one Pro Bowl.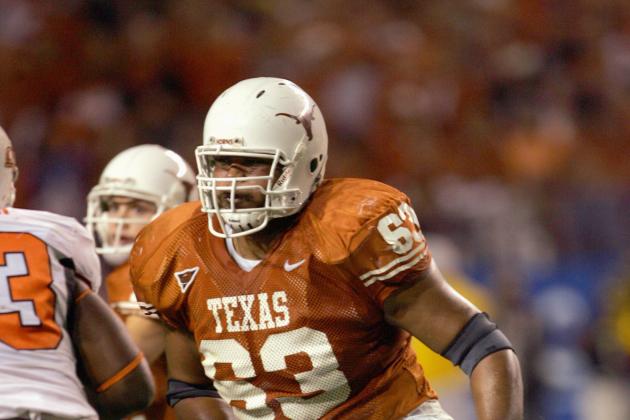 Stephen Dunn/Getty Images

This guy was responsible for protecting Vince Young's blindside in 2005 and was a huge reason the Longhorns won a national title that year.
In his four years in Austin, Justin Blalock was a four-time First Team All-Big 12 selection and was the Big 12 Lineman of the Year in 2006.
He was also an All-American in 2006, leading to the Atlanta Falcons taking him in the second round of the 2007 NFL draft.
Who can forget one of the biggest monsters in college football history?
While at Nebraska, Ndamukong Suh striked fear in the hearts of the entire Big 12.
2009 was Suh's best year. He won the 2009 Outland and Nagurski Trophies, and became the first defensive player to ever win the Associated Press' Player of the Year award. He also finished fourth in the Heisman Trophy voting.
He also helped Nebraska make the Big 12 title game against Texas that year. And had it not been for a missed field goal as time expired, the Cornhuskers could've been Big 12 champions that year.
Brian Orakpo anchored the defensive line for four years in Austin and became one of the most feared defensive players the Big 12 had ever seen.
As a freshman, he won the Big 12 Freshman of the Year award and was part of the 2005 team that won the national title. In 2007, he was the Holiday Bowl's defensive MVP with six tackles and two sacks.
But it wasn't until 2008, his senior season, that Orakpo began to run out of room in his trophy case.
That year, he won the Nagurski, Lombardi, Willis and Hendricks trophies. He was the Big 12 Defensive Player of the Year and a unanimous All-American selection.
When it was all said and done for Orakpo, he had racked up 132 tackles and 22 sacks.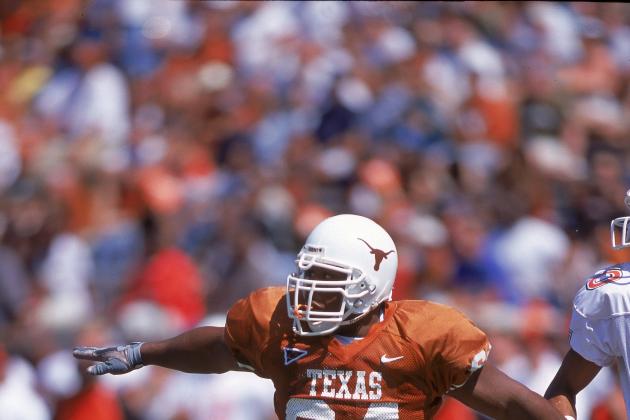 Jonathan Daniel/Getty Images
Casey Hampton
Recording 37 consecutive starts between 1997 and 2000, Casey Hampton was an incredible defensive tackle for the Longhorns.
Hampton's 2000 season was his best one at Texas, as he was a consensus All-American and won the Big 12 Defensive Player of the Year award.
His numbers are almost scary. By the time he was done in Austin, he had 329 tackles and nine forced fumbles.
He was later taken in the first round of the 2001 NFL draft by the Pittsburgh Steelers, where he has since been to five Pro Bowls, won two Super Bowls and was named to the Steelers' All-Time team.
Tommie Harris was a huge part of the 2003 Oklahoma team that went to the 2003 BCS National Championship game. That year, Harris claimed the Lombardi and Willis trophies.
Harris was a two-time All-American as a Sooner before being taken in the first round of the 2004 NFL draft, where the Chicago Bears selected him 14th overall.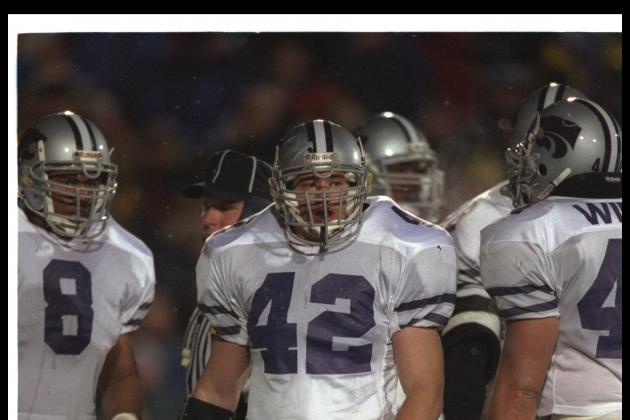 Steve Dykes/Getty Images
Mark Simoneau
Racking up 400 tackles is no easy feat, but Mark Simoneau did just that during his time as a member of the Kansas State Wildcats.
1999 was the best year for Simoneau. That's when he won the Big 12 Defensive Player of the Year honors and was a consensus All-American.
Then in 2012, after a decent NFL career, he was inducted into the College Football Hall of Fame. Simoneau is just the second Wildcat to earn that honor, joining another linebacker in Gary Spani.
(Fun fact about Gary Spani: former Kansas State quarterback Collin Klein married his daughter, Shalin.)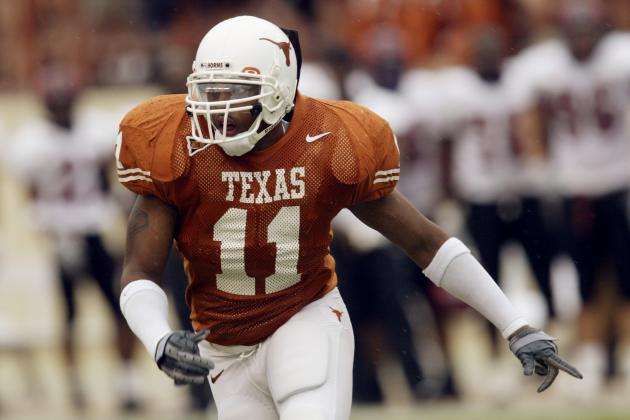 Stephen Dunn/Getty Images
Derrick Johnson
The 2004 Big 12 Defensive Player of the Year is one of the best linebackers to ever suit up in the burnt orange.
Johnson was a three-time First Team All-Big 12 selection, a two-time All-American and won the Butkus and Nagurski awards in 2004.
He finished his career at Texas with 458 tackles, 10.5 sacks, 11 forced fumbles, nine interceptions and won the national title in 2005.
Since his days in Austin, Johnson has been a staple of the Kansas City Chiefs linebacker corps. He was drafted 15th overall in 2005 by the Chiefs and has since made two Pro Bowls and was named an All-Pro in 2011.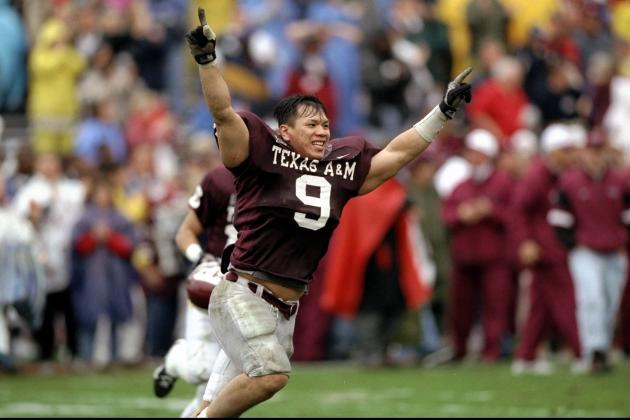 Stephen Dunn/Getty Images
Dat Nguyen
The debate as to whether Dat Nguyen or Derrick Johnson was the best linebacker in Big 12 history can rage on for hours.
But it's definitely one of those two. And Nguyen racked up his trophy case while at College Station.
From 1995 to 1998, Nguyen was named a First Team All-Big 12 member three times. 1998 was his best year, as he won Bednarik, Lombardi and Lambert awards, was the Big 12 Defensive Player of the Year and was a unanimous All-American selection.
He was also named to the Big 12 10th Anniversary Team in 2005.
Roy Williams was a monster during his years in Norman.
In 2001, Williams won nearly every award possible. He was the Big 12 Defensive Player of the Year, was the recipient of the Nagurski, Thorpe and Tatum awards and was an All-American.
The year before, he was also a critical member of the team that won the national title.
Since his playing days at Oklahoma, Williams was picked eighth overall in the 2002 NFL draft by the Dallas Cowboys and has made five pro bowls.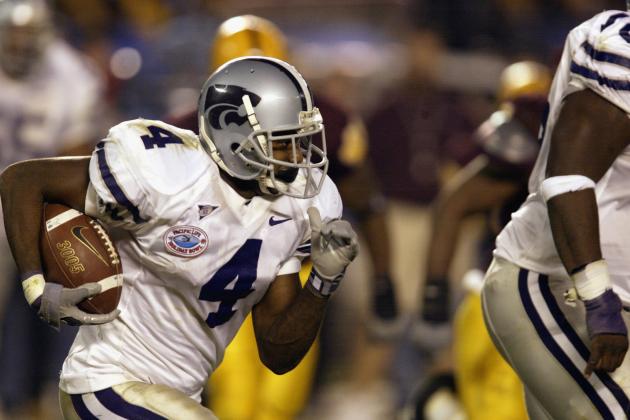 Stephen Dunn/Getty Images
Terence Newman
Despite not even starting until his junior year at Kansas State, Terence Newman became one of the best cornerbacks in Big 12 history.
In 2002, Newman's senior year, he accumulated five interceptions and 54 tackles. That earned him Big 12 Defensive Player of the Year, a unanimous All-America selection and the Jim Thorpe Award.
After his days at Kansas State, Newman was selected fifth overall by the Dallas Cowboys in the 2003 draft and has made two Pro Bowls. He is currently playing with the Cincinnati Bengals.
Prince Amukamara, the 2010 recipient of the Big 12 Defensive Player of the Year award, is certainly one of the best cornerbacks in Big 12 history.
During his time in Lincoln and prior to the Cornhuskers bolting the Big 12 for the Big Ten, Amukamara was also a First Team All-Big 12 member in 2010 and a unanimous selection as an All-American.
In 2010, while he didn't record an interception, Amukamara only allowed 18 balls thrown his way to be caught out of 52 passes.
He was subsequently drafted in the first round by the New York Giants in the 2011 NFL draft and won the Super Bowl in 2012.
Aqib Talib was a big part of arguably the best run in Kansas football history.
Known as the basketball powerhouse that it is, Talib helped lead the Jayhawks to the Orange Bowl in 2008, where he was named the game's MVP and the Jayhawks beat the Virginia Tech Hokies.
In 2006 and 2007, Talib was a First Team All-Big 12 member and in 2007 was unanimously selected as an All-American.
The Tampa Bay Buccaneers then selected Talib in the first round of the 2008 draft. Since 2012 though, he's been a member of the New England Patriots.
Quinn Sharp was the model of consistency during his time in Stillwater.
In 2011 and 2012, Sharp was named the Big 12's Special Teams Player of the Year.
In those two years, Sharp was 151-of-152 on his extra point attempts and 50-for-59 on his field goal attempts. With 145 points scored, he ranks fifth all-time in NCAA history.
Right now, he is vying to be the kicker for the Cincinnati Bengals after going undrafted in the 2013 NFL draft.
Not many punters made the impact that Tress Way did for the Oklahoma Sooners.
From 2009-2012, Way became the second-leading punter in Big 12 history, racking up 10,988 yards of punt yardage. He averaged 44 yards per punt.
As the video above shows, he was also named a team captain for the Sooners. It's not often that a punter gets that honor.
This short, speed demon lit up the gridiron for Kansas State. He set the Big 12 record for kickoff returns for touchdowns with five from 2008-2009.
The 5'7" receiver averaged 28.5 yards per kick return and scored four of his touchdowns in 2009.
Since his days as a Wildcat, Banks has played three seasons for the Washington Redskins after going undrafted.
Wes Welker is tied for first all-time in NCAA history with eight punt returns for touchdowns.
It was his great vision and burnout speed that made him such a weapon during his years in Lubbock.
Welker averaged over 11 yards per return, and took one to the house in each of his four years as a member of the Red Raiders.
Since his playing days at Texas Tech, Welker has become of the best wide receivers in the NFL. He is currently playing with the Denver Broncos after spending most of his career with the New England Patriots.