UFC Lightweight Division: Fighting for Position in an Uncertain Title Picture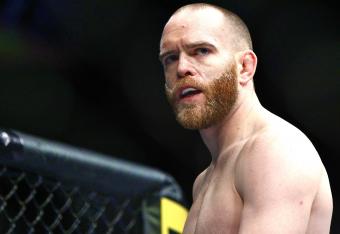 Two weeks ago, all seemed to be running smoothly in the UFC lightweight title picture.
Champion Benson Henderson and No. 1 contender T.J. Grant were preparing for their scheduled title clash at UFC 164 in late August, and a collection of top 155-pound fighters were given assignments that would have had an impact on the upper tier of the lightweight fold.
But mixed martial arts is a sport rife with uncertainty and the "injury bug" was about to rear it's head and shake things up in a major way.
Last Friday night, news of T.J. Grant suffering a concussion and withdrawing from his title fight with Henderson hit the MMA media headlines. Before the masses could make sense of the Nova Scotian pulling out of the championship tilt, the next installment of the bout switch came through when the UFC announced former WEC lightweight champion Anthony Pettis would be taking his place at UFC 164.
"Showtime" getting the nod to face "Bendo" came through as a pleasant surprise to the MMA faithful who were still reeling from the Duke Roufus-trained fighter being forced out of his featherweight title showdown with Jose Aldo at UFC 163.
Suddenly, Grant was out. Pettis was in. And a rematch three years in the making became the first "can't miss" scrap in the UFC's stacked second half run to close out 2013.
While Henderson vs. Pettis firmly locked the spotlight on the championship tier of the lightweight division, it also had an impact on the divisional hierarchy as a whole. With Pettis returning to 155-pounds and stepping in for the title shot he previously abandoned following his victory over Donald Cerrone at UFC on Fox 6 back in January, the race for the next title opportunity immediately went into hyper-drive.
There are some interesting circumstances at play in the contender's tier of the division and what comes next will hinge largely on who does the winning in the coming months.
Winning is Important, But Who Wins Will Matter the Most
The lightweight title will be on the line at UFC 164 and there are several fighters angling for a championship opportunity in the near future. At the current time there are two high profile bouts slated on the fall schedule, and those fights have the potential to shape up the title picture to close out the year.
Resurgent contender Donald Cerrone squares-off with Rafael dos Anjos at UFC Fight Night: Condit vs. Kampmann 2 on Aug. 28 in Indianapolis and the winner will certainly position himself as a one of the front runners in the heated title race.
"Cowboy" has found victory in three of his last four showings and is coming off a lopsided drubbing over K.J. Noons at UFC 160 back in May. Cerrone's win over "King Karl" put him back on track after suffering a crushing defeat against Pettis at UFC on Fox 6 and once again put the Jackson's MMA fighter back on the radar of title contention.
As for dos Anjos, the 28-year-old Brazilian is currently enjoying one of the best stretches of his career. "RDA" has found victory in four consecutive outings and been successful in five of his last six during this stretch. His most recent win came against Evan Dunham at UFC on FX 8 back in May and the matchup with Cerrone will certainly be the biggest fight of his nine-year career.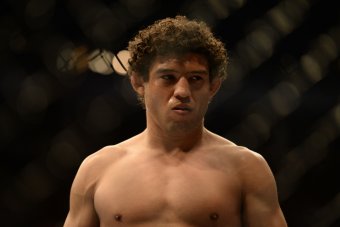 Kyle Terada-USA TODAY Sports
While the bout between Cerrone and dos Anjos carries its fair share of high stakes, there is a shift in the scales where star power and name recognition is concerned. The 30-year-old former WEC lightweight title challenger carries one of the division's most visible profiles, while dos Anjos is relatively unknown outside of the hardcore MMA fanbase.
Should Cerrone earn victory over dos Anjos in Indianapolis, the next step being a title opportunity is a possible reality. On the other hand, if dos Anjos gets the win on Aug. 28, it would be difficult to imagine the Brazilian jumping to the front of that particular line.
Where there is a difference in name recognition in the tilt between Cerrone and dos Anjos, the other high stakes bout on the fall docket doesn't have that issue.
Former Strikeforce champion and recent title challenger Gilbert Melendez will scrap it out with former No. 1 contender Diego Sanchez at UFC 166 in October in a fight neither man can afford to lose.
"El Nino" is coming off a razor-thin, albeit controversial, split-decision loss to Henderson at UFC on Fox 7 back in April and he is hungry to get another shot at UFC gold. The 31-year-old Bay Area representative had put together a four-year, seven-fight winning streak coming into his bout with "Bendo" in San Jose and that success earned him an immediate title opportunity in the UFC following Strikeforce closing their doors for good in January.
While the loss to Henderson was certainly a setback for Melendez, it didn't push him out of the immediate title picture. If he can defeat Sanchez and do so in sound fashion, the victory could certainly earn him another title shot in quick fashion.
Sanchez is looking at a similar situation. After his welterweight run produced mixed results, "The Dream" committed to once again dropping down to the 155-pound fold and making another run towards the lightweight crown. He was successful in his first lightweight showing in over three years when he edged out former Pride champion Takanori Gomi via split-decision at UFC on Fuel TV 8 back in March.
While Sanchez may not have a ton of momentum built up in the lightweight ranks, he has a passionate following with the UFC faithful. This makes the upcoming bout with Melendez a huge opportunity and the original TUF winner will absolutely be looking to make the most of it. If Sanchez is able to defeat Melendez in Houston at UFC 166, it could potentially provide the springboard for another title opportunity.
Where two consecutive wins would typically not be enough to warrant a title shot in the ultra-competitive lightweight fold, Sanchez could be the exception. Melendez is fresh off a title opportunity of his own, and defeating a recent No. 1 contender would be a huge feather in Sanchez's cap.
Other Things to Consider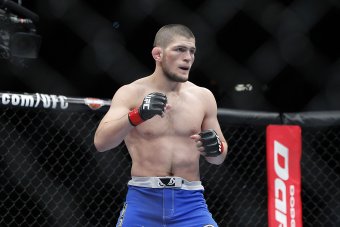 Gary A. Vasquez-USA TODAY Sports
With the scheduled action in the lightweight title picture set to blast off, there are other fighters in the mix who are looking for their way in to the fold.
Former Strikeforce champion and AKA staple Josh Thomson is coming off a huge victory over former title challenger Nate Diaz, and is jockeying for a spot in the race. "The Punk" was recently angling for a showdown with Anthony Pettis in the fall, but with the Milwaukee resident stepping in for a title opportunity, Thomson will have to sit on the sidelines and wait for the right opportunity to materialize.
One possible option that makes sense in light of the recent shake-up would be T.J. Grant. The Canadian wrecking machine has been a nightmare since dropping down to the lightweight division and earned his title shot by defeating perennial contender Gray Maynard at UFC 160. His victory over "The Bully" was the 29-year-old's fifth consecutive win and being forced out of his scheduled bout with Henderson was undoubtedly devastating.
Nevertheless, Grant will be looking to stay in the race for title contention and a bout with Thomson could very well serve as a title eliminator for both men.
While the action is fierce in the upper tier of the lightweight division, there are two young fighters who are making strong strides to break through into the next level of the weight class.
Who do you feel should get the next lightweight title shot?
Undefeated 24-year-old Khabib Nurmagomedov has been steamrolling the competition since joining the UFC in January of 2012. In 18 months of work, "The Eagle" has made his presence in the lightweight ranks known as he's collected four consecutive victories under the UFC banner.
His most recent win came at the expense of Abel Trujillo as Nurmagomedov earned a lopsided unanimous decision victory over the Team Blackzilians fighter, scoring a UFC record 21 takedowns in the process. While the talented young Dagestani is yet to face the highest level of talent the lightweight division has to offer, he is certainly on the fast track to do so.
Another surging talent chopping his way through the 155-pound ranks is Edson Barboza. The Brazilian striker has been amassing a highlight reel of devastating knockouts since entering the UFC fold. The 27-year-old has won six of his seven showings inside the Octagon with his only setback coming at the hands of former WEC champion Jamie Varner at UFC 146 in May of 2012. The Renzo Gracie-trained fighter has since bounced back strong, earning back-to-back victories with his most recent coming by way of a brutal leg kick clinic he put on Rafaello Oliveira at UFC 162.
There is no doubt the upper tier is crowded in the 155-pound division, but with Nurmagomedov and Barboza knocking on the door, things will continue to remain interesting for the foreseeable future.
This article is
What is the duplicate article?
Why is this article offensive?
Where is this article plagiarized from?
Why is this article poorly edited?