College Football Players Most Likely to Suffer a Sophomore Slump in 2013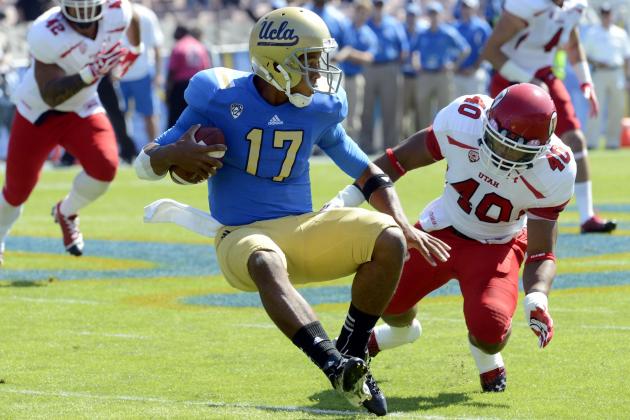 Richard Mackson-USA TODAY Sports

Regression is a painful reality of college football, just as wretched and inevitable as season-ending injuries, bad officiating and controversy with the BCS.
That holds especially true for underclassmen.
Look no further than Clemson wide receiver Sammy Watkins, who earned first team All-American honors as a freshman in 2011 but took long, bounding strides backward as a sophomore.
The natural progression of players is forward, and most of last year's top freshmen are likely to move in that direction. But for none of them to take a step backward would be unprecedented.
Begin Slideshow

»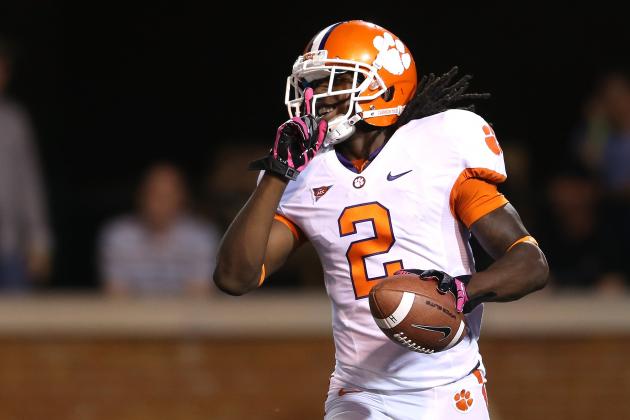 Streeter Lecka/Getty Images

This is not a list of players who will suffer a sophomore slump. It's a list of players coming off big freshman seasons who are most likely to suffer a sophomore slump.
To make a list on the former, one would need an unholy combination of clairvoyance and audacity. Each player on this list succeeded for a reason last year—they're supremely talented—and they all have the potential to repeat that success.
But, again: Every single season, players come off big freshman years and disappoint. It's a simple, time-tested element of the sport.
So I can't stress enough not to read this as a list of players doomed to fail in 2013. That's not what it is. It's a look at the candidates who may, for one reason or another, not live up to the standard they set last season.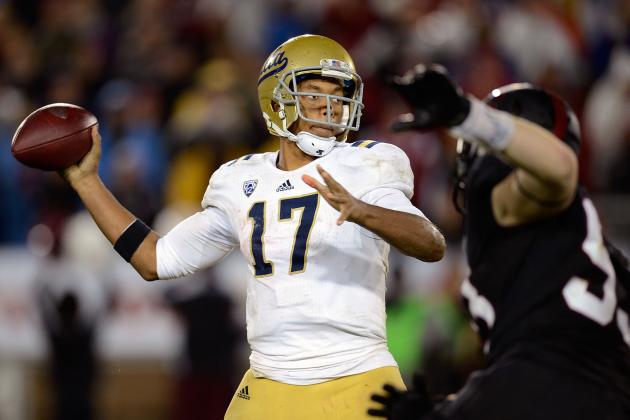 Thearon W. Henderson/Getty Images

Hundley didn't get the same headlines as Marcus Mariota, but UCLA's freshman signal-caller was just as impressive as Oregon's. He led the Pac-12 with 318 completions for 3,740 yards and 38 touchdowns in 2013.
With four starters returning on the offensive line, Hundley is expected to jump from good to great as a sophomore. And while he certainly has the talent to make such an improvement, doing so might be easier said than done.
Even with the veteran blockers in front of him, Hundley loses his most vital teammate from 2012: Johnathan Franklin. The now-Packers running back had 282 carries (10th in the country) and 1,734 rushing yards (seventh in the country) last season, operating as the undisputed go-to guy in UCLA's offense.
Now Hundley inherits those reins, and no matter his talent level, that change in responsibility and function is always difficult to make. He'll need to prove he can do it on his own this season.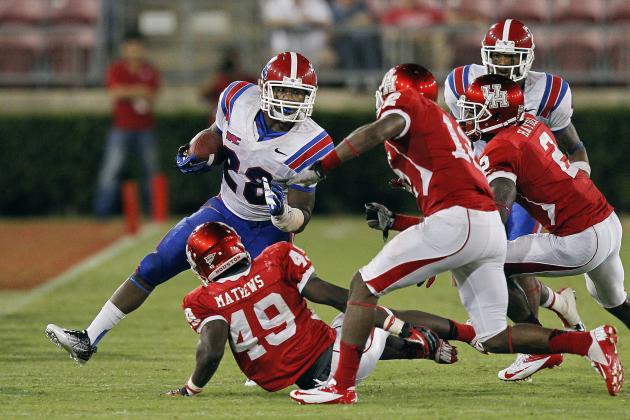 Bob Levey/Getty Images

Dixon set an FBS freshman record with 27 rushing touchdowns and added 1,194 yards on 200 carries. But after the loss of key personnel from Louisiana Tech this offseason, he will have a hard time repeating that success.
Gone is the high-tempo play-calling of Sonny Dykes, who accepted the head coaching job at Cal. Gone too are eight offensive starters, including four all-WAC-caliber offensive linemen, Sammy Baugh Trophy-winning quarterback Colby Cameron and fourth-round NFL receiver Quinton Patton.
That attrition is about as bad as you will ever see. And while, yes, it does mean Dixon will be the focal point of the offense, it also means he'll be the focal point of opposing defenses, and that he'll be doing so behind an untested group of blockers.
Expect last year's numbers to drop in 2013, and don't be surprised if it's by a lot.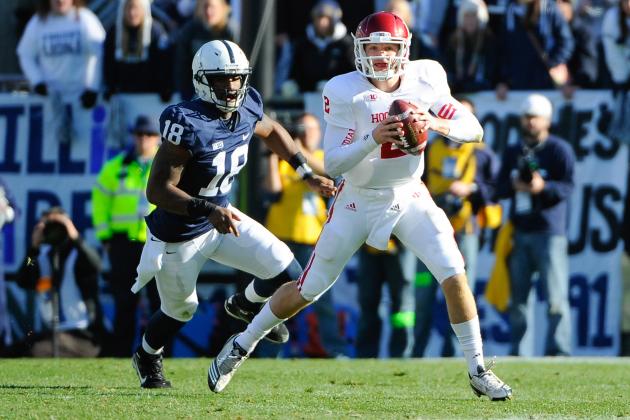 Rich Barnes-USA TODAY Sports

Barnes overachieved as a redshirt freshman last year, finishing with six sacks, three forced fumbles and 10 tackles for loss.
He wasn't a huge recruit, though (3 stars on the 247 composite), and those precocious numbers kind of seemed to come from nowhere. A lot of that might have been aided by the veterans he was surrounded by on the defensive line, including All-Big Ten first-team tackle Jordan Hill, senior end Sean Stanley and fellow senior Pete Massaro.
This year those players are gone, and unless a Barnes-esque unexpected contributor emerges beside him, he and tackle DaQuan Jones (a perpetual underachiever) will be the only two threats on the line.
With more expected of him this season, but far less room with which to operate, Barnes might struggle to repeat last year's success.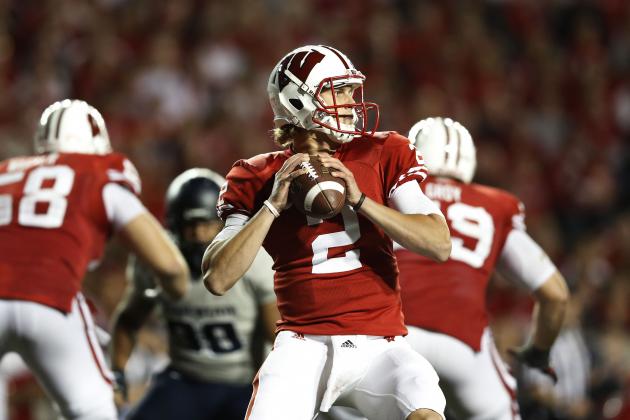 Tom Lynn/Getty Images

Stave didn't win the starting job out of camp for Wisconsin last year, but upon getting the opportunity, he quickly proved a better option than Danny O'Brien and Curt Phillips under center.
That was in Bret Bielema's offensive scheme, though, and with his old coach now at Arkansas, Stave could be in for a rocky transition.
New boss Gary Andersen has always succeeded with smaller, quicker, faster quarterbacks than big, ponderous, slow Stave. And though James White and Melvin Gordon are capable replacements in the backfield, it can't not hurt to lose a future College Football Hall of Famer like Montee Ball.
That's a recipe for regression.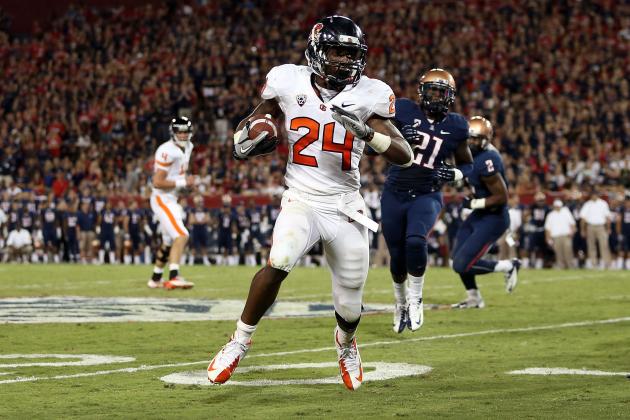 Christian Petersen/Getty Images

Injuries, along with turnover margin, are one of two things that have proven through the years to be more or less random. Units with good health one year are hard-pressed to stay as lucky in the immediate future—or maybe they aren't; it's honestly like the flip of a coin.
According to Phil Steele's College Football Preview, Oregon State suffered declining rush numbers in four straight years between 2008 and 2011. But Woods burst onto the scene (as a freshman, no less) to buck trend in 2012, leading most to expect similar success this season.
Last year's numbers, though, came behind an offensive line that lost just two starts to injury—an incredible bit of serendipity that could well change this season.
He'll be lucky enough to rush behind an experienced offensive line at the start of the season. But at some point, Woods will likely have to deal with turmoil in the trenches And since he's only a sophomore and there exists no tangible precedent, there's no way to know how he will deal with that.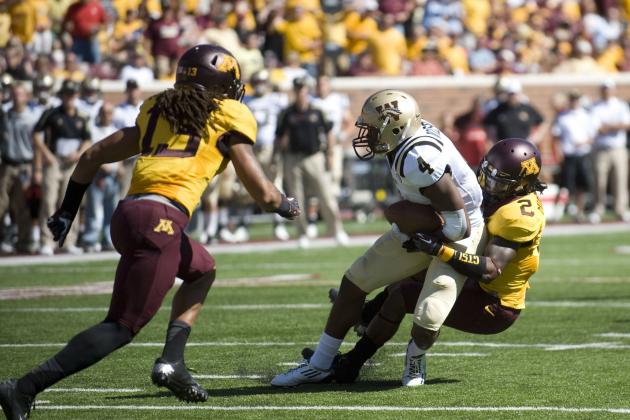 Marilyn Indahl-USA TODAY Sports

Wilson, 247Sports' No. 41 athlete, was the top-ranked player in Western Michigan's 2012 class and didn't waste a moment in proving why. He led the Broncos with 67 catches for 792 yards and six touchdowns as a true freshman.
But those stats are a bit misleading. Wilson averaged 8.8 catches for 100.8 yards in the five games Alex Carder started at quarterback, but only averaged 4.6 catches for 57.6 yards with Tyler Van Tubbergen at QB.
The latter of whom is favored to start in 2013, following Carder's graduation this spring. Second-leading receiver Eric Monette is gone, too, which means Wilson will not only play with his less-favored quarterback, he'll also face more focused attention from defenses.
That all seems to presage a step backward.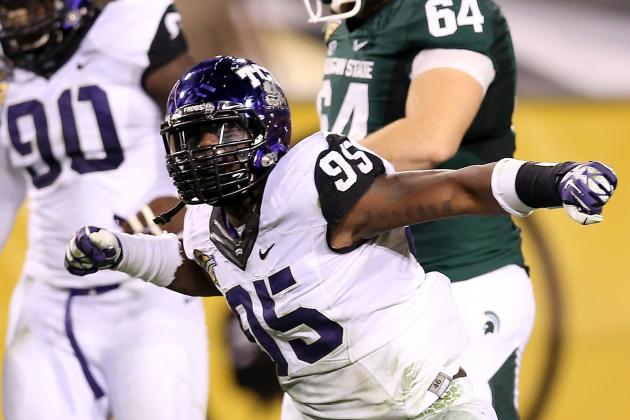 Christian Petersen/Getty Images

Fields may not suffer a steep decline in quality of play, but his numbers could take a massive hit in 2013.
He set a TCU freshman record with 10 sacks a year ago en route to being named Big 12 Defensive Player of the Year. And while those numbers and accolades were all duly earned, they were also potential outliers.
This season, Fields plays in a conference that (a) now has a years-worth of film on him to study, and (b) stands poised to run the ball more after losing Geno Smith, Landry Jones, Collin Klein, Nick Florence and Seth Doege (five of its six most-efficient passers) this offseason.
He's also suspended for the first two games of the season after violating an unspecified team policy. That will spare him a blue-chip matchup against La'el Collins and LSU, but it will also cost him a chance to pad stats against Southeastern Louisiana.
More than anything, the suspension could derail Fields's momentum from last year, much like the one Sammy Watkins served before last season's disappointment.
Fields is good enough to post solid numbers in spite of that, but it might be risky to bank on him doing so.