Pau Gasol has been working hard this summer and will soon be able to add "published author" to his list of career achievements.
After being the NBA Rookie of the Year, as well as a two-time NBA Champion, four-time All-Star and two-time Olympic silver medalist, Gasol has decided to write a book, which he says will be finished soon.
During these days of nature and peace, I've been able to work on my book. I can't wait to have it finished very soon! pic.twitter.com/wx8X68lwyf

— Pau Gasol (@paugasol) July 17, 2013
Now, in case you're wondering why he's seemingly staring at a bunch of photographs, it's because he is working on a photography book full of inspirational messages.
Dave McMenamin from ESPN LA gave us the low-down on Gasol's authorial aspirations, which he talked about during his exit interview with reporters earlier this year.
Pau Gasol reveals he's working on a photography book with inspirational messages from his life off the court

— Dave McMenamin (@mcten) April 30, 2013
The big fellow told his followers that he's going to publish the book in both Spanish and English.
Both! RT"@Scrandeen: @paugasol English or Spanish"

— Pau Gasol (@paugasol) July 17, 2013
If you follow Gasol on Twitter, you'll know that he's downright cheery every day of the week.
So, if there's one NBA player who could get away with an inspirational book revolving around photography, it's Gasol.
Hopefully he's going through all the photographs that we want to see for inspiration, especially the one of him and his brother on a yacht in Spain.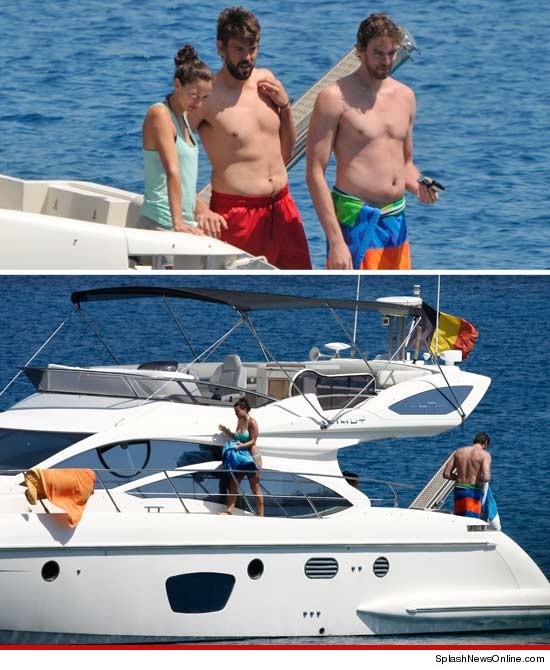 Besides the book, Gasol has apparently spent his summer having a nice time outside, whether it be out on the water or going for a hike, and is doing his best to keep his spirits up.
Here's a picture of my day! The water was pretty cold! I hope we can always enjoy of places like this one #nature pic.twitter.com/7nHuoRRspP

— Pau Gasol (@paugasol) July 17, 2013
Obviously his team is in a transitional period, and with Dwight Howard leaving, Metta World Peace getting the amnesty chop and Kobe Bryant's status still in question, he'll either be spending his season on a mediocre Lakers team or even in danger of being traded.
For the time being, it seems that Gasol has no reason to be upset about anything.