Previewing the Players on Redskins' Roster Bubble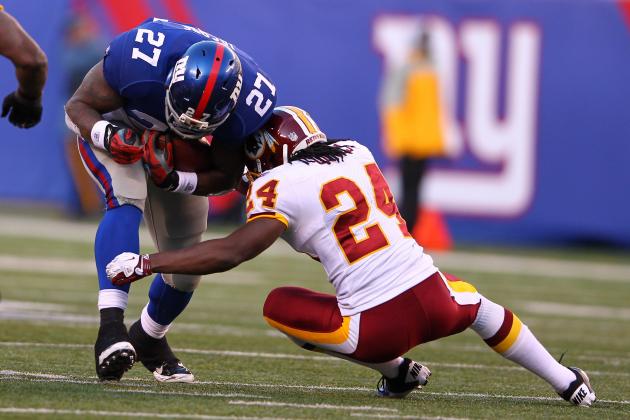 Al Bello/Getty Images
DeJon Gomes is one of several players on the roster bubble as the season approaches.
There are 50 days and counting until the start of the NFL season, and some players are sweating out every second.
While the majority of the players currently signed to deals in the NFL are comfortably entrenched on their team's roster, there are stragglers who have yet to prove they can be a part of the 53-man unit.
The Redskins are no different. Most of the roster is set, but there are still outliers and question marks. If these five players don't step up during training camp, their dreams of having a fruitful career in the NFL could go to waste.
Begin Slideshow

»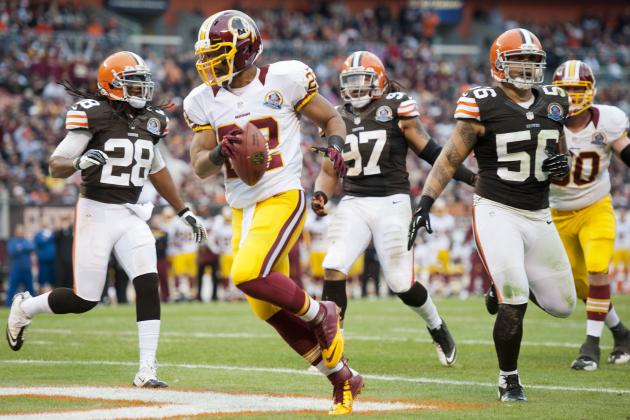 Jason Miller/Getty Images
Evan Royster has an uphill battle ahead of him as he looks to secure a spot in a crowded backfield behind Alfred Morris.
Evan Royster may be the most obvious candidate on the team to sit on the bubble. The Redskins have at least three options on the ground who are arguably more dangerous in Alfred Morris, Robert Griffin III and Roy Helu. In addition, the team drafted Chris Thompson and Jawan Jamison. This was no doubt in response to Royster's supremely underwhelming 2012 campaign, where he ran for all of 88 yards.
You can make the argument that Royster didn't get a fair shake—he only had 23 carries, after all. But none of those carries (and I mean none) did anything to inspire any kind of confidence in his ability. He only had one carry more than 10 yards for the whole year.
The Redskins' backfield is full of talent and blossoming with exciting prospects. Morris and RGIII are the established leaders of the ground game, and Helu is a decent, versatile threat. Thompson and Jamison provide speed and depth, meaning that Royster is looking at a very tough battle. The signing of Keiland Williams also complicates things.
There's no doubt that another team will pick up Royster if he's released. But it's becoming clear he won't be donning the Redskins' colors in Week 1.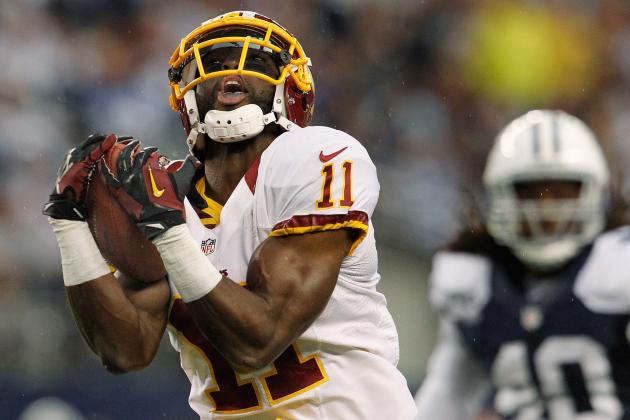 Tom Pennington/Getty Images
Aldrick Robinson had a few good plays in 2012 but was nonexistent for the most part. The influx of new talent at the receiver position will push him as the season approaches.
Aldrick Robinson is on the Redskins' roster for one reason—he's fast. Other than that, he doesn't offer much. His touchdowns in 2012 were a product of superb play-calling, and his highlights dangerously cover up the fact that he only had 11 catches in 15 games.
Washington's coaching staff made the right move and brought in veteran competition in the form of Donte Stallworth and Devery Henderson. Robinson will probably still find a spot with the team (unless he stinks it up in the preseason), but his leash is short. He could be the next Anthony Armstrong (an iteration that the coaching staff actually puts on the field), or he could find a spot on the practice squad. His work ethic and continued improvement are important to his future.
The Redskins have serious depth at wide receiver, and Robinson could be the odd man out come Week 1. It sounds ridiculous to think that, but a few long touchdowns does not a career make. Robinson has to work to impress the coaching staff or risk anonymity.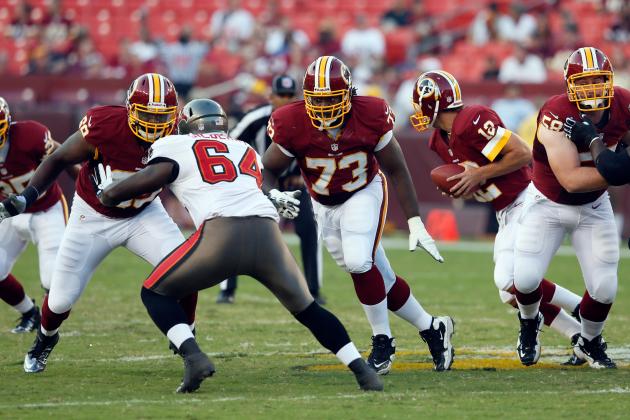 Rob Carr/Getty Images
Adam Gettis has a lot of work to do in order to prove his worth, as he sits third on the depth chart at guard.
The best thing about Chris Chester in 2012 was that he never missed significant time, meaning Adam Gettis rarely saw the field. What we did see of Gettis came primarily in the preseason, where he generally played like he didn't know what he was doing.
He showed no flashes and struggled with basic blocking concepts. He's on the team now primarily as depth, but there are backup tackles who could probably take over for Chester and play better at the guard position than Gettis.
Gettis was once thought of as a project who could develop into a solid player down the road. But he's done little to nothing in his NFL career and hasn't put on muscle as scouts expected him to. His time in Washington will probably be over before the season begins.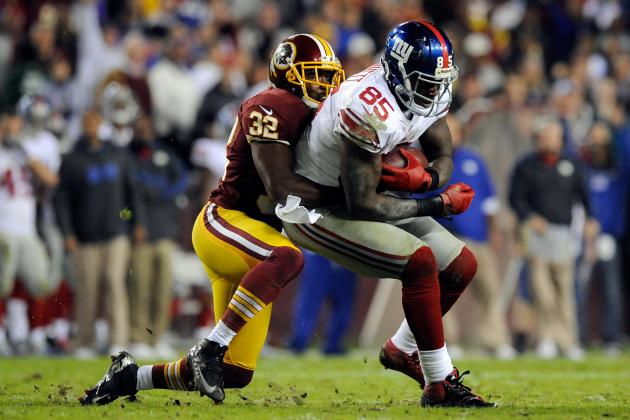 Patrick McDermott/Getty Images
Being on the bubble at a problem position is never a good sign, but it's where Jordan Pugh currently finds himself.
Considering he was drafted in the sixth round in 2010, Jordan Pugh can probably consider his three-plus years of service in the NFL a success. That being said, his continued presence in an NFL locker room is seriously in doubt.
After the disaster that was the Redskins' defensive backfield in 2012, Pugh did little to separate himself from the pack. The drafting of young safeties did nothing to quell the doubts, and Pugh finds himself firmly on the bubble. He had 19 tackles in 13 games (and, get this, has only 50 tackles in 40 career games) and has little to no upside.
The secondary's expected return to health, paired with the influx of new, younger players could spell the end for Pugh as a member of the Burgundy and Gold. It would be nice to see him catch on somewhere else, but it will be a tough sell. If he can't make an impact on arguably the worst defensive secondary in the NFL, how can he do so in another city? Happy trails.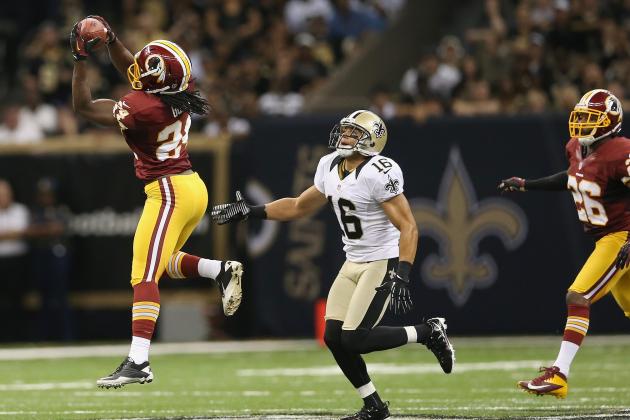 Ronald Martinez/Getty Images
He snagged a ball against the Saints in Week 1, but a defensive backfield with increased depth could be trouble for DeJon Gomes.
Statement of the day: If you can't even be decent in Washington's defensive backfield, you probably don't belong. As with Pugh, DeJon Gomes finds himself stuck on the outside looking in. The return of Brandon Meriweather and the prospect of decent performances by Philip Thomas and Bacarri Rambo have shut the door on Gomes' future.
He had 40 total tackles, a fumble recovery and an interception in 15 games, but those numbers don't hold up when you consider the Redskins finished near the bottom of the league in passing defense. Gomes is speedy, but he lacks size and may never be able to stack up against top-level NFL talent.
The only reason he'd be kept around is for depth, but the safety position is starting to look crowded. It doesn't look good for Gomes.