Stock Up, Stock Down for Cleveland Indians Top 10 Prospects for Week 15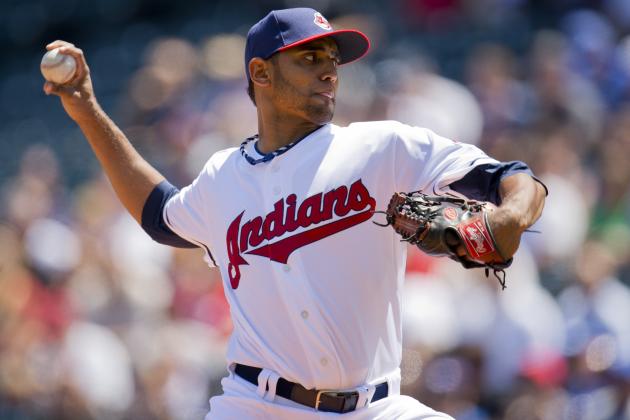 Jason Miller/Getty Images

If you're a Cleveland Indians fan, this past week was an exciting one to say the least.
Between the pro debut of eighth-ranked prospect Danny Salazar and the selection of top-ranked prospect Francisco Lindor to the All-Star Futures Game, fans were treated to several brilliant performances over the course of one week.
This article seeks to encapsulate all of these performances into one list, and to give a stock report on each of the Tribe's top 10 prospects.
So without further adieu, let's kick the list off with the 11th-ranked prospect, Alex Monsalve.
All stats come courtesy of Baseball-Reference.com and are current through play on July 14th.
No. 10 prospect Dillon Howard has yet to pitch in 2013 and was therefore replaced on this list by the No. 11 prospect Alex Monsalve.
Begin Slideshow

»
2013 Stats
4 G, .231/.286/.231, 0 HR, 0 3B, 0 2B, 2 RBI, 1 R, 0 SB, 1:1 K/BB
Overview
Catching prospects in the Indians' farm system are few and far between. However, Alex Monsalve is one of two to crack this list.
At 21 years old, Monsalve is playing with the Tribe's Rookie League affiliate in Arizona. The young catcher made his first appearances of the season this week, and there are both positive and negative takeaways from his first four games.
Monsalve compiled 13 at-bats last week and finished with a .231/.286/.231 slash line, two RBI and a run scored. Although he hit just .231 and failed to notch an extra-base hit, he did manage two RBI in his third game of the week.
Monsalve was hitting .300 prior to his last game, but an 0-3 outing dragged his batting average down to .231. Expect that average to pick up as the Rookie League season progresses.
Last Week's Stats
4 G, .231/.286/.231, 0 HR, 0 3B, 0 2B, 2 RBI, 1 R, 0 SB, 1:1 K/BB
Stock
Down
2013 Stats
84 G, .278/.337/.368, 3 HR, 5 3B, 13 2B, 31 RBI, 65 R, 33 SB, 29:33 K/BB
Overview
Jose Ramirez is a speedy middle infield prospect with a great approach, and a good deal of upside in his bat. With an already solid game in the field, the only thing absent from Ramirez's game is consistency at the plate.
At Double-A, Ramirez is hitting just .278 on the season, but his advanced approach at the plate—29:33 K/BB ratio—suggests that he could hit for a high average at the highest level. Ramirez's game is solid all-around and he's logged 21 extra-base hits to go along with 33 stolen bases and 65 runs scored.
This past week, in five games played the 20-year-old slashed .478/.478/.739 with a triple, four doubles, three RBI, six runs scored, a stolen base and just one strikeout.
Ramirez has played well this season and could easily find his way to Triple-A Columbus by the end of the year.
Last Week's Stats
5 G, .478/.478/.739, 0 HR, 1 3B, 4 2B, 3 RBI, 6 R, 1 SB, 1:0 K/BB
Stock
Up
2013 Stats
18 GS, 6-5 W-L, 83.1 IP, 2.92 ERA, 1.04 WHIP, 11.6 K/9, 2.6 BB/9, 4.46 K/BB, 6.8 H/9
Overview
Danny Salazar is enjoying a solid season with the Indians and has made starts at three separate levels—Double-A, Triple-A and MLB. Salazar has been successful working to a 2.92 ERA and a 1.04 WHIP with 11.6 K/9, 2.6 BB/9, 4.46 K/BB and 6.8 H/9 in 18 total starts.
Salazar made just one start this week, but it came on the biggest stage of his career, at the MLB level.
In his first big league start, Salazar pitched six innings, allowing just one run on two hits and a walk to go along with seven strikeouts. Salazar was on his game against the Blue Jays as he earned his first major league victory.
With his impressive outing, the 23-year-old righty gathered considerable clout within the organization and could have his number called again in the near future.
Last Week's Stats
1 GS, 1-0 W-L, 6.0 IP, 1.50 ERA, 0.50 WHIP, 10.4 K/9, 1.49 BB/9, 7.00 K/BB, 3.0 K/BB
Stock
Up
2013 Stats
45 G, .257/.326/.359, 3 HR, 0 3B, 8 2B, 19 RBI 17 R, 3 SB, 34:18 K/BB
Overview
Tony Wolters is still transitioning from a life behind the plate to learning the tricks of the trade of a middle infielder. It's been a difficult transition for Wolters who struggled early in the season to the tune of a .211/.295/.303 slash line through his first 21 games.
Since then, however, the 21-year-old has slashed .297/.354/.407 with two home runs, four doubles, 11 RBI and seven runs scored in 24 games played. Learning a new position is no easy task, but Wolters seems to have finally made the adjustment and boasts a healthy slash line over the last month.
This week was a bit of a wash for the young catcher. Wolters played just three games and, although he logged just two hits, one was a double, and he logged two RBI in the process.
Last Week's Stats
3 G, .200/.200/.300, 0 HR, 0 3B, 1 2B, 2 RBI, 1 R, 0 SB, 1:0 K/BB
Stock
Even
2013 Stats
86 G, .294/.357/.443, 6 HR, 6 3B, 24 2B, 35 RBI, 57 R, 11 SB, 26:17 K/BB
Overview
Tyler Naquin was a star outfielder at Texas A&M. Now, in just his second professional season, he's turned in an impressive first half and is working toward a promotion by the end of the season.
Through 86 games this year with High-A Carolina, Naquin turned in a .294/.357/.443 slash line with six home runs, six triples, 24 doubles, 35 RBI, 57 runs scored and 11 stolen bases. With Naquin's play over the last month, a promotion to Double-A Akron could be on the horizon as his hit tool continues to progress.
This week, Naquin played in seven games notching two doubles, a triple, two RBI, seven runs scored and two stolen bases. Naquin's slash line clocked in at an underwhelming .236/.257/.353, but the rest of his measurables help to make up for that.
Last Week's Stats
7 G, .236/.257/.353, 0 HR, 1 3B, 2 2B, 2 RBI, 7 R, 2 SB, 9:0 K/BB
Stock
Even
2013 Stats
10 GS, 1-3 W-L, 33.2 IP, 9.62 ERA, 2.11 WHIP, 9.4 K/9, 6.1 BB/9, 1.52 K/BB, 12.8 H/9
Overview
Following a solid season as an 18-year-old with the Indians' Rookie League affiliate, Cleveland management decided to get aggressive and promote Mitch Brown to Low-A ball in Lake County.
Brown made just five starts but had lost control and was re-assigned to the Rookie League after going 1-1 with an 11.49 ERA and a 2.04 WHIP. Brown has made five starts in the Arizona League since his demotion, but the results have been underwhelming.
In said five starts, Brown has worked to an 8.00 ERA and a 2.17 WHIP while averaging 8.5 K/9, 6.0 BB/9, 1.42 K/BB and 13.5 H/9.
The last week, Brown made just one start and although he allowed quite a few walks—five in just three innings—he did register three strikeouts while allowing just three hits. Brown has a good three pitch mix and, providing he can keep his walks down, he has the potential to make an impact as a middle-of-the-rotation starter.
Last Week's Stats
1 GS, 0-0 W-L, 3 IP, 3.00 ERA, 2.67 WHIP, 9.1 K/9, 15.2 BB/9, 0.6 K/BB, 9.1 H/9
Stock:
Up
2013 Stats
76 G, .289/.308/.425, 4 HR, 6 3B, 18 2B, 39 RBI, 44 R, 9 SB, 47:9 K/BB
Overview
Ronny Rodriguez is the first of a string of talented middle infielders to make this list and he's been arguably the second best of the lot. Rodriguez is a decent defender with an above-average arm, but his bread and butter is his offensive game.
The 21-year-old is working this season with the team's Double-A affiliate in Akron and owns a .289/.308/.425 slash line through 76 games played. In addition to a solid slash line, Rodriguez has chipped in four home runs, six triples, 18 doubles and 39 RBI while batting near the top of the lineup.
This past week, Rodriguez played just three games, much like other members of the Tribe's farm system. Over three games, Rodriguez worked to a .231/.231/.308 slash line with a double, two RBI and two runs scored.
Rodriguez week wasn't great, but how much stock can you really put into three games? Call him even for the week.
Last Week's Stats
3 G, .231/.231/.308, 0 HR, 0 3B, 1 2B, 2 RBI, 2 R, 0 SB, 1:0 K/BB
Stock
Even
2013 Stats
77 G, .240/.289/.350, 3 HR, 3 3B, 18 2B, 30 RBI, 39 R, 8 SB, 54:19 K/BB
Overview
After an impressive professional debut with the Indians' Rookie League and Low-A affiliates, Dorssys Paulino has toiled in mediocrity. Over 77 games played, the 18-year-old posted a .240/.289/.350 slash line with three home runs, three triples, 18 doubles, 30 RBI and 39 runs scored.
Part of Paulino's struggles could be centered around his aggressive assignment to Low-A at just 18 years old. Unfortunately for the Indians, Paulino hasn't responded in a manner that they would've expected from the third overall prospect in their system.
Paulino made some slight strides across the board this week, but it wasn't enough to make any significant dent in his otherwise uninspiring campaign.
Last Week's Stats
4 G, .267/.313/.400, 0 HR, 0 3B, 2 2B, 2 RBI, 0 R, 1 SB, 6:1 K/BB
Stock
Even
2013 Stats
18 GS, 5-4 W-L, 94.2 IP, 4.16 ERA, 1.52 WHIP, 7.7 K/9, 5.3 BB/9, 1.46 K/BB, 8.4 H/9
Overview
To keep things short and sweet, Trevor Bauer has struggled mightily in his first season with the Indians. He's made 18 total starts and has worked to a 5-4 record with a 4.16 ERA, a 1.52 WHIP and ratios of 7.7 K/9, 5.3 BB/9, 1.46 K/BB and 8.4 H/9.
Bauer has made starts at both the Triple-A and major league levels with varying levels of mild success.
| | | | | | | | | | |
| --- | --- | --- | --- | --- | --- | --- | --- | --- | --- |
| Trevor Bauer | GS | W-L | IP | ERA | WHIP | K/9 | BB/9 | K/BB | H/9 |
| Minor Leagues | 14 | 4-2 | 77.2 | 4.06 | 1.51 | 8.3 | 4.8 | 1.76 | 8.8 |
| Major Leagues | 4 | 1-2 | 17.0 | 5.29 | 1.82 | 5.8 | 8.5 | 0.69 | 7.9 |
Bauer hasn't been particularly good at either level, but he's decisively better with Triple-A Columbus.
This past week was an average one for Bauer. In his lone start for the week, Bauer went 6.2 innings, allowing three earned runs on 10 hits and two walks.
Bauer has been disappointing all season and this week was just par for the course.
Last Week's Stats
1 GS, 0-0 W-L, 6.2 IP, 4.05 ERA, 1.80 WHIP, 5.4 K/9, 2.7 BB/9, 2.00 K/BB, 13.5 H/9
Stock
Even
2013 Stats
83 G, .306/.373/.410, 1 HR, 6 3B, 19 2B, 27 RBI, 51 R, 20 SB, 39:35 K/BB
Overview
Francisco Lindor is enjoying one hell of a season with the Indians' High-A affiliate in Carolina. In 83 games played, Lindor owns a .306/.373/.410 slash line with one home run, six triples, 19 doubles, 27 RBI, 51 runs scored and 20 stolen bases.
Lindor is a plus defender and also possesses stellar plate discipline which has translated into an impressive 39:35 K/BB ratio. All of that has led to Lindor's selection to the 2013 All-Star Futures Game.
Lindor played in just three games this past week, and although he was unable to log an extra-base-hit, he did score once and swipe a bag.
Given his impressive play over the course of the season, the Indians felt compelled to promote Lindor to Double-A Akron just a few days ago (per Cleveland.com).
Last Week's Stats
3 G, .231/.286/.231, 0 HR, 0 3B, 0 2B, 0 RBI, 1 R, 1 SB, 1:1 K/BB
Stock
Even