Pac-12 Football: Bleacher Report's All-Time All-Conference Team
Stephen Dunn/Getty Images

The Pac-12 conference, then known as the Athletic Association of Western Universities, was formed in 1959 with California, Stanford, USC, UCLA and Washington as founding members.
In more than a half-century since, the conference has played host to some of the best players, teams, coaches and dynasties in college football. The list of greats goes on and on, and were one so inclined, hours could be spent rattling off their names.
But only a very select few can claim to be first-team, all-time, All-Pac-12 performers.
Begin Slideshow

»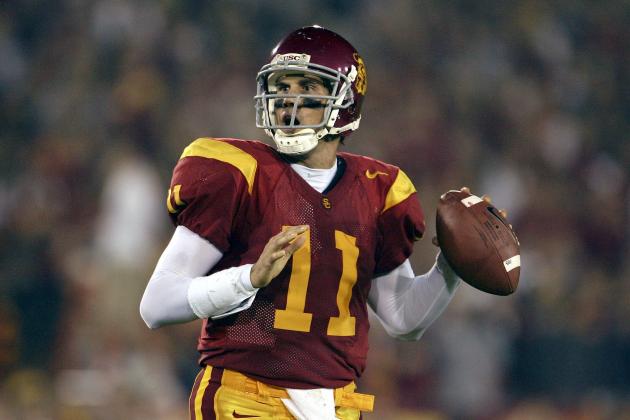 Jeff Gross/Getty Images

Given his fall from grace at the next level, it's easy to ignore how beloved (and dominant) Matt Leinart (USC) was in college.
He threw for 10,693 yards and 99 touchdowns in just three years under center for USC, a span that included two National Championships. He also finished in the top five of Heisman voting in each of those three seasons, including a victory in 2004.

Other Pac-12 quarterbacks have the numbers, and others enjoyed similar team success. But no one in the history of the conference combined those two things like Matt Leinart.
Second Team: John Elway, Stanford
O.J. Simpson (USC) led the nation in rushing in both 1967 (1,543 yards) and 1968 (1,880). He finished top-two in Heisman voting in both of those seasons—his only two as a starter—winning the Trophy in '68, where he also ran for an amazing 23 touchdowns.
All that's happened to him off the field is troubling, but this is neither the time nor place to discuss it. Simpson was a transcendent college football player whose exclusion from this list would be hard to justify—unlike Reggie Bush, his numbers haven't been vacated.
He was elected to the College Football Hall of Fame in 1983.
Mike Garrett (USC) was a pioneer, amassing 3,221 career rushing yards and 25 career rushing TDs in an era where stats like that were unheard of.
His 1965 season, where he rushed for 1,440 yards and 13 touchdowns, earned him the Heisman Trophy, which he won by a considerable amount. He re-wrote the record books during his time at USC, setting the stage for his school to become "Running Back U" and paving the way for all who followed.
Garrett was elected to the College Football Hall of Fame in 1985.
Second Team
Marcus Allen, USC
Charles White, USC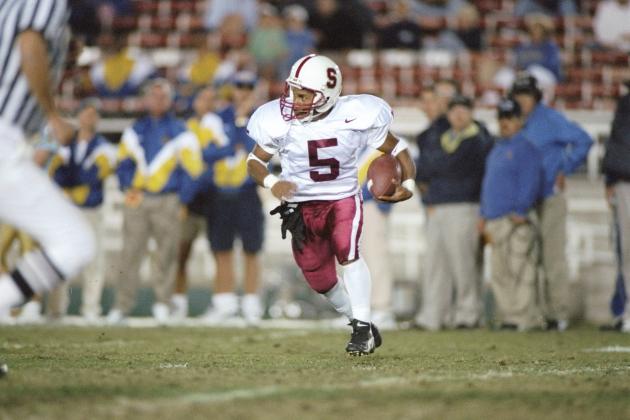 J.D. Cuban/Getty Images

Receiver Troy Walters (Stanford) wasn't the biggest or the strongest receiver, but he had an unprecedented impact on his school and, in turn, on Pac-12 history.
His Biletnikoff-winning season in 1999 (74 catches, 1,456 yards and 10 TDs) helped Stanford reach its first Rose Bowl since 1971. And though there was a large period of struggle between that and the current Harbaugh-Shaw era, Walters' success helped plant the seeds of Stanford's current, dominant form.
He retired as, and still is, the Pac-12's all-time leader with 3,995 career receiving yards, and he places fourth with 245 receptions.
Receiver Keyshawn Johnson (USC) is as divisive as they come. But love him or hate him (as both a player and analyst), there was no denying the talent he possessed after he torched the then-Pac-10 for two seasons before becoming the No. 1 pick in the 1996 NFL draft.
In 1994, he caught just 66 passes but still finished second in FBS with 1,362 yards—an incredible average of 20.6 YPC. The next year he finished seventh in Heisman voting with 102 catches for 1,434 yards and seven touchdowns.
More importantly, unlike later USC receivers like Dwayne Jarrett or Mike Williams, he accomplished all that without an All-American quarterback. His All-American 1995 season came with no-names like Brad Otton and Kyle Wachholtz splitting reps under center.
That deserves to be recognized.
Tight End Charle Young (USC) played in a different era, the early 1970s, so his receiving numbers don't jump off the page like some of his descendants. But he still revolutionized the tight end position during his three years at USC.
Young's 1972 season, where he finished with 29 catches for 470 yards and led USC to the National Championship, earned him consensus All-American honors.
Those 29 catches and 470 were both the fifth-most in college football, coming one year after he led the nation with six touchdown grabs. We might see Pac-12 tight ends put up higher gross numbers, but it's rare to see one do so well nationally.
Young was elected to the College Football Hall of Fame in 2004.
Second Team
Lynn Swann, USC
John Jefferson, Arizona State
Marcedes Lewis, UCLA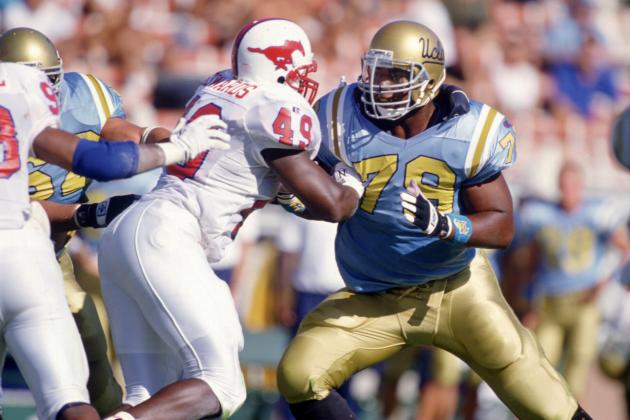 Al Bello/Getty Images

Tackle Jonathan Ogden (UCLA) started all four years at UCLA, allowing just two sacks in 23 games as a junior and senior. In 1995, he won the Outland Trophy, the Morris Trophy and was named the UPI Lineman of the Year. He was elected to the College Football Hall of Fame in 2012.
Guard Brad Budde (USC) started as a freshman in 1976, the first Trojan to do so since World War II. In 1979, he won the first and only Lombardi Trophy in USC history and finished second in voting for the Outland Trophy. He was elected to the College Football Hall of Fame in 1990.
Center Alex Mack (California) started 39 consecutive games in Berkley, becoming one of the best Bears players of all time. He won back-to-back Morris Trophies in 2007 and 2008, becoming the first and only center to accomplish that feat.
Guard Ray Foster (USC) was an All-American in 1980 and 1981. He won the first ever Morris trophy in 1980 and followed with his second consecutive win the next year.
Tackle Ron Yary (USC) started his career on defense but eventually became a decorated offensive lineman. He was a consensus All-American in 1966 and a unanimous choice in 1967, a year where he also won the Knute Rockne Award and became the first USC player to win the Outland Trophy. He was elected to the College Football Hall of Fame in 1987.
Second Team
Tony Boselli, USC
Randall McDaniel, Arizona State
Rick Redman, Washington
Ed White, California
Marvin Powell, USC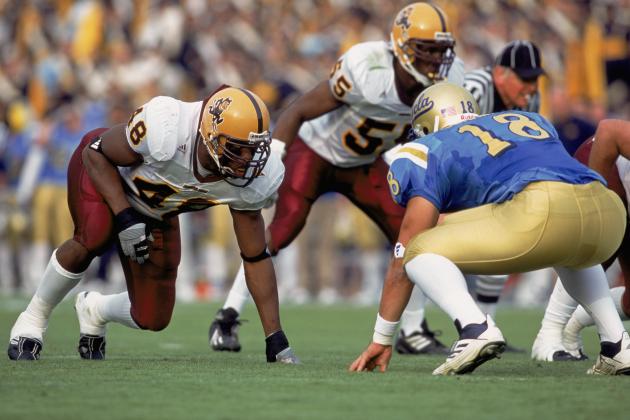 Jeff Gross/Getty Images

Terrell Suggs (Arizona State) broke the NCAA single-season sack record with 24 in 2002. He went on to own the award circuit that year, winning the Nagurski Award, the Lombardi Award and the Ted Hendricks Award en route to becoming a unanimous first-team All-American.
Rob Waldrop (Arizona) was a consensus All-American in 1992 and 1993, winning the Outland Trophy, Nagurski Award and being named the UPI Lineman of the Year as a senior. He was elected to the College Football Hall of Fame in 2011.
Steve Emtman (Washington) finished fourth in Heisman voting in 1991, a year where he also led the Huskies to an undefeated season and National Championship. He also won the 1991 Outland Trophy, Lombardi Award, Bill Willis Award and was named the UPI Lineman of the Year. He was elected to the College Football Hall of Fame in 2006.
Tedy Bruschi (Arizona) played defensive end in college, finishing his career with 185 tackles, 74 tackles for loss and a share of the NCAA sack record with 52. He was a consensus All-American in 1994 and 1995, winning the Morris Trophy in the latter year. He was elected to the College Football Hall of Fame in 2013.
Second Team
George Achica, USC
Dana Wells, Arizona
Stephen Paea, Oregon State
Sedrick Ellis, USC
Jeff Golden/Getty Images

Jerry Robinson (UCLA) was recruited to play tight end, but Dick Vermeil (his future professional coach) wisely converted him to linebacker. He would go on to be a three-time consensus All-American in 1976-1978, and was elected to the College Football Hall of Fame in 1996.
Richard Wood (USC) led the undefeated Trojans in tackles as a sophomore in 1972, finishing with over 30 more than his closest teammate. He would finish his career as a three-time All-American and a two-time National Champion. He was elected to the College Football Hall of Fame in 2007.
Jeff Siemon (Stanford) helped lead the Cardinal to two consecutive Rose Bowl wins in 1970 and 1971. The team let up 29 points combined in those two victories. He won the Butkus and Pop Warner Awards as a senior and was elected to the College Football Hall of Fame in 2006.
Second Team
Ricky Hunley, Arizona
Chris Claiborne, USC
Rey Maualuga, USC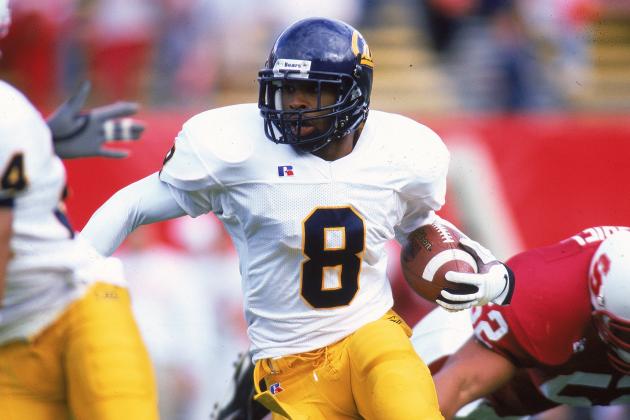 Jed Jacobsohn/Getty Images

Cornerback Deltha O'Neal (California) did a little bit of everything in Berkley, featuring some on offense but mostly on defense. He was the Pac-10 Defensive Player of the Year and a consensus All-American in 1999, a year where he broke the NCAA record with four interceptions returned for touchdowns.
Cornerback Antoine Cason (Arizona) won the Thorpe Award as a consensus All-American in 2007. For his career, he is currently top 10 in Pac-12 history with 15 interceptions (third), 349 interception return yards (second), three interception return touchdowns (fourth) and 37 passes defended (ninth).
Safety Ronnie Lott (USC), whose name bears a college football award, helped USC earn a share of the National Championship in 1978 and brought them to the Rose Bowl in 1979 and 1980. He was named a unanimous All-American as a senior and was elected to the College Football Hall of Fame in 2002.
Safety Chuck Cecil (Arizona) entered Tucson, Ariz. as a walk-on and left as the Pac-10 career leader with 21 interceptions. He was a consensus All-American after his nine-interception senior campaign and was elected to the College Football Hall of Fame in 2009.
Second Team
Alterraun Verner, UCLA
Daymeion Hughes, California
Kenny Easley, UCLA
Mark Carrier, USC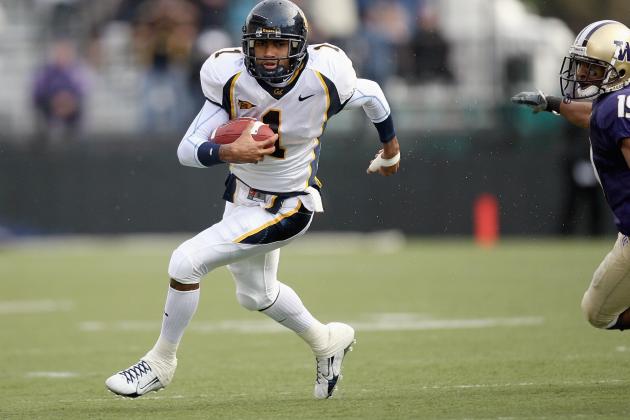 Otto Greule Jr/Getty Images

Kicker Kai Forbath (UCLA) won the Groza Award in 2009, hitting 28 of 31 kicks and earning first-team All-American honors. He is the second-leading scorer in Pac-12 history.
Punter Danny White (Arizona State) set a number of NCAA passing records as a quarterback in college but also doubled as a punter. He averaged 41.7 yards per boot in his career, becoming one of the nation's top specialists, and was elected to the College Football Hall of Fame in 1998.
Return Specialist DeSean Jackson (California) holds the Pac-12 record with six career punts returned for touchdowns.
Second Team
Kicker Alexis Serna, Oregon State
Punter Jeff Locke, UCLA
Return Specialist Sammie Stroughter, Oregon State