Tracking the Signings of Los Angeles Angels' 2010 Draft Class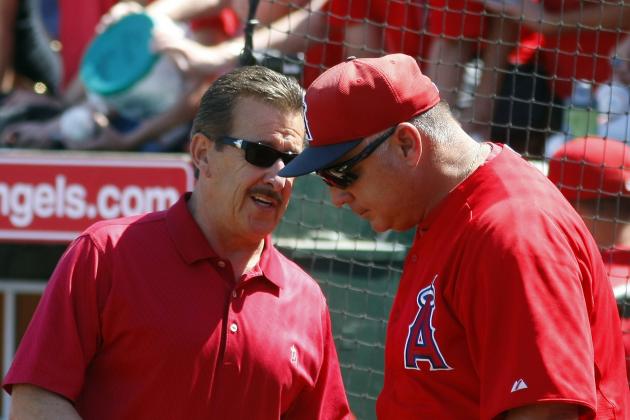 Rick Scuteri-USA TODAY Sports
Was 2010 the beginning of trouble in Anaheim?
Coming into the 2010 MLB Draft, the Los Angeles Angels certainly had to be confident in their strategy. Following a year where they snagged a guy named Mike Trout, things were on the up and up in Anaheim, so you can't blame the organization for puffing its chest a bit.
Man, what a difference a year really does make.
The 2010 class was one of the more confusing for the team, landing highly rated Kaleb Cowart as their first pick, only to follow with risky moves and shades of nepotism (see Steve Bedrosian and son) for the remaining rounds.
Of the 54 picks that the Angels took in 2010, only 14 remain in the system—so if you are looking for an update on Hampton Tingor, Vinnie St. John or Justin Poovey, I am sorry to disappoint you.
Here is a look at the current whereabouts of the remaining 2010 Los Angeles Angels' draft picks.
Note: Scouting Report and Stats were courtesy of MiLB.com. unless otherwise noted.
Begin Slideshow

»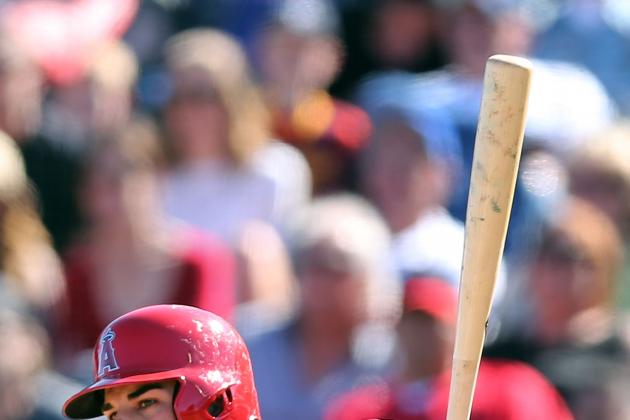 Christian Petersen/Getty Images

2013 Stats: .220/.283/.592, 5 HR, 25 RBI
Current Level: Double-A (Arkansas Travelers, Texas League)
Cowart was the Angels' first pick back in 2010, coming via the Mariners as part of the Chone Figgins deal. The 6'3" switch-hitting third baseman was well liked by scouts—for his defense and his bat.
His first two seasons were mediocre, though 2011 was an upgrade from his 2010 campaign (teams always need to see improvement).
It was his 2012 season, however, that made Cowart the fan-favorite that he is today. He was placed on the rising star list, and he was given an opportunity to get at-bats in spring training this year. And that's where the progress has stopped.
He is currently struggling at the plate, unable to make the transition to Double-A like some had thought he would.
No question, Cowart is still a young kid (21) and there is time to progress. But his day overtaking third base from Alberto Callaspo has certainly been pushed back.
2013 Stats: 1-3, 6.07 ERA, 26 G, 43 IP, 50 SO, 20 BB

Current Level: Single-A (Burlington Bees, Midwest League)


Bedrosian underwent Tommy John Surgery back in 2011, and he has only now started to bounce back from the delay.

A pitcher with a plus-plus fastball—siting around the 94 mph range and topping in the high-90s—Bedrosian was a smart pick back in 2010. But, as the story goes with tendons on pitcher's arms, sometimes the unnatural motion, with that much arm speed behind it, can wear down the ole "meal ticket" unexpectedly. And it did.

Bedrosian's velocity has come back, but his control—which he never had—has caused a delay in his progression.

Currently, he is slated to be major-league ready sometime during the 2015/16 seasons. If he stays healthy, there is no doubt he could fill a need in the 'pen. But that is certainly a big if.
2013 Stats: .246/.324/.675, 35 R, 6 HR, 31 RBI
Current Level: Single-A (Burlington Bees, Midwest League)
Clarke was the last of the first-round picks for the Angels in 2010. He was another switch-hitting talent, that also could play a decent outfield.
He started his career off strong, going 2-for-3 in his debut in the Arizona League. But his career has been a regression since, failing to adapt to the pitching in Class-A, basically falling to the back of the very-talented pack of young Angels' outfielders.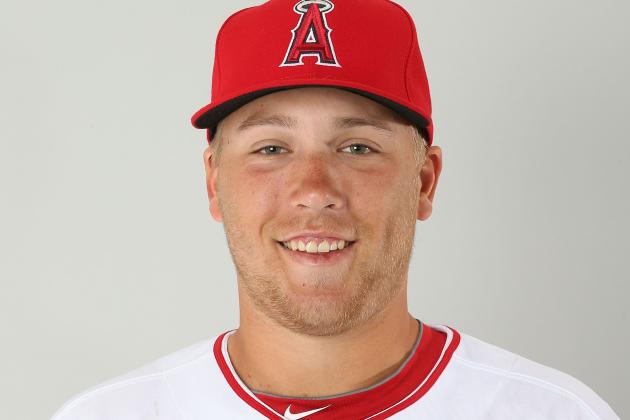 Mark J. Rebilas-USA TODAY Sports

2013 Stats: .272/.324/.763, 12 HR, 36 RBI
Current Level: Double-A (Arkansas Travelers, Texas League)
Though scouts like to compare him to an Aaron Hill-type player, I think his power and all-out style merits a resemblance that strikes closer to the Halo hearts: Bobby Grich.
His arm strength and defense need to be greatly improved. The 14 errors committed this season make him, at times, look more like a Bobby Bonilla in the infield. But his upside is there, no question.
It's difficult to say if he will be around for his shot in Anaheim—trades are never out of the question with Arte Moreno and Jerry Dipoto—but his improvement this year, backed by his progression in season's past, is certainly a positive.
2013 Stats: .130/.259/.520, 1 HR, 1 RBI
Current Level: Rookie Ball (Orem Owlz, Pioneer League)
Admittedly, I had to scour the Angels-based chat rooms to find out if Bolden was even a part of the Owlz anymore—I was amazed to see some fans give this guy an "upside" evaluation.
Perhaps I was looking at different numbers? The reasoning to pick him at No. 40 overall just doesn't jump out like I had expected.
(Then again, this is the Angels' farm system.)
Bolden has spent his professional career struggling to get out of Rookie Ball. His career average makes the Mendoza Line look like a .400 year by Ted Williams, and something tells me that his eight strikeouts in 23 at-bats this season means he can't time professional pitching.
Unfortunately, it seems as though Bolden was mis-scouted back in 2010—a great high school hitter, that peaked against high school arms—and I wouldn't be surprised if he is released sooner than later.
2013 Stats: 0-1, 7.53 ERA, 13 G, 14.1 IP, 14 SO, 14 BB

Current Level: Single-A (Inland Empire 66ers, Advanced California League)
Tillman is a hard-throwing right-hander, with a fastball in the mid-90s that can reach the 96 mph range (or higher). At one point, he seemed a lock to make the Angels' bullpen as early as even this season.
But he struggled with control at Double-A in 2012, which landed him back in the Inland Empire (CA.). This season has not been the rebound Tillman would have expected, recently going on the DL with a strain to his flexor tendon.
He still has the pop on his fastball, but the quick time table to the MLB is not going to happen. Tillman will have an uphill battle just to get back to Double-A.
2013 Stats: .193/.272/.560, 2 HR, 20 RBI
Current Level: Single-A (Burlington Bees, Midwest League)
Much like the current Angels shortstop (Erick Aybar), Soto is a switch-hitter with plus-rated speed. Unfortunately, he doesn't have the same presence at the plate as Aybar.
He was recently demoted from the Inland Empire 66ers to the Burlington Bees, and his progress has continued to plummet. Without a solid turnaround—and consistency following that—his days as a Halo may be numbered.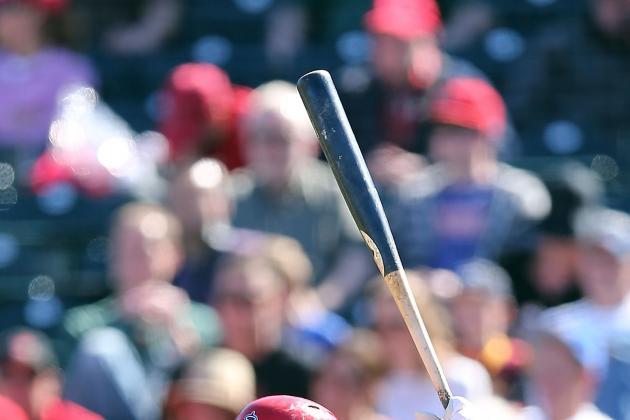 Christian Petersen/Getty Images

2013 Stats: .333/.403/.960, 8 HR, 41 RBI
Current Level: Triple-A (Salt Lake Bees Bees, Pacific Coast League)
Calhoun has been the most impressive pick from the 2010 draft. He has a career .313 average with a .927 OPS, and his defense has been solid—something he displayed during spring training this year.
He is a resilient player, overcoming injury, Mike Trout mania, Peter Bourjos and J.B. Shuck (yes, him) only to produce mightily for the Bees.
It's no secret that the Angels' outfield is crowded. And he is only hitting .174 in 23 at-bats in the show this year. But Calhoun is progressing, turning into the type of player a team can make room for—or trade.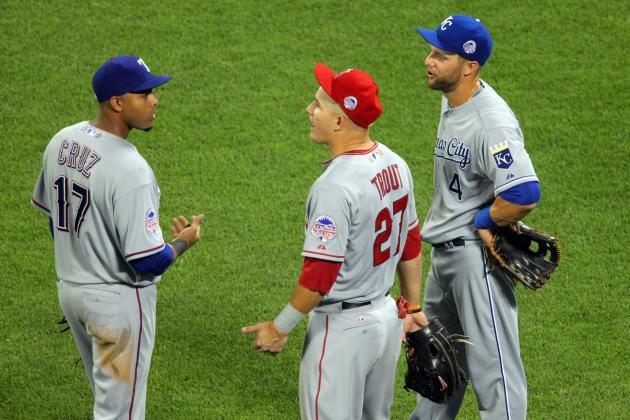 Brad Penner-USA TODAY Sports
It won't be easy for Heid, with an All-Star standing in his way.
2013 Stats: .280/.377/.758, 3 HR, 20 RBI
Current Level: Double-A (Arkansas Travelers, Midwest League League)
It will take a major push by Heid, with a little luck here and there, to move up the Angels' depth chart for outfielders. And he is doing just that.
Since June 18, Heid has hit .400 with an OPS of 1.014.
He did struggle in is eight games at Salt Lake (AAA), but his current hot-streak may get him another promotion. If he learns to hit left-handers with more consistency, mixed with average speed on the bases, then Heid could easily be the surprise of the 2010 picks.
2013 Stats: 1-0, 3.12 ERA, 14 G, 17.1 IP, 17 SO, 5 BB

Current Level: Double-A (Arkansas Travelers, Texas League)
Giardina is a 6'3" left-hander, with surprisingly decent control—a 180 from the ratings he received from scouts coming out of the Florida area. He has decent strikeout ability, averaging one strikeout per inning this season and his curveball has potential to be a plus—if he can control it.
Don't let the sub-3.30 ERA fool you, though; Giardina did most of his work this season in Single-A (Inland Empire 66ers), where he had a 2.45 ERA in 14.2 innings of work. His promotion to Double-A has been a learning experience thus far. In his 2.2 innings, he has given up three runs on three hits, including a home run and three walks.
It's still early in his progression, so counting him as a wash at this point wouldn't be fair. If he can harness his pitches by keeping a consistent arm slot then he could be an option for the Angels' bullpen in a few years.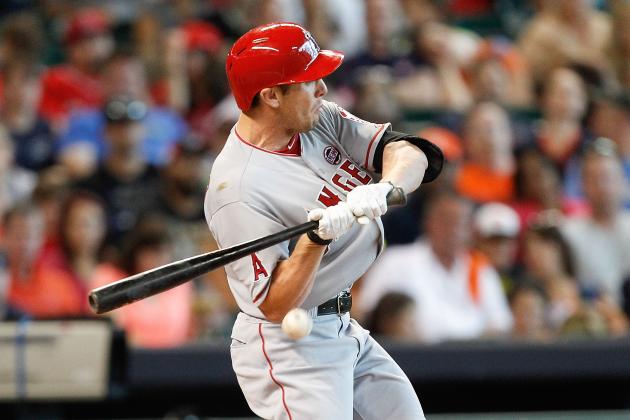 Bob Levey/Getty Images
With Bourjos progressing, and Trout being Trout, the only spot for Mitchell would be right field.
2013 Stats: .308/.407/.538, 3 HR, 13 RBI
Current Level: Single-A (Inland Empire 66ers, Advanced California League)
Mitchell has been inconsistent at the plate to begin his professional career. Since 2010, his batting average has mirrored those inconsistencies: .231, .300, .245, and .158.
This season, however, Mitchell is hitting .308 (.357 since the beginning of June). It may sound like a broken record at this point, but being an outfielder in the Angels' organization is no easy road. With Mitchell's size (6'4") there is upside, though he has to gain some power in the bat while cutting down on his strikeouts (about 34 percent this season).
Who knows, by the time Josh Hamilton has exited Anaheim Mitchell may very well be primed to take over at right.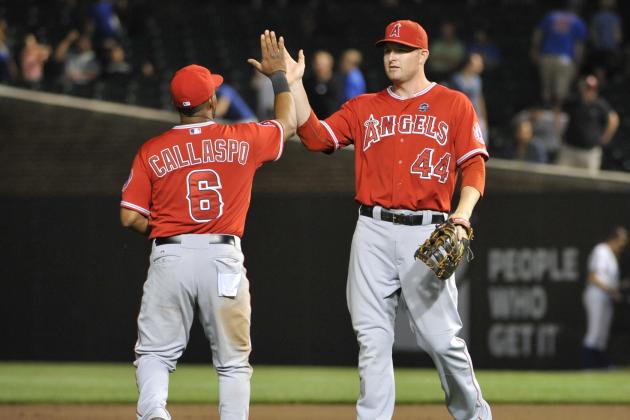 David Banks/Getty Images
Callspo will be out after 2014, leaving the door open for thrid baseman in the farm system.
2013 Stats: .221/.317/.662, 6 HR, 40 RBI
Current Level: Single-A (Burlington Bees, Midwest League)
Michael Bolaski is the pride of El Paso, Texas, giving hope and a point of pride in the apparently sparse professional athletic world—seriously, check out this story.
Originally looked at as a pitcher by a few clubs, the Halos liked him in the infield—go figure. His ability showed promise to the scouts, and the Angels snagged the right-hander with the 714th pick.
But he has not progressed past the likes of Kaleb Cowart, struggling to hit above .250 in Single-A, with 65 strikeouts to only 53 hits.
Perhaps he can he still pitch? The Angels can always use the arms.
Matt Kartozian-USA TODAY Sports

2013 Stats: 4-6, 7.05 ERA, 19 G, 89.1 IP, 76 SO, 33 BB

Current Level: Triple-A (Salt Lake Bees, Pacific Coast League)
Schugel has gotten high marks for his control, ranking as one of the better "true pitchers" in the Angels' organization. Though his fastball is just average (89-90 mph), the consistency and command he has with it makes up for any lack of heat.
His change-up is also a plus pitch, making for an effective combination of control and deception.
He has struggled a bit this season at Salt Lake (AAA), but with the uncertainty in the Angels' big league rotation, Schugel could be a factor sooner than later.
2013 Stats: 6-2, 3.04 ERA, 36 G, 53.1 IP, 43 SO, 11 BB

Current Level: Triple-A (Salt Lake Bees, Pacific Coast League)
Cendejas was promoted from Single-A (Inland Empire) this year to Salt Lake.
He was impressive for the 66ers, going 6-2 for the club, so the promotion made sense—though I wonder what happened to Double-A.
Perhaps it was too great of a jump between classes?
In two innings so far with the Bees (AAA), he has given up nine hits and three runs, raising the overall ERA (2.74) that got him the promotion.
I could see him being a trade chip, though not as a single piece. More of a control pitcher—he has only 11 walks in 53 innings this year—Cendejas won't make a living striking out hitters. He will have to rely on the guys behind him, all of the time.