Chelsea 2013-14 Season Preview: A Look at the Blues' 5 Most Crucial Matches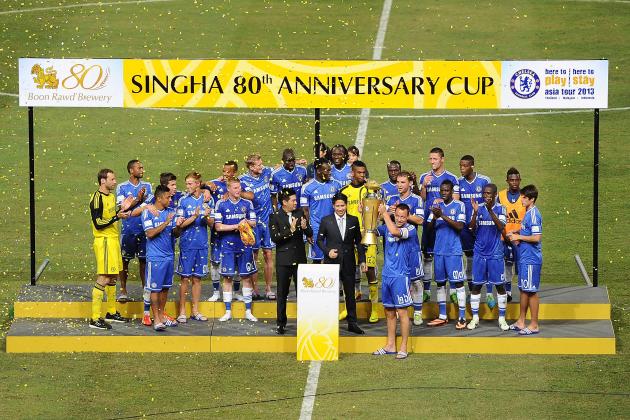 Thananuwat Srirasant/Getty Images
Captain John Terry celebrates Chelsea's first preseason win over the season in Thailand on Wednesday. Chelsea defeated the Singha All-Star XI, 1-0.
As we enter the summer with preseason matches underway, excitement is building for the start of the English Premier League season.
After an offseason in which Jose Mourinho returned to manage his former club and new signings Andre Schurrle, Marco van Ginkel and Mark Schwarzer (and possibly more) moved to West London, it's time to take a look at what is ahead for Chelsea.
After a relatively successful campaign in which the Blues finished third in the EPL and won their first Europa League trophy in club history, supporters around Stamford Bridge have raised their expectations for the upcoming season.
However, life in the league will not get any easier for the West Londoners, as clubs like Manchester United, Manchester City, Arsenal and Tottenham will all be in contention to crown themselves champions of England. Nevertheless, Chelsea, who last topped the table in 2010, has to be considered a favorite to lift the EPL trophy this season.
However, there will, of course, be obstacles along the way. Each team hits through their fair share of speed bumps throughout the course of a season, but the team that manages to suffer the least amount of setbacks manages to find themselves atop of the table in May.
Here's a look at five of the most important matches Chelsea will play on the journey to become champions of England once again.
Begin Slideshow

»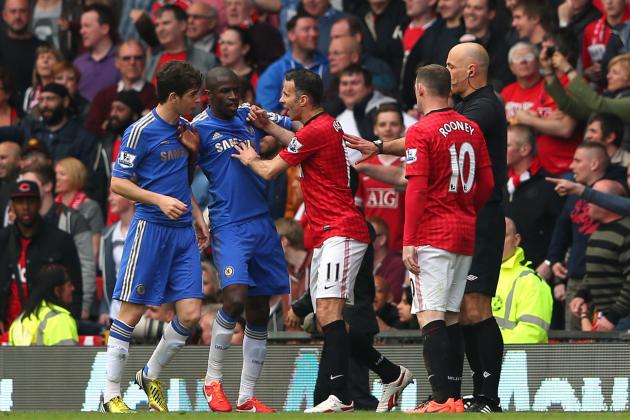 Alex Livesey/Getty Images

Welcome to the first big match of the English Premier League season.
In the second week of their campaign, Chelsea will take an early trip up to Manchester to take on David Moyes and Manchester United at Old Trafford.
While Chelsea will look to send an early message to the current champions of England—and to the rest of the league—United will aim to avenge last season's home loss to Chelsea and start the David Moyes era in the right manner.
In this same fixture last year, Juan Mata scored a last-minute winner for Chelsea to give the away side a 1-0 victory to send them well on their way to clinch a top-four finish.
Jose Mourinho will look to kick-start his return to Chelsea with a tremendous away victory, letting the rest of England know that a new regime is in place.
While this match will obviously not decide the title one way or the other, a favorable result for the Blues will instill in them the mentality that they can beat any given team on any given day. Simply put, this is as big as matches in late August get.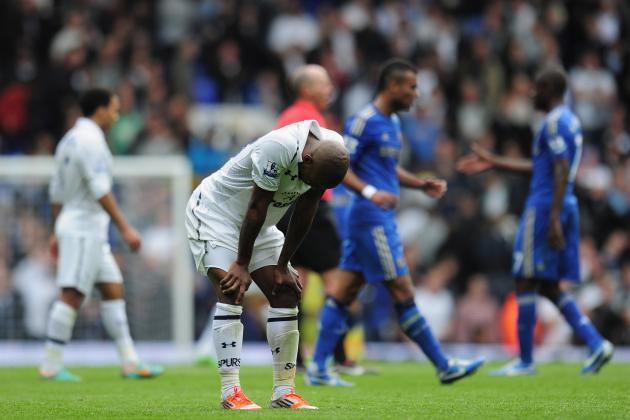 Shaun Botterill/Getty Images

The opening month of the season does not get any easier for Chelsea, as they visit London rivals Tottenham at White Hart Lane in late September.
Last season, the world was introduced to Oscar, Eden Hazard and Juan Mata, commonly known as the "Three Amigos," when the Blues took the trip to North London. The three midfielders tortured the Tottenham backline and gave ex-Chelsea boss Andre Villas-Boas nightmares.
This time around, Tottenham will be improved with the signing of Brazilian midfielder Paulinho and, of course, superstar Gareth Bale, who was out of last year's fixture due to his wife's pregnancy.
A subplot in this match will be take place on the sidelines, though, as Jose Mourinho will take on Villas-Boas in a battle of teacher versus student. Villas-Boas was a part of Mourinho's staff at Chelsea in Mourinho's first stint with the Blues.
However, when all is said and done, all that will matter is what goes on between the white lines.
Tottenham is sure to be a contender for a top-four finish once again this season, and this match should go a long way in telling how both Tottenham's and Chelsea's season will go.
Richard Heathcote/Getty Images

As we have seen in seasons past, the holiday period in December can be a crucial time in a team's season. It's where momentum is won and lost and where point streaks start.
This season will be no different for Chelsea.
The Blues will take the short trip to Emirates Stadium four days before Christmas to take on Arsenal, in a matchup of London clubs.
Although Arsenal got off to a rocky start last season, the Gunners managed to use a late-season push to finish fourth in the Premier League and clinch a Champions League spot.
While this game is still somewhat early in the season, the turn of the calendar year is when the table really starts to take shape, and teams cannot afford to drop points. With a victory in this fixture, Chelsea will have a stranglehold on London and the benefit of a six-point swing match.
As we all saw last season, the race to a top-four finish or a title can come down to a single point. Chelsea and its fans could not ask for a better Christmas gift than an away victory against one of their bitter rivals.
Michael Regan/Getty Images

I know what you're thinking: "West Brom? That's not a big match."
No, it's not. But that's the point.
A tricky visit for Chelsea to West Brom comes on a Tuesday evening, in between fixtures with Newcastle and Everton. Many times it's not the big matches that trip teams up, but the tough, midweek road games.
While many might give no consideration to the suggestion that West Brom poses a serious threat to Chelsea, the Blues may have other fixtures on their minds, even though they may not admit it.
In this fixture last season, West Brom defeated Chelsea 2-1, which goes to show that anything can happen in the world of the English Premier League.
While this fixture may not look like a great test on paper for Chelsea, it is exactly this type of match that the Londoners need to win in order to be in serious contention for their fifth league title.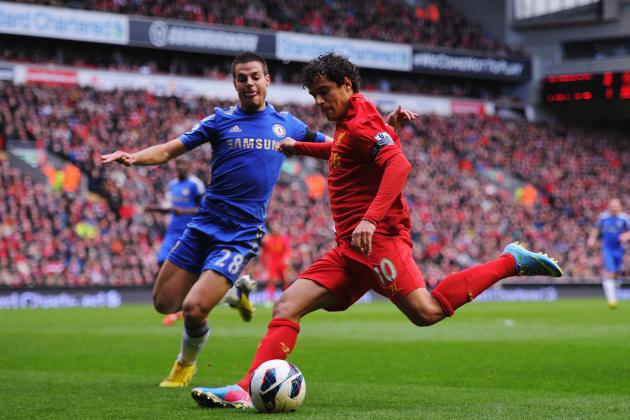 Michael Regan/Getty Images

When this fixture comes into mind, one cannot help but think back to 2010, when Chelsea practically clinched the title with a 2-0 victory at Anfield.
Three years ago, Chelsea legends Frank Lampard and Didier Drogba scored to lead Chelsea to an impressive road victory in the third-to-last match of the season.
A Chelsea fan can only hope that this fixture will yield the same result. With only two league fixtures scheduled after this match against Liverpool, Chelsea may very well find themselves with an opportunity to clinch the title or secure a top-four spot.
Revenge for Luis Suarez's bite aside, this game marks incredible importance for the London side. In a perfect scenario, Jose Mourinho would go to Liverpool and seal a championship in his return to Chelsea with an epic win.
Because of the timing of this fixture and its potential implications, Chelsea's trip to Anfield could quite possibly end up being the most significant moment in their 2013-14 season.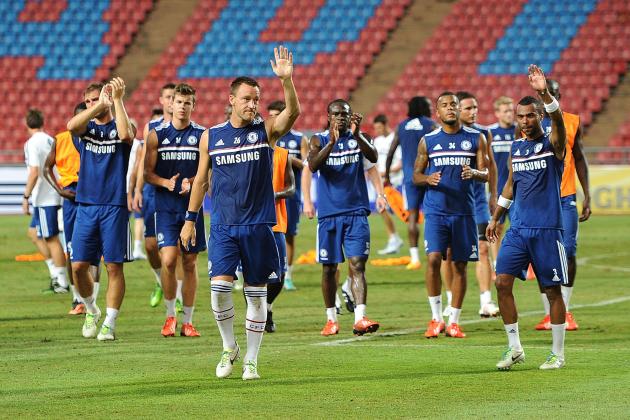 Thananuwat Srirasant/Getty Images

While it is still mid-July and one cannot perfectly predict which specific games will determine a team's fortunes for a season, these games will undoubtedly have a major impact on where Chelsea will stand next May.
Jose Mourinho and company will look to these matches to put a stamp on their English Premier League season, and will no doubt hope that these matches will go a long way in Chelsea's quest for yet another league title.
Now, have your say! Give me your predictions for these games, other games on Chelsea's schedule and Chelsea's 2013-14 season in the comment thread below!