Ryback Has Been Hurt By WWE's Foolish Pay-Per-View Booking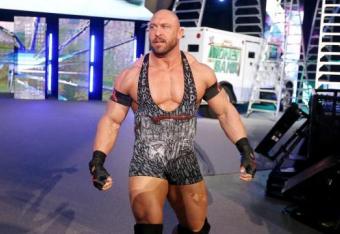 (photo courtesy of WWE.com)

Ryback debuted in WWE as a destructive force. In his first three pay-per-view appearances, he was able to show how monstrous he could be.
Unfortunately, Ryback's first three wins on pay-per-view would consist of two handicap matches against jobbers and a win over Camacho.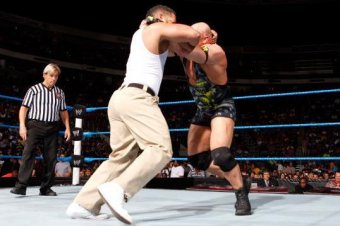 These wins helped to make Ryback seem indestructible, but his pay-per-view winning streak would soon come to an end.
After defeating many jobbers and lower mid-card talent, Ryback would get the most meaningful win of his short career against Dolph Ziggler on Main Event. This win was right before Ryback challenged CM Punk for the WWE Championship at Hell in a Cell 2012.
Main Event Star
Quickly put in the main event of a pay-per-view, Ryback's streak of wins would come to an end against CM Punk. Brad Maddox served as the special guest referee, and he delivered a low blow to Ryback. Subsequently, Punk was able to secure the win.
In one match, Ryback's incredible winning streak ended because of a low blow by a guest referee. Ryback was able to get his revenge on Brad Maddox on Monday Night Raw, but the damage was done.
At the next pay-per-view event, Survivor Series 2012, Ryback would get another shot at CM Punk's WWE Championship. John Cena was also added to make it a Triple Threat match.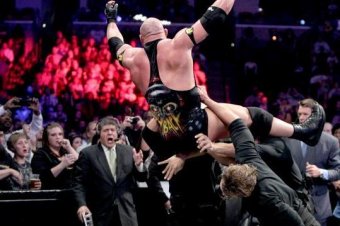 Ryback once again suffered a loss because of interference. Making their debut at Survivor Series 2012, The Shield interrupted the match and power bombed Ryback through an announce table.
Ryback may have been in two main event pay-per-view matches in a row, but he lost both of them due to outside interference. Instead of looking like a dominant beast, he was made to look like more of a fool.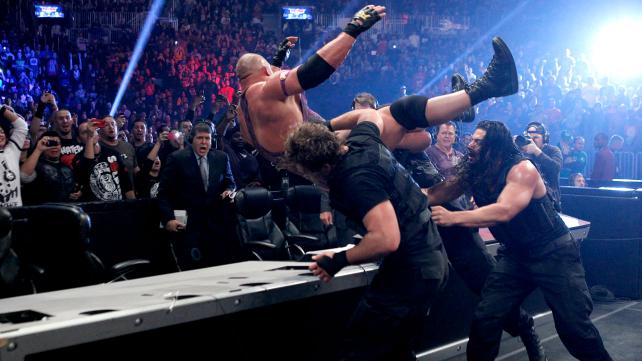 With The Shield coming after Ryback after their debut, a match was made where it looked like Ryback could get his revenge and a major pay-per-view win. Ryback joined forces with Team Hell No to take on The Shield at TLC 2012 in a Tables, Ladders & Chairs match.
Although The Shield's debut match was a classic, Ryback would be on the losing end again when Daniel Bryan was pinned.
Ryback ended 2012 with three pay-per-view losses in a row, yet WWE still tried to make him look like a destructive force that could not be stopped.
With the start of the 2013, it seemed like Ryback could very well overcome his losing streak on pay-per-view. It would be a monumental feat for Ryback to do so, taking on 29 other competitors in the annual Royal Rumble match.
Ryback had the definite advantage in the Royal Rumble match. He entered as the 30th and last entrant.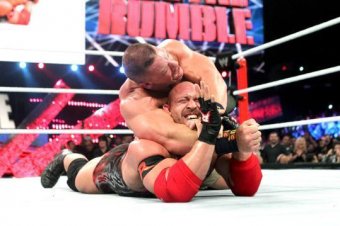 Once again Ryback would taste defeat. He came in second place in the Royal Rumble match. John Cena eliminated him for the win.
This loss added insult to injury, as Ryback was the last entrant in the match. With his Royal Rumble match loss, Ryback would be at four straight pay-per-view losses. Unfortunately, this streak would continue making him look weaker than ever.
Continuing to feud with The Shield, Ryback would join forces with John Cena and Sheamus. In a six-man tag match, Ryback, Cena and Sheamus would fall victim to The Shield.
Ryback was not only was part of the losing team, he was the one pinned in the match. It is one thing to be part of a losing team in a six-man tag match, but it is more humiliating to be the one pinned. With this loss, Ryback would be at five straight pay-per-view losses.
The credibility factor of Ryback's commanding persona would come into question in a feud with Mark Henry. At WrestleMania 29, it looked like Ryback would finally snap his losing streak. Mark Henry would be a perfect opponent to do this against.
When considering Henry's size and strength, a win over him would help Ryback seem like the force he was supposed to be.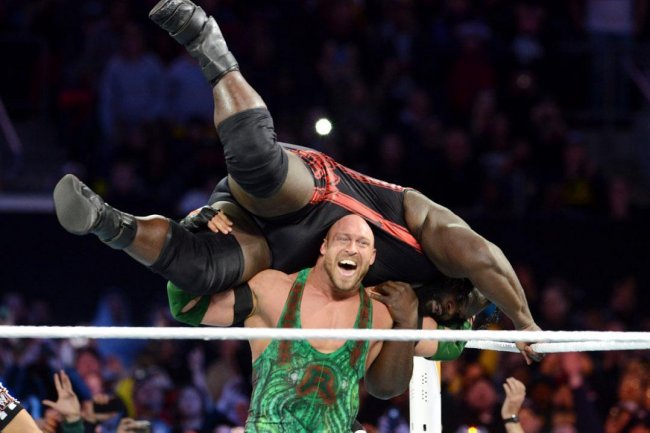 Ryback looked like he was going to win the match. He even had Mark Henry up in the air for his patented Shell Shock finishing maneuver. Ryback's luck ran out when Henry grabbed the top rope causing Ryback to lose his balance and fall. Henry was able to get the pin on what looked like a fluke.
Ryback would have his sixth pay-per-view loss in a row at WrestleMania before turning heel to take on John Cena.
Heel Turn
With so many major losses, Ryback soon turned his attention to John Cena. Blaming Cena for holding him down, Ryback challenged Cena to a match for the WWE Championship at Extreme Rules 2013.
Ryback's heel turn seemed to come out of nowhere. Trying to make Ryback into a strong villain was very difficult because of how many losses he had to top opponents. The genesis of Ryback's heel turn was blaming others for his own shortcomings in the ring. This did not make him look intimidating at all.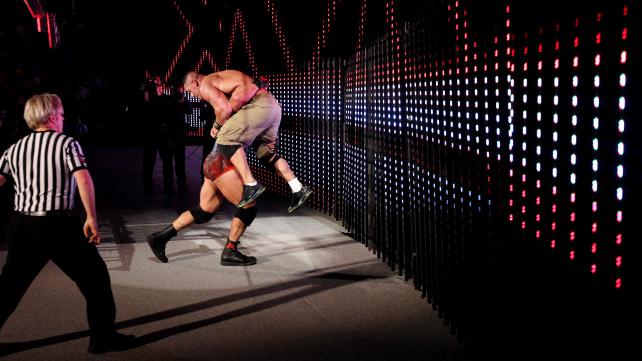 In order to add momentum to Ryback's feud with John Cena, their Last Man Standing match at Extreme Rules ended with a no-contest result. Ryback speared Cena through the LED lights at the top of the Extreme Rules ramp area, rendering both men knocked out.
Perhaps Ryback looked stronger in this match than any other, but the damage had already been done when it came to his intimidation factor.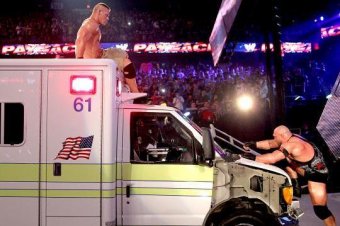 A Three Stages of Hell match was made for the next pay-per-view, Payback. Ryback spent the month between Extreme Rules and Payback detailing how he would win the match and put John Cena into an ambulance. The result was much different, and Ryback would be the one on the losing end.
In a matter of months, Ryback's streak of not winning on pay-per-view would be as a hero and a villain.
Snapping the Losing Streak
As the Money in the Bank 2013 event approached, Ryback soon found himself in a feud with Chris Jericho. This match came about as a result of Jericho giving Ryback the name, "Cryback."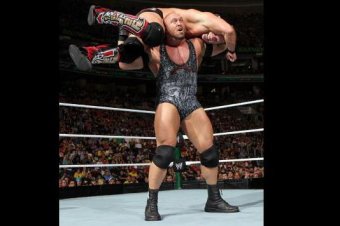 One of WWE's toughest competitors was reduced to having a match because he was called a name.
Fortunately, for Ryback, he was able to defeat Chris Jericho at Money in the Bank. He obtained a quick roll-up pin after Jericho missed a Lionsault for the win.
Even with the win, Ryback did not look strong in the match. At the very least, he finally obtained a win over a top WWE Superstar on pay-per-view.
The Future
WWE's poor booking of Ryback on pay-per-view has hurt him. He needs to remain a heel; it would be too early to try and turn him into a face again.
Ryback needs to transition from a pathetic bully who blames others for all his losses to a machine who annihilates his opponents.
Ryback fell victim to a quick push to the main event with little to show for it as a foundation. Having so many wins over jobbers did not convince the WWE Universe of Ryback's ability to be a main eventer. This type of scenario might have worked in the 1980s and 1990s, but it has rarely been used successfully since then.
There is no reset button for Ryback's career. The best that WWE can do is to try and slowly make him into a legitimate force to be reckoned with.
Read more from Sean McCallon on the Double Axe Handle Blog

Follow Sean McCallon on Twitter @TheBlueMask246
This article is
What is the duplicate article?
Why is this article offensive?
Where is this article plagiarized from?
Why is this article poorly edited?