Hottest and Coldest Atlanta Braves Players Heading into the Second Half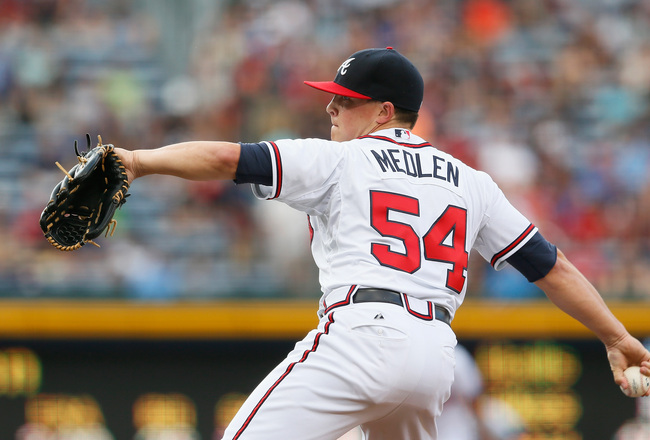 Kevin C. Cox/Getty Images
The Atlanta Braves (54-41) will begin the second half of the season on Friday night when they take on the Chicago White Sox.
The Braves played up-and-down baseball throughout the first half thanks to some streaky play.
I'd expect more of the same to continue in the second half, especially from the batting lineup.
Some players hope the All-Star break doesn't halt any momentum built before the break while others will be looking for a fresh start.
With that said, here's a look at the hottest and coldest players for the Braves as the second half is set to begin.
Hot: Brian McCann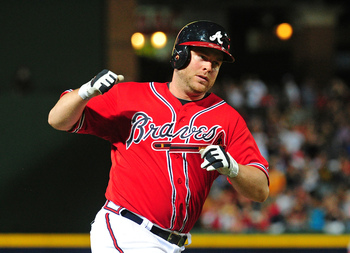 Scott Cunningham/Getty Images
Brian McCann made his seventh All-Star Game in surprising fashion as he replaced teammate Freddie Freeman, who was dealing with a hand injury.
He was awarded a selection thanks to his past success in the All-Star Game as well as a torrid July in which he hit .419 with three home runs and eight RBIs.
He leads the team with a .447 OBP, .721 slugging and 1.168 OPS among players with at least 10 at-bats in July.
He shared National League Player of the Week honors with Homer Bailey the first week in July thanks to a .600 average and 15 hits.
The hot stretch has helped McCann raise his average to .291 with a .910 OPS on the season.
July has been McCann's best month throughout his career as far as home runs, RBI and OPS, and it will be interesting to see if the catcher remains hot coming out of the break.
Cold: Kris Medlen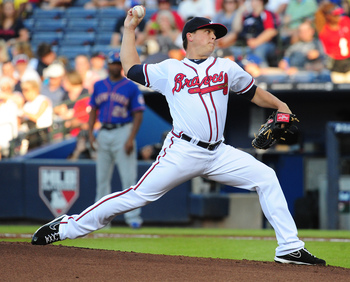 Scott Cunningham/Getty Images
Overall, the 2013 season has not been kind to Kris Medlen.
Despite posting a respectable 3.48 ERA at the end of May, Medlen had just a 1-6 record.
The poor results seemingly did not affect Medlen until recently, as he's gone 1-2 with a 7.63 ERA in three starts in July.
The win came against the lowly Marlins in which Medlen struggled with efficiency in allowing three runs on nine hits while striking out just one batter in six innings.
He managed to last just four innings in his latest start against the Cincinnati Reds after allowing nine hits and four earned runs.
Manager Fredi Gonzalez announced that Medlen will be the fifth starter coming out of the break, which could be his way of sending Medlen a message that he needs to be better.
With Brandon Beachy inching his way back to the rotation, Medlen needs to regain some of that magic in the second half of the 2012 season.
Hot: Luis Avilan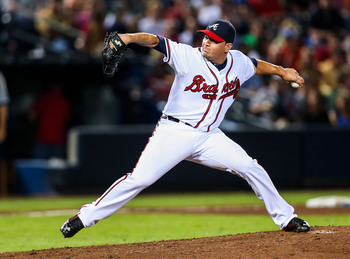 Daniel Shirey/Getty Images
Luis Avilan has been one of the unsung heroes of the first half of the season for the Atlanta Braves.
The left-hander's success has softened the blow of losing both Eric O'Flaherty and Jonny Venters to season-ending injuries.
Avilan did not allow an earned run while notching a hold in the month of July. He was even better in June as he posted a team-leading 0.00 ERA, 0.31 WHIP and six holds.
You have to go back to May 21 against the Minnesota Twins to find the last game Avilan allowed an earned run.
The big question is whether or not he can maintain this success for an entire season?
The 23-year-old shows promising stuff but has already set career highs this season in innings pitched (38.2), games (43) and batters faced (150).
Cold: Paul Maholm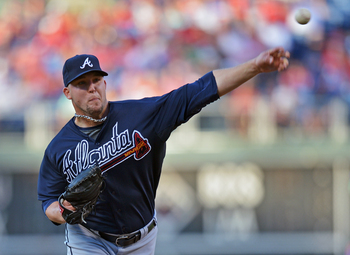 Drew Hallowell/Getty Images
Similar to Medlen, the month of July has not been kind so far to Paul Maholm.
The veteran left-hander is 0-2 with a 6.97 ERA in two starts this month.
Perhaps most concerning about his starts were two different problems that arose in the losses to division foes the Philadelphia Phillies and Miami Marlins.
It was the long ball that plagued Maholm against the Phillies as they hit two into the stands to score five runs (four earned).
Against the Marlins, Maholm struggled with his control in issuing five walks as the Marlins were able to push across four runs in just 4.1 innings of work.
He will get a chance to steady the month on Saturday against the White Sox.
The Braves could choose to trade the left-hander if they feel confident in Beachy's health or even prospect Alex Wood to make spot starts.
Therefore, these next few weeks will almost serve as a tryout to remain with the Braves.
Hot: Craig Kimbrel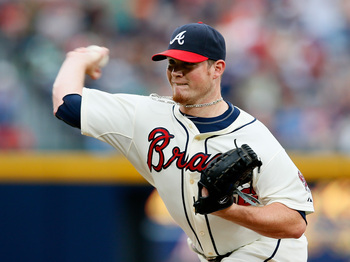 Kevin C. Cox/Getty Images
The star closer for the Atlanta Braves is enjoying another great season, as evidenced by his third consecutive All-Star selection.
Craig Kimbrel endured a rough patch in early May but has since steadied the ship and returned to his dominant form.
Kimbrel did pick up a loss in July, but still posted three saves and a 19.8 K/9 ratio.
The earned run he allowed in the loss to the Marlins is the only run he's allowed in his past 22 innings dating back to May 9.
During that same stretch, Kimbrel has picked up 14 saves without blowing one.
Once again, Kimbrel is having one of the best seasons of any closer in the MLB.
Cold: B.J. Upton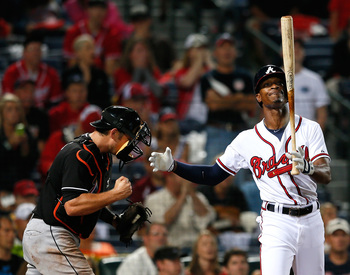 Kevin C. Cox/Getty Images
The piling on of B.J. Upton continues.
Saying the first half of the season didn't go the way either he or the Braves planned would be the understatement of the year.
Just focusing on July, Upton is hitting .176 (6-for-34). His slash line reads .171/.176/.348—last on the team in all categories among players with at least 10 at-bats.
He struck out 14 times while failing to reach base via walk. He's managed a single RBI with zero extra-base hits and zero stolen bases.
There's no way around it. It's been an ugly first half for Upton.
He will begin the second half of the season on the disabled list as he recovers from an adductor strain.
An extended break from baseball should do wonders for Upton, whose confidence is clearly shaken, and he can look at his return as a fresh start.
Keep Reading

Atlanta Braves: Like this team?