15 Great Moments in Rain Delay History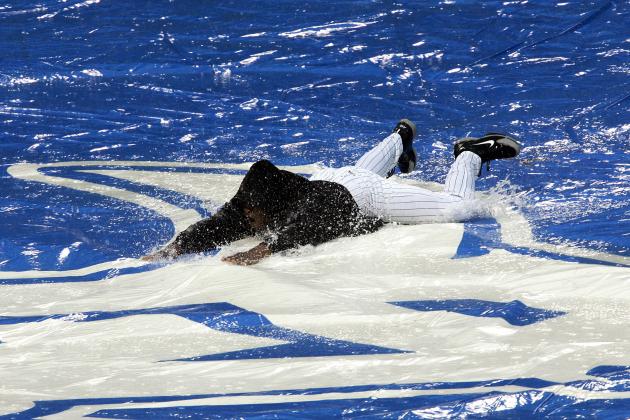 Jonathan Daniel/Getty Images

There's just something that makes it a little more fun to play sports in a torrential downpour. There's always a ton of water and mud, which makes it difficult to keep gravity on your side.
Sometimes, though, the rain is just too much for a game to keep going—which, in some cases, is when the real entertainment begins.
We've seen plenty of great moments during a rain delay, along with a number of ways to pass the time, but these are just some of the best.
Begin Slideshow

»
Instead of playing around on tarps or running around in puddles, the Drexel men's soccer team just thought singing a little Motown would help get them through the falling rain.
With some believing falsetto was necessary, I just hope their decision-making on the pitch was better than their call to try to show off their pipes in the dressing room.
You just see that something bad is about to happen here.
With heavy winds preventing the grounds crew from putting the tarp securely on the ground, the poor third base side gets eaten alive when a strong gust comes in and drags them across the middle infield.
I love how the commentators say they hope things will get together in an hour-and-a-half—are they talking about the game starting or the clean up of the scattered grounds-crew workers?
This one might not be dancing or people slip-n-sliding their way across the tarp, but I like it because it shows that, yes, even professional baseball players get scared at times.
With cameras in both dugouts, the entire bench on each team erupts with fear following a massive thunder strike.
Maybe these guys would have been best served just taking a nap in the clubhouse than trying to wait it out together outside.
When did the warning track become a modeling runway? I'd say, the second these college kids started making the turn on the catwalk and waltzing around as if they were showing off the new spring collection.
By the looks of things, at least they don't have Derek Zoolander's problem. And they sure can dance!
After reading the description of this video, it all makes sense to me now: They're playing hockey because they're in Canada.
Maybe that's a bit of a stereotype, because not all Canadians enjoy the sport, right?
I don't know, but I'd like to think that's why, since there are two teams worth of baseball players dropping the puck and sliding around the wet tarp as if it's a hockey rink.
This seriously might be the worst attempt by a grounds crew to put the tarp on a baseball field.
I'm actually questioning whether these guys are getting paid to do this or just happened to be selected out of the crowd, because they look completely lost.
With guys tumbling over the tarp as it's getting rolled out and coming undone, this might be funny to watch, but it's doubtful anyone who participated was laughing.
Like other ones on my list, these college players thought that competing in a dance-off would help get them through a rain delay.
Busting out moves such as the roller coaster, the "Apache" (which seems to be a recurring theme in rain-delay mixtapes) and, yes, even reenacting the Shake Weight commercial were by far the highlights of these rump-shaking players.
What is there to do during a five-hour rain delay?
If it's my choice, I'd pop a 5-Hour Energy and let it do its thing—which it looks like these players actually did.
Instead of waiting around and playing card games in the clubhouse, they made the most of the stadium sound, dancing around the field to show that some of them may be better dancers than ballplayers.
This one happened July 8 at Yankee Stadium against the Kansas City Royals. It's recent, so my apologies to any Yankee grounds-crew members for not letting it go.
It's pretty bad when the one job you're asked to do during a rain delay doesn't go as smoothly as it should, but it's throwing salt in the wound when the announcers are taking jabs from up in the waterproof booth, saying things like, "Those guys need to start doing some push-ups."
And honestly, what is the guy in the khakis and button-down doing out there?
This one makes it as high as it does for a couple of reasons.
First, that's a 61-year-old man running around, sliding on the slippery tarp.
Second, that 61-year-old man just happens to be Bill Murray (now 62), who is about the coolest dude in the history of the world.
Yes, Bill Murray, I aspire to be you.
These ballplayers decide to take us back to the Renaissance when men rode horses and jousted.
Except these guys opted for sitting on shoulders instead of horses, and using bats instead of jousts. Seems legit.
I like the setup against the opposition, with the one guy who gets knocked off his "horse" going down a little harder than he may have expected.
Wonder if he got the other dude back with some chin music once the rain subsided...
Great idea by the players, but even better idea by the person who edited the video by putting the Chariots of Fire theme to it.
I'm not sure this tennis match was as epic as the song makes it, but it was pretty damn funny regardless, so it was a nice added touch.
I think this is my favorite one on this list, because it shows teenage kids absolutely acting as they should—like teenage kids.
The last thing I was thinking about doing at age 13 during a baseball rain delay was recording a trending video.
These kids do it perfectly, though, so I dare you not to laugh.
I'd say that's one of the most perfectly executed human bowling-ball routines I've ever seen, as the guy acting as the ball does six somersaults before knocking over his awaiting teammates.
Give the last "pinhead" credit for not going down without a little wobble.
The only thing that could have made this better is if the "ball" wanted to ricochet off the bumpers on the side—but that might just be too much to ask.
Is this the club or a baseball field?
After watching this video of the Nebraska and Cal State-Bakersfield baseball teams, it's a pretty obvious answer as to which venue they preferred.
These players were ready to clown in their rain delay, and they threw an all-inclusive dance party.