2014 NFL Draft: Top Senior QBs' Greatest Individual Strengths & Weaknesses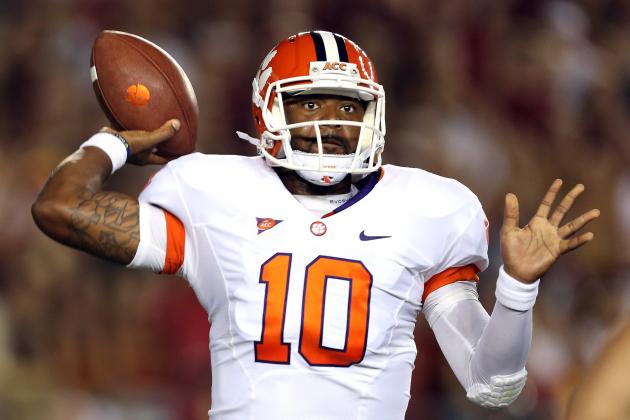 Streeter Lecka/Getty Images

Vastly different from years past, this year's crop of draft eligible senior college quarterbacks is much more well-rounded and deep than many we have seen in recent memory.
It seems everywhere you look there is a familiar name and senior quarterback with equal parts experience and NFL potential.
Take for instance the well-known commodities, such as Clemson's Tahj Boyd, Alabama's A.J. McCarron and Georgia's Aaron Murray.
Each of these senior quarterbacks already possesses the name recognition—largely because they play in the national spotlight nearly every week. However, there is also a plethora of under-the-radar senior college quarterback prospects who you may not be quite as familiar with.
Names like San Jose State's David Fales, Cornell's Jeff Matthews or Fresno State's Derek Carr. Each of them have more than enough upside and potential to throw their hat in the ringer as one of the game's best with another successful season.
Ahead, we take a closer look at each of these six quarterback prospects individually, as well as both Virginia Tech's Logan Thomas and the University of Miami's Stephen Morris.
We will be delving deeper into each of their unique styles of play to further pin-point what is they do well, and what areas they still need to improve on heading into their final season of eligibility.
*Quarterback rankings are in no particular order
Begin Slideshow

»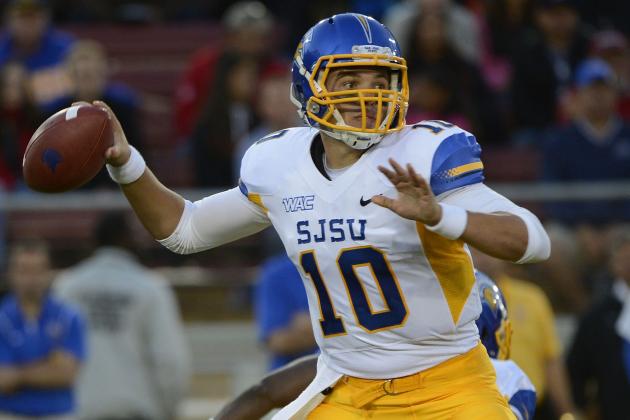 Thearon W. Henderson/Getty Images

Greatest Strength: Accuracy & Ball Placement
Playing in the Western Athletic Conference (WAC) undoubtedly helped Fales achieve a remarkable 72.5 completion percentage last season. However, this is not say his statistics are completely inflated as a result of his level of competition.
On multiple occasions, Fales wowed me with superb accuracy and ball placement. He routinely and almost effortlessly put it in the only spot where his receiver could make a play, while also consistently giving his teammates the ability to produce yards after the catch.
Part of this is due to his superb ability to read a defense, as well as his anticipation skills to know when his receivers are coming open. However, there's not enough that can be said about possessing the one quarterback trait that is perhaps the most important to future NFL success—accuracy.
It's a trait Fales has down pat, and one that will likely be his most valuable and recognizable tool moving forward.
Greatest Weakness: Deep Ball Arm Strength
In the short-to-intermediate areas of the field Fales is an assassin. His ability to make excellent pre- and post-snap reads and decisions, while getting the ball out quickly with his lightning-quick release, is nearly unparalleled.
Conversely, it is in the throws that require deep ball touch, accuracy and strength where Fales tends to struggle.
Overall, his game is much better suited in a West Coast-type offense. However, at some point, a quarterback must be able to take advantage and challenge the vertical parts of this field. Currently this is not a skill Fales does particularly well.
He tends instead to put too much air under the football, which then allows defensive backs a chance to recover and camp under his throws in more of a jump ball manner.
To combat this moving forward, Fales needs to improve not only his deep ball arm strength, but also his deep ball accuracy.
These are two areas, that, if improved, can help take Fales from being a weak-armed offensive threat to someone with all the tools to attack and beat you at every level of your defense.
NFL Comparison: Drew Brees, New Orleans Saints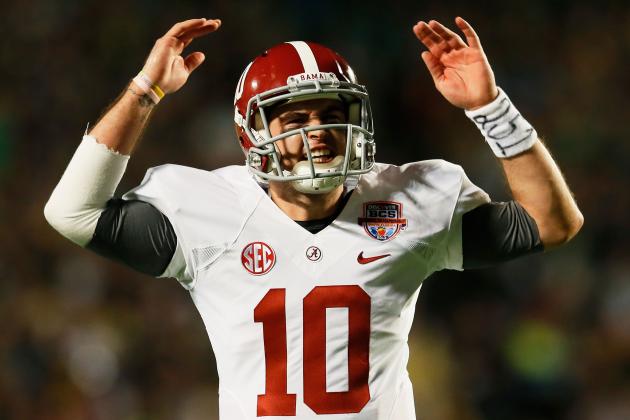 Kevin C. Cox/Getty Images

Greatest Strength: Mechanics & Football IQ
Much like Fales, A.J. McCarron is an incredibly smart passer and protector of the football. Not often does he turn the ball over or make mental mistakes—as evidenced by his FBS leading 175.3 efficiency rating and incredibly impressive 10-1 touchdown-to-interception ratio from last season.
Nevertheless, while knowing where to go with the football is great, even potentially more important is throwing with good solid mechanics, as this allows for increased accuracy to all parts of the field.
McCarron's overall mechanics are nearly spot on, and it all starts with his feet.
By playing with a nice balanced base and using his lower body momentum to generate torque through his hips, McCarron is effortlessly able to snap off the ball with a nice smooth over-the-top release.
His feet point his eyes and shoulders in the direction he wants to go with the football and from there nearly everything takes care of itself.
From the setup, to the delivery, to the follow through, McCarron is perhaps the most mechanically-sound quarterback in his entire senior class and potentially one of the most efficient as well.
Greatest Weakness: Pocket Presence & Escapability
It's not often that we have gotten the chance to see how McCarrron performs once his protection breaks down or when he's forced to move outside the pocket and create on his own.
Last year, due to the protection McCarron routinely received from one of the greatest offensive lines ever assembled, it was hard to get a true sense on his level of acute awareness, presence and poise with bodies flying around him.
In essence, we have yet to see how McCarron truly responds to adversity when flushed out of the pocket, as well as his ability to extend and create with his legs when things start to go awry.
What's perhaps even more frustrating is the fact that we may never even get to, either.
Alabama is so incredibly deep and talented, it wouldn't be surprising to see them walk off with their third-straight national title and leave us wondering just how clutch and athletic McCarron really is.
Nevertheless, what I'll be looking for this season is the incredibly unique and rare moments when Alabama's back is against the wall and McCarron is forced to step up to the plate and deliver.
After all, it is in those moments when the film and McCarron's performances will tell us all we need to know about everything which we have been left wondering.
NFL Comparison: Matt Schaub, Houston Texans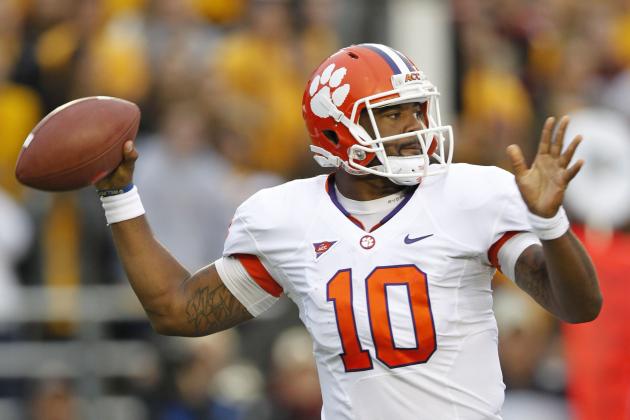 Greg M. Cooper-USA TODAY Sports

Greatest Strength: Athleticism & Mobility
Tajh Boyd's performance in last year's Chik-Fil-A bowl game against LSU was nothing short of memorable, as he drove his team down the field to defeat what was one of the most talented defenses in all of college football.
Boyd's clutch throws and physical toughness were all on display, but equally impressive was his overall athleticism and mobility.
On the night, Boyd only managed to gain 22-yards, but it was his level of perseverance, grit and determination that really won people over, and just one of the things that has his NFL draft stock trending upwards.
Greatest Weakness: Field Vision & Post-Snap Decision Making
In Dabo Swinney's Clemson Tiger offense, Boyd isn't regularly asked to make many in-game adjustments and post-snap reads. Rather, Swinney's system is designed to exploit pre-snap matchups and execute predetermined reads.
Because of this, Boyd struggles at times to fully go through his progressions and see the entire field. Rather than locking on to his intended target and telegraphing where he is going with the ball, Boyd needs to gain more experience and do a better job of using his eyes to scan the entire field.
Doing this will be easier said than done, as Boyd's smaller stature (6'1") also presents a challenge when it comes to seeing underneath and disguised coverages.
Nonetheless, with playmakers like Andre Ellington and DeAndre Hopkins now gone to the NFL, the pressure will really be on Boyd to advance this part of his game if he is to continue building on his growing NFL draft stock.
NFL Comparison: Troy Smith, UFA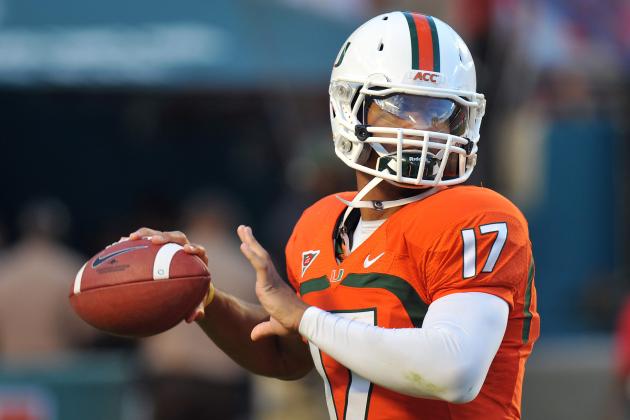 Steve Mitchell-USA TODAY Sports

Greatest Strength: Arm Strength & Athleticism
From a purely physical standpoint, not many can match or even come close to the level of raw talent and natural upside as Miami's Stephen Morris.
With unrealized athleticism, but still a pass-first quarterback, Morris is more adept and keen on beating with his arm than his feet. But he still displays more than enough natural agility and straight-line speed to make you also pay with his legs.
It is this type of dual-threat quarterback that is all the rage in today's NFL: quarterbacks who not only have great footwork inside and outside the pocket, but who also possess that rocket-for-an-arm that keeps defensive coordinators up all night.
It's what makes players like RG3 and Colin Kaepernick so effective. While Morris certainly has a lot to work on, his effortless ability to throw with high velocity and to scramble out of the pocket makes him one of this year's most interesting case studies and players to watch from this point moving forward.
Greatest Weakness: Accuracy & Mechanics
Although he is already a senior, Morris' starting experience is rather minimal to this point in his career.
With just 17 career starts, Morris' game is still a work in progress. While all the natural tools are there, he must now focus on the finer parts of the game in order to reach his truly immense NFL potential.
For starters, the game has not completely slowed down for Morris and you can see it in not only his tendency to force throws into coverage and trust in his arm a little too much, but also in his overall mechanics.
Morris has a huge arm but he must eventually learn when it's okay to release the beast (so to speak) and when it's more optimal to dial it back a bit and not play with such a gunslinger's mentality.
In doing so, not only will Morris enjoy more overall success, but his accuracy will also improve, as Morris must do a better job of hitting his receivers in stride while placing the ball away from the defender moving forward.
With some improvement on this and some of the other areas. Miami's offense just could be one of the more dynamic and fun one's to watch, with players like Morris and the ever-so explosive Duke Johnson leading the charge.
NFL Comparison: Colin Kaepernick, San Francisco 49ers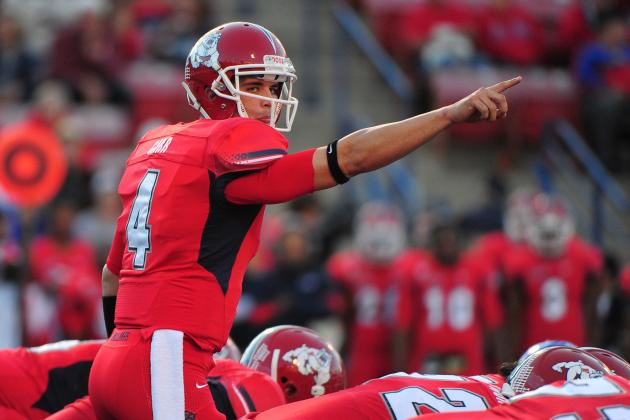 Kyle Terada-USA TODAY Sports

Greatest Strength: Physical Tools (Arm Strength, Size & Athleticism)
Speaking of physical tools, another one of those potential dual-threat quarterbacks is none other than Fresno State's Derek Carr, who just so happens to be the younger brother of former No. 1 overall pick David Carr.
Certainly the comment above does little to help the younger Carr's marketability; however, Derek may just have more NFL potential than his older brother ever dreamed of having.
With perhaps one of the cleanest throwing motions and quickest releases in all of college football, Carr's ability to get the ball out with both urgency and velocity is extremely evident from the very first moments of seeing him play.
Equally impressive however is the fact that not only is Carr extremely well put together, but he's also a highly dynamic athlete capable of getting outside the pocket to beat you with his arms or legs.
Attributes like these are hard to come by individually, but finding them all in one convenient package is nearly every offensive coordinator's dream, as molds of clay like Carr come around only every so often.
Greatest Weakness: Poise, Pocket Presence & Internal Clock
Having poise in the pocket has become somewhat of a dying art, as more and more college football offenses have trended towards the shotgun-heavy spread offensive systems we know and see today.
Now, more than ever, this is making it harder to get an accurate read on a college quarterback's true amount of pocket presence or pocket awareness.
Nevertheless, Carr's inadequacy in this area is clearly evident, despite playing in an offense that's supposed to limit and mask how much focus a quarterback has to put into reading a defense while simultaneously executing his drop.
Even when he's not challenged with not a whole lot of frontal or interior pressure, Carr's tendency to throw off his back foot, while failing to reset his feet correctly, is largely disconcerting.
Equally disconcerting however, is Carr's lack of an internal clock, as he sometimes has a tendency to hold onto the ball for far too long and take sacks he otherwise shouldn't be taking.
Each of these is correctable and Carr's athleticism should help. However, knowing that he is going to be a third-year starter and the game has yet to completely slow down for him is a tad bit concerning and is the biggest area Carr needs to improve on if he is to become the games best.
NFL Comparison: Kevin Kolb Buffalo Bills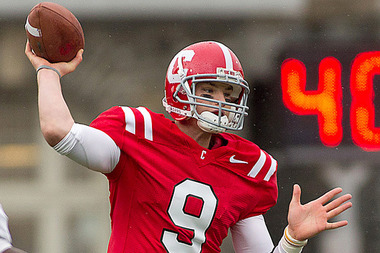 Patrick Shanahan - Cornell University
Greatest Strength: Football IQ & Arm Talent
How Cornell quarterback Jeff Matthews has fallen so far under the radar to his point is beyond me, but I digress.
In terms of being the total package, Matthews delivers in nearly every applicable area (size, anticipation, accuracy, mechanics, vision).
There isn't a throw he can't make or defense he can't read, and, with a cannon for a right arm and level of passion and intelligence for the game, it's hard not to take notice.
Never was this more noticeable than it was last season in the Yale game, when Matthews picked apart the Bulldogs' defense to the tune of 340 yards and four touchdowns.
He displays an uncanny ability to read and process information quickly, all while using his eyes and shoulders to move the defense and see the entire field.
It was a performance like this that really showed us what Matthews is capable of when he's firing on all cylinders. While NFL scouts want to see more consistency and undoubtedly have questions about his level of competition, there's little not to like about this fine Ivy League school talent.
Greatest Weakness: Mobility & Footwork
Like most larger-sized quarterbacks, Matthews hasn't always shown the natural ability to make plays with his feet and escape the pocket.
Sure, he's strong and displays the type of body size you want in an NFL quarterback, but scouts are concerned with his ability to improvise and make plays when asked to step up in the pocket and create.
After all, he's not the most fleet of foot and definitely won't be mistaking anyone as a threat to run from anytime soon. However, that does not mean he's completely inept in this exceedingly important area.
Instead, he's just rather average, and if you can look past that one area you should have yourself one heck of a talented young quarterback.
NFL Comparison: Sam Bradford, St. Louis Rams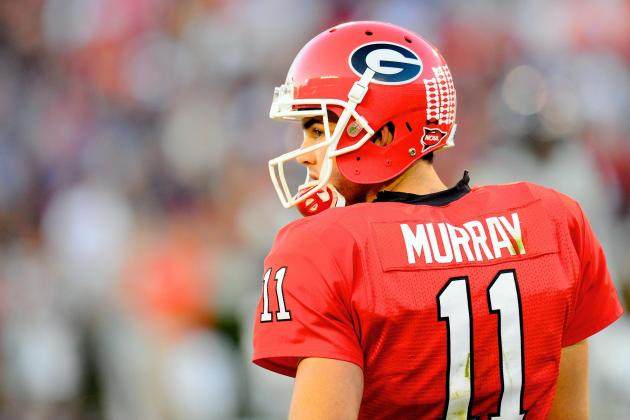 Dale Zanine-USA TODAY Sports

Greatest Strength: Pocket Presence, Mechanics & Overall Football IQ
Georgia's Aaron Murray has been playing college football for what seems like forever.
A three-year starter, Murray already possesses over 40 games of experience behind center and has consistently gotten better with each passing year.
Nevertheless, what makes Murray's game so impressive isn't the fact that he's tall, has great feet or even a very big arm. Rather, what allows Murray to get the most out of his otherwise limited physical ability is by doing all the little things right.
These include things like making sight adjustments at the line of scrimmage or understanding route concepts and defensive alignments to make excellent pre-snap reads and decisions with the football.
All these, along with Murray's excellent footwork, toughness and base of knowledge when it comes to throwing mechanics and how to move while operating in the pocket have gone a long way into making Murray the player he is today.
He possesses and operates a play-action fake that is on par with, and would make legendary New Orleans Saints quarterback Drew Brees, proud.
Greatest Weakness: Size
Much like Brees, Murray has never been one to impress with his size or height. Rather it's his toughness, moxie and leadership that has won many fans and evaluators over.
Nevertheless, since injuries are such a large part of the game, and quarterbacks are such an important part of a team, a quarterback's size is something many team's don't take lightly.
Heck, even RG3 faced questions about his size, despite possessing very rare natural talent and overall athleticism.
Unfortunately for Murray, there's not very much he can do about this aspect of his game, but the good news is that many other smaller quarterbacks have recently enjoyed NFL success despite not meeting the NFL prototype.
There's reason enough to believe the conventional wisdom behind this line of thinking is slowly beginning to change. However, until the time comes, shorter quarterbacks will always be looked down upon, for better or for worse, and Murray's case is no different.
NFL Comparison: Kirk Cousins, Washington Redskins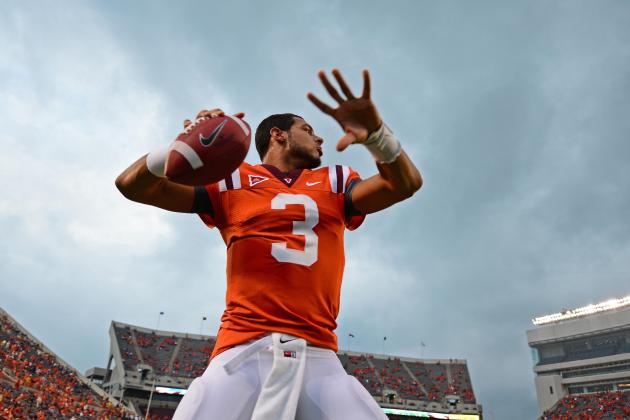 Andrew Weber-USA TODAY Sports

Greatest Strength: Arm Strength & Velocity
Leading up to last season, a lot had been made about the comparison between Logan Thomas and Carolina Panthers budding young star Cam Newton.
Unfortunately for Thomas, he was never able to live up to this lofty expectation, and instead struggled for much of the season to live up to the hype.
That said, there's still plenty of positives we can point to about Thomas' overall game—the most notable of which revolve around his amazing propensity and natural ability to spin the ball with favorable RPMs.
So natural in fact, Thomas' effort is seemingly effortless in this area. The ball absolutely explodes off his fingertips and can sometimes even pose a problem for him when asked to change up speeds.
Nonetheless, assuming he continues to work on perfecting his craft, the sky truly is the limit—since not many quarterbacks have as much natural arm talent as No. 3 in Blacksburg, Virginia.
Greatest Weakness: Post-Snap Reads & Footwork Within the Pocket
When looking at Thomas' 2012 season, it's relatively easy to see where he went wrong and what teams were able to do to confuse and alter his level of comfortableness.
By disguising coverages and executing last-second adjustments, teams quickly found out the secret behind beating Virginia Tech wasn't by trying to contain Thomas, but by instead choosing to challenge him mentally.
This brought out all sorts of problems as Thomas experienced growing pains and threw six more interceptions in 2012, than he did in 2011. This was predominately because Thomas struggles with diagnosing and processing post-snap information with a high degree of accuracy and consistency.
That's an area he'll need and want to improve in 2013 if he is to reestablish some of the momentum he once had going for him as a potential first round pick.
NFL Comparison: Josh Freeman Tampa Bay Buccaneers