Manchester United continue to get bids for Wayne Rooney, and the club is smart to keep rejecting them. Of course, that is at least until someone sweetens the pot.
The veteran is once again considered available after he was reportedly angered by recent comments made by new manager David Moyes, who called him a backup plan to Robin van Persie. According to Ian Herbert of The Independent, Rooney is now looking for a transfer out of Old Trafford.
As a result, Chelsea have made a bid for the player, which was announced in an official statement, via The Sun:
Chelsea football club can confirm that yesterday it made a written offer to Manchester United for the transfer of Wayne Rooney.

Although the terms of the offer are confidential, for avoidance of doubt and contrary to what is apparently being briefed to the Press in Sydney, the proposed purchase does not include the transfer or loan of any players from Chelsea to Manchester United.
There are conflicting reports as to how much the bid was for, but Manchester United rejected it regardless, according to Sky Sports:
Sky sources: Manchester United reject Chelsea bid for Wayne Rooney #SSN

— Sky Sports News (@SkySportsNews) July 17, 2013
Whether the bid was for £10 million or £30 million, the club would still be smart to decline the offer until Chelsea add the one thing it was missing: a top player.
Which should Manchester United try to get?
Initial reports regarding the bid sent to Manchester United were for £10 million plus Juan Mata or David Luiz, according to James Dickenson of the Daily Express. While this was denied by the club, the Red Devils should aggressively try to make this deal an option.
United do not need money from a sale; the club has plenty of it, and extra funds in the reserves will not help much. What it needs are players to help win another EPL title and make a run at the Champions League title.
Finding talent to come to Old Trafford has been a bit of a problem this summer. The club had a bid denied for Cesc Fabregas, was snubbed by Thiago Alcantara and generally struggled to convince top talent to join the squad.
Adding more money to the pot will not help if these men do not want to play for the English club. Instead, Manchester United have to work to get someone like Mata in the deal.
The Spanish midfielder was one of the most productive players in the Premier League last season, totaling 12 goals and 12 assists. He is very creative on the offensive end and can provide his teammates with plenty of opportunities around the net.
If he is able to play behind Robin van Persie, the two will hook up for a huge amount of goals next year.
On the other hand, even Luiz would be a great addition to the club. The squad has been looking to add a centre-back and is close to getting Ezequiel Garay from Benfica, according to Charles Perrin of the Express, but we have already seen that nothing is final until it is announced.
Instead, the club could add a talented young player in Luiz who has shown a great deal of skill as a defender. While inconsistent at times at Chelsea, he was excellent for Brazil at the Confederations Cup and is certain to only get better.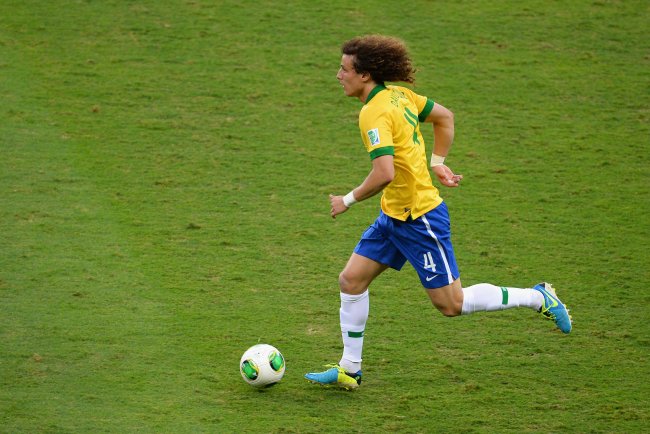 Laurence Griffiths/Getty Images
Chelsea manager Jose Mourinho has been adamant in recent weeks that his stars were not for sale. The Metro reported that he made a personal call to Mata and Fernando Torres to tell them they would be staying at Stamford Bridge.
However, per ESPN UK, there have been rumours that this pair and others could be on their way out since the coach took over in his second stint with the club. It is certainly possible that the potential transfer of Rooney would help convince him to part with some key people.
Either of these additions would be a significant upgrade to the roster, especially if Rooney is eventually sold.
It is never a good situation when forced to get rid of a top player, but the key is to get the most out of it to help the club for the future. The best the club can do is get a top player in the deal.
Follow Rob Goldberg on Twitter for the latest breaking news and analysis.