Los Angeles Dodgers: Hottest and Coldest Players Heading into the Second Half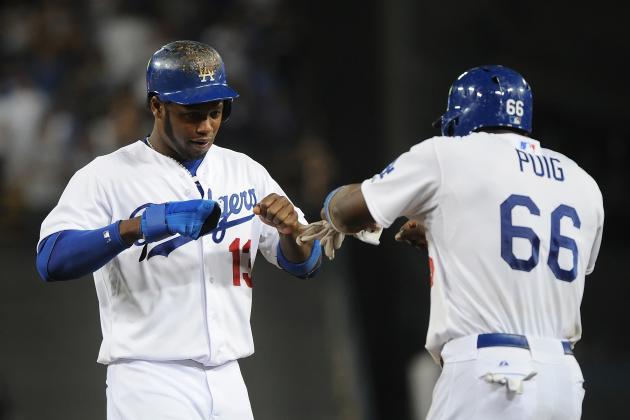 Lisa Blumenfeld/Getty Images

The Dodgers have displayed polar-opposite behavior this season, from the frigid chill of the North Pole to the sizzling heat of the equator.
The Blue Crew, which was stranded in last place for over two months of the first half of the season, has emerged from the blizzard of the early season with a blistering heat wave.
To cap off the first half of the season, the Dodgers won 17 of their last 22 games, skyrocketing to second place in the National League West in the process.
As the Dodgers rest their bones during the All-Star break, let's take a look at the Dodgers' players who are hottest—and coldest—heading into the second half of the 2013 season.
Begin Slideshow

»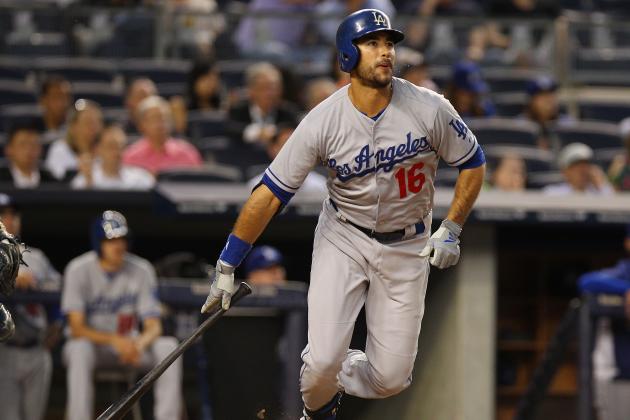 Mike Stobe/Getty Images

(July: 0 HR 4 RBI .362 .436 // Season: 5 HR 28 RBI .268 .347)
No, this isn't the Andre Ethier of yesteryear, but the Dodgers' star outfielder has finally defrosted in the 2013 season.
Although Ethier's power numbers are still far behind his career average, he has been seeing the ball well lately and getting on base for the Dodgers when they need a rally.
Ethier, who has shifted over to center field in the absence of the injured Matt Kemp, has had his best month so far in July, achieving a .362 average with a .436 on-base percentage.
The longtime Dodger picked the right time to find his groove this season and is banking on a hot streak heading into the second half of the season.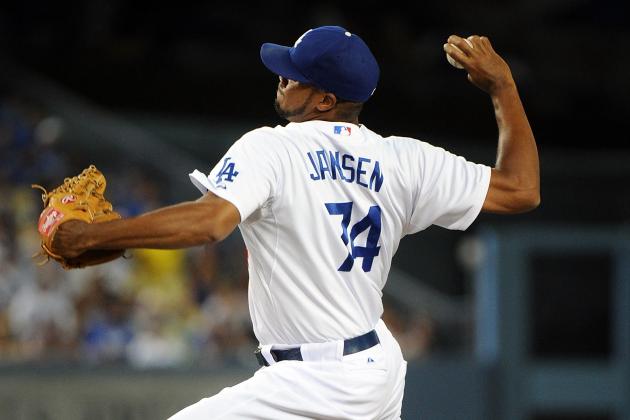 Lisa Blumenfeld/Getty Images

(July: 1-0 5.1 IP 1.69 ERA 1.13 WHIP 6 SO 2 SV // Season: 3-3 46.1 IP 2.33 ERA 0.97 WHIP 65 SO 9 SV)
Kenley Jansen hit a bump early in the season when fulfilling the Dodgers' setup role, but has since been solid as closer.
In his last 21 outings, Jansen has given up a mere three earned runs, tallying seven holds and seven saves and reducing his earned run average to 2.33 on the year.
The 25-year-old converted catcher has adjusted well since returning to his closer role that was previously filled by Brandon League.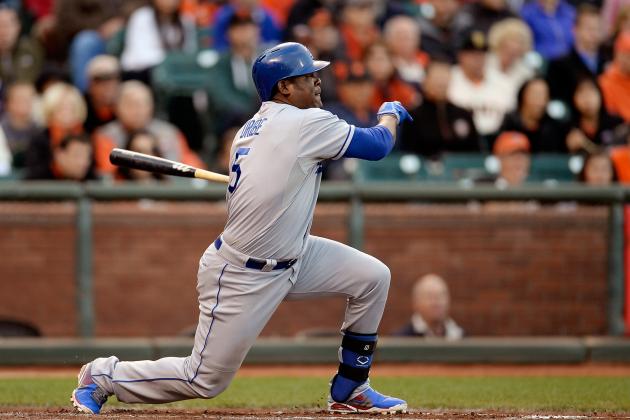 Thearon W. Henderson/Getty Images

(July: 2 HR 12 RBI .289 .325 // Season: 5 HR 28 RBI .270 .343)
Given his immense struggles in his first two seasons with the Dodgers, Juan Uribe's recent reemergence has been a pleasant surprise for the club.
In the 11 games in which the Dodgers' veteran third baseman played in July, he drove in a team-high 12 runs, a misleading but nevertheless laudable statistic given the time span in which he achieved the feat.
Uribe knocked in 11 of those runs in his first three games in July, notching seven runs batted in in one game, which probably made him consider swapping around the middle characters of his surname to better suit his lifestyle.
While the Dominican infielder has only driven in one run since that game in San Francisco on July 5, he is still hitting .289 with a .325 on-base percentage and an impressive .526 slugging percentage.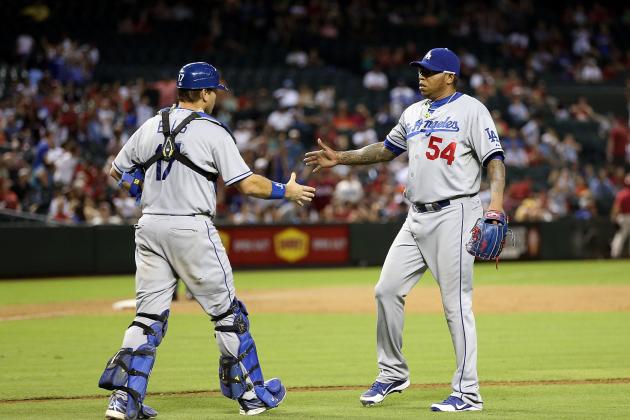 Christian Petersen/Getty Images

(July: 18.1 IP 3 HLD 0-0 19 SO 0.00 ERA 0.41 WHIP // Season: 115.1 IP 27 HLD 7-7 2.81 ERA 1.07 WHIP)
One of the Dodgers' biggest weaknesses in their dreary days was the inferiority of their middle relievers. The team, which was struggling to score runs, would constantly have leads blown by the bullpen.
Perhaps a byproduct of the alleviated pressure of a more productive offense, the Dodgers' middle relievers are finally holding their ground.
Not only are they holding their ground but they have been locked in for the past month. In a combined 18 appearances, Ronald Belisario and lefties Paco Rodriguez and J.P. Howell have not surrendered a single run, recording a 0.41 walk-hits per inning pitched average, 19 strikeouts, and three holds.
Even rookie Chris Withrow, whose major-league career got off to a rough start, has been locked in, pitching five innings in two appearances and striking out seven batters, only allowing one earned run.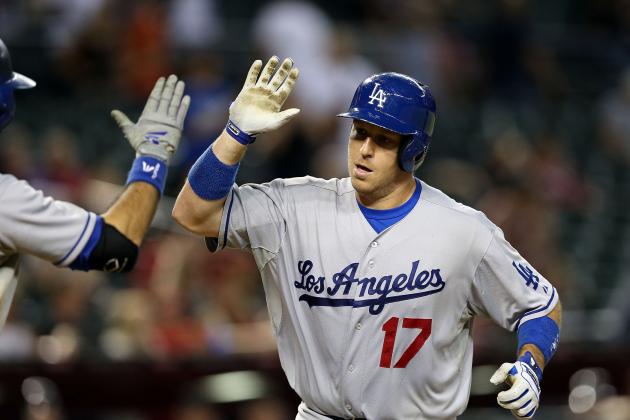 Christian Petersen/Getty Images

(July: 1 HR 9 RBI .286 .348 // Season: 4 HR 27 RBI .262 .349)
A.J. Ellis has always been steady at the plate (and behind it as well) and has been leading the team in on-base percentage for the bulk of the season (.349, barring Puig and Ramirez, who have played less than half of the Dodgers' games), but July has been a particularly exceptional month for him.
In a mere 10 games in the year's seventh month, the 32-year-old catcher has had the fifth-best month in his career, knocking in nine runs and a homer as well.
Best of all, Ellis has been clutch in key situations as of late, driving in lead-taking runs for the team in the late innings of the game.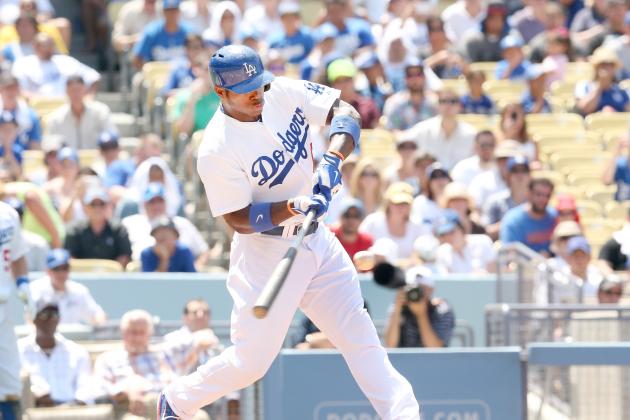 Stephen Dunn/Getty Images

(July: 1 HR 3 RBI .300 .333 // Season: 8 HR 19 RBI .391 .422)
Yasiel Puig isn't scorching hot as he was in his first month of major-league play—in which he hit seven home runs with 16 runs batted in and sustained an incredible .436 batting average with a .467 on-base percentage and a .713 slugging percentage—but he's still aflame.
As anticipated (see: Robert's predictions), baseball's latest prodigy has slowed down in the month of July as pitchers around the league continue to see more of the 22-year-old Cuban phenom. While his power numbers have unsurprisingly tanked (1 HR 3 RBI) with not only the adaptation of pitchers but also a hip injury, Puig has still managed to hit an even .300 with a .333 on-base percentage in his first 50 at-bats of July. Above all, Puig continues to bring an incomparable energy to the Dodgers that propels them to victory.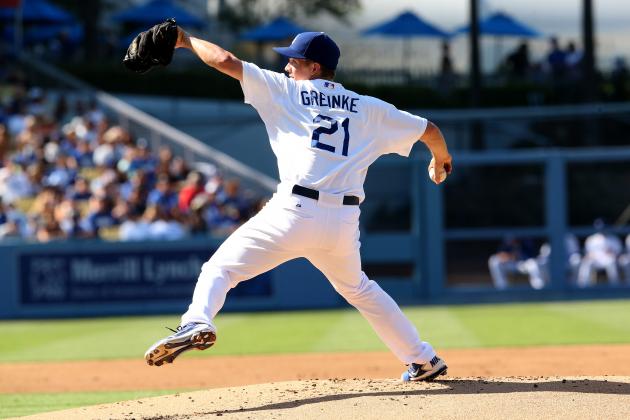 Stephen Dunn/Getty Images

(July: 3-0 21 IP 2.14 ERA 0.95 WHIP 20 SO // Season: 8-2 85 IP 3.49 ERA 1.26 WHIP 68 SO)
Zack Greinke looked stellar in his first two starts with the Dodgers—and then the San Diego brawl happened.
After returning from injury, Greinke was either hit or miss. He bookended an eight-inning, one-earned-run, eight-strikeout outing with a combined nine earned runs and 20 hits allowed, including three home runs, in two starts.
Now that the 29-year-old righty ace has had time to fully recuperate from the collarbone injury he sustained in San Diego, he is holding his own on the hill.
After a bout of mediocrity, Greinke has won all five of his last starts (with some help from the Dodgers' surging offense), making him the Dodgers' winningest starter with a total eight wins.
Greinke rounded off the first half of the season with his two best consecutive starts as a Dodger, sealing it off with his first complete game shutout with the Blue Crew in a two-hit gem.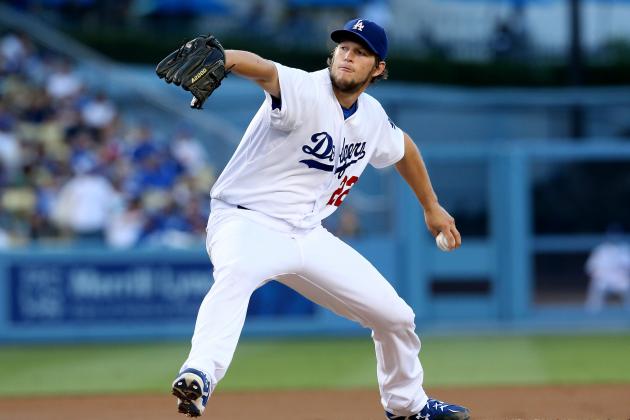 Stephen Dunn/Getty Images

(July: 2-1 24 IP 1.50 ERA 0.63 WHIP 21 SO // Season: 8-6 145.1 IP 1.98 ERA 0.91 WHIP 139 SO)
Clayton Kershaw has been so good for so long that his Cy Young-worthy numbers have become customary.
The 25-year-old lefty ace, who was anointed the prestigious Cy Young in 2011, wrapped up the first half of the season with an outstanding series of starts.
In his three starts in July, Kershaw pitched 24 innings, only surrendering four runs and achieving 21 strikeouts and a four-hit, complete-game shutout in the process.
Had Kershaw received consistent run support in the first half of the season, he would be well into double digits in the wins category. As it is, he lost or received a no-decision in six starts in which he surrendered two or fewer runs.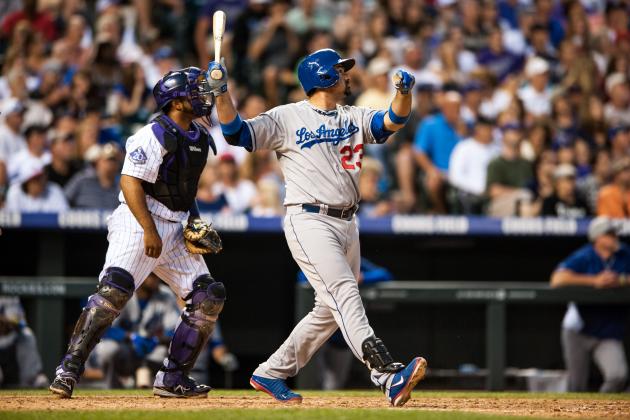 Dustin Bradford/Getty Images

(July: 4 HR 11 RBI .304 .333 // Season: 14 HR 59 RBI .297 .347)
Adrian Gonzalez may have briefly slowed down in June with a minor slump, but he picked up steam once again heading into the All-Star break.
The Dodgers' first baseman reasserted himself as the Blue Crew's most consistent offensive contributor with a fruitful July, driving in 11 runs in 13 games with four home runs while maintaining a .304 batting average and .333 on-base percentage.
Gonzalez continues to be a spark in the Dodgers offense with his supreme plate discipline and clutch hitting.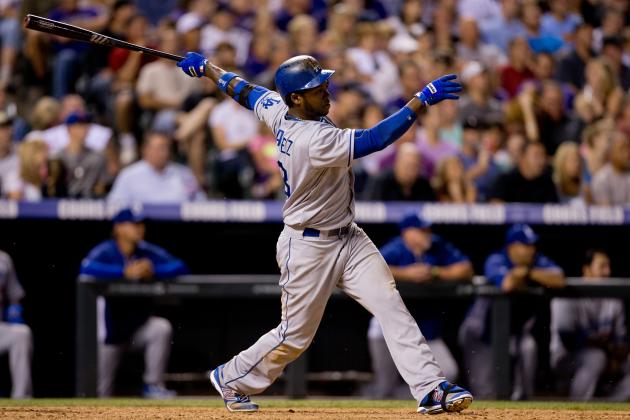 Justin Edmonds/Getty Images

(July: 2 HR 7 RBI .385 .467 // Season: 8 HR 25 RBI .386 .444)
The Dodgers were originally just happy to see Hanley Ramirez back on the field after a string of injuries kept him sidelined for most of the season.
He's far exceeded a mere return to the field.
Ramirez has been tattooing the ball since returning to shortstop in mid-June. Although recent excitement has surrounded Puig, Ramirez has been the hottest hitter on the team and is trending towards one of his best seasons in his eight-season career.
Not only are Ramirez's averages incredible but his strikeout ratio of 11 percent is phenomenal. The 29-year-old Dominican reached base safely in every game so far in July, notching six multi-hit games in which he slapped a total of 13 hits.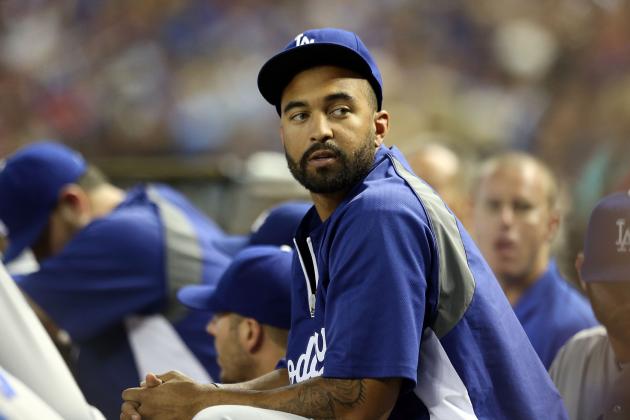 Christian Petersen/Getty Images

(July: 2 HR 5 RBI .267 .313 // Season: 4 HR 24 RBI .254 .309)
It seemed like Matt Kemp was on a tear once again in one of the historically best months of his career, but then injury struck him once more.
After tallying two home runs and five runs batted in in his first three games of July, Kemp injured his shoulder on a swing, thus disallowing us the opportunity to declare him detached from his early-season miseries.
Now that Kemp is serving another sentence on the disabled list, the Dodgers hope that he is entirely healthy when the star center fielder is penciled back in the lineup.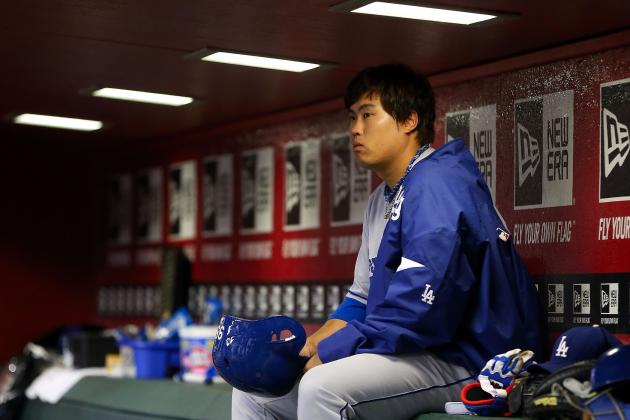 Christian Petersen/Getty Images

(July: 1-0 11.2 IP 5.40 ERA 1.37 WHIP 6 SO // Season: 7-3 116.2 IP 3.09 ERA 1.25 WHIP 93 SO)
Hyun-Jin Ryu has been marvelous in his first season playing ball in the U.S. but his last few starts have been very mediocre.
The 26-year-old South Korean, who dons Manny Ramirez's former No. 99, approached the All-Star break with the worst start of his rookie season, giving up five earned runs on seven hits in a five-inning outing.
Ryu will likely bounce back from that bad outing as he did in response to his second-worst outing—with a gem. Nevertheless, he is heading into the second half of the season with a chill.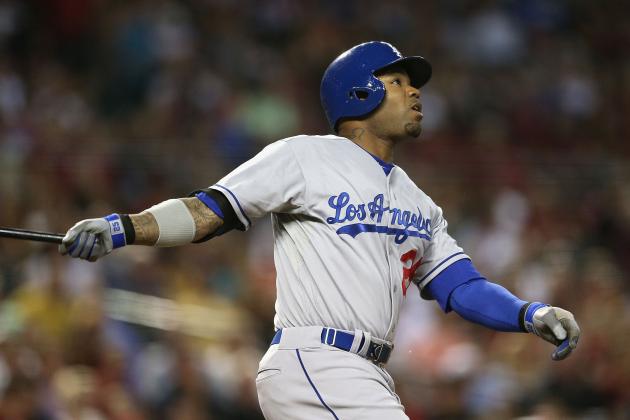 Christian Petersen/Getty Images

(July: 0 HR 0 RBI .077 .143 // Season: 5 HR 13 RBI .273 .332)
When nobody else seemed to remember how to hit in the beginning of the season, Carl Crawford was the Dodgers' most consistent offensive producer alongside Adrian Gonzalez.
Then he got injured.
After returning from a hamstring injury that kept him on the disabled list for over a month, Crawford hasn't been anywhere near the same player he was in the beginning of the season. It's not just the results of his at-bats that have been subpar but his approach in the box is much more reserved and it appears as though the injury has altered his mechanics.
Crawford may have come of the DL a little too soon, as he seemed to not be entirely using his lower half in his swings, which may have been out of fear of re-injuring his hamstring. This theory is further supported by his recent back injury, which may have been sustained by overcompensating with his upper half.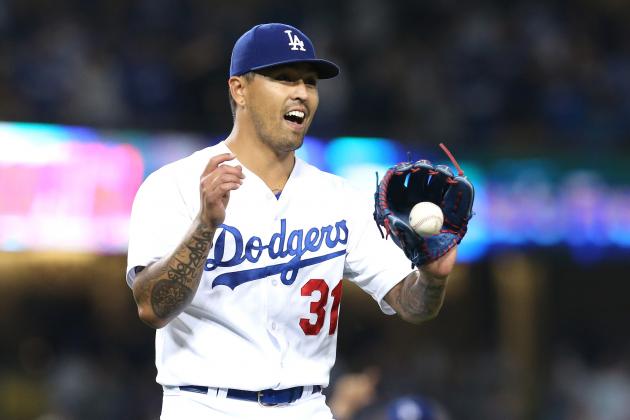 Stephen Dunn/Getty Images

(July: 0-0 2.1 IP 11.57 ERA 2.14 WHIP 3 SO // Season: 3-3 31.2 IP 6.25 ERA 1.58 WHIP16 SO 4 SV)
There have been better times in Brandon League's nine-year career, let's put it that way.
League, who was signed to a three-year, $22.5 million contract in the offseason under the presumption that he would be the Dodgers' dominant closer, has greatly struggled this season and is on pace to have the worst season of his career.
The 31-year-old reliever has not only been ousted from the closer role after blowing four saves in 25 appearances but continues to struggle in non-pressure situations.
It appeared as though League was finally back to his normal self after being replaced as closer, but he didn't finish off the first half well. In his last five appearances, League has given up six earned runs in 3.1 innings, once leaving the game before he recorded an out.
There's still plenty of time for League to redeem himself, but it was a brutal first half for a normally above-average closer.