Predicting Second-Half MLB All-Star Teams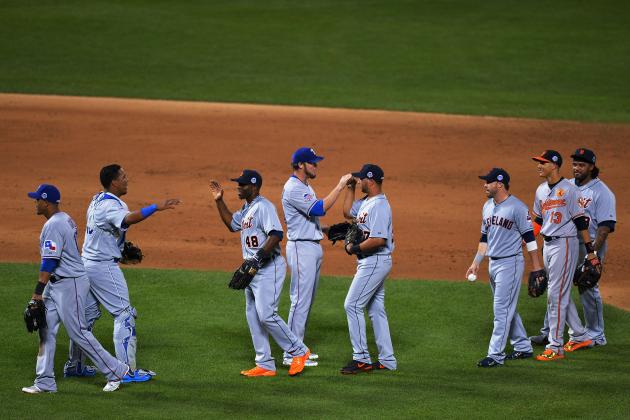 Drew Hallowell/Getty Images
The American League players celebrating their All-Star Game victory.
The 84th All-Star Game took place on Tuesday, July 16, and didn't disappoint. The American League's powerhouse lineup, as expected, bested the National League, 3-0.
But while the All-Star Game more or less featured the stars of the first half, a second-half All-Star Game could look very different.
Looking forward, certain players could use their stellar June or July months to propel themselves into the second half. For instance, even though catcher Buster Posey sat in place of Yadier Molina, Posey's .363 batting average over the past two months could push him ahead of Molina on the All-Star depth chart.
Below are the predictions for the 2013 second-half MLB All-Star team starters.
Note: relievers are not included because this only addresses starting players
All statistics sourced (through All-Star Break) from Baseball-Reference.com.
Begin Slideshow

»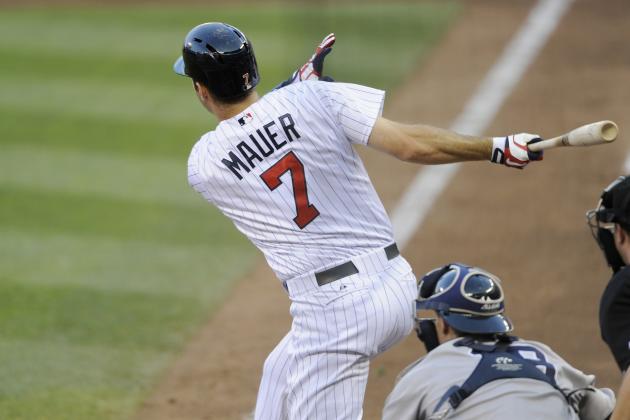 Hannah Foslien/Getty Images
Joe Mauer is in a league of his own in the American League.
With little competition in the American League, Joe Mauer would be the top pick as the second-half All-Star Team catcher. Mauer has been consistent throughout 2013 and posted a .321 batting average and .827 OPS during July.
The National League is a little different, however. While a case could be made for incumbent Yadier Molina, San Francisco Giants' catcher Buster Posey has been better as of late. Over the past two months, Posey has batted .363 with six home runs and a 1.002 OPS.
By comparison, Molina has posted a still great but inferior .323 batting average, four home runs and .886 OPS.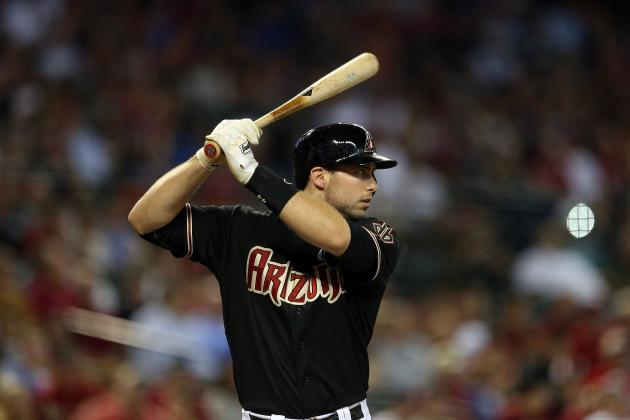 Christian Petersen/Getty Images
Paul Goldschmidt is leading the National League with 77 RBI and could be a MVP candidate.
Even though Chris Davis only hit .200 in July, the American League slugger also collected 18 home runs over the past two months. Considering Prince Fielder slumped in July (.232 batting average and .710 OPS), the Detroit Tigers' first baseman isn't supplanting Davis anytime soon.
Joey Votto and Paul Goldschmidt are fine choices in the National League, but perhaps Goldschmidt is more deserving of the second-half honors than Votto. Goldschmidt posted a sublime .353 batting average and 1.019 OPS in July, whereas Votto only mustered a .267 batting average and .819 OPS.
The tables could turn come August, but as of now, the Arizona Diamondbacks' first baseman deserves the nod.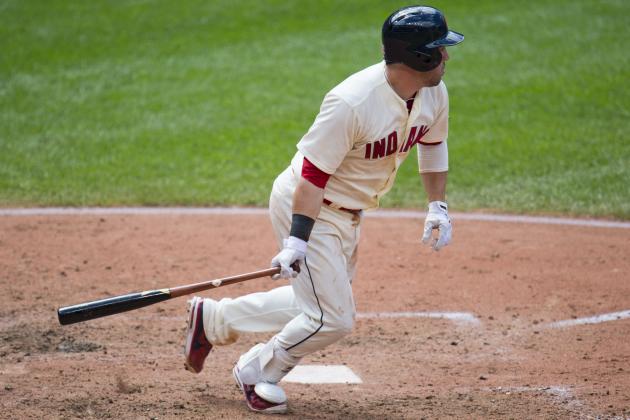 Jason Miller/Getty Images
Jason Kipnis has batted .384 since June.
It's a bold move to bypass Robinson Cano, but Jason Kipnis has been in beast mode since June. The Cleveland Indians' second baseman has posted a .384 batting average, 1.075 OPS, five home runs and 11 stolen bases in his past 171 plate appearances.
Cano's .319 batting average, .959 OPS, seven home runs and four stolen bases are elite but pale in comparison to Kipnis' recent numbers.
Even though announcer Tim McCarver gushed about Brandon Phillips during the All-Star Game, St. Louis Cardinals second baseman Matt Carpenter was the more deserving starter then and will be again in the second half.
Phillips has been an offensive dud since June, hitting a mere .228 with a .597 OPS. Carpenter has been worlds better. The 27-year-old has hit to the tune of a .335 batting average and .944 OPS.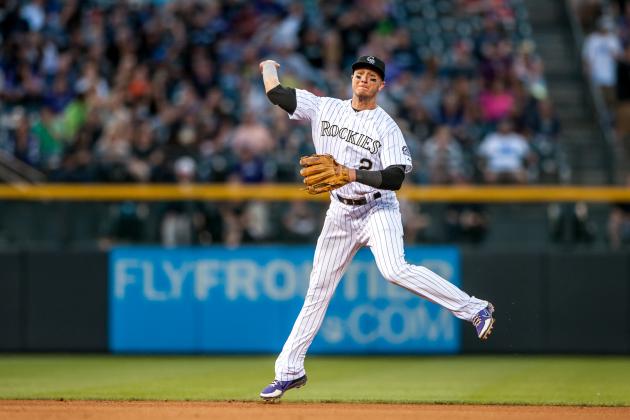 Dustin Bradford/Getty Images
Troy Tulowitzki smacked 16 home runs in just 265 plate appearances in the first half.
In both the American and National Leagues, the shortstop All-Stars will stay the same. Even though Jhonny Peralta has posted a superior walk rate since June (9.0 percent versus 6.8 percent), J.J. Hardy has hit three more home runs and is more sure-handed defensively.
Troy Tulowitzki has only accumulated 62 plate appearances over the past two months, but unlike Jean Segura, Tulo's elite skills have a track record. Assuming his wrist has healed, the Colorado Rockies' stud should continue his torrid park-adjusted 156 OPS+ pace.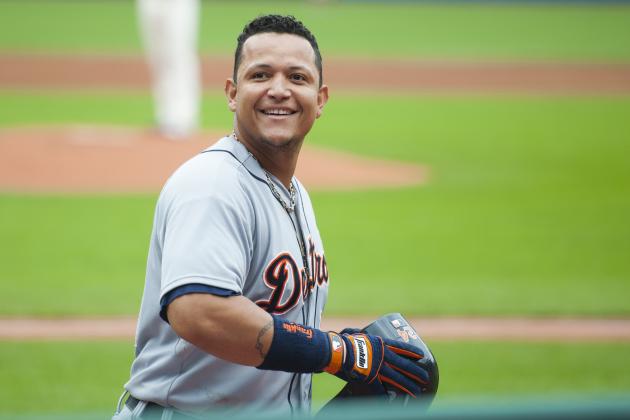 Jason Miller/Getty Images
Chris Davis might be the only person standing in the way of Miguel Cabrera collecting his second consecutive Triple Crown.
Even with Manny Machado burgeoning season as a superstar, he's still no match for back-to-back Triple Crown candidate Miguel Cabrera.
After hitting .373 for the first three months, Cabrera has technically been slumping in July (.304 batting average), but he's also collected five home runs and a 1.071 OPS during the span too. Cabrera is the definition of elite.
As tantalizing as picking Pedro Alvarez and his fantastic home run pop (14 home runs since June) would be, the Pittsburgh Pirates' third baseman could just as revert to his April/May numbers (.200 batting average and .663 OPS).
By comparison, David Wright would provide the second-half All-Star team with much more consistent—and still elite—production. Wright's park-adjusted 154 OPS+ on the season speaks to his abilities.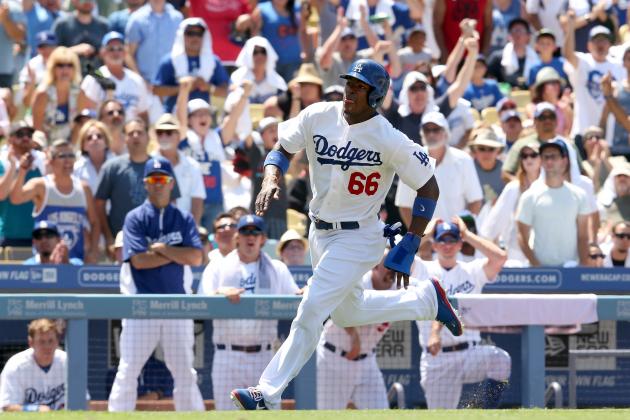 Stephen Dunn/Getty Images
Everyone has been watching Yasiel Puig lately.
With the exception of Mike Trout, the American League's outfield would look a little different in a second-half All-Star Game. Trout has consistently been the American League's best outfielder in 2013, posting a .362 batting average, 1.030 OPS, five home runs and nine stolen bases over the past two months.
The only player who has come close to Trout's production has been Jacoby Ellsbury. Despite hitting .268 with a .710 OPS over his first two months, Ellsbury has been on fire since June. The Boston Red Sox outfielder has collected a .363 batting average, .916 OPS and 15 stolen bases.
Nelson Cruz saw some action in the All-Star Game this year but not as a starter. That would change in the second half. Since June, Cruz has hit nine home runs with a .297 batting average and .888 OPS. While Jose Bautista just has one less home run in the same span, he's only batted .224.
Like Trout in the American League, Carlos Gonzalez would be the only starter remaining in the National League. "CarGo" has continued his torrid start, hitting .295 with 12 home runs and a .995 OPS since June.
Andrew McCutchen would also join Gonzalez in the outfield. McCutchen has been a hit machine as of late, posting a .324 batting average with three home runs, four stolen bases and an .897 OPS since June. As talented as Bryce Harper is, the star outfielder has only hit .196 since returning from injury in July.
The final addition to the National League is none other than Yasiel Puig. Almost elected to the final All-Star spot in the first half, Puig is deserving in the second half.
All eyes have been on Puig since the Los Angeles Dodgers promoted him in early June. And the Cuban import has not disappointed. He has mashed a .391 batting average, park-adjusted 190 OPS+ and eight home runs since June 3.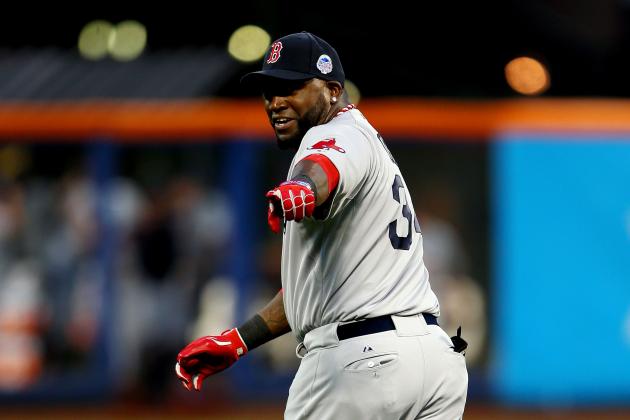 Mike Ehrmann/Getty Images
Even at age 37, David Ortiz can still produce big offensive numbers.
In the case of David Ortiz, few designated hitters have outmatched him in his entire Boston Red Sox career. Even at age 37, Ortiz has outhit the competition. Since June, Ortiz has posted a .302 batting average, 1.007 OPS and 10 home runs. If not for "Big Papi," it would be interesting to see where the Red Sox would be in the standings.
Similar to his first few months, Michael Cuddyer hasn't stopped hitting since June. The Colorado Rockies outfielder has posted a .316 batting average with a .914 OPS and eight home runs. While a good case could be made for Carlos Beltran, it's more likely the grueling second half will take a toll on the elderly Beltran's production.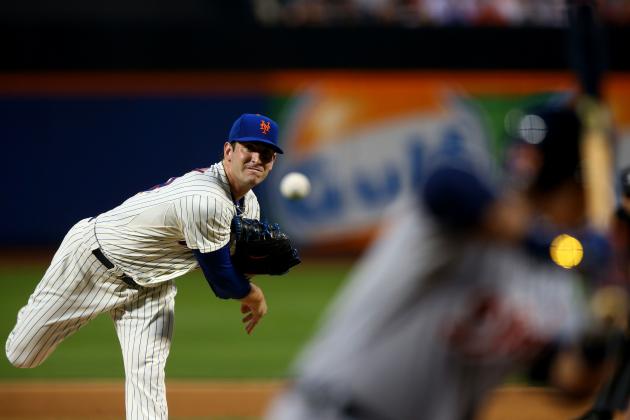 Elsa/Getty Images
Matt Harvey struck out three batters in his first All-Star Game.
Despite posting a 3.19 ERA and five losses in June, Chris Sale has just been unlucky. Sale has also hurled a park-adjusted (and more indicative) 2.50 xFIP and 5.88 K/BB. The left-hander has even boasted three double-digit strikeout performances in six starts.
Max Scherzer owns more personal wins, but Sale has been the better pitcher.
Matt Harvey might not be as dominant as he was in his first two months (1.85 ERA, 0.82 WHIP and 4.94 K/BB), but the young New York Mets pitcher has still been a stud. He has posted a 2.31 ERA (versus 2.18 xFIP) and a 6.85 K/BB in June.
And besides surrendering a leadoff double to Mike Trout and hitting Robinson Cano with a pitch, Harvey looked elite while starting his first All-Star Game on Tuesday, July 16, fanning three batters.