Grading the 4 Charlotte Bobcats Rotational Players This Summer League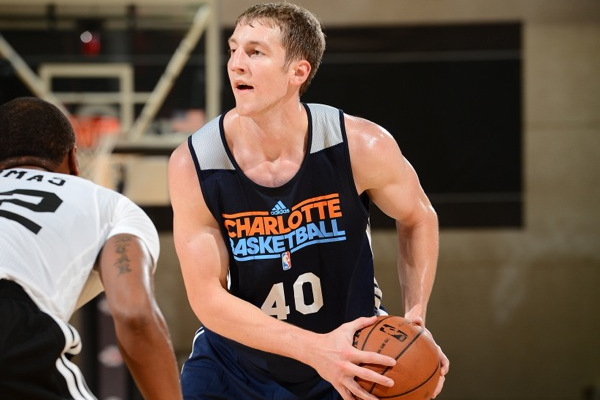 The Charlotte Bobcats are going to be a better team than last year, and a better team than most writers seem to give them credit for.
Let us, for the moment, set aside the addition below market value (no matter what anyone says) signing of one of the best post-skilled offensive men in the game in Al Jefferson, the continued growth and passion of Kemba Walker and a hopefully re-signed Gerald Henderson.
Let's just talk about Las Vegas Summer League 2013, where the Bobcats are 2-1, their only loss coming against a buzzer-beater, losing 69-68.
They have victories against the New York Knicks and the Dallas Mavericks, and all of the sure-fire NBA players on the summer league roster have worked to improve in certain areas, and so far it's been a success.
But what exactly have we seen out of the Charlotte Bobcats this summer, and what implications does it have regarding the future, most pressingly at the moment, with Gerald Henderson?
Being that it's summer league, and these guys have to make the successful transfer into real-life NBA situations, take all of this with a grain of salt. That being said, summer league is much more competitive than many people think. The best college and international players in the world coming either by draft or trying to earn a spot in the NBA as an undrafted free agent, or an international player.
In other words, these are the best of the best as far as young talent goes, and the accomplishments and failures of this team stand a high chance of translating at least in some way to the NBA.
Begin Slideshow

»
The project continues.
So far this summer league we've seen exactly what Bismack Biyombo is great at, and what he's terrible at.
The biggest knock is obviously his scoring, though offensively as a player to throw screens and open lanes, he has certainly improved.
But so far, Biz is only 4-for-7 through three games, while playing 26.3 minutes per game. With those field goals, along with free throws, he's only averaging 5.3 points per game.
The positives on offense? Well, like I said, he's throwing good screens. His handle on the ball doesn't seem too horrible, and his passing is improving. It's clear that Patrick Ewing is trying to work with Biyombo on adding a quick little running hook, which he has made. He's getting to the line a ton, but isn't very reliable once he gets there.
Overall, his offensive IQ seems to be on the rise, he just isn't taking enough shots to warrant much more than a passing glance.
Where he's shined has been on defense. He's averaging 1.7 blocks per game, disrupting shots in the paint, and moving really well on the defensive end of the ball. Like we always knew, Biz is a great defender and it seems he's improving again this year.
He's also rebounded exceptionally well, grabbing 9.7 boards per game He's using his length and strength to fight for rebounds, and for the most part it's working. He's still having some problems actually getting his hands on the ball in rebound, which can sometimes result in a tip out back to offense, but it's summer league, and 9.7 boards is impressive no matter what.
Overall, Biz has been decent. He's show signs of improvement in all aspects of his game except scoring, but with the addition of Al Jefferson as a high-scoring center, Biz has some more time to work on getting the ball into the basket.
Grade: B
Let's get the elephant out of the room: Michael Kidd-Gilchrist's summer league stats haven't exactly popped off the charts. I have a theory for this, but we'll get to that in a moment.
So far he's averaging 10.7 points per game, which isn't all that great. But he's doing it extremely efficiently, shooting at a 54.2 percent clip.
He's also shown improved passing skills.
My guess as to why he's only averaging 10.7? Coach Clifford and the rest of the coaching staff all know what MKG is capable of when he puts the ball down and drives, which is exactly why you've only seen it a few times this summer league.
With the addition of shooting coach Mark Price, MKG still has a very ugly jumper, but he's getting the release off slightly quicker, and most importantly, he's hitting his jumpers at a strong clip. Not just short jumpers, but long two-pointers and-18 foot shots. MKG looks comfortable while shooting.
He's also passing much better this season, finding players like Jeff Taylor and Cody Zeller, and much more efficiently spreading the floor out.
On defense, there's not a lot to say. He was already fairly polished on D last season, and nothing seems to have changed, except that it's abundantly clear that he is capable of guarding most of the guys in Summer League. I've watched all three games, and I've only seen MKG be beaten two or three times. He's constantly able to get his hand in the face of a shooter, and has recorded 1.3 steals per game in Summer League.
His rebounding hasn't been great—he's only averaging 3.3 rebounds per game. But it's hard to pin that on him. With a ton of guys crushing the paint and tipping the ball around, MKG hasn't really gotten the knack of summer league rebounding. As I mentioned earlier, he's also playing much deeper on offense and hanging around the perimeter on defense more this SL, simply to work on his weaknesses.
With a cleaner jumper in the works, and once he's given the green light to really go for it on offense, MKG is going to have a great regular season, and we should see him improve statistically across the board.
Oh, and with Jefferson and Zeller opening up more lanes for MKG to crash, expect some pretty tremendous finishes at the rim from him.
Grade: B+
The steal of the 2012 draft? Wouldn't go quite that far yet, but being picked 31st overall a year ago, the Bobcats got a ridiculously talented, athletic swingman.
Initially used as a "three-and-D" player, Taylor showed he has more to offer than just a smooth shooting stroke and solid wing defense. His athleticism and ability to finish a drive to the basket with extreme authority had fans drooling. What a steal at 31... if it had been this year's draft, it's conceivable that Taylor could have been a lottery pick.
All he needed to do was work on everything in the middle, and it looks like he has so far this summer.
Taylor has been astonishing for the Bobcats so far this summer league, averaging 21 points per game while shooting 47.7 percent from the floor and being played almost exclusively as a 2-guard.
His three-point shooting has been great, but what has fans excited is the fact that he is hitting mid-range jumpers, and creating shots off the dribble, not relying on others to make a play so he can spot-up.
He's even been working on post moves this summer.
Taylor's biggest problem last season was confidence. It was clear that he wasn't quite confident with the ball last season and passed on many chances in which he could've scored. It could be because he was expected to go in the first round of the draft, or it could be that the former Vanderbilt standout just didn't quite get the tempo up in his rookie year.
But it's clear he's got the tempo going now, and he's clearly pulling the trigger when he gets the chance, and doing so efficiently.
Expect Taylor to get respectable minutes off the bench. At 6'7" and a small forward by trade, Taylor is able to play both the 2 and the 3, and can guard all the way up to the 4 with effectiveness. He should see anywhere from 20 to 25 minutes per game this season.
If the improvements and adjustments he's made carry over in the regular season, the Bobcats are going to have a lethal scorer who plays great defense and runs the court. He's a great energy guy who seems to have figured out how to score.
His peripheral stats have been erratic so far this SL, but that's not uncommon. He did manage to nab four steals from the Bobcats' win against the New York Knicks, but also committed six personal fouls—all part of the summer league. So far, Taylor is exceeding expectations and making the free agency of Gerald Henderson much more interesting.
Grade: A-
And here we are. The pick fans and critics alike were perplexed by. After being drafted No. 4 overall by Charlotte, fans and critics reacted on the extremes.
Many fans and critics hated or didn't understand it. With Nerlens Noel, Alex Len and Ben McLemore still on the board, the pick didn't make sense to many. Some understood it, and some were happy with the pick of a skilled seven-footer who, after expanding and solidifying his jumper, could become the next LaMarcus Aldridge.
High upside and not a really low basement. A safety pick, most agreed.
But Zeller's record-breaking combine athleticism and willingness and ability to make shots from as far out as the three-point line with accuracy during workouts, general manager Rich Cho knew he had his man.
So far through three summer league games, Zeller has either shut the critics up, or at least calmed the booing until the regular season because he has played exceedingly well.
This is after an unspectacular start where he only scored eight points, grabbed five rebounds, dished out two assists and recorded one block and one steal.
The stats didn't overwhelm, but anyone who watched the game knew it was just a matter of finding comfort. He missed his jumpers, but once he settled in, he got going. He also showed off his ridiculous athleticism, running the court as fast or faster than most guards. The blocked shot he recorded was especially spectacular, as he showcased his insane leaping abilities to get a tip off the shot.
The next two games he had the stats to support the great play. Against the Dallas Mavericks, he scored 21 points, grabbed 13 rebounds and had another spectacular block. Then against the New York Knicks he recorded another double-double, going for 18 points and 10 rebounds. He's done all of this while shooting from the field at a very good 53.1 percent, showing he is capable of playing a stretch 4, and hitting his jumpers. He's also managed to get to the foul line, and has converted 81.3 percent from the charity stripe.
His statistical stats won't show it, but he's also been a monster on the other side of the ball, hedging screens, getting hands in faces, protecting the paint and cutting off passing and driving lanes, and running like a spry point guard like Kemba Walker.
Watching Zeller play has been fascinating and fun. He's only going to get better, and I see no reason that his skill set and ability won't transfer to the NBA regular season, especially with Big Al Jefferson in the paint to help him out and Patrick Ewing teaching him some strong post moves.
It's still summer league, and it's too early to call anyone a bust or a success, but so far Zeller has been one of, if not the most, successful rookies so far in Vegas Summer League play.
Grade: A