NY Knicks' Most Intriguing Prospects from NBA Summer League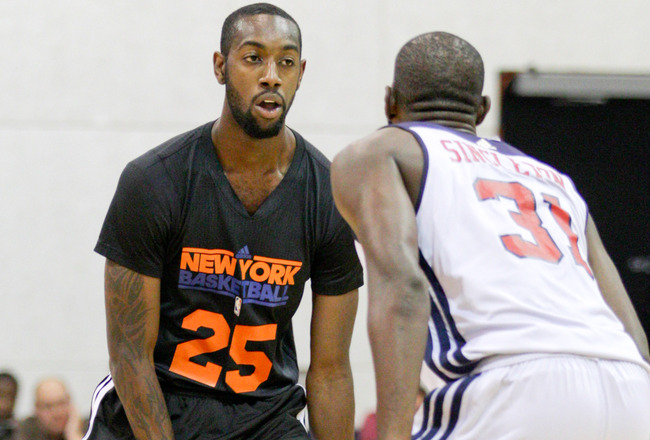 C.J. Leslie is one summer prospect with a shot at making an NBA impact.
Stephen R. Sylvanie-USA TODAY Sp
The NBA Summer League is often an experimental period for teams, as they try to gauge where their top prospects stand, and even hope to get lucky on a shot-in-the-dark signing or two. The New York Knicks' summer squad contains a few standouts consisting of both types of players.
First-round pick Tim Hardaway Jr. put his talents on display prior to tweaking his wrist Sunday afternoon. Third-year pro Iman Shumpert has also taken part in the action, primarily to tighten up his offensive repertoire.
C.J. Leslie has already been signed by general manager Glen Grunwald, so there's another name to keep an eye on as the league wraps up this week. Toure Murry has surprised many and earned an invite to camp as well. Impressive big man Jeremy Tyler may have done enough to do the same.
Now that we've seen a decent amount from the Summer Knicks as a unit, let's detail the most intriguing individuals.
*Note: Iman Shumpert won't be deemed a "prospect" for the purposes of this piece.
Tim Hardaway Jr.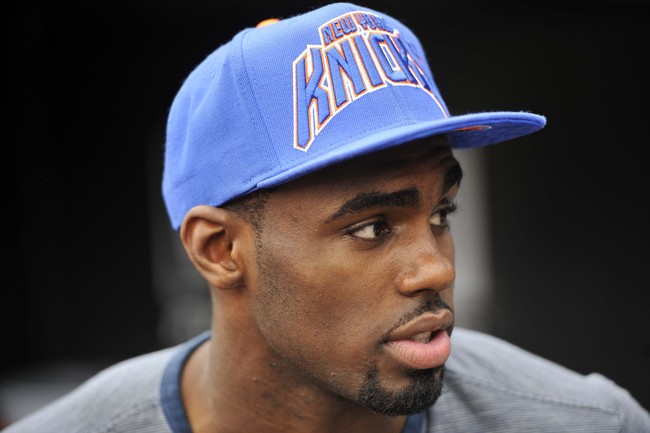 Joe Camporeale-USA TODAY Sports
As a first-round selection, Tim Hardaway Jr.'s fate as a high-expectation pick was set in stone on draft night. But consider his familial NBA routes, and the bright lights of Madison Square Garden, and you'll realize the 21-year-old is carrying more weight on his shoulder than the traditional 24th overall draftee.
Hardaway's offensive game is unpolished, but promising. On the defensive end, the Michigan alum has the athleticism to be a difference-maker, but hasn't quite put it together just yet.
What will be worth keeping an eye on this season is how exactly Hardaway will fit into the Knicks' immediate plans. Beside the Brooklyn Nets, New York may have the shortest window for contention in the league, thanks to their lack of financial resources and overall youth throughout the roster. The backcourt seems to already be crowded with Raymond Felton, Pablo Prigioni, J.R. Smith, Iman Shumpert and a yet-to-be-signed third point guard set to battle for guard minutes. It's difficult to see how Hardaway finds his way into veteran-leaning Mike Woodson's rotation early on.
He injured his wrist in the second Summer League game, and sat out the team's final "regular season" Vegas contest. The Knicks call it a bruised left wrist, and list the rookie as day-to-day.
C.J. Leslie
Stephen R. Sylvanie-USA TODAY Sp
C.J. Leslie was once the most heralded high school player in the nation. The 6'9" forward out of NC State has weathered a few bumps in the road since then, but the Knicks took a flier on the undrafted free agent with an invite to summer ball. The team subsequently signed him to a partially-guaranteed deal for this year.
Leslie has the skill set to flourish as a Knick. He's long and has a good first step, with the ability to score. His jumper is suspect at this stage of his career, but presumably nothing Knicks shooting wizard Dave Hopla can't whip into shape.
Against the summer version of the Charlotte Bobcats, Leslie put up 15 points on 6-of-15 shooting to go along with five boards. He did turn it over five times though, as the Knicks were experimenting with him as a primary ball-handler. That probably won't be his niche should he make it to the rotation, but it was worth seeing what he brings to the table.
Before the addition of Metta World Peace, the Knicks were desperate for a long wing with the ability to guard 3s and 4s while knocking down outside shots. MWP has seemingly filled that void, but the role seems like something Leslie could evolve into in a perfect scenario for New York. He's athletic enough to guard along the perimeter, but strength issues present themselves in the post. The 200-pounder may need to add some bulk if he hopes to mature into a reliable combo forward in the years ahead.
Toure Murry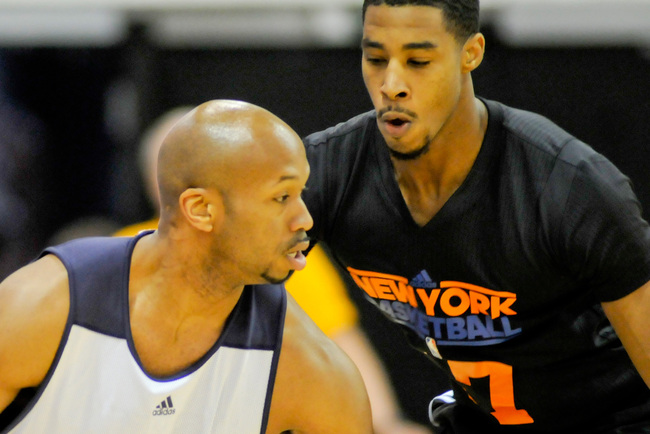 Stephen R. Sylvanie-USA TODAY Sp
Toure Murry is a 6'5" guard who played four years at Wichita State from 2008-2012, and spent time in the NBA D-League. He's a candidate to fill one of the Knicks' last roster spots, and has been invited to camp this fall.
His summer league highlight came against the Washington Wizards, when he posted eight points, six rebounds and three assists in 25 minutes on 4-of-8 shooting. He can get to the basket and finish well, but his jumpshot seems a bit shaky. The 23-year-old has shown that he can make the right pass when its needed, too—he's Wichita's career assist leader.
He has the size to check most point guards, but has gotten beat by relatively average guards this summer. He has a mostly positive defensive reputation, however, by irritating opponents on the ball and being quick to hop in a passing lane.
Murry seems sounds on both sides of the ball, and has decent size. With any luck, he just might crack the 15-man roster.
Jeremy Tyler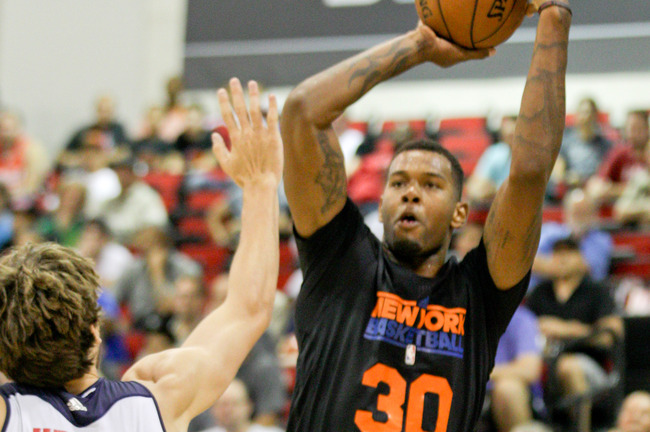 Stephen R. Sylvanie-USA TODAY Sp
Jeremy Tyler is a 6'10" center with offensive ability and some—not much, but some—NBA experience. He spent his rookie 2011 season with the Golden State Warriors, and split time last year between the Dubs and the Atlanta Hawks.
Tyler definitely works for his points, and he's thrown his body to the hardwood occasionally during the Vegas games for New York. He followed up his inaugural Knicks performance against the New Orleans Pelicans—a 10-point, 11-rebound showing—by scoring 13 points and grabbing eight rebounds in just 13 minutes against the Wizards.
To this point, Tyler has been on the fringe of NBA talent, as far as centers go. His 7'5" wingspan would lead you to believe he's a shot-blocker, but he's never been that type of player—at least not overwhelmingly so. He's averaged about a block per 36 minutes through his career.
It's possible that Tyler may garner an invite to training camp, and if not with the Knicks, then with some team that plays basketball somewhere.
Terrence Jennings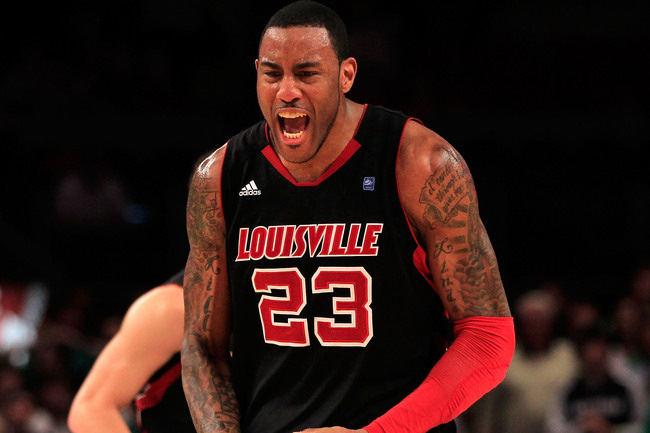 Chris Trotman/Getty Images
Terrence Jennings blocks a lot of shots.
He's swatted four in three summer league games for the Knicks, in 12, 21 and 19 minutes, respectively. He has D-League experience, and he's batted away 2.5 attempts per 36 minutes in two seasons worth of basketball.
Offensively, the Knicks have Jennings working out of the pick-and-pop. He's shot the jumper out of those sets fairly well, but it remains to be seen what else the Knicks may ask of him. They certainly can use a big man with shot-blocking ability—Tyson Chandler, despite his seven feet of being, has never been dominant in that regard—but Jennings may or may not be an NBA talent. The wonders of NBA Summer League!
New York has thrown out an array of bigs thus far in Vegas, and Jennings has arguably been the most impressive.
The Knicks have at least one game remaining of summer play. The playoffs are next up, so we'll get a few last looks at the team's young projects.
Keep Reading

New York Knicks: Like this team?