Pittsburgh Steelers Players Facing a Make-or-Break Training Camp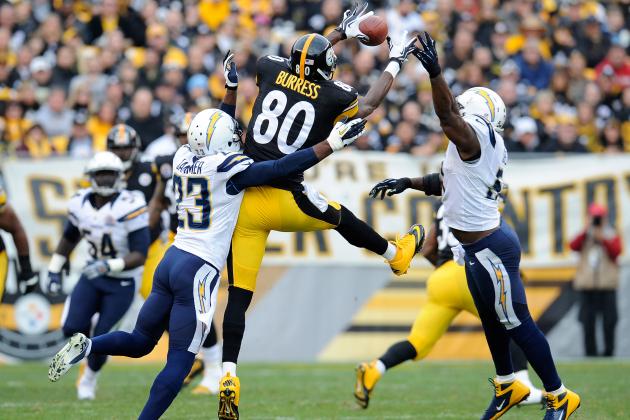 Joe Sargent/Getty Images
Plax may be facing a do or die situation in training camp.
Certain Steelers players better bring their A-games to training camp this year if they want to secure their spots on the 2013 squad.
Very few Steelers are guaranteed anything come next season, as a dismal 8-8 record in 2012 means that a lot of cogs in the machine clearly need to be either spruced up or completely replaced.
Only guys like Ben Roethlisberger, Antonio Brown and LaMarr Woodley can reasonably expect to make Pittsburgh's 2013 roster with their starting jobs intact without much effort. As for all of the other players on the roster, not so much.
Some guys are on the roster bubble because they had a subpar 2012. Others are aging and may be dropped in favor of young upstarts. And for some, no matter how talented they are, there just might not be enough room on the roster for them.
These guys better take training camp seriously. If they do not, they might be out of a job pretty soon.
Begin Slideshow

»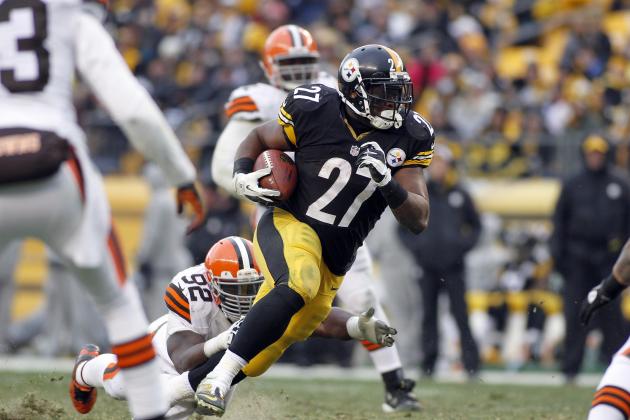 Justin K. Aller/Getty Images
Dwyer will probably make the team, but his training camp performance may determine his playing time.
All of the Steelers' running backs are in a dangerous situation this offseason, as Pittsburgh is stuffed with mediocre rushers, none of which are guaranteed a roster spot.
Of the group, Dwyer is probably the most likely to remain a Steeler. He showed flashes of brilliance in 2012, though it was nothing that makes me believe he could be a featured back.
He rushed for 122 yards against the Cincinnati Bengals and 107 yards against the Washington Redskins in consecutive games last season. At that point, the Steelers may have thought they had found their running back of the future.
Then Roethlisberger got hurt, which severely affected the running game. Dwyer never broke 60 yards in a game again, and he finished the season with only 623 yards and an average of 4.0 yards per carry.
Dwyer is good enough to at least make the team as a backup, but something tells me he wants more. He better watch out or he will be forgotten in favor of the next guy on this list.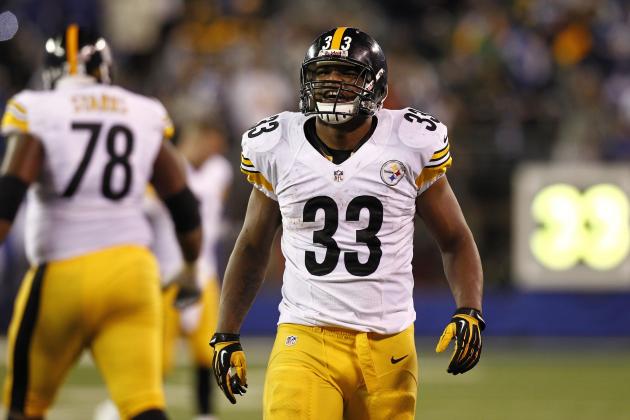 Jeff Zelevansky/Getty Images
Redman may be the odd man out at running back once training camp ends.
Poor Isaac Redman.
For a while it looked like he was the natural guy for the Steelers to turn to when they got fed up with Rashard Mendenhall.
Unfortunately, he just never asserted himself enough to secure his spot. A 147-yard effort against a disappointing New York Giants defense last season did not earn him enough brownie points.
Now, he faces competition from the likes of Dwyer, Baron Batch, rookie Le'Veon Bell and free-agent signing LaRod Stephens-Howling.
Redman is not as talented as Dwyer or Bell, so the best he can hope for is the backup gig. But perhaps Batch or Howling will show more promise in training camp, and then Redman may be out of a job completely.
Advice to Redman: stay diligent.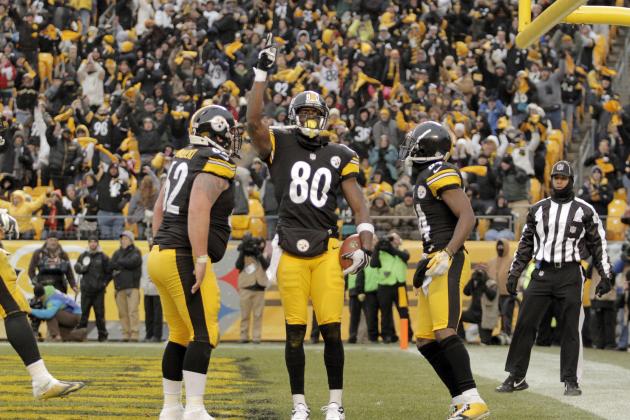 Justin K. Aller/Getty Images
Plax's age and deteriorating skill set will both be problems in training camp.
A 36-year-old wide receiver who has lost his explosiveness should not even be in contention for a roster spot. Luckily for Burress, the Steelers are thin enough at wide receiver to give him a shot.
Pittsburgh signed him late last season once its receiving corps began dropping like flies due to injury. He ended the 2012 season with three receptions for 42 yards and one touchdown.
Obviously, he needs to prove a lot in training camp.
The only Steelers receivers who have their positions secured this season are Brown and Emmanuel Sanders. Jerricho Cotchery and rookie Markus Wheaton will probably take over the slot and third receiver roles, respectively.
Burress needs to show that he can at least be a red zone threat if he wants to stay in black and gold. Otherwise, he might end up unemployed.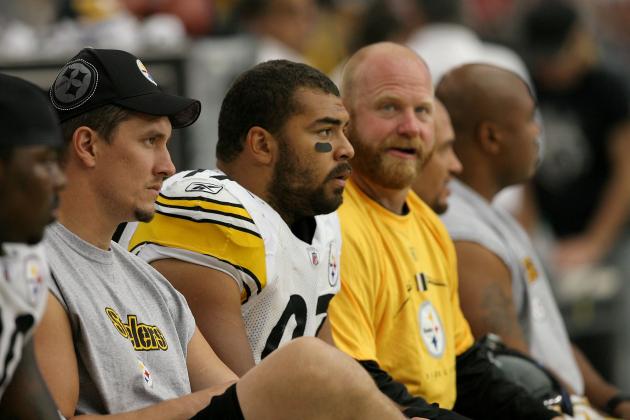 Karl Walter/Getty Images
Heyward better step it up if he does not want to be a bench warmer anymore.
Though he may be a Steelers legacy, Heyward has yet to truly make his presence known, and this year could be his last chance to do so.
In three years with the Steelers, Heyward has only tallied 23 tackles and 2.5 sacks. He has not come close to threatening Brett Keisel's starting job and has earned even less trust from the coaching staff than Ziggy Hood.
If Heyward has any desire to remain a Steeler, he will have to show up to training camp focused and ready to chew up any offensive lineman he faces.
Otherwise, the Steelers may lose their patience with his development.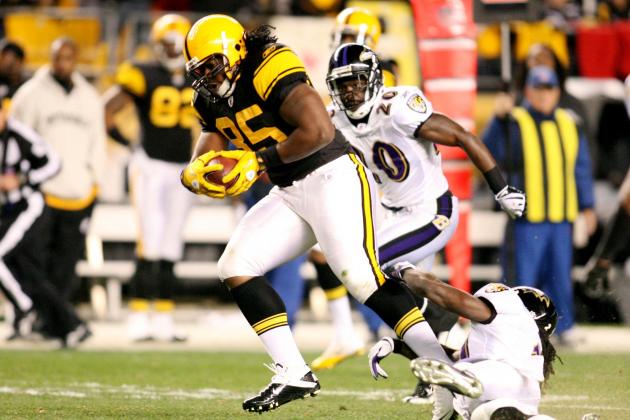 Charles LeClaire-USA TODAY Sports
Hopefully the Steelers find room on the roster for Johnson.
I happen to really like David Johnson. He can block and has been an occasional threat in the passing game.
Unfortunately, even with Heath Miller's injury, it appears the Steelers may not have enough room on the roster for him going forward.
Will Johnson has solidified his starting spot at the fullback position, and Matt Spaeth will probably be taking over for Miller while he heals. That leaves Johnson out in the cold.
Obviously, nothing is set in stone, but it might take a special effort to give the coaching staff a reason to keep Johnson in Pittsburgh.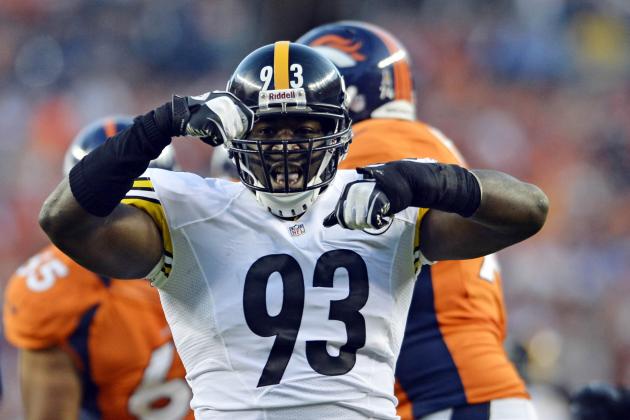 Ron Chenoy-USA TODAY Sports
Worilds better not get too overconfident in his starting job's security.
Worilds will have the past and future looming over him as training camp opens.
He is expected to replace James Harrison, an all-time Steelers great at the outside linebacker position, next season. Those are some awfully big shoes to fill.
It appears that Worilds should be capable of picking up Harrison's slack, though. If he was able to rack up 23 tackles and 5.0 sacks in a backup role last season, he should be able to do some real damage as a starter.
Of course, Worilds has rookie first-round pick Jarvis Jones breathing down his neck. If Jones proves capable of starting right away, the Steelers may insert him into the lineup instead of Worilds.
Worilds will either start or back up a rookie next season. Training camp will decide his lot in life in 2013.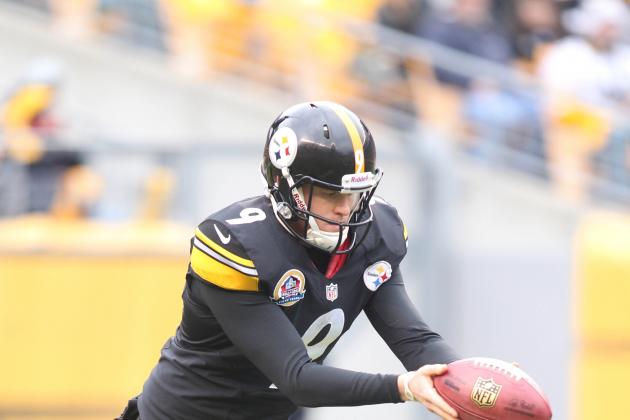 USA TODAY Sports
The Steelers are trying to push Butler with the signing of Moorman.
One of the more interesting training camp battles might actually be between the team's punters.
Butler is the incumbent who averaged 43.8 yards per punt with the Steelers last year. He accumulated six touchbacks and 26 punts inside the 20-yard line—nothing special, but solid nonetheless.
Pittsburgh's addition of free agent punter Brian Moorman suggests that Butler will be facing some healthy competition for the starting job this season. Moorman's history with Steelers special teams coach Danny Smith probably means that he is the early favorite to start in 2013.
Butler better step up his game if he wants to keep his starting job.