Ranking Blue Jays Best Minor League Bargaining Chips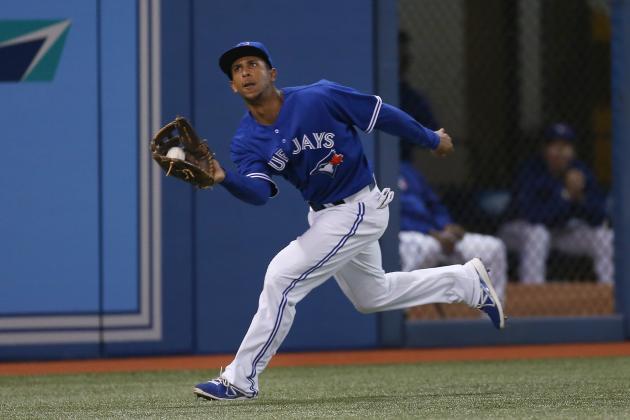 Tom Szczerbowski/Getty Images

After the offseason of change that the Blue Jays experienced, it is unlikely that they will further deplete their minor league reserves anytime soon. But with general manager Alex Anthopoulos at the helm, it appears no one is safe.
At the 2013 All-Star break, the Blue Jays are still fighting for their playoff lives in the AL East and have yet to commit to a trade deadline strategy. Are they buyers looking to sneak into the playoffs? Are they sellers looking to cut their losses and offload some salary? Will they keep their roster as it is and see what happens?
Assuming they make a trade, will they be trading major league talent, or minor league players? Will they be acquiring major league talent, or minor league players? On the MLB non-waiver trade deadline on July 31st all of our questions will be answered.
For argument's sake, let's assume the Blue Jays are looking to offload some minor league talent in order to add MLB ready players to their roster. Here are the Blue Jays 5 best minor league bargaining chips heading into the trade deadline.
Begin Slideshow

»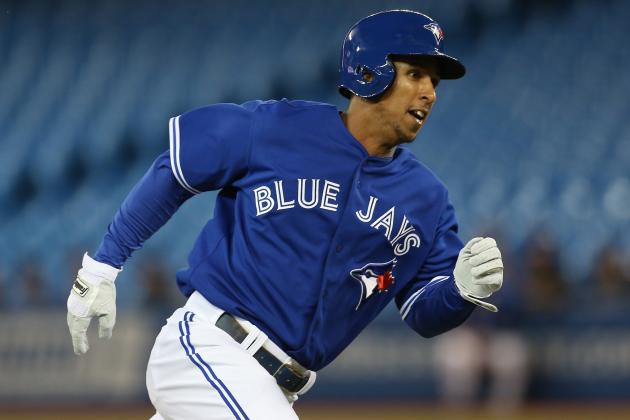 Tom Szczerbowski/Getty Images

Anthony Gose is without a doubt the most major league ready prospect the Blue Jays have, which will increase his value on the trade market. He spent time with the Blue Jays last year after Jose Bautista went down with a wrist injury, but has yet to truly make his mark on the team.
In 69 games across two seasons for the Blue Jays, Gose has hit .233 with 11 RBI and one home run. This season in Triple-A, Gose has hit .225 with 20 RBI and two home runs. Although these numbers are not turning any heads, Gose is only 22 years old. He has some identifiable flaws, but they can be rectified. He has always had trouble hitting left handed pitching, and has had some poor plate discipline as evidenced by his 89 strikeouts and a .224 average against lefties.
Although Gose is not a proven MLB player and has struggled this year, he will still warrant a nice return if the Blue Jays decide to trade him. Maybe a team is willing to gamble that a change in scenery could be the push Gose needs to fulfill his potential.
Aaron Sanchez is the Blue Jays number one prospect as rated by MLB.com and was treated like a top prospect this offseason. When general manager Alex Anthopoulos traded away a small fortune of minor league players, he valued Sanchez enough to keep him around.
Sanchez has a 3.34 ERA this season in 14 games for the Dunedin Blue Jays of the Single-A Florida State League. This is Sanchez's third year of professional baseball after being chosen in the first round of the 2010 First-Year Player Draft.
Although Sanchez is just 20 years old and is a number of years away from being major league ready, if a team is looking for an elite pitching prospect then Sanchez could be their man. There are not many young pitchers with as much upside as Sanchez and if he is moved he will be shopped with a hefty price tag.
Daniel Norris has yet to register a win this season with the Single-A Lansing Lugnuts, but do not let that influence your judgment of him. The 19-year-old has a 5.15 ERA and 57 strikeouts in 15 games this season.
Norris' has struggled at times this season which is evidenced by his opponents batting average. Left handed hitters are hitting .290 against him and he has been roughed up for a .336 average against him on the road.
His numbers are not amazing, but he is just 19 years old and has a very high upside. Like Sanchez, he is a number of years away from wearing a major league uniform but if a team is looking to unload major league talent for minor league pitching, Norris could find himself in a trade.
Christian Lopes is a 20 year old second baseman who plays for the Single-A Lansing Lugnuts. He is batting .255 with 41 RBI this season, despite hitting just 0.79 over his last 10 games.
Lopes was drafted in the seventh round of the 2011 First-Year Player Draft and was converted from shortstop to second base. Although Lopes' bat is his most valuable asset, his experience at shortstop has given him the skills to man second base effectively while in the field.
Lopes has some development ahead of him, but with no true elite second basemen ahead of him in the Blue Jays organization he may find himself in a major league uniform in a few years. The Blue Jays may value him a little higher then other teams due to the position he plays so it is unlikely they will move him. But if the price is right there is no reason to hold on to him. Lopes is a talented player but the organization does not appear to have any attachment to him.
Marcus Stroman was drafted out of Duke University in the first round of the 2012 First-Year Player Draft. He was originally a reliever but after serving a 50-game suspension for violating the Minor League Drug Prevention and Treatment Program, he was converted to a starting pitcher.
He is 5-2 with a 3.23 ERA in 11 games this season with the Double-A New Hampshire Fisher Cats. Despite his 5'9" frame, Stroman has a fastball that consistently is clocked at 95-99 miles per hour, a strong slider and is learning to command his pitches effectively. He has 63 strikeouts this season, compared to just 18 walks allowed.
The Blue Jays are unlikely to move Stroman, but if they were to have a discussion about minor league pitching, Stroman is one of the most valuable bargaining chips that the Blue Jays have.