Philadelphia Eagles Players Facing Make-or-Break Training Camps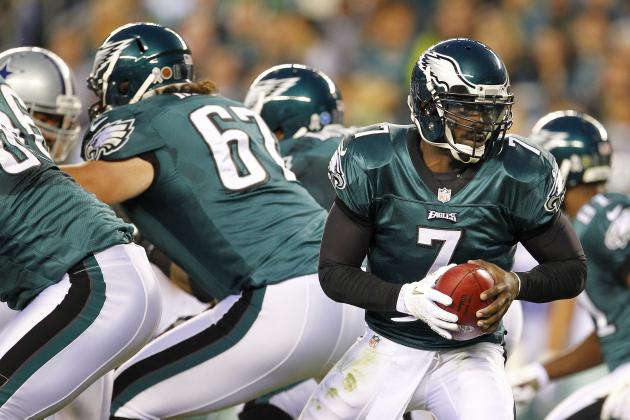 Rich Schultz/Getty Images

When it came to Andy Reid's training camps, you knew what you were getting. There would be a tremendous amount of hitting and for the most part, every player knew where he stood even a few weeks before the season officially began.
Expect the opposite with Chip Kelly. The Eagles' new head coach has already implied that his practices will feature a lot less hitting. Hitting causes injuries, and Kelly doesn't want any of that before the season begins. He's also made a point of informing every player that they'll have to earn their spot on the team, even Pro Bowlers like DeSean Jackson.
With Kelly, surprise roster cuts could be all over the place. We just don't know what to expect yet. The following five slides will highlight players who have a make-or-break training camp this summer.
Begin Slideshow

»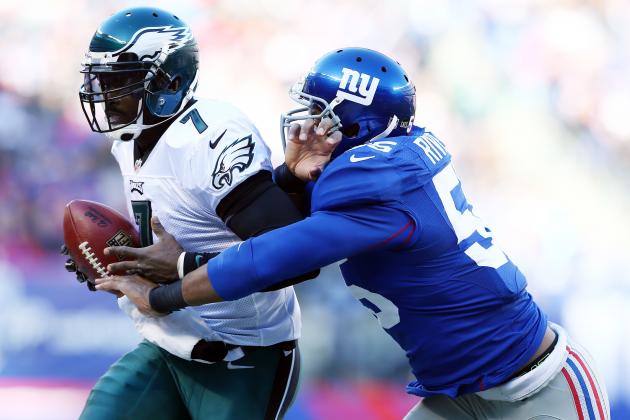 Elsa/Getty Images

This could be Michael Vick's final opportunity to open a season as a team's starting quarterback.
Since he was drafted with the first overall pick in 2001, Vick has never been able to master his incredible running ability and his powerful throwing arm for more than six or eight games in a row. He's earned a pair of $100 million contracts, but he's never led a team to consecutive postseason appearances.
At 33, he's clearly in the twilight of his career, as evidenced by his disastrous 2012 season. Throw in an alarming decline in 2011 from an MVP-caliber 2010 season and all signs point to the Eagles wanting to get younger at the quarterback position.
Expect Vick to be in a dogfight at the quarterback position with sophomore Nick Foles and rookie Matt Barkley. Foles appears to have a slight advantage over the 11-year veteran, and don't be surprised if Barkley turns quite a few heads in training camp and the preseason.
If Vick doesn't emerge as Philly's starter, he could enter the season as the backup. He could be cut. Or he could be traded. But if he's not the 2013 starter, don't expect him to ever be a starter again. This is his final chance.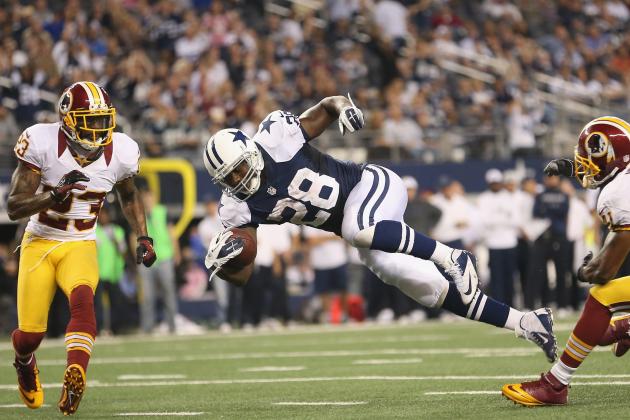 Ronald Martinez/Getty Images

The former first-round draft pick appears to be on the decline of his career. Felix Jones never lived up to expectations in Dallas, and he was not re-signed following a 2012 season in which he averaged a career-low 3.6 yards per carry.
He has experience as a kick returner, and his speed and versatility out of the backfield will definitely be an asset in Chip Kelly's fast-paced offense.
But he'll have to compete for the third running back spot with a more fit Chris Polk, who spent the 2012 season with the Eagles.
Alex Trautwig/Getty Images

The slot receiver for the Eagles since he was drafted in 2006, Jason Avant could be a surprise roster cut before the 2013 season. His performance during training camp and the preseason may not have much of an impact on his future with the team. After all, he's played seven seasons in the NFL. Chip Kelly knows what he brings to the table, even if he's never coached him before.
Avant's status on the 2013 team could rest on the development of second-year receiver Damaris Johnson. If the Eagles think Johnson is ready to succeed Avant as the go-to-guy in the slot, he may be the guy for this season (and beyond).
But if Johnson, who caught just 19 passes in 2012, is not ready to take over as the slot receiver (or if Kelly just wants to keep both on the team), Avant will stay.
Personally, I think a trade of Avant to the Kansas City Chiefs or New England Patriots for a fifth-round draft pick makes a lot of sense.
Rich Schultz/Getty Images

The Eagles' first-round draft pick in 2011 has been a complete bust through two seasons in the NFL. He's been benched in each season for a veteran waiver-wire pickup.
His only chance of success in the league is a change of pace. He's got a new coach and a new offensive system, one that uses a lot more running than passing.
He's not likely to enter the season as the starter after the Eagles drafted Lane Johnson to play right tackle and moved Todd Herremans to right guard. But he has an opportunity to be a surprise in training camp, either good or bad.
If he doesn't make the Eagles' roster in 2013, however, his NFL career may be over. Twenty-nine-year-old former first-round picks aren't exactly at the top of every coach's wish list.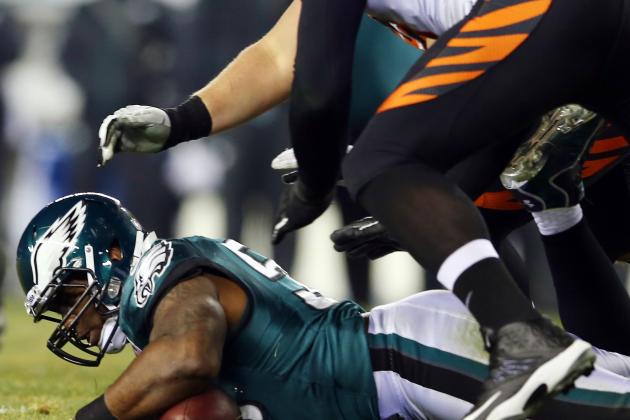 Elsa/Getty Images

Trent Cole's decline in 2012 was extremely alarming. The 30-year-old played in all 16 games but collected just three sacks, easily a career-low.
With the Eagles switching to a modified version of the 3-4 defense in 2013, he'll have an opportunity to compete for one of the two starting outside linebacker spots with Connor Barwin and Brandon Graham.
But something bothers me about Cole's situation heading into the 2013 season. Chip Kelly has no loyalty to him, and if he feels the veteran isn't as good as one of the young players on the team, he won't hesitate to cut the man who's racked up the third-most sacks in franchise history.