The American League out-pitched the National League to earn a 3-0 win at Citi Field on Tuesday night, halting a three-game losing streak at the Midsummer Classic and earning home-field advantage for the World Series.
With no real standouts for the MVP award, Mariano Rivera, who pitched a perfect eighth inning, was given the honor in sort of a lifetime-achievement fashion:
BREAKING: Mariano Rivera becomes 1st reliever to win #ASG MVP. Of course.

— MLB (@MLB) July 17, 2013
The game began with a few fireworks (of the figurative, not literal, variety). Pitching in front of his home crowd, Matt Harvey made two early mistakes that made things very interesting in the first inning.
He left the game's first pitch over the plate for fellow young stud Mike Trout to rip into the right-field corner for a lead-off double. Harvey followed that up by hitting Robinson Cano on the knee: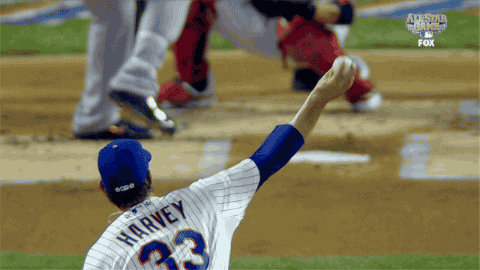 Perhaps a little surprisingly, a brawl didn't ensue.
Cano was forced to leave the game shortly after, but his x-rays were negative, according to CBS Sports' Jon Heyman.
Harvey calmed down after that, getting out of the jam in the first inning and going 1-2-3 in the second. He finished with two innings pitched, just one hit allowed and three strikeouts. He had this to say following his exit:
So much fun pitching in the #ASG in front of the home crowd. Felt great and was an absolute honor to start.

— Matt Harvey (@MattHarvey33) July 17, 2013
The action slowed down considerably after that, as Max Scherzer, Chris Sale and Clayton Kershaw all tossed scoreless innings (Sale threw two of them), and the game headed to the top of the fourth scoreless.
That's where the AL's version of the bash brothers would prove their worth. Miguel Cabrera doubled to lead off the inning, and after being moved to third on a Chris Davis single, he came home on a sacrifice fly by Jose Bautista.
It was more of the same in the fifth for the AL, as Adam Jones and Joe Mauer led off the inning with a double and single, respectively. Jeff Hardy then hit a fielder's choice to score his teammate and make it 2-0.
From there, it was a whole lot of dominant pitching.
The NL may not have had many bright spots on the night, but 20-year-old Jose Fernandez joined a truly prestigious group with his impressive sixth inning, per ESPN's Jayson Stark:
Jose Fernandez is special. Two K's or more in an ASG at age 20 or younger: Him, Gooden & Bob Feller. Fun group!

— Jayson Stark (@jaysonst) July 17, 2013
Continuing the trend of "the-future-of-baseball-is-in-perfect-hands," 21-year-old Manny Machado did Manny Machado things on a hard-hit ball by Paul Goldschmidt in the eighth: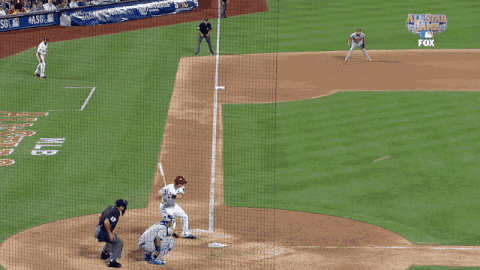 Manny Machado is unreal.

— Larry Stone (@StoneLarry) July 17, 2013
Yikes.
After the AL hit into a record-breaking fourth double play, Jason Kipnis crushed a two-out double in the top of the eighth to score Salvador Perez and extend his team's lead to 3-0.
The best moment of the game came in the next half-inning.
No, it wasn't Neil Diamond's shaky performance of "Sweet Caroline;" it was the entrance of future Hall of Famer Mariano Rivera, who was appearing in his 13th and final All-Star Game.
Mariano Rivera waves to the crowd at his final All-Star Game. He's greeted with a standing ovation. pic.twitter.com/yF8AMqKMLE

— Bleacher Report (@BleacherReport) July 17, 2013
In a truly goosebump-inducing moment, he was allowed to walk out to the mound all by himself—before his defense, the hitters, everyone.
It induced a unanimous positive reaction, like these from Michael Cuddyer, Jon Heyman and Brandon McCarthy:
What an incredible moment right here. The greatest of all time!!! Enter the Sandman!!! #ASG

— Michael Cuddyer (@mcuddy3) July 17, 2013
standing ovation at mets park for the great yankee. players, too. Mariano tips cap and faces each section. great moment.

— Jon Heyman (@JonHeymanCBS) July 17, 2013
Tears in his eyes and overcome with emotion, Rivera still can't miss his spot.

— Brandon McCarthy (@BMcCarthy32) July 17, 2013
Naturally, he went 1-2-3 and walked off the field to a standing ovation.
After Prince Fielder hit a triple (actually!) but wasn't able to score in the top of the ninth, Joe Nathan came on for the AL to earn the save.