Stock Up, Stock Down for New York Mets' Top 10 Prospects for Week 15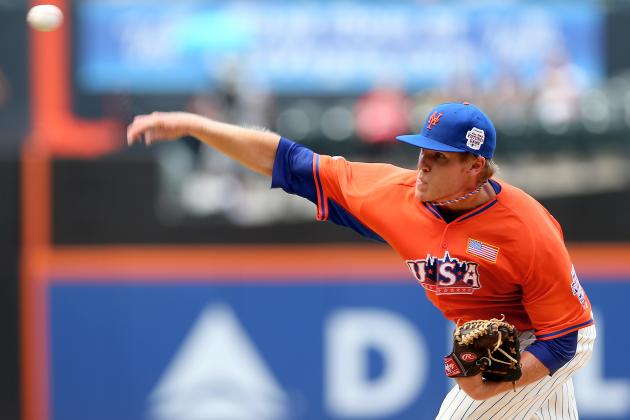 Elsa/Getty Images

The New York Mets have won 17 of its last 28 contests and has finally given the fanbase a reason to tune in every day for the first extended period of time in 2012.
Still, though, it is the future that the fans and front office point to as the next golden age of Mets baseball. The organization is pitching rich with top-tier arms as well as depth, and also has a handful of hitting prospects who can drive in runs for those pitchers down the line.
Another losing season is on tap unless the Mets can win 40 of the final 71 games to close out the season, but the prospect of next season and beyond is enough to hold over most Mets fans.
Here we will talk about some of those prospects, as we play "stock up, stock down" with the top 10 prospects in the organization.
**All stats are provided by BaseballReference.com and Fangraphs.com.**
Begin Slideshow

»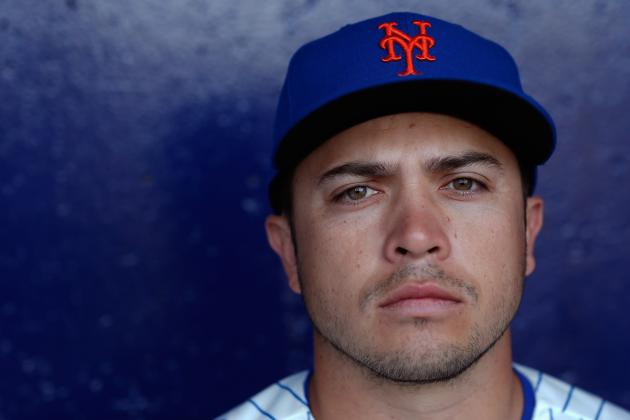 Chris Trotman/Getty Images

It has been a disappointing year for Travis d'Arnaud, who was expected to be with the big league club by now but fell victim to a broken foot in April.
You might be a bit perplexed about how his stock could rise in a week that he has not seen any playing time, but according to his manager, d'Arnaud is looking as good as he has since the injury.
Terry Collins was recently quoted by ESPN's Adam Rubin as follows:"He's hitting. He's throwing. He's catching in the pens. He's doing everything except playing right now."
While "everything except playing" may sound like a joke, it is actually great news for d'Arnaud and the Mets, as both of the parties are eager to see the catcher make his major league debut.
Rubin went on to write that Collins mentioned that the only issue with the best hitting prospect in the organization is his running abilities at this point.
If d'Arnaud can at least get a month or so at the big league level, the Mets would likely be pleased given the unfortunate circumstances.
Weekly Stats: N/A
Hard-throwing left-hander Jack Leathersich has been plagued by control issues throughout this season, and they came back to bite him in Week 15, as he issued six free passes in three innings en route to allowing four earned runs (seven total).
After posting a 1.53 ERA with 55 punch outs in 29.1 innings at Double-A, Leathersich has walked 13 batters in 13.2 innings since being promoted to Triple-A, but he has struck out 23. It has been hit or miss with him this year, but there is huge potential in a lefty with a power arm.
His 6.53 ERA at Las Vegas is laughable at best, and Leathersich has been in a rut over the last two weeks after posting 3.2 innings of shutout ball from June 20 to 29.
Leathersich is still only 23, and most 23-year-old pitchers do not make the impact that Matt Harvey did last season and Zack Wheeler has this season. If Leathersich is able to hone his control in time, he'll be an effective bullpen piece for the New York Mets.
Weekly Stats: 3 IP, 4 H, 7 R (4 ER), 6 BB, 4 K
Cory Mazzoni has had a rough week, and landed on the disabled list after suffering a lower-body injury in a resumed game on July 12 against the Portland Sea Dogs.
Like a handful of other New York Mets pitchers, Mazzoni is coveted for his ability to strike out hitters (71 in 63 innings). He has had some pretty impressive starts for the Binghamton Mets at Double-A, including one with 10 strikeouts in six innings and another with 11 strikeouts in 6.2 innings.
Mazzoni's 4.29 ERA is not particularly attractive, but he has amassed a 5-3 record, meaning that he has been able to keep his team in the game.
There is no word yet on when Mazzoni will make his return to the lineup, but as the above video mentions, he is an exciting prospect due to the fact that his fastball reaches 96 mph at times.
Weekly Stats: N/A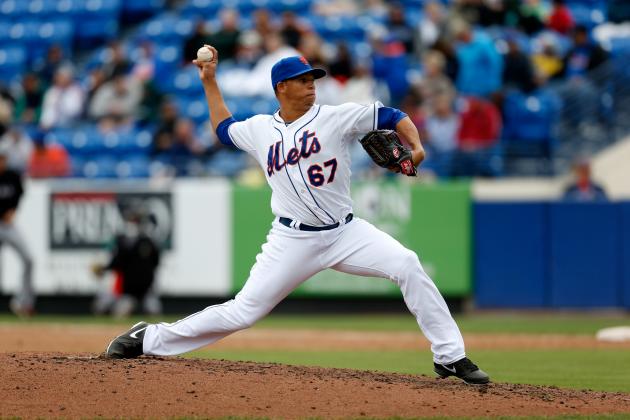 Chris Trotman/Getty Images

Hansel Robles is just 22 years old, but he has already been in the New York Mets organization for four seasons. He has shown that he has the stuff to play high-level baseball, but still needs to refine his arsenal of pitches if he is going to progress to the major leagues.
Robles has surrendered more than three earned runs just twice this season, the second of which took place this week—an unfortunate occurrence in regards to this week's stock. As noted by Amazin' Avenue's Greg Karam, however, Robles' most recent outing was not the first time he was prematurely removed due to ineffectiveness.
You do not hear Robles' name as much as some of the other prospects because of his rather pedestrian 2013 stat sheet at high Single-A. A 3.95 ERA and a 1.5 WHIP does not exactly induce a buzz around the minor league system.
However, many believe Robles has the potential to develop into a valuable asset for the Mets. That much is evident by his 6-1 record, 1.11 ERA, 66 strikeouts, 0.784 WHIP and no homers allowed in 72.2 innings in 12 starts with Brooklyn last season.
Weekly Stats: 4.1 IP, 11 H, 4 ER, 1 BB, 3 K
Domingo Tapia started the week off on a solid note by throwing 6.2 innings and allowing just three earned runs while striking out seven and walking one. His second start of the week did not go so well, as he managed to record just five outs.
Although Tapia gave up just one earned run, his inability to retire hitters—four walks and three hits over 12 batters—was very disheartening. He is the owner of a 3.82 ERA, but has walked more than half as many as he has struck out (66 strikeouts to 39 walks).
As noted by Amazin' Avenue's Greg Karam, Tapia's fastball has been tabbed as one of the best in the organization, but we will not get to see it if he does not figure out how to throw more strikes.
Weekly Stats: 8.1 IP, 7 H, 6 R (4 ER), 5 BB, 8 K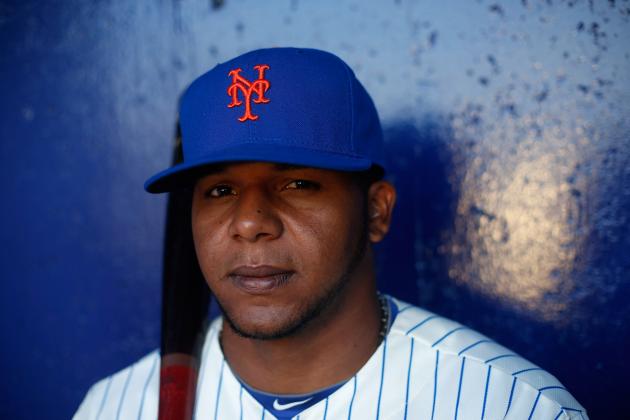 Chris Trotman/Getty Images

Cesar Puello is having a fantastic season with Double-A Binghamton, but the off-the-field baggage that he is carrying with him is extremely disconcerting.
The 22-year-old outfielder is hitting a robust .329 with 62 RBI, 55 runs, 20 stolen bases, 32 XBH (15 homers) and a .951 OPS, but the Mets are worried about his link to the Biogenesis case.
Puello had a decent 2011 season, but his rise seems to have coincided with his implication in the Miami clinic investigation. That could be one of the main reasons why the New York Mets have not promoted him to Triple-A yet, but that is just pure speculation.
For all the issues he has had to deal with and may have to deal with down the line, Puello has had a remarkable season. He has reached based safely in 63 of his team's 74 games and has a .394 on-base percentage.
Hopefully Puello can avoid a suspension once the MLB reaches a verdict on the Biogenesis saga, because the Mets could really use a well-rounded outfielder who hits for average and power, steals bases and plays decent defense.
Weekly Stats: .409 BA (9-for-22), 0 HR, 6 RBI, 2 R, 2 BB, 2 K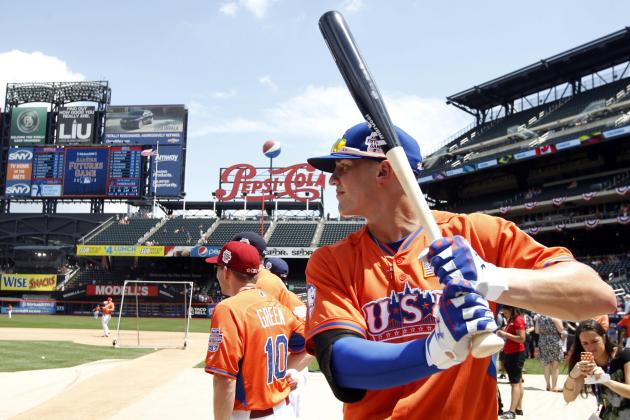 The Star-Ledger-USA TODAY Sports

Brandon Nimmo got off to a great start this season with Single-A Savannah, but has fallen on hard times recently. His average has dipped to .256 and he has shown next to no power, with his lone home run coming back on April 15.
That being said, the New York Mets are still high on the Wyoming native. Unfortunately, general manager Sandy Alderson probably was not pleased with what he saw from his former first-round draft pick this week.
Nimmo was anemic for Savannah over the last seven days, managing just two singles and two walks in 17 plate appearances. He did not play well in the MLB Futures game either where he went 0-for-2 at Citi Field and left two runners on base.
He is a tall guy (6'3"), but needs to add some weight to his 185-pound frame if he is to boost his power numbers. His .991 fielding percentage over three minor league seasons at center field is promising for the Mets in their cavernous ballpark, though.
More than anything, Nimmo needs time. Those who are 20 years old seldom excel in their field.
Weekly Stats: .143 BA (2-for-14), 0 HR, 0 RBI, 3 R, 2 BB, 6 K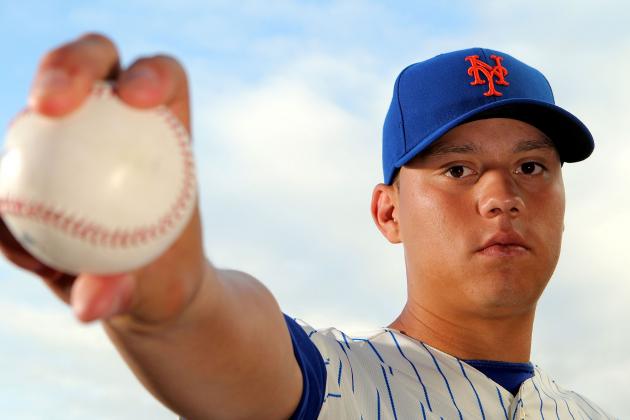 Marc Serota/Getty Images

Wilmer Flores has been a beast this season. He is hitting .321 with 12 home runs, 72 RBI, 58 runs and 33 doubles.
There are undoubtedly scores of New York Mets fans across the state clamoring for a call-up for Flores, but the team simply does not have a spot on the 40-man roster for him. Another problem is that he still does not have a set position, while he also has just 21 walks in 93 games.
Flores certainly has some notable holes in his game, but he can rake. It's obvious that if the Mets can figure out a full-time spot in the field for the big righty, he has the potential to be an integral part of the organization.
In terms of this week, Flores tore the cover off the ball and added seven RBI to his Pacific Coast-leading total. He has had a lot of "stock up" weeks over the last month, as he has hit in 22 of his last 25.
It is still ridiculous to think that this kid is still only 21 years old, but he is in his sixth year with the organization.
Weekly Stats: .370 BA (10-for-27), 2 HR, 7 RBI, 5 R, O BB, 3 K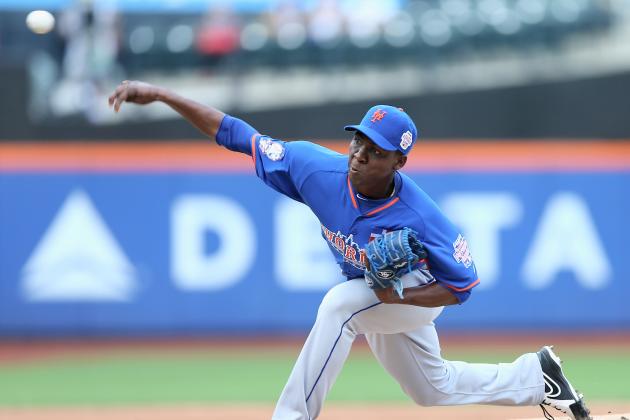 Elsa/Getty Images

Rafael Montero threw just two innings on July 11, which was presumably done so he could start for the World team in the 2013 MLB Futures game, but he looked impressive at any rate.
He retired three of the top American prospects in all of baseball—Billy Hamilton, Byron Buxton and Delino DeShields Jr.—in order in the first inning.
Montero received a permanent call-up two Triple-A in mid-June, but he has not pitched particularly well in Las Vegas. As well all know, Cashman Field is quite the hitter's park, and Montero has made four of his six starts at home.
It is unlikely that we will see Montero take the mound in an MLB game this season, but it was nice to get a look at a pitcher who could be a future starter.
Weekly Stats: 2 IP, 0 ER, 1 H, 2 K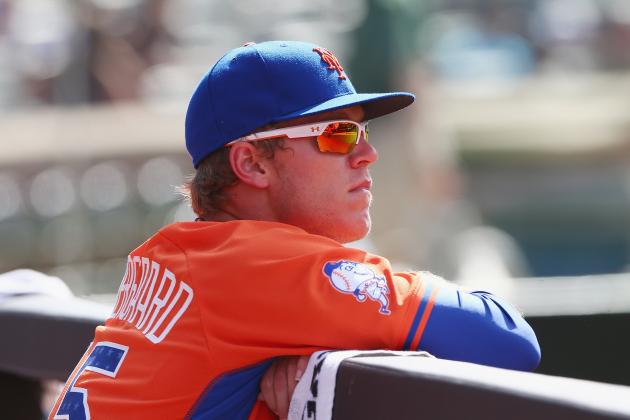 Elsa/Getty Images

Like his (possible) future teammate Rafael Montero, Noah Syndergaard saw his Week 15 load lightened so he would be available to start for his respective side at the 2013 MLB Futures Game.
And just like Montero, Syndergaard did not disappoint. The 20-year-old blue chip prospect set down Reymond Fuentes, Yeison Asencio and Arismendy Alcantara in order in the opening frame. The trio are hitting .332, .315 and .280 this season respectively.
All New York Mets fans can breath a sigh of relief, as the New York Daily News' John Harper reported that a team source said Syndergaard will not be traded.
It is almost amusing to think that Syndergaard could have better stuff than Matt Harvey and Zack Wheeler considering how promising the latter two are.
If a smile does not come across your face when you think about the future of the Mets, you are not very optimistic.
Weekly Stats: 2 IP, 1 H, 0 BB, 3 K