Why These NFL Free Agents Are Still Available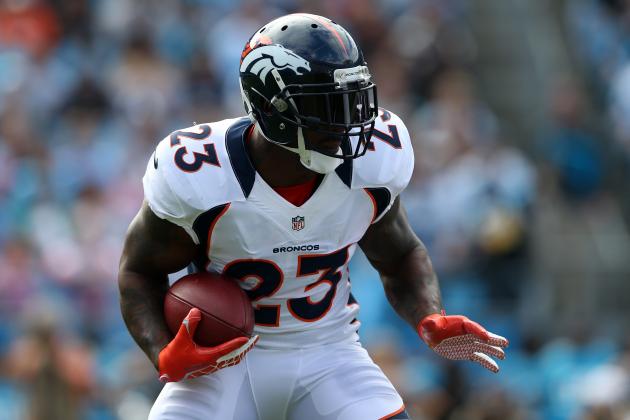 Streeter Lecka/Getty Images

NFL training camps are right around the corner, which means it's time for most proven veterans to suit up, take to the practice field and try to hold onto a roster spot with their respective teams.
Each year, however, a few high-profile veterans remain on the open market late into the offseason, or even into the regular season.
Whether due to injury concern, asking price, reputation or position, these players find themselves stuck in the unemployment line despite having remarkably productive careers on their resumes.
This offseason is no different, and there are several veteran players available who appear ready to help an NFL franchise.
Today, we will look at 10 of these veteran free agents who are, surprisingly, still available and try to determine why they are still without a home.
Begin Slideshow

»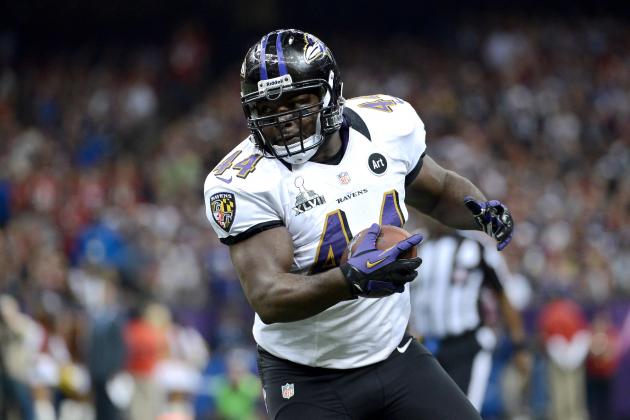 Harry How/Getty Images
Vonta Leach is the total package at fullback.
Professional fullbacks don't come much more complete than Vonta Leach.
A three-time All-Pro, he has paved the way for four 1,000-yard rushers in the past five seasons and helped lead the Baltimore Ravens to a Super Bowl title in 2012.
While several teams appear interested in Leach's services, there seems to be one big reason why the 6'0", 260-pound back has yet to land a contract:
Money.
Leach became the league's highest-paid fullback in 2011, when the Ravens signed him to a three-year, $11 million contract. Baltimore chose to release the veteran with one year remaining on that deal after Leach refused to take a pay cut.
As one of the game's premier fullbacks, Leach is likely seeking a deal in the $2-4 million per year range. At age 31, he is probably also seeking a bit of security in the form of a multi-year contract.
Unless Leach lowers his asking price, he will probably spend a few more weeks without a team as coaches and personnel men evaluate younger, and cheaper, alternatives in training camp.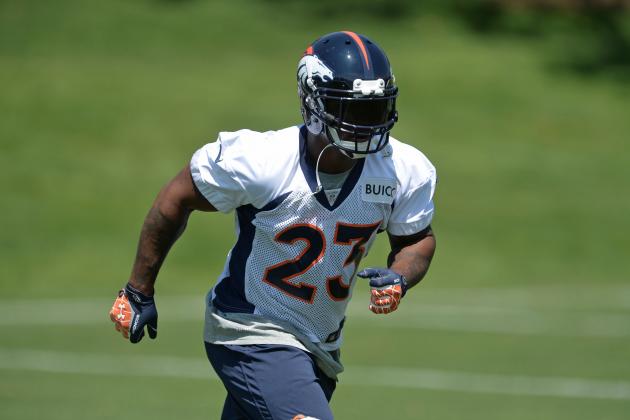 Ron Chenoy-USA TODAY Sports
Is McGahee healthy enough to help a team in 2013?
Despite fielding two very different quarterbacks in 2011 and 2012, the Denver Broncos managed to make back-to-back trips to the postseason, thanks in large part to the play of running back Willis McGahee.
However, McGahee suffered a season-ending knee injury in Week 11, which is likely the main reason he remains a free agent.
McGahee was released by the Broncos during June minicamp, despite the running back's instance that he is fully recovered from last year's injury.
Of course, overcoming injury is nothing new for McGahee. While playing for the Miami Hurricanes, he suffered a devastating knee injury during the 2003 National Championship Game and was forced to sit out his inaugural NFL season after being drafted 23rd overall by the Buffalo Bills.
If McGahee is indeed fully recovered from the latest injury, he should be able to catch on with a team at some point and offer production as a backup or spot starter. He has four 1,000-yard seasons and a remarkable 63 rushing touchdowns under his belt.
However, if teams are still concerned about his ability to return at 100 percent, McGahee may have to wait for a team to lose another back due to injury before he receives an opportunity.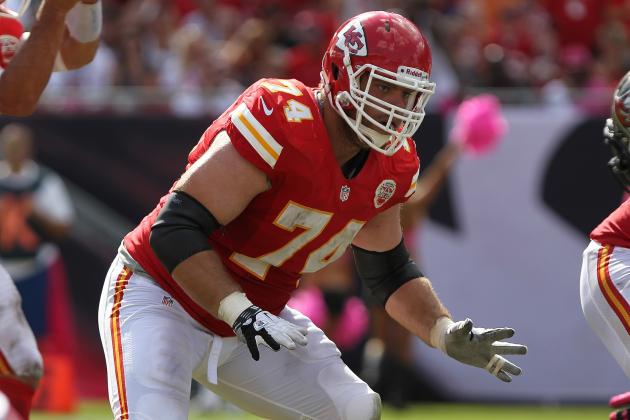 Kim Klement-USA TODAY Sports
Is Eric Winston pricing himself out of a job?
Eric Winston has been regarded as one of the league's better right tackles over the past few seasons, which is why the Kansas City Chiefs signed him to a four-year, $22 million contract last offseason.
However, the Chiefs released Winston back in March to avoid paying him a $4.9 million base salary and went on to draft Central Michigan product Eric Fisher with the first pick in the 2013 draft.
While Winston has never been considered one of the game's most dominant offensive linemen, he has been extremely consistent and remarkably durable.
Originally a third-round selection by the Houston Texans in 2006, Winston took over as a starter as a rookie and has started all 16 games in each of the past six seasons.
At just 29 years old, Winston should still be an attractive option for several teams, but only at the right price.
According to Michael David Smith of ProFootballTalk.com, Winston is seeking an annual salary that is greater than what the current market calls for—somewhere in the $3-4 million range.
Injury or under-performance should open a door for Winston at some point prior to the start of the regular season, but the seven-year veteran may find it difficult to land more than a one-year deal.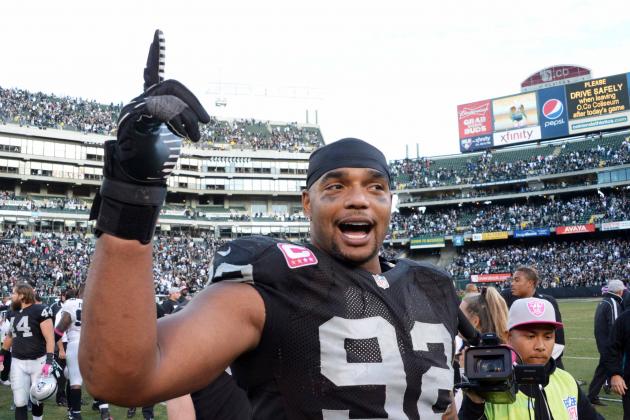 Kirby Lee-USA TODAY Sports
Have we seen the last of Richard Seymour?
For 12 seasons, defensive tackle Richard Seymour has terrorized opposing quarterbacks and frustrated offensive linemen around the league.
Originally a first-round pick of the New England Patriots back in 2001, Seymour has racked up 496 tackles and an impressive 57.5 sacks during his career.
He has been so good over the years that he even netted the Patriots a first-round pick when the team traded him to Oakland in 2009 and became the league's highest-paid defender in 2011, when the Raiders inked him to a two-year, $30 million deal.
However, at age 33, many teams are probably wondering how much Seymour really has left in the tank. He appeared in just eight games for the Raiders in 2012 and registered a mere 15 tackles, though he did manage three sacks.
While Seymour may not be as dominant as he was earlier in his career, he still has a lot to offer the right team.
Unlike many veterans on this list, however, Seymour is unlikely to wait for a spot to open up during training camp.
According to NFL.com's Gregg Rosenthal, Seymour has made it clear that he plans to retire if the right deal doesn't come along.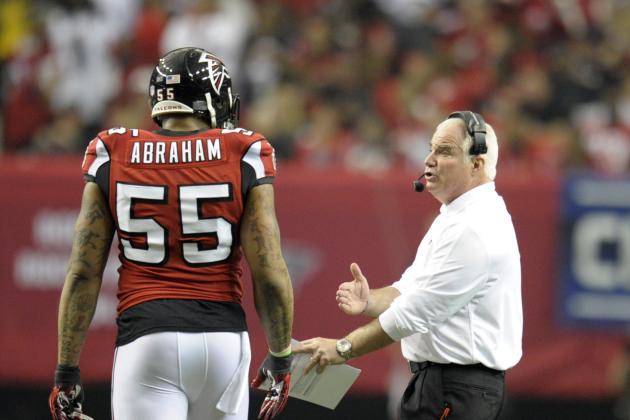 Dale Zanine-USA TODAY Sports
It will likely take a combination of right price and right situation for Abraham to find a home this offseason.
Rarely does a defender coming off a 10-sack season struggle to find a new home in free agency.
However, this is exactly the situation in which defensive end John Abraham finds himself.
Despite racking up 35 tackles and 10 sacks with the Atlanta Falcons in 2012, Abraham was released one year into a three-year, $16.72 million deal.
Considering the Falcons headed into the offseason with little salary cap room to play with, it is not too surprising that Abraham was let go. However, the fact that the 13-year veteran has yet to land with a new team is a bit baffling.
During his career, Abraham has amassed 496 tackles and an incredible 122 sacks.
Of course, Abraham's ability to find a job could hinge on his willingness to take a short-term deal at a reasonable price.
Abraham is 35 years old and, while he continues to extremely productive (32.5 sacks over the past three seasons), teams are apparently hesitant to offer him a long-term contract.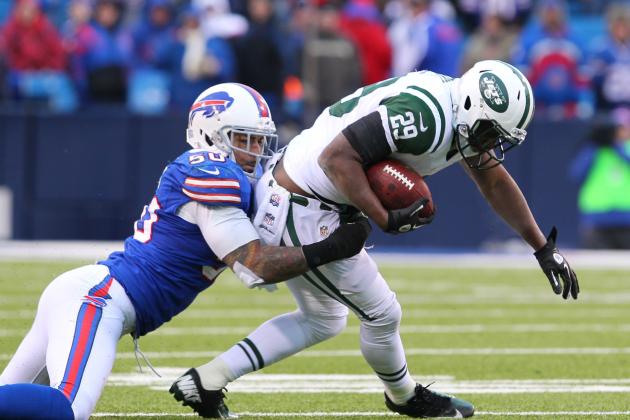 USA TODAY Sports
Nick Barnett is one of the few starting-caliber linebackers still available.
Over the past two seasons, outside linebacker Nick Barnett established himself as one of the most important players on the defense of the Buffalo Bills.
Yet, the Bills still decided to release him with a year remaining on his three-year contract.
Barnett was likely a victim of change, as new head coach Doug Marrone looks to put his own touches on the roster. Still, it is a bit surprising that the Bills would cut ties with a player who started all 32 games over the past two seasons and racked up 242 tackles in that span.
It is even more surprising that another team hasn't decided to take a look at Barnett, who has experience playing in both 3-4 and 4-3 schemes.
The problem for Barnett is that he appears to be a solid overall defender, but not a true game-changer (he has never logged more than four sacks or three forced fumbles in a single season).
He also has a bit of an injury history, though it is a distant one.
Barnett ended both the 2008 and 2010 seasons on injured reserve, which prompted the Green Bay Packers to release him in 2010.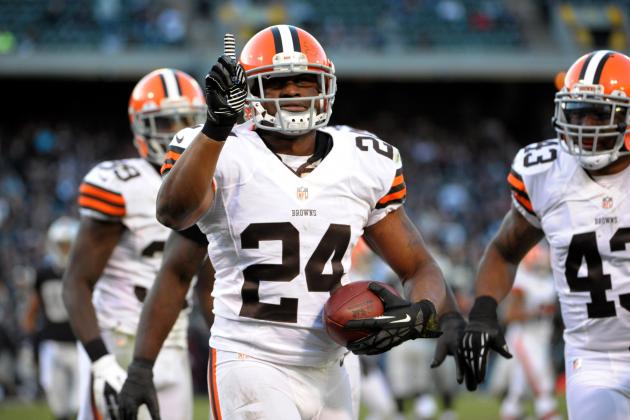 Kirby Lee-USA TODAY Sports
Even at 34, Sheldon Brown still has something to offer an NFL secondary.
With NFL defenses more focused than ever on slowing down opposing passing games, it is no surprise that the free agent cornerback market was quickly depleted this offseason.
With the cornerback market down to relatively few enticing options, it is a little surprising that veteran Sheldon Brown hasn't received at least some interest in free agency.
Though Brown has undoubtedly lost a step or two in recent years, he still possesses some playmaking ability (he logged 12 passes defended, three interceptions and a defensive score with the Cleveland Browns last season) and has been extremely durable over the years.
Brown has missed just three starts and one game over the past nine years of his career.
With tons of playing experience and veteran leadership skills, Brown still has the ability to help some team's secondary.
However, teams appear more than willing to at least take a look at younger options in camp before turning their attention to the 34-year-old, 11-year veteran.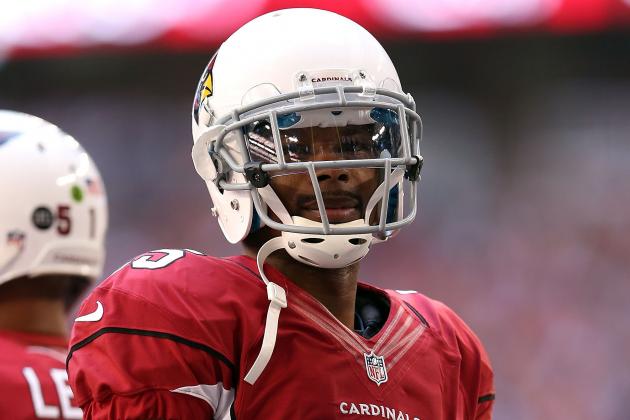 Christian Petersen/Getty Images
Safety Kerry Rhodes is still looking for a team.
Free safety Kerry Rhodes has been a solid, if unspectacular defender over the years, and even at age 30 appears poised to become a starter for a team willing to take the risk.
In 2012, Rhodes started 15 games and amassed 67 tackles, 11 passes defended and four interceptions with the Arizona Cardinals, but was released by the team in a salary-saving move.
Rhodes was due to make $6 million in 2013, which may be more than many teams are willing to pay a player who has missed 10 games over the past two seasons.
Any team willing to sign Rhodes will also have to come to terms with his celebrity lifestyle off the field.
In addition to frequently performing charity work, Rhodes has made a habit of making television appearances and has even starred in music videos for artists like Lady Gaga and K. Michelle.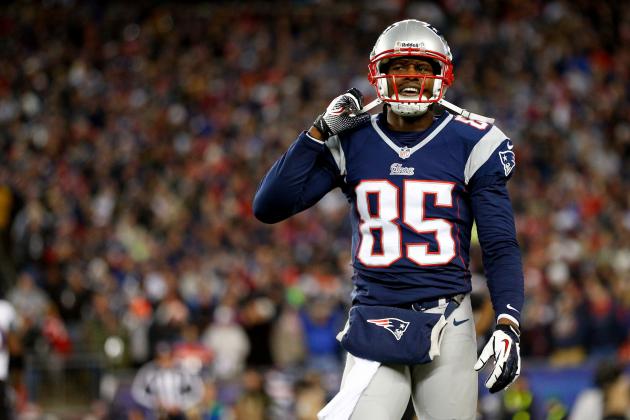 Jim Rogash/Getty Images
Wideout Brandon Lloyd can help a receiver-needy team in 2013.
Despite logging 74 receptions for 911 yards and four touchdowns in 2012, wide receiver Brandon Lloyd was released by the New England Patriots, possibly because of attitude problems.
According to Greg Bedard of the Boston Globe, the Patriots grew tired of Lloyd's questionable attitude during practices and in the locker room.

There could be some merit to the belief that Lloyd indeed has an attitude problem. The Patriots were his third team in the past three years, and so far this offseason a fourth employer has yet to emerge.
Still, it is hard to believe that a receiver-needy team wouldn't be interested in the services of Lloyd, who has notched 125 receptions for 1,594 yards and nine touchdowns over the past two seasons.
Lloyd could quickly find a new home as teams evaluate their respective receiving corps in training camp—so long as someone feels comfortable bringing him into the locker room.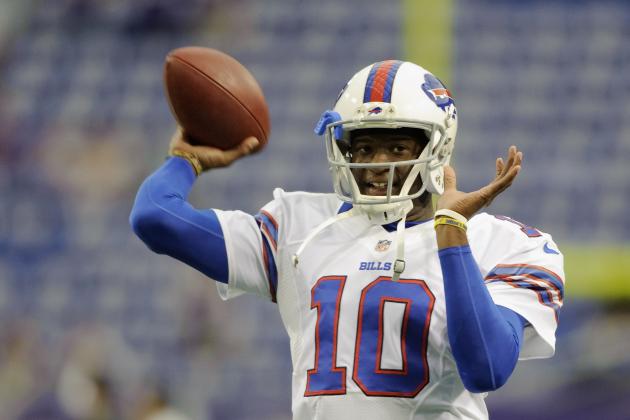 Hannah Foslien/Getty Images
Will Vince Young make a comeback in 2013?
It's been a while since we've heard form quarterback Vince Young (he last played for the Philadelphia Eagles in 2011), but it still comes across as a bit of a surprise that no team has offered him a job this offseason.
With the success of read-option quarterbacks in 2012, it seems that some team would be willing to bring in Young, at least as a depth player capable of helping to prepare for the likes of Russell Wilson, Robert Griffin III and Colin Kaepernick.
After all, it was Young who rushed and passed his way to a national championship with the Texas Longhorns following the 2005 season.
Originally a first-round pick of the Tennessee Titans in 2006, Young has started 51 games (with a 31-20 record), but failed to catch on with the Buffalo Bills last year after spending a season with the Philadelphia Eagles.
Typically, youthful quarterbacks (Young turned 30 in May) with a winning record don't go this long without some type of job in the NFL, especially when that quarterback is a former first-round pick (Brady Quinn even found a job this offseason).
Young could very well make an appearance in the league this year, at least as a backup. NFL.com's Chris Wesseling reported that Young had an "impressive" workout with the Oakland Raiders back in April.
However, the fact that Young couldn't land a job with the quarterback-cursed Bills last season and hasn't logged a start in nearly two years—not to mention longstanding questions about his approach to the game—could cause teams to continue to look elsewhere when adding a quarterback.