Picking a Brazil and Argentina Combined Best XI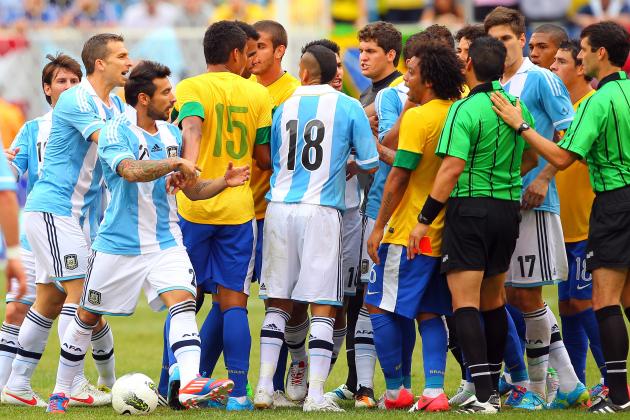 Rich Schultz/Getty Images

The 2014 World Cup in Brazil will be the eighth edition of the tournament to be held in the Americas, and so far every one of those has been won by a South American side.
For that reason alone, Argentina and Brazil will be among the favorites to lift the trophy on July 13, but recent form suggests they would be contenders no matter where the competition took place.
Argentina top the South American qualifying table, having played cohesive and attractive football under coach Alejandro Sabella.
Best of all for Albicelestes fans, since Sabella took over and appointed him captain, Lionel Messi has been in outstanding form for his country, and that alone suggests they will be hard to topple in Brazil next year.
Brazil, meanwhile, had not looked totally convincing under Felipe Scolari until June's Confederations Cup tournament on home soil, where they hit their straps for the first time in recent memory.
The Selecao hammered world champions Spain 3-0 in the final of that competition, with Neymar the standout player in a squad where everyone chipped in with solid performances.
These South American powerhouses boast two of the most impressive rosters in world football, but what would a combined XI, made up of the best players from each side, look like?
Using a 4-3-3 formation, here is a take on the strongest team you could build using both Argentine and Brazilian resources.
Begin Slideshow

»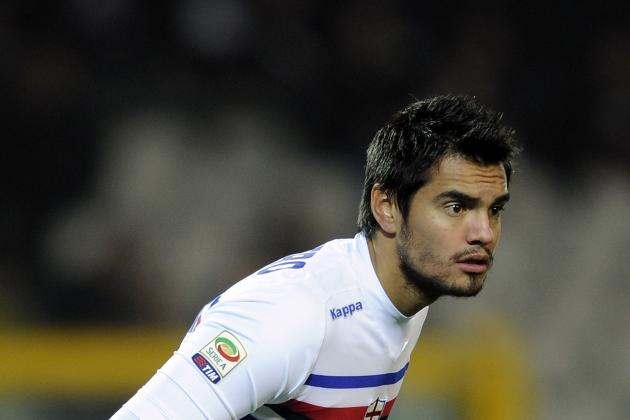 Claudio Villa/Getty Images

Sergio Romero
This was a tough one to call. Argentina's Romero gets the nod because he is a goalkeeper approaching the peak of his powers, while the great Julio Cesar is slightly past his best.
There were question marks about Romero when he first became Argentina's No.1, but the Sampdoria man has gone from strength to strength in recent years, eliminating the inconsistency and indecisiveness from his game and improving on his strengths.
Tall, agile and possessing the reflexes of a panther, "Chiquito" is currently one of the premier 'keepers in the world.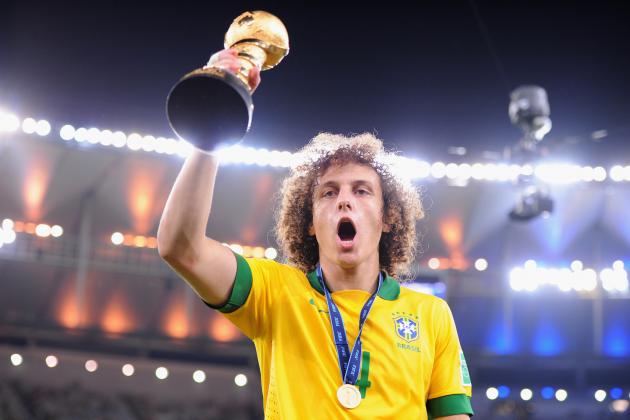 Michael Regan/Getty Images

Argentina fans might want to skip this slide. You could make an argument for Pablo Zabaleta to provide a more solid option than Dani Alves at right-back, and Ezequiel Garay might give David Luiz a nudge due to his consistency, but in the end the Brazilians selected here are simply more valuable players to have in the side than their Argentine counterparts.
Dani Alves
So what if he can't defend? Who cares if he is slowing down slightly as he ambles into his 30s? Dani Alves has been one of the most influential players in any position over the past decade and remains a force of nature for Barcelona and Brazil.
When he drives forward from right-back, which he does often, it usually means trouble is looming for the opposition team.
Thiago Silva
He would make any world XI at the moment, so he's a shoe-in for this side as well. Cool, calm and cunning, Silva plays similarly to one of the great Italian centre-backs.
David Luiz
He has his critics, but David Luiz is a highly talented, physically imposing central defender who can instigate attacks with his surges into midfield and score goals from headers or free kicks. He's a big man with the type of big personality that wins trophies.
Marcelo
Like his mate Alves on the other flank, defending is not one of Marcelo's favorite pastimes, though he has improved enough in that area to not be the liability he once was.
He has been in fine form for Real Madrid and Brazil over the past 12 months and, quite frankly, there was no Argentine to offer up any serious competition for the left-back role in this superteam.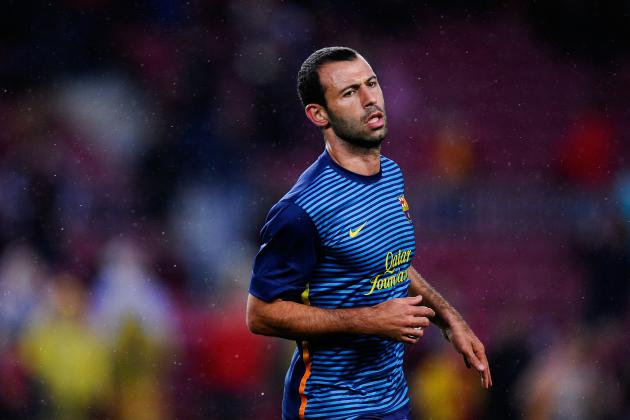 David Ramos/Getty Images

With three devastating attacking players in the forward line, who are all capable of creating chances for themselves, this midfield has been constructed with a focus on shielding the defense and ensuring the ball is transported swiftly and effectively upfield.
Javier Mascherano
Tenacious, quick and intelligent, Mascherano is the deepest-lying midfielder in the side. His already-decent passing skills have improved markedly since his move to Barcelona, meaning he is just as comfortable playing the ball out of defense as he is bullying opponents with his trademark rugged tackling.
Paulinho
The Tottenham signing does a similar job to Fernando Gago in the Argentina side but can count on a bigger engine and more imposing physical presence than the Velez midfielder.
As he showed in the Confederations Cup, he is the perfect link man between midfield and attack.
Angel Di Maria
Aside from being a lethal attacking player, Di Maria is also an extremely hard worker for the team and is willing to run back and forth down the left flank all day long to help the cause.
His tactical discipline and big-game experience make him a key member of this midfield.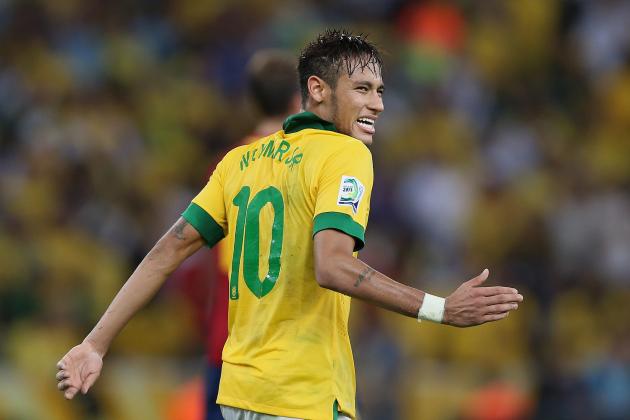 Jasper Juinen/Getty Images

Depending on the opponent, a larger striker like Gonzalo Higuain or Hulk could be brought in to bolster this front line, but in most cases the three little guys named here would prove more than a handful for anybody.
Sergio Aguero
He scores, he dribbles, he runs intelligently, he combines well with his fellow forwards, and he's as elusive as the Loch Ness Monster. "Kun" Aguero is the perfect foil for Messi and a dangerous goal threat in his own right.
Lionel Messi
The best there is and quite possibly the best there ever has been. Any side that he's a member of is already a great side.
Neymar
It won't be long before we get to see Neymar play alongside Messi in real life, and what a thrilling combination that promises to be.
The Brazilian prodigy is capable of casting magic spells with a football, and he offers a third prong to this team's vicious attacking trident.