5 Fights We Want to See on the Floyd Mayweather-Canelo Alvarez Undercard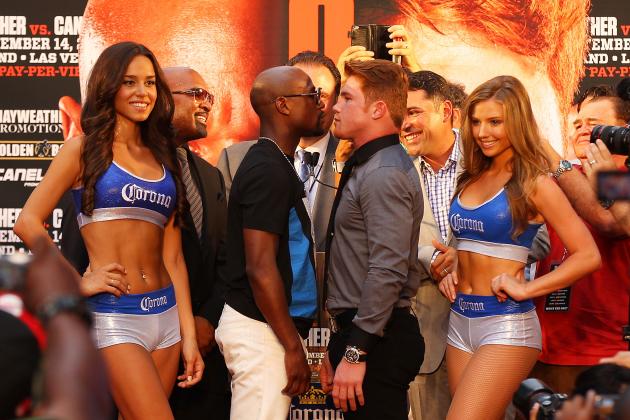 Mike Stobe/Getty Images
Mayweather vs. Canelo sells itself. But a strong undercard wouldn't hurt.
Mark your calendars, find a babysitter and get your food orders in early because we are less than two months away from the biggest fight of the year.
Floyd Mayweather and Saul "Canelo" Alvarez will step through the ropes of the MGM Grand in Las Vegas sometime around 11:30 p.m. EST on Sept. 14, but not before what fans hope will be a strong undercard.

It used to be that when you ordered a pay-per-view, you were guaranteed more than one marquee fight. And why not? You were shelling out upwards of $50 or $60 for the right to watch. You deserved some bang for your buck.

For a while there, though, it seemed that the stacked undercard was a thing of the past. However, to their credit, Golden Boy Promotions is known for giving the fans incentive to part with their cash. Hopefully they get that message this time around, and give the fans the following five fights on the Mayweather-Canelo undercard.

Begin Slideshow

»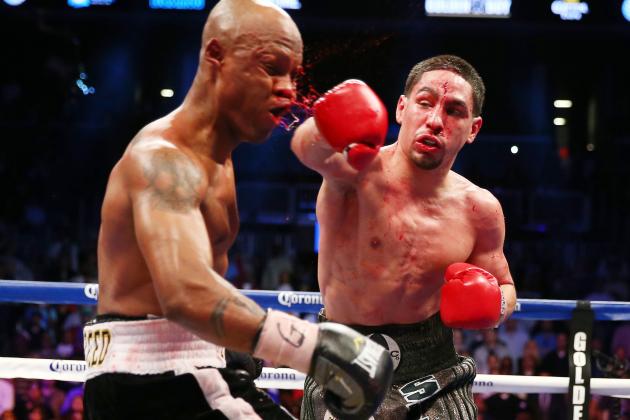 Elsa/Getty Images
Garcia must defeat Matthysse to become the legitimate champion at 140 pounds.
Danny Garcia has come a long way since being labeled a comeback opponent for Amir Khan last summer. Not only did he beat his better-known foe, but he also captured the WBA/WBC and The Ring Magazine junior welterweight titles in the process.
The 25-year-old capitalized on his newfound fame by defeating a pair of aging, dangerous veterans in Erik Morales and Zab Judah in his last two fights.
But there's a monster under his bed.
That monster comes in the form of Argentine knockout machine Lucas Matthysse. The 30-year-old clearly established himself as the biggest threat to Garcia's reign when he nearly decapitated Lamont Peterson on May 18 in Atlantic City.
He has frightful punching power, and he's been the mandatory challenger for Garcia's title for quite some time now. This would be a blockbuster co-main event and would clearly establish the rightful champion at 140 pounds.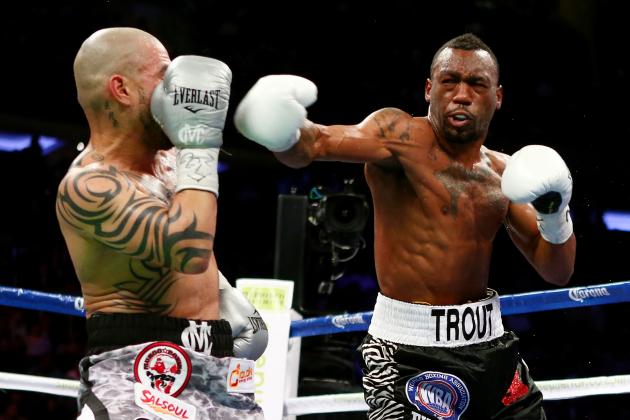 Elsa/Getty Images
Trout is looking to get back on track after losing to Canelo.
Austin Trout tried and failed to defeat Canelo Alvarez in his last fight. It was close, though—far closer than the official scorecards would indicate.
Even in defeat, Trout showed he has the stuff to make noise at junior middleweight.
With Mayweather and Canelo competing for the top prize at 154 pounds, why not put together a fight that will help sort out the logjam below?
Trout clearly belongs in that discussion, as does Erislandy Lara.
The Cuban's gutsy, 10th-round TKO of the rugged Alfredo Angulo this past June is proof of that.
Usually known for his defensive acumen, Lara was forced to engage more often and showed a more aggressive style against Angulo.
Trout vs. Lara might not be the prettiest stylistic matchup, but the fight would help to shake out the complicated junior middleweight title picture.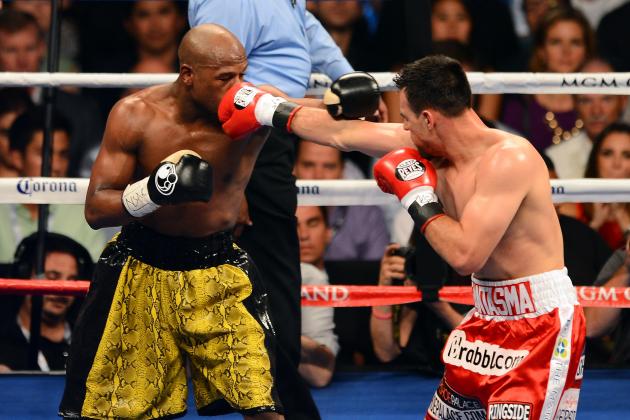 Ethan Miller/Getty Images
Robert Guerrero is in need of a bounce back victory.
You can call this bout the Mayweather losers bracket if you'd like, but it definitely has some mainstream appeal to fans.
Robert Guerrero and Victor Ortiz are both welterweights. They both live and train in California.
Most importantly, they're both in desperate need of a victory to get their careers back on track.
Guerrero most recently dropped a decisive decision to Floyd Mayweather this past May. Ortiz, on the other hand, was forced to quit in his last bout after Josesito Lopez broke his jaw.
Guerrero and Ortiz have previously been linked together for a possible matchup, with Guerrero issuing challenges via text message, and the match makes perfect sense for both guys at this stage.
The winner would regain his footing in the crowded welterweight division, while the loser would fall all the way back to the start of the line. That's the type of high-risk, high-reward type of fight that boxing fans like to see.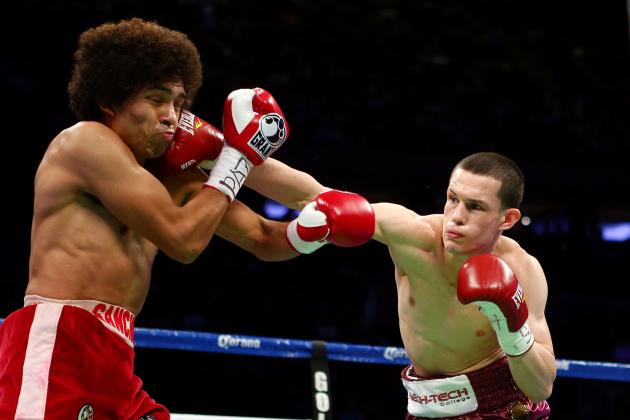 Elsa/Getty Images
Velez blew out Salvador Sanchez (not that one) in his last bout.
This fight was actually scheduled for February, but it had to be cancelled when Jayson Velez suffered an ankle injury. With Ponce De Leon dropping his title in his last bout, it may have lost some appeal, but could still be a good measuring stick type of fight.
The 25-year-old Velez is considered one of the top prospects in Golden Boy's stable of young fighters. He's won all 20 of his professional bouts in impressive fashion and should be looking to elevate his competition in order to earn a title shot.
Daniel Ponce De Leon is a multi-time world champion who is known for his gutsy, all-action style. He lost his last bout, and his featherweight championship, to Abner Mares on the Mayweather vs. Guerrero undercard this past May.
However, the 32-year-old Mexican is still extremely dangerous and would give Velez all he can handle. It would be a good test for the young Puerto Rican fighter, and it would give us a good idea of how good he can be.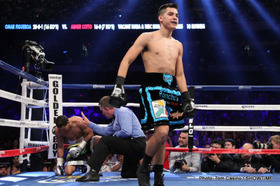 Figueroa is the top prospect in GBP's stable. http://www.eastsideboxing.com/2013/omar-figueroa-jr-jermall-charlo-julian-williams-score-wins-on-troutalvarez-undercard/
Undefeated 23-year-old lightweight Omar Figueroa is the undisputed top prospect marketed by Golden Boy Promotions. He's a pressure fighter, who likes to go to the body with bad intentions, and he's ready to take a step up in competition.
At this stage of his career, an opponent like Juan Diaz would be ideal. Diaz, who returned last year after a nearly three-year absence, is tough and durable. However, he isn't known for his power.
He'd provide just the right level of challenge, and a name opponent, for Figueroa at this stage.
Both of these fighters have bouts scheduled for later this year that could make this fight difficult to pull together, but that's never stopped us from speculating in the past. This is clearly the better matchup for each guy and should become a priority.