2013 NBA Summer League: Behind the Scenes at Day 5 in Las Vegas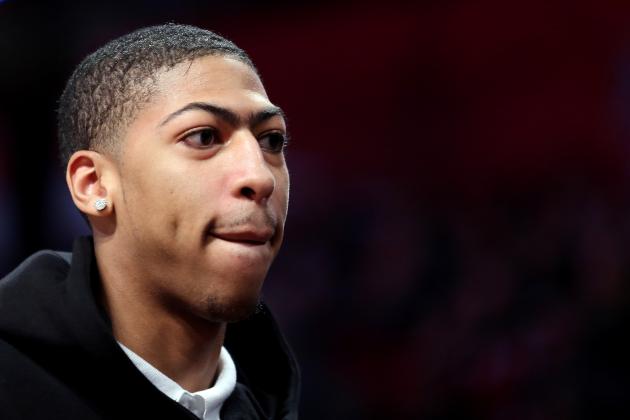 Ronald Martinez/Getty Images

Day 5 of the Summer League began with the annual show of force by the NBAPA.
Last year they came in wearing Blue, led by Billy Hunter. It was during the midst of an ugly power struggle between Hunter and Derek Fisher.
Since then, Hunter has been deposed (back on February 16th) and the Players Union arrived today without him.
Check out who else stopped by Vegas summer league as NBA teams, players and front offices move forward into the offseason.
Begin Slideshow

»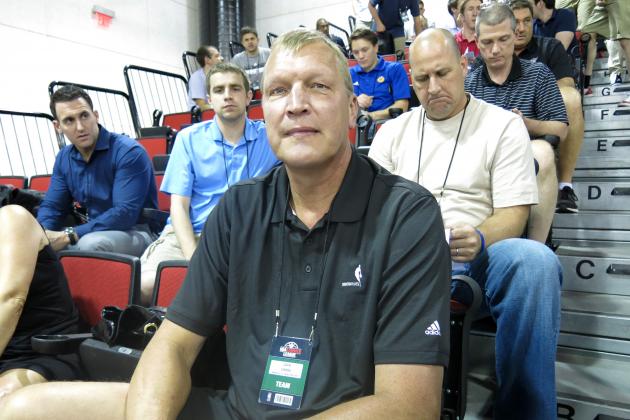 The great Jack Sikma was in attendance, watching his son Luke play for the Timberwolves team. There are a lot of NBA offspring competing in these games.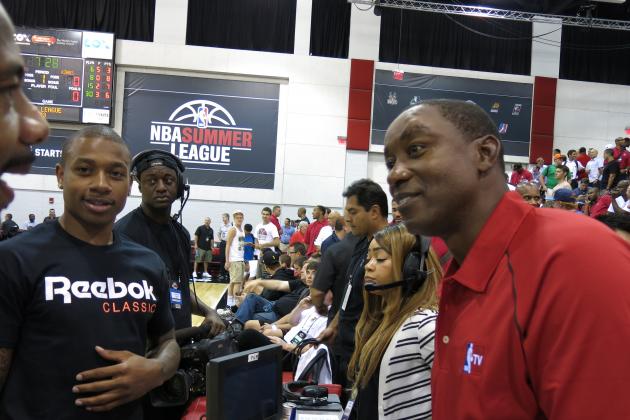 This is not a Doublemint commercial, it's both Is(a)iah Thomas's in the same place. The irony wasn't lost on them as both both were grinning and praising each other's games.
I wish the Kings liked Isaiah as much as Isiah does.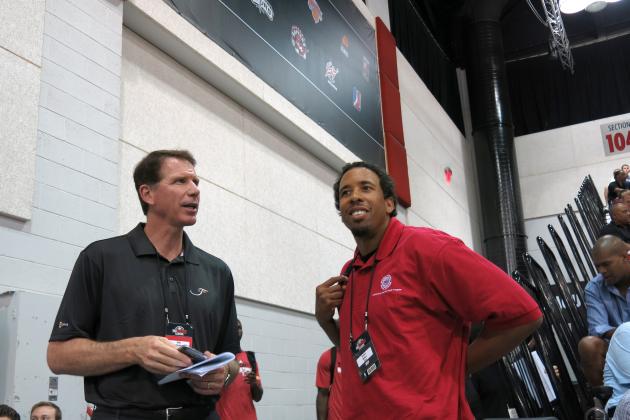 Kiki Vandeweghe and Andre Miller, together again.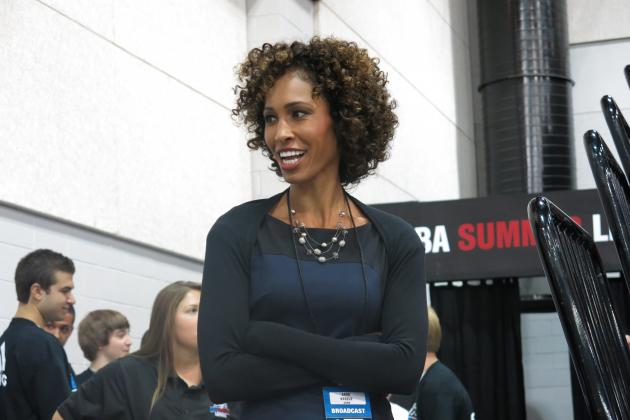 Sage Steele has been a staple of ESPN's televised coverage of the event.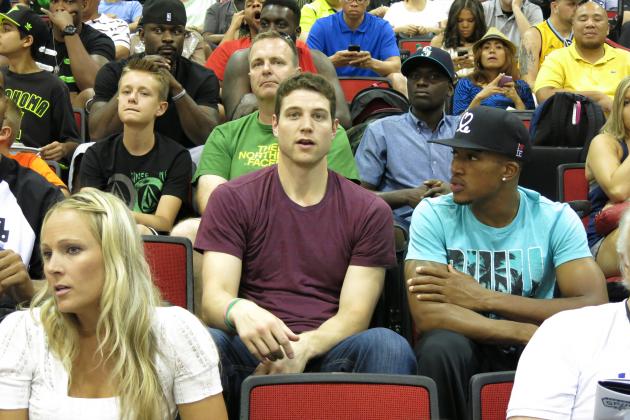 Jimmer was in the building. He eschewed the roped off VIP area and sat with fans.
He hasn't been playing for the King's Summer League Team, but word has it that he's been practicing with the team.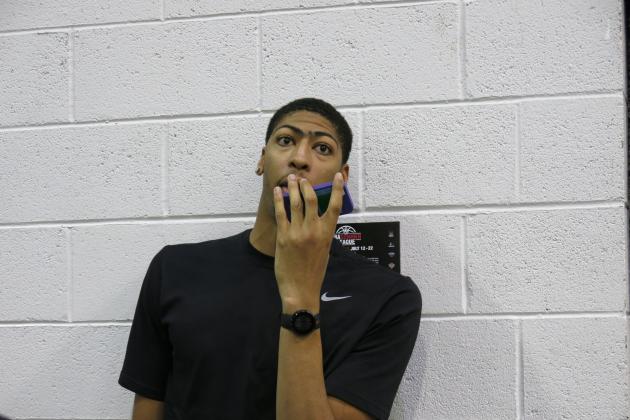 Anthony Davis is still around supporting the Pelicans young players. He's a star already, he doesn't have to be here (many players in his position aren't), but he is.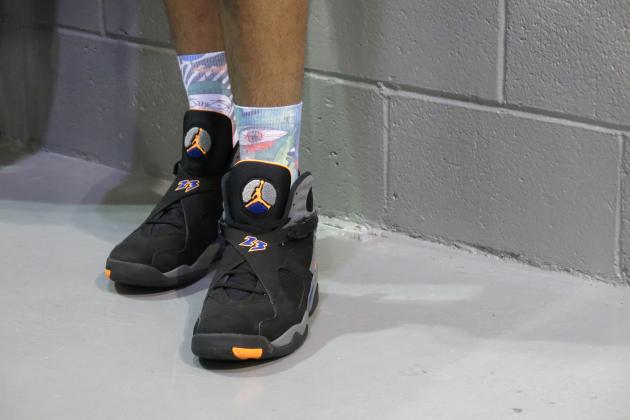 One of the more popular fashion trends with players now are flashy, colorful socks. I'm for pretty much any NBA fashion trend that isn't nerd glasses or capri suits.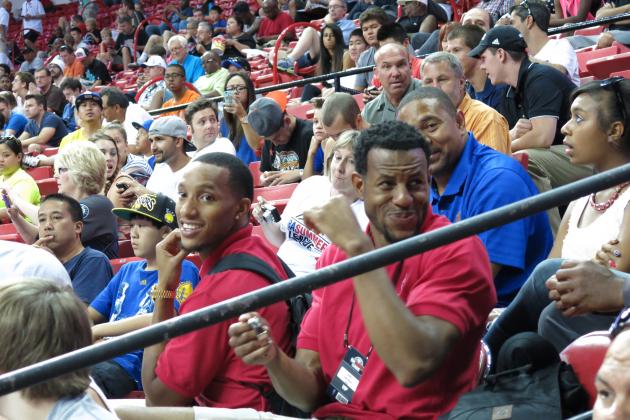 Andre Iguodala hangs out with his old teammate Evan Turner while watching his new team, the Golden State Warriors.
From the moment they came in they were inseparable.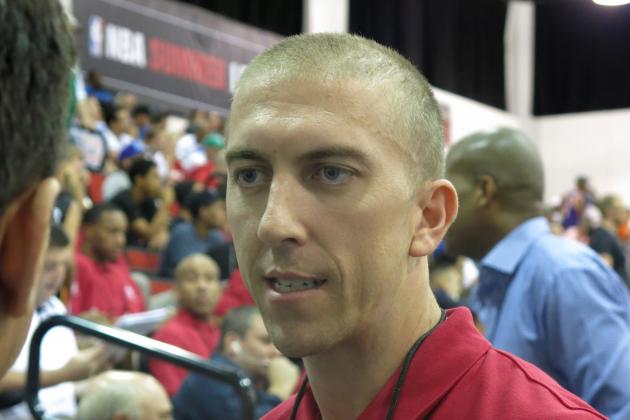 NCAA champion and current Los Angeles Lakers point guard Steve Blake was here representing the NBAPA.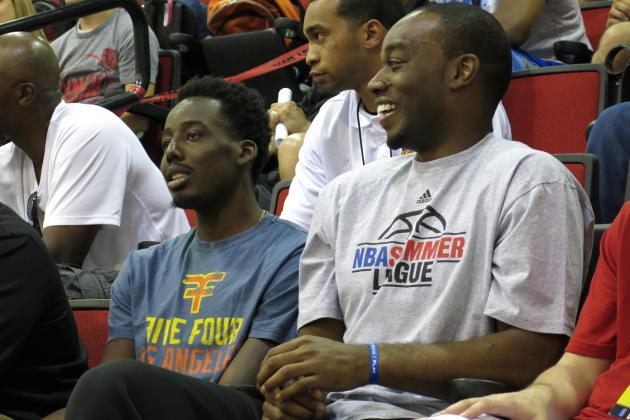 Al-Farouq Aminu and Carl Landry are another pair of ex-teammates who seem to enjoy each other's company.
Al-Farouq was there to support his younger brother, Alade, who plays for the Toronto Raptors in summer league.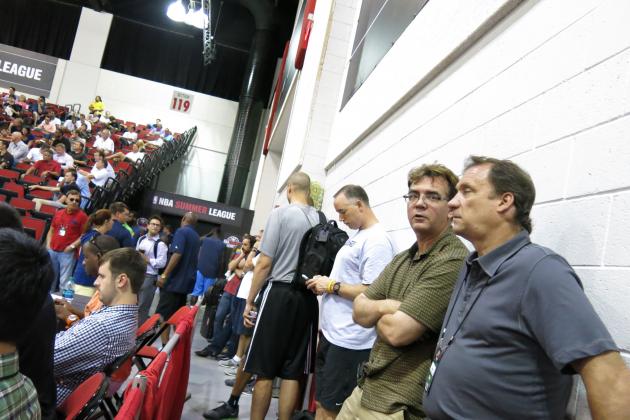 This is how the NBA news sausage gets made. Here we have a local beat reporter (Minneapolis Star Tribune's Jerry Zgoda) chatting up Timberwolves GM Flip Saunders.
Flip was with the team from 1995 - 2005 before returning on May 3rd, 2013 as their GM. Flip has a relationship with Zgoda and can pass information along to Jerry, who tweets it or writes about it in the paper.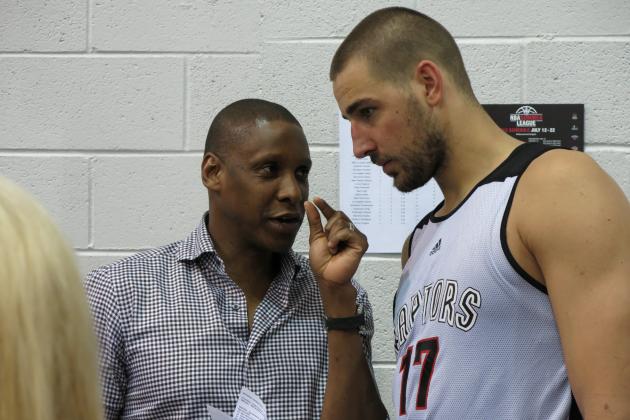 Toronto Raptors GM Masai Ujiri talks with his prized young player Jonas Valaciunas.
Jonas has been tearing up the Summer League, this photo was taking right after he rumbled for 18 points and eight rebounds.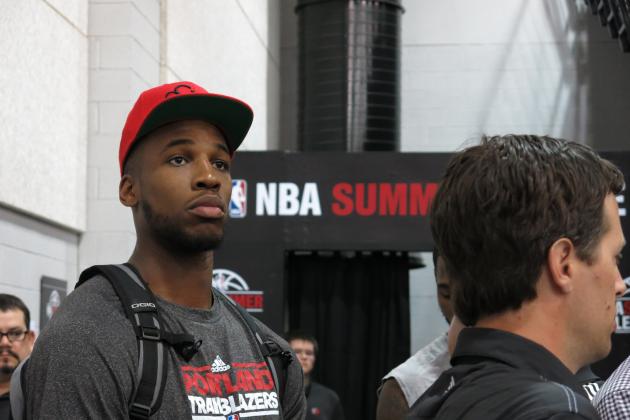 Thomas Robinson's descent from fifth overall pick in 2012 to NBA journeyman in a year has been jarring.
He's now on his third team after being cast away by Houston to fit Dwight Howard under their cap. Daryl Morey (Houston's GM) was in the house tonight and Robinson made a statement to him by inhaling 18 rebounds to go with 12 points.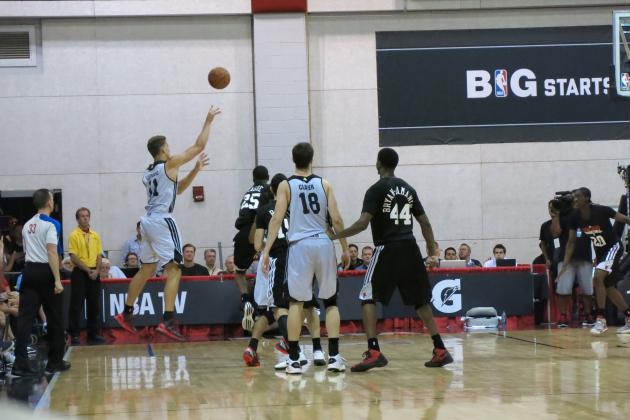 The Portland vs. Chicago game was the first game to go into overtime.
C.J. McCollum forced the OT with a dagger of a three point shot. At the end of the (two minute) overtime, the Blazers fudged the final shot. Leonard was able to get off this goofy prayer of a shot that went in, but he buzzer had already sounded.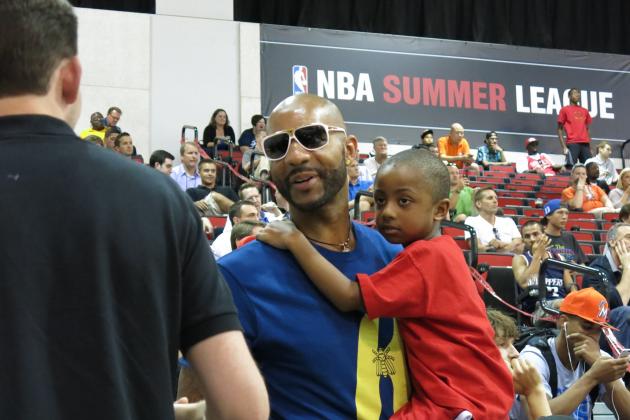 Carlos Boozer looks like a great father, it's the second day he brought his son to the games.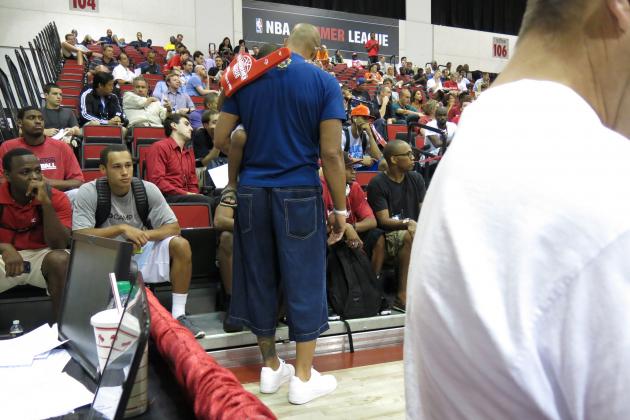 Carlos would make a terrible stylist. This bell bottomed, denim capris may be the fashion atrocity of the Summer League.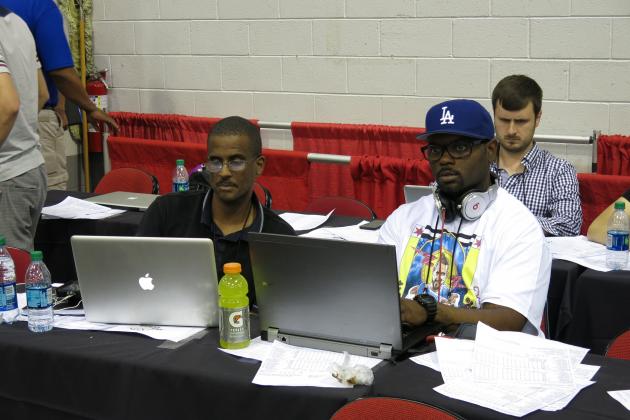 TNT's David Aldridge made his first appearance at the Summer League while Sacramento Bee's Jason Jones has been here all week.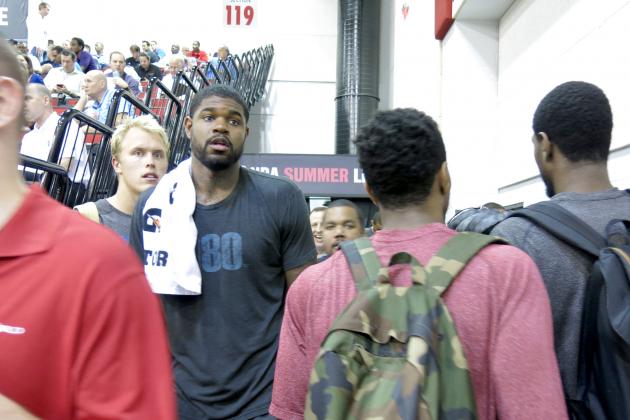 Nine years ago, Amir Johnson was part of the last class of players to go straight from high school to the Summer League. I
asked him if he could go back in time, would he have went to college? He said "no, because it all worked out, everything happens for a reason".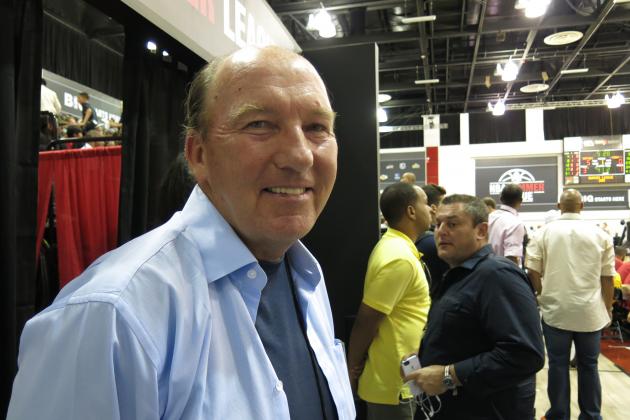 Mike Dunleavy Sr. made an appearance.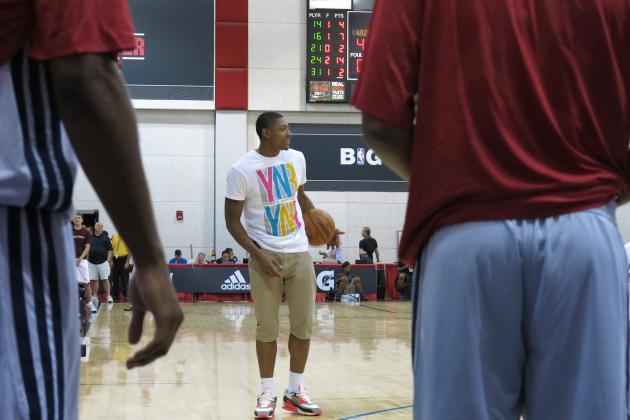 Beal's backcourt mate, John Wall may not not have arrived, but Beal did.
Not only was not only here, he participated in a half time shooting game with a child (the first player I saw involved in halftime activities).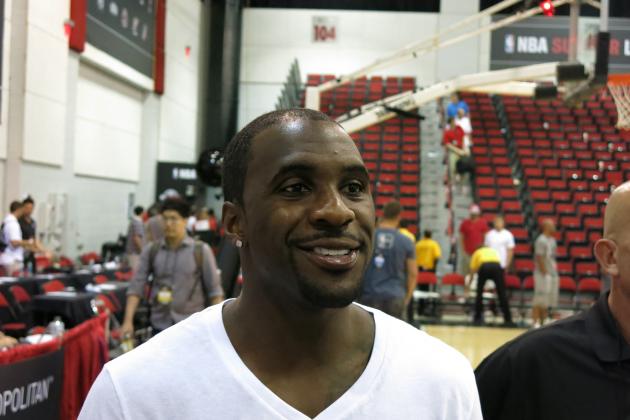 Nuggets star Ty Lawson showed up for the final game of the day.
After today the teams will be seeded (based on their performance so far) and play tournament style to play for the first ever Las Vegas Summer League.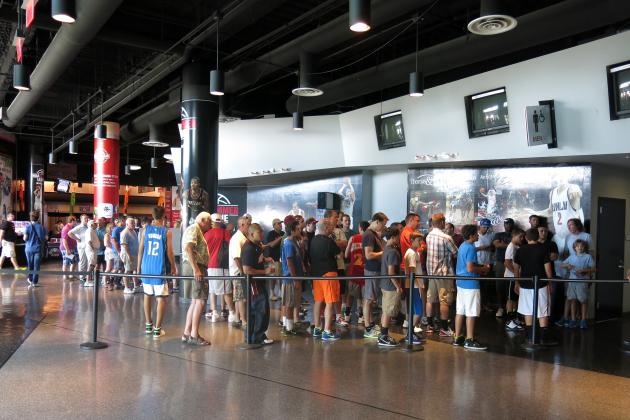 Throngs of fans waiting to get into the Cox Pavillion. A lot of the fans I've met said they try to come every year or they remember me from years past. Once you come to the Summer League, you get hooked.