Cuba broke its 12-game Gold Cup drought with a convincing 4-0 victory on the final day of Gold Cup group play Tuesday, led by an Ariel Martinez hat trick and an attack that bombarded Belize with 34 shots in the contest.
With the four-goal victory, Cuba also managed to secure a place in the quarterfinals as a top third-place finisher, as noted by Paul Carr of ESPN:
Needing to win by 4+ to advance, Cuba beats Belize 4-0 & reaches Gold Cup quarters for 2nd time (also 2003).

— Paul Carr (@PCarrESPN) July 16, 2013
Cuba didn't open the scoring particularly early in the match, though. Despite creating some terrific scoring chances, it took until the 37th minute for the Cuban side to finally get on the board with the first of Martinez's three goals.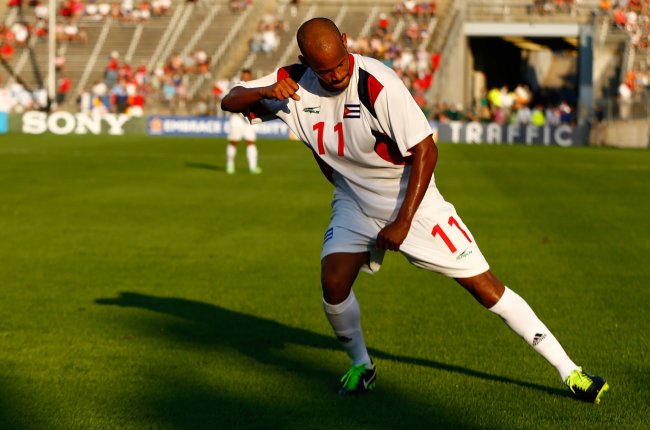 Jared Wickerham/Getty Images
But with under an hour to play, Cuba still faced an uphill battle to slot three more goals and notch a quarterfinals berth, to say nothing of holding its opponent scoreless.
But the latter criterion wasn't much of an issue. Belize entered the match having scored just one goal in the tournament and looked stagnant on the attack in its final group-stage contest as well.
Belize managed just nine shots in the match, giving Cuban keeper Odelin Molina plenty of breathing room and allowing Cuba to keep the pressure on its counterpart.
Martinez once again capitalized on that tremendous pressure in the 61st minute, giving his squad a little more hope for an unlikely quarterfinals berth, as noted by Fox Soccer:
At it again! Martinez scores his second goal of the match, giving Cuba a 2-0 lead over Belize. Great run and finish: http://t.co/mFPLwhMmnD

— FOX Soccer (@FOXSoccer) July 16, 2013
Cuba continued turning the screws on Belize and appeared poised for a late push at the two additional goals it needed to advance. Of course, Martinez's work wasn't done, and in the 83rd minute with time running out, he slotted his third goal for an incredible hat trick, via Fox Soccer:
GOAL Cuba! Martinez completes his hat trick, and Cuba needs just one more goal to go through to the quarterfinals: http://t.co/q9r3gQwT6c

— FOX Soccer (@FOXSoccer) July 16, 2013
As Fox Soccer also pointed out, that goal was partially a result of Belize being a man down following Ian Gaynair's second yellow card:
Before the third Cuba goal, Belize went down to 10 men after Gaynair was given a second yellow and sent off. Watch: http://t.co/N9tcP9Ioqq

— FOX Soccer (@FOXSoccer) July 16, 2013
Martinez's three goals fueled Cuba's aggression, and they also added some excitement to a match that would otherwise have been meaningless for both sides. With the match coming to a close, Cuba was desperate for a fourth and final goal to continue playing in the tournament.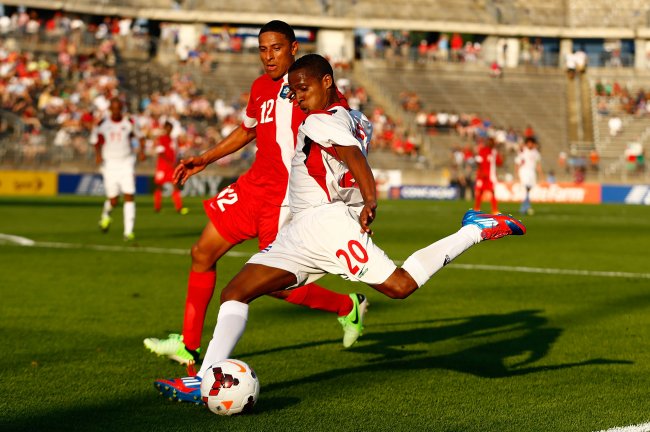 Jared Wickerham/Getty Images
Belize looked as if it would stave off Cuba's assault, but the Cuban side's one-man advantage allowed it to move additional men forward and keep Belize's defenders on their toes.
Jeniel Molina would be the man to take advantage.
As Dylan Butler of the New York Post detailed, Cuba got its desperately needed goal two minutes into stoppage time:
Remarkable stuff from Cuba. Needing four goals to reach the QF, they get that on Jeniel Molina's goal deep in stoppage time.

— Dylan Butler (@Dylan_Butler) July 16, 2013
Fox Soccer also provided a video of the goal:
Can you believe it? Cuba beats Belize 4-0 and books a spot in the Gold Cup quarterfinals. Watch the final goal: http://t.co/hMlSgHrfyf

— FOX Soccer (@FOXSoccer) July 16, 2013
With the win, Cuba ousted Martinique from the quarterfinals as the last third-place finisher to secure a spot. Belize exits the Gold Cup winless, having allowed 11 goals in three contests.
USA 1, Costa Rica 0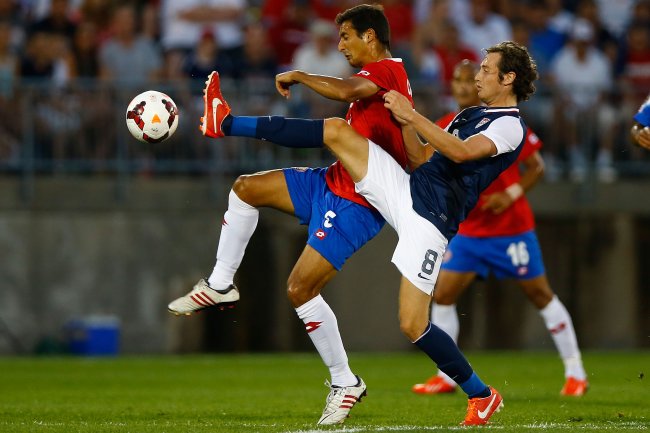 Jared Wickerham/Getty Images
Despite already having a quarterfinals berth locked up, the United States finished its group stage with a momentum-building 1-0 victory over Costa Rica to enter the next stage of the Gold Cup with something to prove.
Neither side had much to play for short of added experience and a little pride, but Costa Rica looked like the far more aggressive side in the opening half. After a 1-0 loss to the United States in World Cup qualifiers in March, that really didn't come as a surprise.
The match was extremely slow at the onset, however. As noted by the U.S. Soccer Twitter feed, neither side saw any legitimate scoring chances through the first 18 minutes of play:
No real chances for either team so far, both teams easing their way into the match so far here in Hartford. #USAvCRC 0-0 ,18'

— U.S. Soccer (@ussoccer) July 17, 2013
The ensuing minutes featured a lot of sloppy play at midfield, and both sides were fortunate to escape the first half without committing a serious mistake.
In the first 45, the teams combined for just four shots, one of which was provided from Chris Wondolowski, who entered the match shouldering much of the United States' scoring production in the tournament.
Fox Soccer tweeted a video of the 35th-minute attempt:
A clever attempt from Wondolowski as he tries to put the USA on the scoreboard with a backheel in the box. Watch it: http://t.co/8DW8KSl3SB

— FOX Soccer (@FOXSoccer) July 17, 2013
Costa Rica showed more poise in the opening half, but things would get a little more exciting in the second frame as the United States picked up the pace and looked a little more aggressive to begin the half.
The United States looked like it had a terrific scoring chance in the opening minutes of the second period, but as detailed by U.S. Soccer and Fox Soccer, keeper Patrick Pemberton left the box and was shown a yellow card:
Pemberton out of his box, runs over his defender then saves Wondo's shot with his hands a good 4 yards out of the box! Outrageous stuff!

— U.S. Soccer (@ussoccer) July 17, 2013
He goes in the referees book and it's just a yellow card! Confusion from #USMNT players and a sheepish look from Pemberton. Bizarre!

— U.S. Soccer (@ussoccer) July 17, 2013
Costa Rica's keeper handles the ball outside of the box, stopping a potential goal, & is shown a yellow card. Watch: http://t.co/0VDWfcLaH9

— FOX Soccer (@FOXSoccer) July 17, 2013
Pemberton made up for the yellow card with a terrific save on the ensuing free kick, however:
On the free kick, Torres tests Pemberton, who makes a great save, and Donovan can't finish off the rebound. See it: http://t.co/Fzz7b7xxTZ

— FOX Soccer (@FOXSoccer) July 17, 2013
The match opened up considerably following that series of events, taking a turn toward a much more physical affair predicated on aggression and force. Neither side looked especially in control, and it appeared the final 20 minutes of play would feature considerable excitement.
George Frey/Getty Images
But by the 71st minute, the United States and Costa Rica were each making substitutions and the pace of the game had slowed considerably, as noted by U.S. Soccer:
71st minute and the game has slowwwwed down. Some Costa Rica subs coming on now… #USAvCRC 0-0 still

— U.S. Soccer (@ussoccer) July 17, 2013
The pace picked up in short order, however, and the United States broke the game wide open.
With the match still scoreless and both sides appearing ready to call it a draw, the United States broke on the counterattack and Landon Donovan set up the eventual game-winner, via Fox Soccer:
Don't blink! Johnson makes a huge save, then on the fast break Donovan plays Shea through for the USA's goal. Watch: http://t.co/t948oO5DMk

— FOX Soccer (@FOXSoccer) July 17, 2013
Brek Shea took full advantage of the beautiful setup from Donovan, and the match broke up just as quickly as it had slowed as the United States took a 1-0 lead.
Just as it did against Costa Rica in March, the USMNT took the lead and held on to the finish. It was a hard-fought, up-and-down affair, but Shea's late-match heroics were enough to ensure the United States would leave the pitch with some momentum heading into the quarterfinals.
As U.S. Soccer tweeted, the United States will face El Salvador on Sunday:
Shea's late goal gives the #USMNT a 1-0 win and up next: El Salvador on Sunday in Baltimore.

— U.S. Soccer (@ussoccer) July 17, 2013
For Costa Rica, the loss means little more than a second-place finish in the Group C tables. Still, a second consecutive loss to the United States can't sit well, and it will be looking to rebound in the next stage of the tournament following the loss.