UCLA Football: An Early Look at Nevada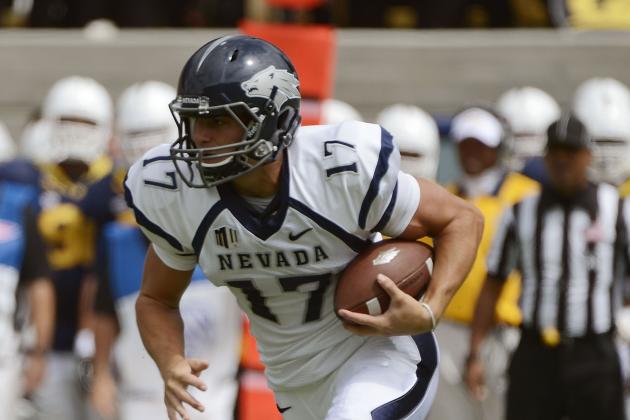 Thearon W. Henderson/Getty Images
Nevada dual threat QB Cody Fajardo
With the start of the 2013 college football season less than two months away, it's never too early to take a look ahead at the UCLA Bruins' season opener against the Nevada Wolf Pack on Aug. 31 at the Rose Bowl.
The Wolf Pack will bring an explosive offense with them down from Reno, led by quarterback and California native Cody Fajardo.
Nevada will also bring down a defense with little experience and depth.
Here's a brief look at the Wolf Pack heading into 2013.
Begin Slideshow

»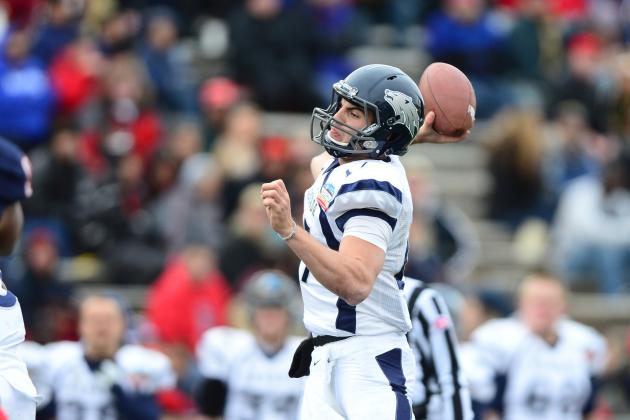 Mark J. Rebilas-USA TODAY Sports
QB Cody Fajardo
Cody Fajardo. Cody Fajardo. Cody Fajardo.
Expect UCLA's defense to hear that name repeatedly during the preparation for the Bruins' opener because Fajardo is one of the top dual-quarterbacks on the West Coast, as well as in the nation.
Fajardo threw for 2,786 yards and 20 touchdowns in 2012 and rushed for 1,121 yards and 12 more touchdowns. He's incredibly elusive and has a stronger arm than most realize.
Another interesting subplot is that Fajardo is a native of southern California, prepping at Servite High School in Anaheim. He will surely want to perform well in front of his family and friends at the Rose Bowl.
While Fajardo will be in the backfield, the Wolf Pack suffered a big loss in seeing tailback Stefphon Jefferson leave early for the NFL. Jefferson, who signed as an undrafted free agent with the Titans, rushed for 1,883 yards and 24 touchdowns last season.
In his place will most likely be JuCo transfer Don Jackson. Jackson is a bigger, physical back who runs with power. He was the first-string back on Neveda's post-spring depth chart.
Fortunately for Nevada, the Wolf Pack return their top three receivers from a year ago, including stud wideout Brandon Wimberly.
Wimberly led Nevada with 845 yards receiving last season. Tight end Kolby Arendse is also a veteran target who will present mismatches. Additionally, the majority of the offensive line will be returning from a season ago.
The strength of Nevada's team will undoubtedly be it's offense. Nevada has finished in the top-10 nationally in total offense in each of the past six seasons.
It wouldn't be a shock to see that trend continue.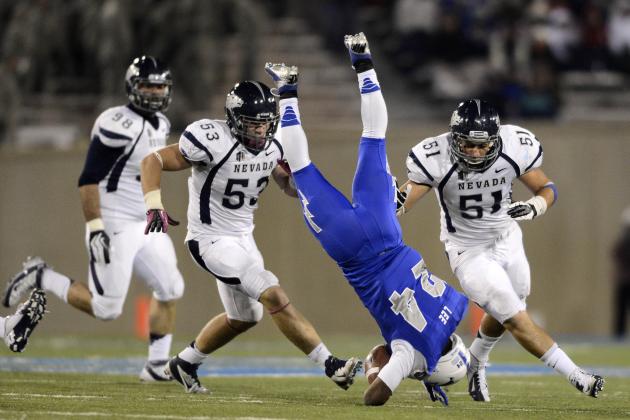 Ron Chenoy-USA TODAY Sports
Brock Hekking is the top defender on Nevada's squad
Nevada had better be able to score a lot of points because its defense is porous, at best. It's safe to say that the Wolf Pack will be in quite a few shootouts in 2013.
Last season, Nevada's defense was torn to shreds. The Wolf Pack gave up an average of 33.8 points per contest and the secondary in particular was victimized by big play after big play.
In 2013, the story shouldn't be any different. The Wolf Pack will replace their entire linebacker corps in addition to several other starters.
The strength of the Nevada defense will be the two starting defensive ends. Brock Hekking is the most talented member of the group, having led the team with 8.5 sacks last season. Although not overly big, he's very physical at the point of contact and has a great motor.
Lenny Jones is the other starting defensive end. He could be in line for a breakout season of sorts.
The big wild card in this equation is JuCo transfer Ian Seau. The nephew of the late Junior Seau, the transfer from Grossmont College had 18 sacks last season in the junior college ranks. He's adept at rushing the passer as both an outside 'backer and a defensive end.
The Wolf Pack is plagued by its lack of depth and viable talent across the board. Nevada's secondary remains a big cause for concern and head coach Brian Polian's bunch will also be breaking in three new starters at linebacker.
Nevada will rely heavily upon the pass-rushing trio of Seau, Hekking and Jones. Without a consistent pass rush, the Wolf Pack won't be stopping very many offenses.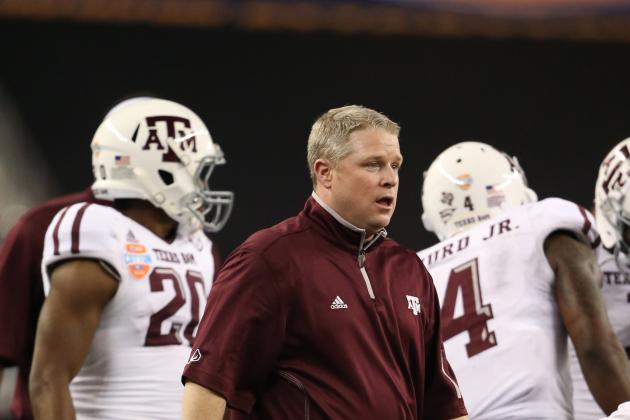 USA TODAY Sports
Polian when he was at A&M
Brian Polian was an interesting coaching hire for Nevada.
Polian had never been a head coach—or a coordinator for that matter—on the collegiate level. Much of his experience has come as an ace recruiter and as a special teams expert.
He'll have some big shoes to fill in the form of former coach Chris Ault. Not only did Ault create the trendy "pistol" offense, but he also sustained good success over the course of his decades in Reno, Nev.
In order to combat the possible pressures of replacing Ault, Polian smartly played the continuity card—opting to retain three assistants from the former regime. One of those assistants is offensive coordinator and quarterbacks coach Nick Rolovich.
It will be fascinating to see how the 38-year-old from the Bronx will navigate his first season at the helm. An engaging and fiery competitor, Polian will definitely make things interesting.