Best-Case, Worst-Case Scenarios for Young Emerging NBA Studs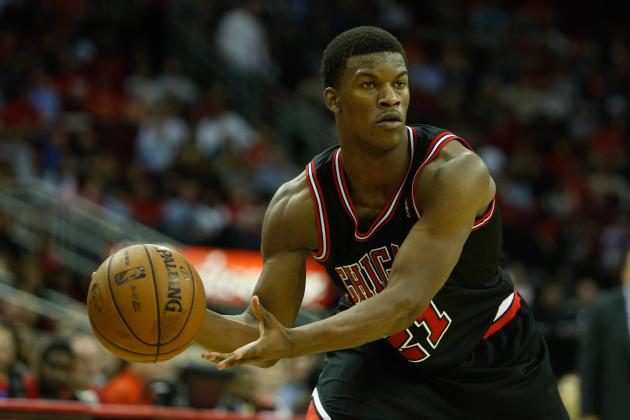 Thomas Campbell-USA TODAY Sports

If every young emerging NBA stud actually followed the developmental track their fans hoped for, the NBA would have so many stars we'd have to call it the GBA: the Galactic Basketball Association.
While a select few players do indeed manage to capitalize on their best-case scenarios, some inevitably watch in horror as their worst-case ones become realities. We've all been there as our favorite promising player flames out.
The 2013-14 season will be crucial for these eight players, all of whom are still caught between the two extremes. They'll be pushed in one direction or the other over the next 82 games, so keep your fingers crossed for a positive outcome.
There are a few key words from the title of this article that you must pay attention to, though:
Young: Only players who have yet to turn 24 will qualify for this slideshow.
Emerging: Note the present tense of that word. Players who have already emerged are not eligible either, so that knocks out guys like Kawhi Leonard and Damian Lillard. This is still a subjective category, though, so a few players featured have started to become well-known even if I don't think perception has caught up with reality.
Studs: The players have to actually have the potential to become true stars. Guys like Tristan Thompson may develop into elite role players and top-level starters, but they won't ever make All-Star teams.
So, do you think each player will fall into the best-case or worst-case scenario?
Begin Slideshow

»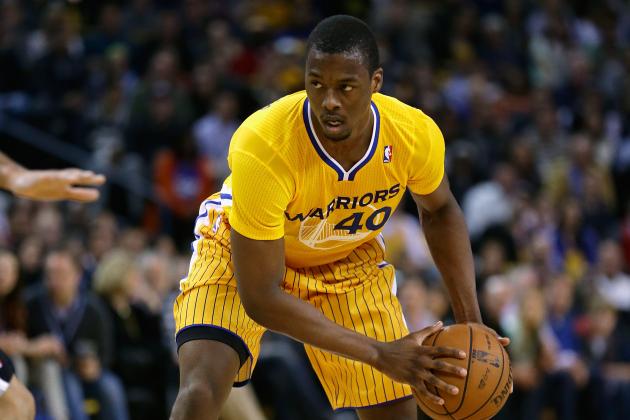 Ezra Shaw/Getty Images

Team: Golden State Warriors
Age: 21
Position: SF
2012-13 Per-Game Stats: 9.2 points, 4.1 rebounds, 1.2 assists, 0.6 steals, 0.2 blocks, 11.0 PER
Best Case
The Golden State Warriors decide that Andre Iguodala should line up at shooting guard, which frees up the final spot in the starting five for Harrison Barnes while Klay Thompson is pushed into a sixth-man role.
Once locked in as the small forward of the future, Barnes continues the barrage that he started during the postseason. In 12 playoff games, the rookie out of North Carolina averaged 16.1 points, 6.4 rebounds and 1.3 assists per game on 44.4 percent shooting from the field.
Given the ridiculous number of offensive options surrounding him, Barnes is always open for catch-and-shoot opportunities, and he rarely faces a double-team with the ball in his hands.
Worst Case
The Dubs keep the Splash Brothers together, which pushes Barnes to the sixth-man role occupied by Thompson in the best-case scenario.
After starting all 81 games he played in as a rookie, the small forward quickly realizes he doesn't like coming off the bench, and his shot stops falling. Seeing that Barnes doesn't have much of an ability to create his own looks or involve his teammates, Mark Jackson is forced to use him as a situational defender.
Every once in a while, Barnes explodes in the points column, but that's usually dependent on who he is paired with.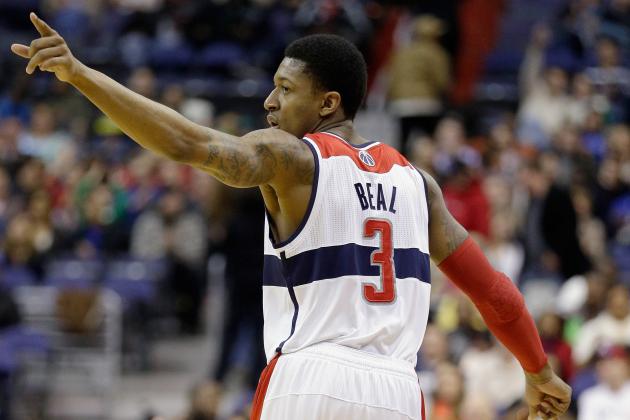 Rob Carr/Getty Images

Team: Washington Wizards
Age: 20
Position: SG
2012-13 Per-Game Stats: 13.9 points, 3.8 rebounds, 2.4 assists, 0.9 steals, 0.5 blocks, 13.6 PER

Best Case
Playing alongside a healthy John Wall, the NBA world becomes Beal's oyster.
With the dynamic point guard opening up defenses due to his constant assaults on the rim, Beal is content roaming the perimeter, and he absolutely dominates from behind the arc. He starts attempting over six three-pointers per game and making more than 40 percent of them, up from the respective 4.2 and 38.6 during his rookie season.
In fact, Beal establishes himself as one of the best scorers in basketball, averaging over 20 points per game as a sophomore while helping guide the Washington Wizards to the promised land.
Worst Case
Beal keeps shooting the ball well from downtown—he's too talented from behind the arc to do anything else—but he struggles to build upon his solid rookie campaign. Once more, he averages around 14 points per game and struggles to finish when he gets close to the basket.
The problem is simple: There are too many options in Washington for him to truly emerge.
With Wall, Beal, Otto Porter, Martell Webster, Trevor Ariza, Nene Hilario and Emeka Okafor all needing to get touches, Beal simply doesn't get the ball enough to take that next step forward. His shooting percentage rises slightly, but that's not nearly enough for him to truly emerge as a star player.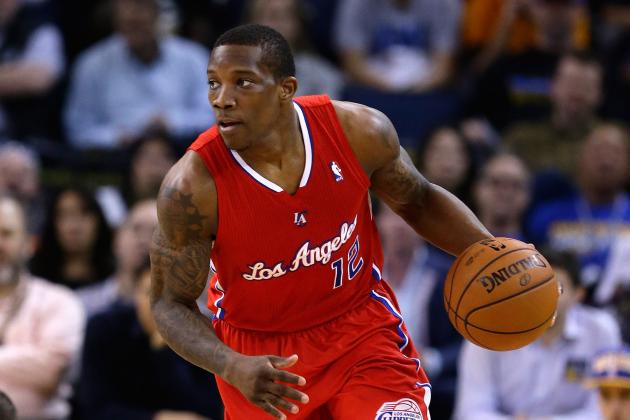 Ezra Shaw/Getty Images

Team: Phoenix Suns
Age: 23
Position: PG
2012-13 Per-Game Stats: 8.5 points, 3.0 rebounds, 3.1 assists, 1.4 steals, 0.7 blocks, 17.5 PER
Best Case
The Phoenix Suns give Eric Bledsoe every opportunity to succeed after sending Jared Dudley and a future second-round pick away for his services. Given his chiseled body and athletic abilities, the dynamic point guard quickly proves that only the second word of that position needs to apply to him.
He starts alongside Goran Dragic at the 2, and his slashing strengths complement Dragic's pick-and-roll skills quite nicely.
The key to Bledsoe's improvement, though, lies in downtown Phoenix.
I'm not talking about the place where skyscrapers rise up into the sky, but rather from behind the three-point arc. Bledsoe must make more than 0.4 triples per game if he's going to thrive as a 2-guard and allow his defensive skills to remain out on the court.
Worst Case
Bledsoe never learns how to shoot, and he remains a remarkably limited offensive player. His only contributions in the scoring column come when he attacks the basket in either half-court sets or transition.
For this reason, he's relegated to the bench, where he backs up Dragic. The Suns simply can't afford to take away all semblance of spacing by playing Bledsoe at the 2.
The point guard essentially fills the same role he did with the Los Angeles Clippers, and the breakout is put on hold for another year. His lockdown defensive abilities ensure that he's a big part of the rotation, but he by no means becomes a star.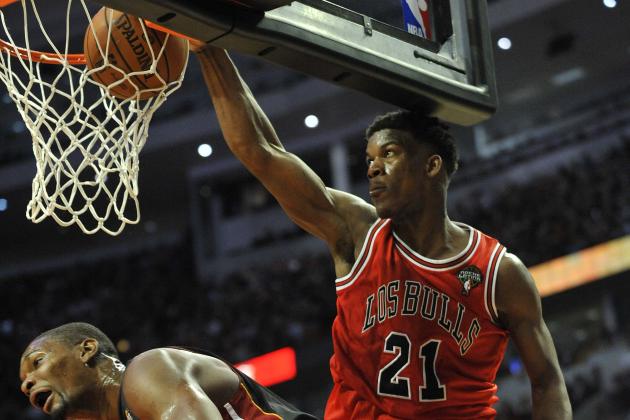 David Banks/Getty Images

Team: Chicago Bulls
Age: 23
Position: SG/SF
2012-13 Per-Game Stats: 8.6 points, 4.0 rebounds, 1.4 assists, 1.0 steals, 0.4 blocks, 15.2 PER
Best Case
Jimmy Butler is the first player featured in this article who has a legitimate shot at making the All-Star team this season. It probably won't happen, but don't be surprised when there's a bit of buzz leading up to the end of the selection process.
The Marquette product's regular-season stats don't look too impressive, but let's take a look at the postseason ones: 13.3 points, 5.2 rebounds, 2.7 assists, 1.3 steals and 0.5 blocks per game on 43.5 percent shooting with a 14.4 PER.
Not bad for a defensive specialist.
Derrick Rose's return will take much of the pressure off Butler, enabling him to play with more offensive efficiency. The small forward was already developing more and more weapons as his sophomore season progressed. He hit three-pointers with greater frequency as the year wore on, and he even showed flashes of a step-back jumper in the postseason.
Add all that to a defensive package that has already made him one of the elite wing defenders in the Association, and you can see why an All-Star selection isn't quite out of the realm of possibility.
Worst Case
At worst, Butler will have an extremely valuable and extremely underrated season. Again.
His offense might not develop once Rose takes away more touches, but his defense will always be there. And remember, this is a guy who helped the Bulls allow 4.1 fewer points per 100 possessions during his second year in the NBA.
You know, the same Chicago squad that thrives on that end of the court regardless of who's playing.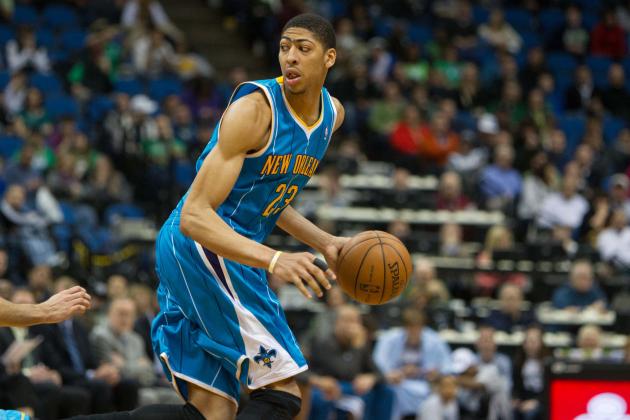 Brace Hemmelgarn-USA TODAY Sport

Team: New Orleans Pelicans
Age: 20
Position: PF/C
2012-13 Per-Game Stats: 13.5 points, 8.2 rebounds, 1.0 assists, 1.2 steals, 1.8 blocks, 21.7 PER
Best Case
When Anthony Davis was coming out of college, he was considered the saving grace in a weak class, the player who was sure to make an All-Star team during the early portion of his NBA career.
It's not too late for that to happen, and it could if Davis stays healthy.
That's the biggest key for the Unibrow, who will show off more offensive moves than ever before. Davis showed surprising range as a rookie and looked comfortable away from the basket, and he'll only grow stronger outside the paint as he continues to work on his game.
Additionally, Davis will learn how to guard NBA big men. He was a good shot-blocker, but struggled to rotate properly and often was bullied on the blocks. That's why he allowed both opposing power forwards and centers to torch him for 21.1 PERs, according to 82games.com.
Getting that straightened out is what allows him to become the player we expected.
Worst Case
Davis' offensive game continues to improve, but his defense doesn't. The former is almost a guarantee, seeing as he's still learning how to transition from playing guard to playing center thanks to the ridiculous growth spurt he experienced at the end of his high school career.
In the worst-case scenario, the Unibrow comes into the season without bulking up at all. He continues to be pushed around by larger players, and that matchup is constantly exploited by opposing coaches.
Davis' defense, once thought to be so special, is revealed as overrated now that the NBA's big bodies have exposed him. And as a result, the Pelicans miss the postseason.
Either that or he gets injured again.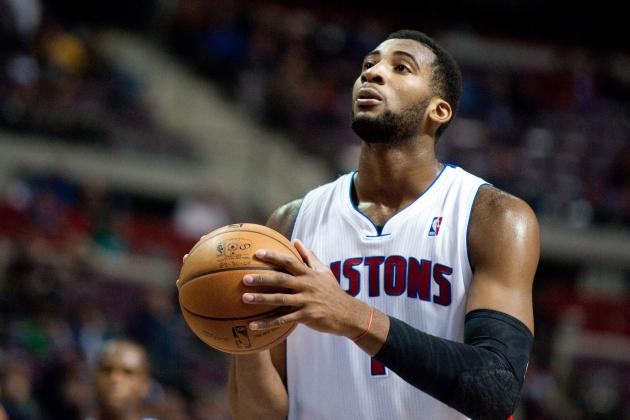 Tim Fuller-USA TODAY Sports

Team: Detroit Pistons
Age: 19
Position: C
2012-13 Per-Game Stats: 7.9 points, 7.6 rebounds, 0.5 assists, 1.0 steals, 1.6 blocks, 21.6 PER
Best Case
Andre Drummond continues to play like it's summer league, acting like a man amongst boys as he physically overwhelms the opposition on both ends of the court. In Orlando, the former UConn big man averaged a ridiculous 15.5 points, 14.8 rebounds, 1.3 assists, 2.5 steals and 2.0 blocks per game.
Expecting a repeat of those numbers is a bit much, but Drummond still becomes a solid tertiary scorer, a great rebounder and an even better shot-blocker in this best-case scenario.
He maintains his stellar efficiency, especially because he gains some much-needed confidence at the charity stripe (which really hasn't been charitable to him in the past), and he does so while taking on more of a featured role.
By the end of the season, Drummond looks like the next great center.
Worst Case
Through no fault of his own, Drummond is relegated to a bench role in 2013-14.
After Joe Dumars was tricked into thinking Josh Smith fits with the rest of the roster, he quickly realizes that playing J-Smoove at the 3 is a massive mistake. Remedying that as quickly as possible, he ensures that Smith and Greg Monroe stay on the court, but that comes at Drummond's expense.
The big man's development grinds to a halt as he struggles to earn playing time, and he becomes another one of those famous flashes in the pan produced by the lessened summer league competition.
At least until next year.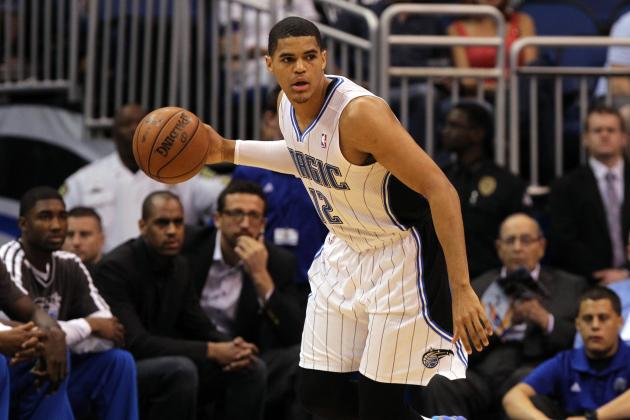 Kim Klement-USA TODAY Sports

Team: Orlando Magic
Age: 21
Position: SF/PF
2012-13 Per-Game Stats: 11.0 points, 5.2 rebounds, 1.3 assists, 0.6 steals, 0.8 blocks, 16.0 PER
Best Case
Tobias Harris picks up right where he left off.
Those numbers up above already seem impressive for a 21-year-old forward just coming into his own, right? Well, they also include the disappointing Milwaukee Bucks portion of his season.
In the best-case scenario, Harris continues stuffing the stat sheet for the Orlando Magic, just like he did after the J.J. Redick trade brought him to Florida. From that point forward, he averaged 17.3 points, 8.5 rebounds, 2.1 assists, 0.9 steals and 1.4 blocks while shooting 45.3 percent from the field with a 17.0 PER.
Harris was even better during the last 10 games of the season, putting up 19.9 points, 9.9 rebounds, 2.8 assists, 1.1 steals and 1.4 blocks per game.
Expecting him to be a 20-10 guy who helps out in other areas is a bit much, but it's not unreasonable to expect 15-8 with other well-rounded contributions.
Worst Case
The Magic learn that other teams didn't really care to get scouting reports on Harris during the end of the season. They knew Orlando was trying to tank and didn't want to waste resources figuring out how to stop Harris and Co. because they were well-aware they'd be stopping themselves.
Harris, heavily scouted this time around, is shown to be a fluke, one created by the nasty combination of small sample size and tanking. He's still able to put up stats in every area, but it's made abundantly clear that he'll never be much more than a mid-level starter.
He'll always have 2013, though.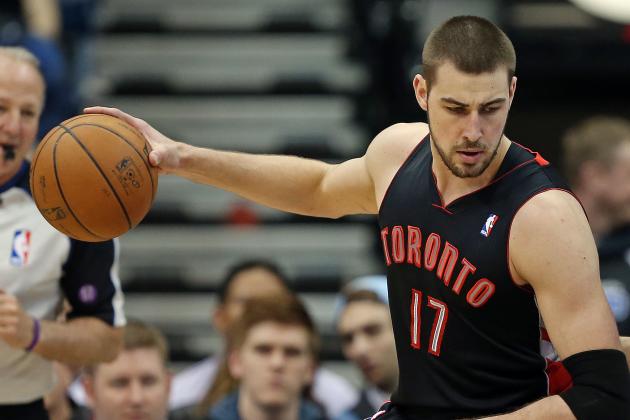 USA TODAY Sports

Team: Toronto Raptors
Age: 21
Position: C
2012-13 Per-Game Stats: 8.9 points, 6.0 rebounds, 0.7 assists, 0.3 steals, 1.3 blocks, 15.6 PER
Best Case
Jonas Valanciunas parlays all his summer league success into the regular season and starts playing like one of the league's better centers. He's used the weak competition to show off an even stronger frame, one that allows him to dominate thanks to both his strength and athleticism.
As the Lithuanian center takes advantage of Andrea Bargnani's absence, he becomes a nightly threat to challenge 15 points and 10 rebounds, all while playing solid defense. The Toronto Raptors were slightly better defensively with him playing last season, and "slightly" won't be a necessary modifier anymore.
The 21-year-old's interior dominance makes everyone wonder exactly why the Raptors were so undervalued going into the season, especially when his low-block mastery lasts more than 82 games.
Worst Case
Toronto's perimeter shooting isn't strong enough to open up space for Valanciunas, and the young center never gets the time he needs to go to work with his back to the basket. He struggles offensively, failing to break past the double-digit points barrier on a consistent basis.
Valanciunas is still a good rebounder and defender, but that's not enough to justify the hype he receives going into this season.
As the Raptors flop, devoid of both a low-post presence and significant contributions from the outside, Valanciunas fades back into obscurity.