Breaking Down NASCAR Drivers on Bubble of Sprint Cup Chase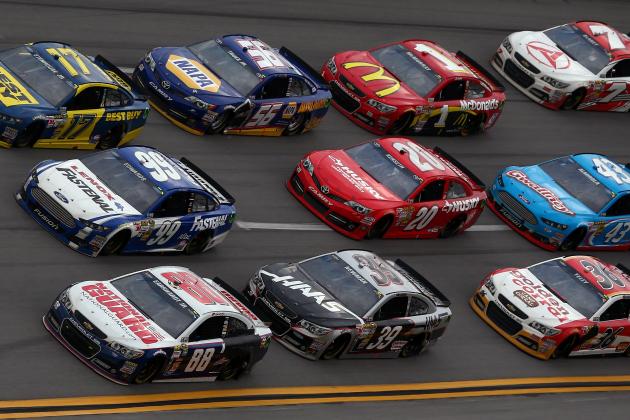 Tom Pennington/Getty Images
The battle for the final spots in the 2013 Chase for the Sprint Cup is incredibly tight.
At the summer off-weekend break for the NASCAR Sprint Cup Series in 2012, most of the field of 12 drivers eligible to compete for the title of Sprint Cup championship was all but set. In fact, just one driver—Jeff Gordon—successfully negotiated a comeback that landed him in the Chase for the Sprint Cup after the final regular-season race at Richmond.
Gordon's sterling drive into title contention in the final races before the 10-race stretch was the story of the NASCAR's late summer action. This time around, however, Gordon is joined by a host of drivers within striking distance to make the Chase.
The final races before the Chase cutoff event, Sept. 7, promise to produce plenty of intrigue among at least nine drivers with a fighting chance to make the 10-race playoff.
Begin Slideshow

»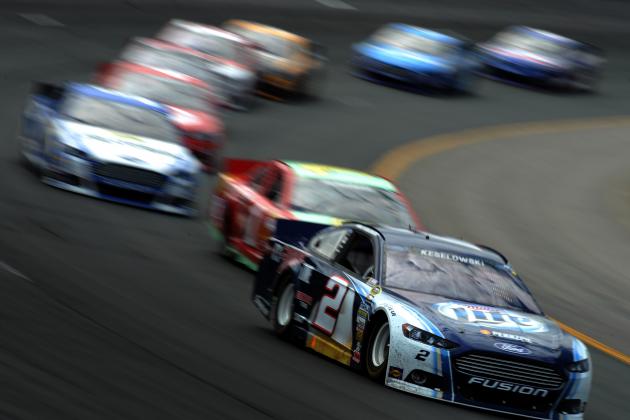 Jared C. Tilton/Getty Images
Brad Keselowski only needs to hold serve through Richmond to make the Chase.
Last year's first-time Sprint Cup champion Brad Keselowski has faced a plague of bad luck, crashes and poor finishes following a six-race stretch to start 2013 where he finished no lower than 15th.
He's also yet to win this season, which would help Keselowski be a guaranteed Chase starter, thanks to NASCAR's wild-card program. That Chase entry process awards two spots to drivers ranked between 11th and 20th in the point standings with the highest win totals.
Keselowski's top-five finish at New Hampshire Motor Speedway ended a three-race streak of finishes 21st or worse. Ninth in the current standings, Keselowski may have barricaded the flood of poor luck at just the perfect time.
And judging by his performance to start the season, raw on-track speed hasn't been the issue. That's good news for a guy who doesn't have a provisional in the title fight as the defending champion.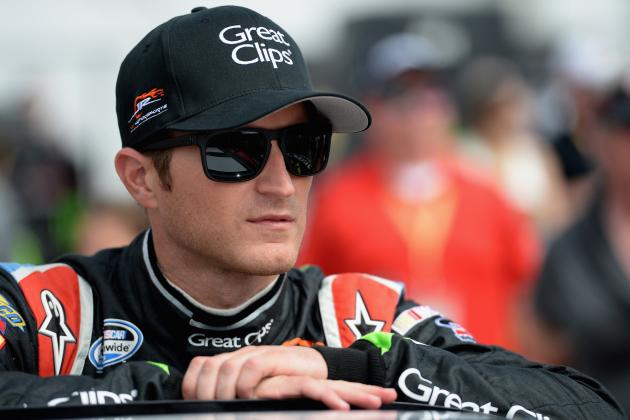 Patrick Smith/Getty Images
Kasey Kahne's win at Bristol in March looms large as fights to stay in the Chase field.
2013 hasn't been nearly as bad for Kasey Kahne as the first part of 2012. But just like last season, it's going to Victory Lane that has Kahne standing on solid ground as we move toward the Chase.
Kahne was the winner at Bristol Motor Speedway in March, which leaves him tied with one win with at least three drivers. He's also been incredibly fast this season—fast enough that, had things gone differently between he and Matt Kenseth at Las Vegas and Kansas, Kahne could have the second-most wins in the series.
Unavoidable crashes and failures at Daytona, Talladega, Pocono and Michigan are the big reasons he's on the bubble. If the bad luck is out of the way, there's no stopping Kahne's entry to his second straight Chase for Hendrick Motorsports.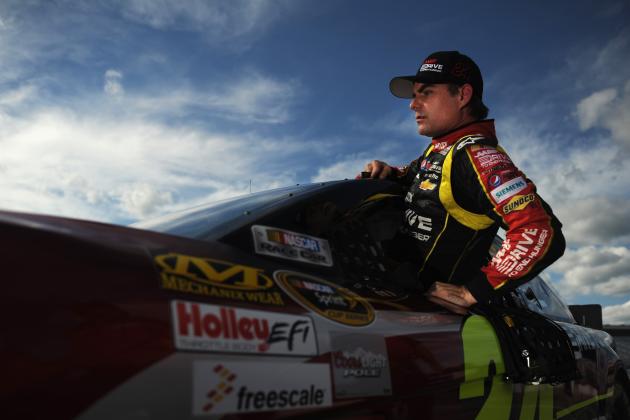 Jared C. Tilton/Getty Images
Jeff Gordon's Chase chances are remarkably good despite plenty of bad luck for No. 24.
Deja vu may certainly be a part of Jeff Gordon's feelings as the Chase nears.
He hasn't forgotten last year's intense battle with Kyle Busch to secure a Chase bid in the closing laps of the final regular-season race at Richmond and some of the poor on-track luck and performance that caused it. Gordon is again trying to rally to the Chase this season, despite incidents at Bristol, Charlotte, Michigan and Daytona, plus poor pit-road luck at Sonoma and Kentucky.
At the break, Gordon was teetering on the outside edge of the Chase. Getting his first win of 2013 would go a long way toward easing that stress; two would be ideal. Otherwise, one more dose of bad luck could be it for Gordon's 2013 Chase hopes.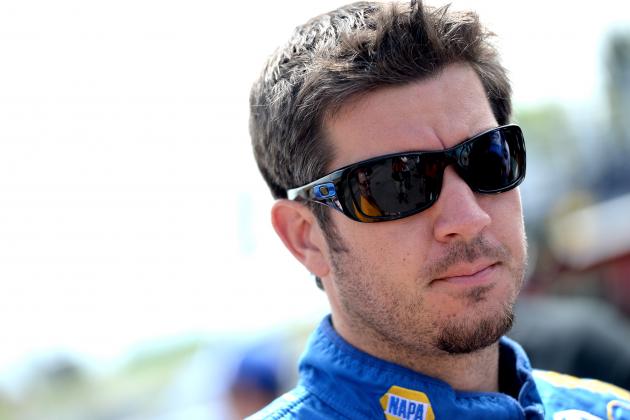 Patrick Smith/Getty Images
A win at Sonoma greatly improved Martin Truex Jr.'s Chase chances.
The relief Martin Truex Jr. earned with his win at Sonoma Raceway—the win was his first since 2007—left him convinced that the removed pressure of finally taking a checkered flag again would open the door to several more. Three races later, Truex has finished 19th, fifth and 19th while failing to really even sniff another victory.
Still, Truex's win continues to loom large even as he's dropped to 12th in the point standings. Should he stay in his same spot and should no more than one driver not previously qualified for the Chase total two victories on the season in the remaining regular season races, Truex is in. Still, there's plenty of things that could go wrong and plenty of nails to chew until Richmond is through.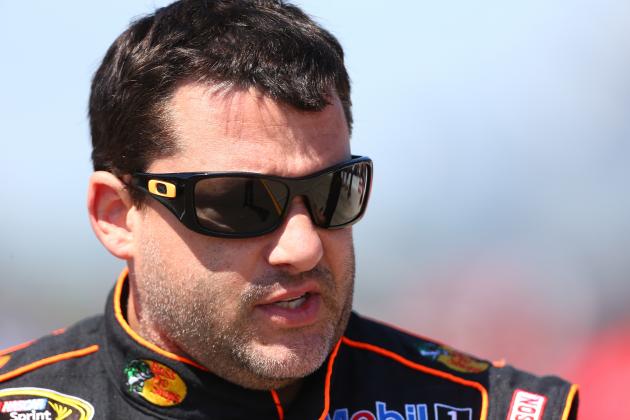 Todd Warshaw/Getty Images
Tony Stewart's Chase chances have drastically improved from his slow start.
Tony Stewart may well have been left for dead as it concerns this year's Chase after a truly miserable start. Always a favorite to start each season, the three-time series champion surprised everyone with little more than a single top-10 finish in the season's first 11 races.
He surprised again, when somehow, he found the front in the waning laps at Dover International Speedway and won. That win, of course, is huge in the Chase consideration. At the summer off-weekend, Stewart was one of two drivers ranked 11th to 20th with a win. It's doubtful that he'll make it in on that credential alone, but he's certainly in a better position than those behind him.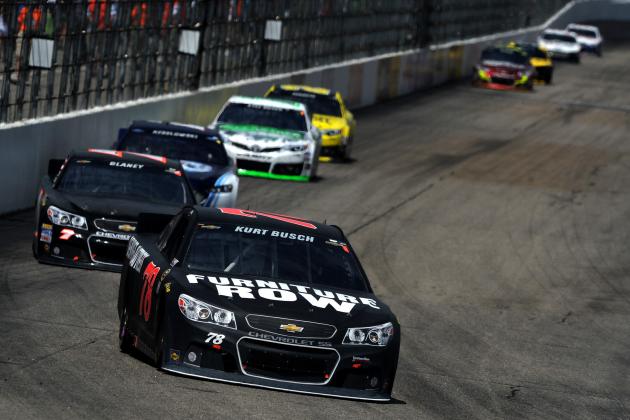 Jared C. Tilton/Getty Images
Kurt Busch has raced like a Chase contender, but hasn't finished like one.
There have been times in 2013 where Kurt Busch has looked positively dominant. But in at least two of those times, it all came unraveled in the form of crashes. Only one at Michigan, however, was truly his fault.
Regardless, it's been a marvelous season, so far, for Kurt Busch in his maiden full-time voyage with the Furniture Row Racing team. The No. 78 has been helped immensely by FRR's extremely tight alliance with Richard Childress Racing—a fact no more obvious than in Busch's eight top-10 finishes.
Busch has the talent to make the Chase, and, at times, he's had the car. At other times, Busch's issues with frustration management have seemed to detour the team's progress. Multiple wins for the No. 78 doesn't seem like the expected Chase entry method for the team. If Busch does make it, though, it'll be on the back of solid, consistent finishes. But first, they need to lay the erratic streak to rest.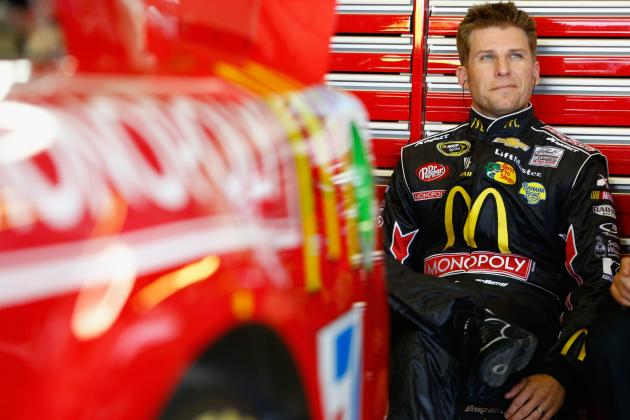 Jared Wickerham/Getty Images
Jamie McMurray isn't as far from the Chase as one might think.
Jamie McMurray's splendid 2010 season that netted wins in the Daytona 500, the Brickyard 400 and more wasn't even enough to get the inconsistent team an entry into that season's Chase for the Sprint Cup. After seeing the repeated bad luck of that team again in 2013, it's hard to believe the No. 1 still has a chance at the Chase.
But amazingly, it's all true. With seven races remaining until the Chase, McMurray has shown a bit of a turnaround. Finishes of second, seventh and 12th at Kentucky, Daytona and Loudon have vaulted McMurray from 21st to 15th in the extremely tight series point standings.
Should a surprise win for McMurray occur in the final stretch to the Chase, he could be an underdog Chase candidate. But without a win, McMurray's distance to 10th in the standings is, perhaps, insurmountable based mainly on his competition.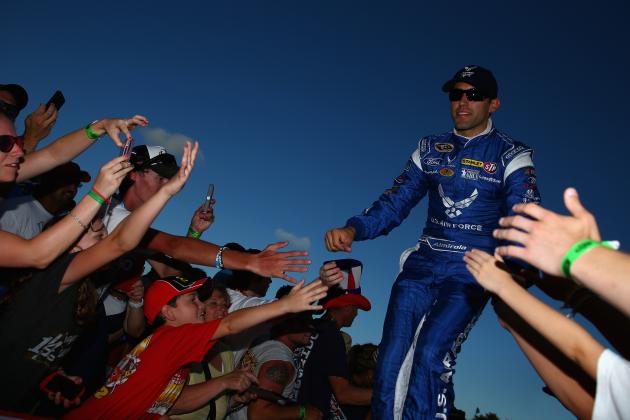 Tom Pennington/Getty Images
Aric Almirola needs to find the groove he had earlier this season if his first Chase appearance is in reach.
As appealing underdog picks go, Aric Almirola looked to be especially playing the part through the season's first 10 races. He had notched a pair of top-10 finishes on two 1.5-mile tracks (NASCAR's bread-and-butter circuit length), a top-10 at the Richmond spring race and a top-10 in the crazy final sprint at Talladega.
But then, Almirola's No. 43 hit a snag, and he didn't finish better than 15th in the next eight races. The Richard Petty Motorsports driver didn't seem so likely to pick off a well-timed win during his 11-position freefall to 19th in the series standings. But then, Almirola notched his first top-5 of the year at Loudon and bolted back to 16th.
Almirola's positioning is more a story about how tight the back end of the top-20 in the series point standings really is. The young driver has a shot to sneak in to the Chase, sure, but it's a small one at best.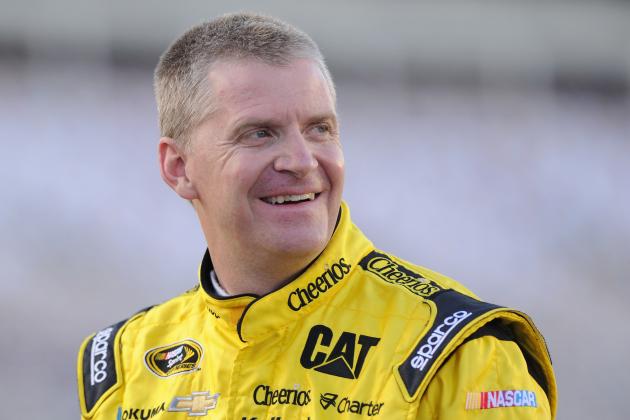 Jared C. Tilton/Getty Images
Veteran Jeff Burton has an outside shot at the Chase.
Watching Jeff Burton struggle in the Richard Childress Racing No. 31 over the past few seasons has been disheartening. Burton, after all, is a proven Sprint Cup talent.
After a top-flight run at Loudon, he, too, is suddenly thinking that making the Chase for the Sprint Cup isn't exactly far-fetched. Burton's jaunt back into contention came primarily through the four-race stretch from Charlotte to Michigan where he finished 12th, 11th, 11th and 10th. Then, his third-place run at Loudon five races later added another jolt to the hopes.
Thanks to his RCR equipment—teammate Kevin Harvick looks to be a championship favorite once things get started after Richmond—and his veteran presence, Burton's odds to make the Chase feel stronger than those immediately ahead of him including Almirola and McMurray. But Burton is going to need a race win or two—a feat he hasn't accomplished even once since 2008.