5 Drivers Proving to Be Dark Horses for 2013 Sprint Cup Series Title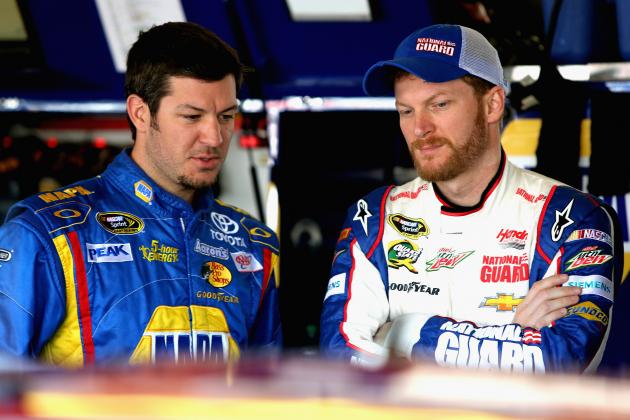 Jerry Markland/Getty Images
Both Martin Truex Jr. and Dale Earnhardt Jr. could be surprising Sprint Cup Series champions.
As the 2013 Sprint Cup season inches ever closer to its version of the playoffs, some drivers have clearly cemented themselves as favorites to win the title.
Drivers like Jimmie Johnson and Matt Kenseth have dominated the first half of the season and will head into the Chase as drivers seeded near the top of the standings. They will be expected to be in the running for the championship right up until the final checkered flag of the season.
Then there are other drivers who may not have grabbed as many early-season headlines as some of their peers but should not be counted out of championship battle.
I am going to take a look at five drivers who may not be considered the favorites to win the title but should definitely not be overlooked as serious contenders. For some of these drivers, they can feel confident that their positions in the Chase are all but guaranteed, and for some there is still a little work left to be done just to get into the playoffs.
Begin Slideshow

»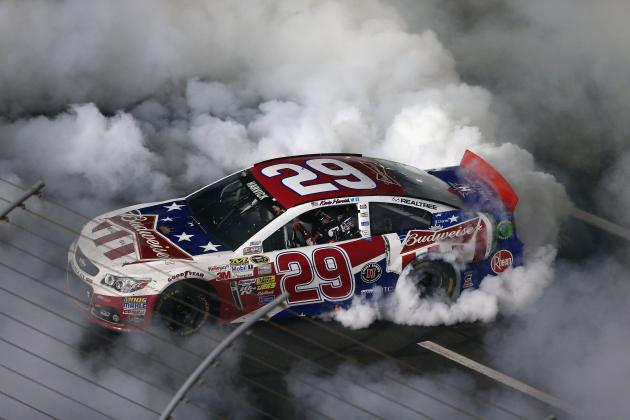 Streeter Lecka/Getty Images
Kevin Harvick has won twice in 2013 and is all but guaranteed a spot in the Chase.
It may be a surprise to see Kevin Harvick listed as a dark horse for the title, but 2013 isn't a normal year. Entering the 2013 campaign, there was wide speculation that Harvick would not be returning to Richard Childress Racing following the conclusion of the season.
Those rumors were recently confirmed, as Harvick and sponsor Budweiser are both moving over to Stewart-Haas Racing for the 2014 season.
With all of these changes on the horizon, it would have been easy for Harvick and his team to just coast through the year and try to get it over with as quickly as possible. That couldn't have been further from the truth.
Through 19 races, Harvick currently sits fourth in the standings with two victories. His 11 top-10 finishes are tied for second most, behind Johnson's 13.
In his last 30 Chase race starts, Harvick has posted one win, and only twice has he finished outside of the top 20. If Harvick can continue his strong Chase runs, he and his RCR team could end their tenure together in a position that very few people would have predicted: holding the championship trophy.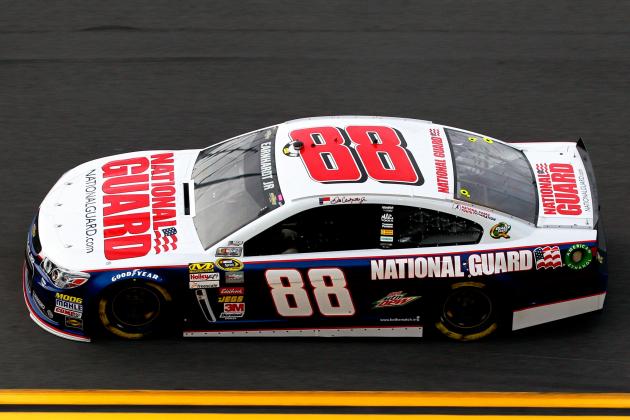 Sean Gardner/Getty Images
Dale Earnhardt Jr. needs at least one Chase win if he is going to seriously contend for the championship.
Every year legions of optimistic Dale Earnhardt Jr. fans predict that it will finally be the year that the series' most popular driver wins the championship. By season's end they are left to wonder what went wrong and hope that maybe next year will be the year.
Well, don't look now, but 2013 could finally be that year. Earnhardt is almost quietly having a strong season. While he has yet to find victory lane, he currently sits fifth in the standings and is one of only seven drivers who have posted double digit top-10 finishes.
If not for a concussion that sidelined him for two Chase races last season, Earnhardt was on pace to have one of the best points finishes of his career. Provided he doesn't experience the same misfortune this season, the 2013 Chase could pick up where 2012's playoffs appeared to be headed.
The major concern for Jr. Nation has to be the lack of wins. In his 197 starts driving for team owner Rick Hendrick, Earnhardt has scored just two wins. Both of those came at Michigan in non-Chase races. If Earnhardt is going to seriously contend for the championship, it would stand to reason that at some point he will need to win at least one race during the 10-week playoff.
Robert Laberge/Getty Images
Martin Truex Jr.'s first win in 218 races could propel him to Chase glory.
It took 218 starts, but Martin Truex Jr. finally scored his second career win earlier this season in Sonoma. That win could prove to be Truex's ticket into the Chase. With seven races remaining before the cutoff, Truex finds himself in 11th place in the standings, but his win would give him one of the two available wild-card spots.
The 2013 season has been up-and-down for Truex. Along with his win, he has scored an additional seven top­-10 finishes. Conversely, he has also posted four finishes that were worse than 35th.
If he is going to make a serious run at the title, he can afford, at worst, one such finish once the Chase begins.
Truex is a two-time participant in the Chase, having been involved in 2007 as well as last year. After last year's Chase struggles, you have to believe that if he gets in the field, Truex would like nothing more than to prove he belongs with the sports' elite drivers.
When you combine the momentum and confidence gained from finally winning a race again with his desire to succeed, Truex could prove to be a very formidable opponent when the series championship is on the line.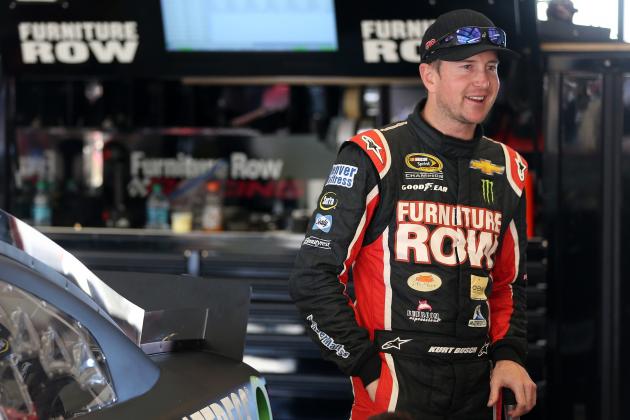 Jeff Gross/Getty Images
Kurt Busch has turned Furniture Row Racing from a mediocre team into a weekly contender.
At the start of the year, how many people picked Kurt Busch and his single-car Furniture Row Racing team as serious Sprint Cup title contenders? I am guessing the answer is not many.
If you were to ask that question now, there would be a lot more believers than there were just five months ago.
The things that Busch and this team are doing are absolutely amazing. As a one-car team based out of Denver, Colo., they are contending for race wins on a weekly basis.
Through 19 races, Busch has posted eight top-10 finishes and led 262 laps. Prior to this season, FRR race cars had posted only 11 top-10 finishes and led a combined 48 laps in eight seasons.
The only thing missing from Busch's 2013 resume is a win. But he has come close on a few different occasions.
He had a strong car all night long in the Coca-Cola 600 and ultimately finished third. He had tire trouble at Michigan while running in the top-five. Twice at Sonoma, Busch was penalized for pit-road violations. He still rebounded to finish fourth that day.
Then, most recently, he had the car to beat at New Hampshire prior to his Lap 226 incident with Ryan Newman.
If some of this bad luck would stop following Busch, he and his team could be the ultimate Cinderella story once NASCAR enters the playoffs.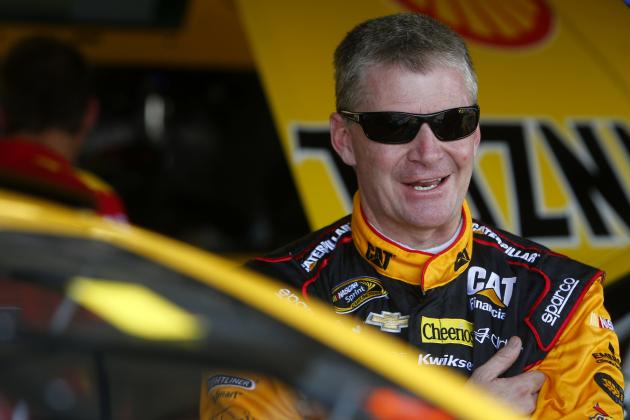 Jerry Lai-USA TODAY Sports
Jeff Burton still needs some strong runs to qualify for the Chase but could be the ultimate sleeper if he gets in.
Maybe I am reading too much into his stellar third-place effort this past weekend in New Hampshire, but with a few lucky breaks Jeff Burton could play the role of a potential spoiler in the Chase.
With seven races remaining in the regular season, Burton finds himself in 17th place in the standings but only 25 points behind current 10th-place runner Kasey Kahne. One win in the next couple of races puts him in a position where he could either enter the top 10 in points or, at the very least, be eligible for one of the two wild-card positions.
Burton has struggled in recent years. In the last two seasons he managed just 11 top-10 finishes and finished 20th and 19th in the points, respectively. The struggles continued early in 2013, but over the last two months, Burton has quietly turned things around.
In seven of the last eight events, Burton has finished inside the top 20. The one exception was at Sonoma, where he was running in eighth place in the closing laps when he got turned by Tony Stewart, relegating him to a 31st-place result.
With a handful of upcoming tracks Burton has run well on in the past, most notably Watkins Glen, Atlanta and Richmond, he has a chance to break his long winless streak and sneak his way into the Chase. If he does, the wily veteran would certainly be an under-the-radar driver who could put together a string of really good finishes and challenge for the title.