Michigan State Basketball: Breaking Down Every Spartans' Role in 2014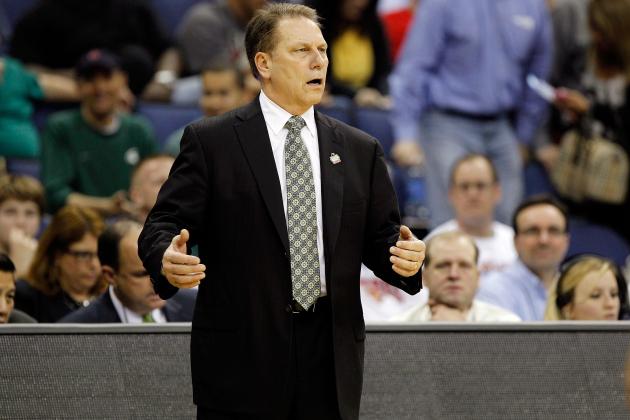 Rob Carr/Getty Images
Tom Izzo is the director of another high-powered edition of MSU basketball.
Basketball is a lot like the movies. A great film has captivating lead actors, just as a team needs star players to set the tone. Necessary on the screen and the court, supporting cast members keep the show going.
Tom Izzo should have Delvon Roe come back at some point during the offseason and discuss that very topic with the 2013-14 Michigan State Spartans.
Roe, a former standout forward, knows a thing or two about assuming the duties of a character. He's pursuing an acting career now that his days with the Spartans are finished.
How can the Spartans make this a season a smash instead of a flop? They have to play their roles, that's how.
Begin Slideshow

»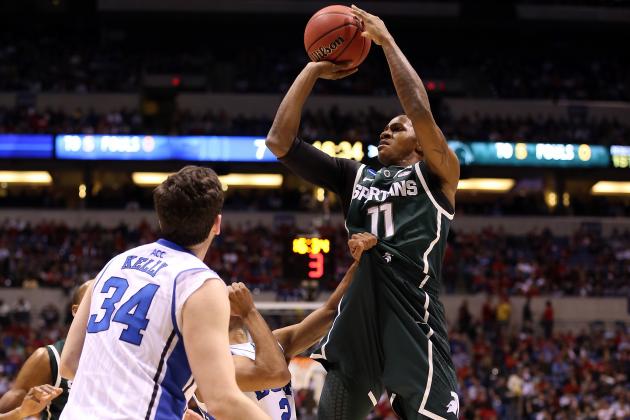 Andy Lyons/Getty Images
Keith Appling is a 15-and-5 kind of player. Will he be that as a senior?
The job of a point guard is to guide the offense.
And Keith Appling has to be up to the task if the Spartans are to go on a signature run in March.
"I think he is a much, much better point guard [after his work this spring and summer]", Tom Izzo recently told SI.com's Andy Glockner, "and even a prospect at the next level."
Now a senior, expectations for Appling are higher than ever before. Michigan State has other star power, but without a steady Appling, the offense spins its tires in the mud.
Appling ups his scoring average each year.
As a sophomore, he averaged about 11 points. As a junior, that went up to about 13. If that trend continues, the former Detroit Pershing Doughboy should be good for about 15 or 16 a night.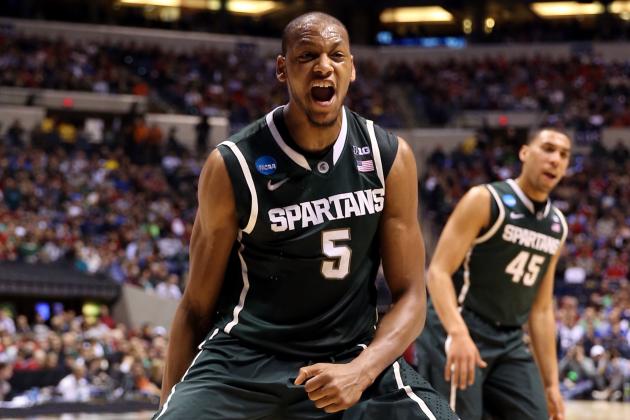 Andy Lyons/Getty Images
Adreian Payne is set for a productive senior year.
After an incredible personal journey, it's only right that Adreian Payne closes out his college career on a high note.
His senior year is his curtain call. And his job is to shut down everyone.
By playing well for Team USA in the University Games, Payne, a 6'10" forward/center, is readying himself for a possible national championship run with Michigan State. They were ranked No. 2 in ESPN's preseason top 25.
Izzo talked about Payne's overall progress in March with Fox Sports Detroit's Steve Kornacki. After a reference to Payne's 38-inch no-step vertical jump and 7'4" wingspan, Izzo said the following:
He's in there watching more film than anybody. He just does things that most big guys don't do. Not many I've had have done that, anyway. So, I think he's grown in all areas and I'm really proud of him, really pleased, really happy for him."
Payne has the tools to be a 15-and-10 contributor each game. He's developed into one of the top big men of the Izzo era.
As of July 16, NBADraft.net had the Golden State Warriors taking Payne No. 21 overall in 2014. The Warriors drafted former Spartans star Draymond Green in the second round of the 2012 draft.
A ticket to the NBA awaits.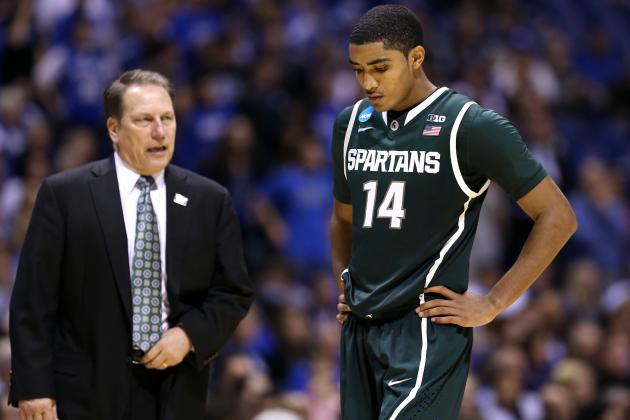 Streeter Lecka/Getty Images
Gary Harris is the nation's top SG, according to the Sporting News.
Gary Harris was the best freshman in the Big Ten this past season.
Topping that type of production and praise will be difficult, but not impossible. Already tabbed as the nation's top shooting guard by the Sporting News' Mike DeCourcy, Harris is under immense pressure to perform.
NBADraft.net has the Minnesota Timberwolves selecting him with the No. 9 pick of the 2014 draft.
If he wants to remain in lottery consideration, he has to be the Spartans' superstar scorer. That's his role. This past season, he averaged 12.9 points per game, second behind Appling's 13.4. Harris had 98 attempts from the line compared to Appling's 171 (stats via BigTen.org).
Obviously, Harris can get closer to the 20-point plateau and lead his team in scoring by simply getting to the line more often.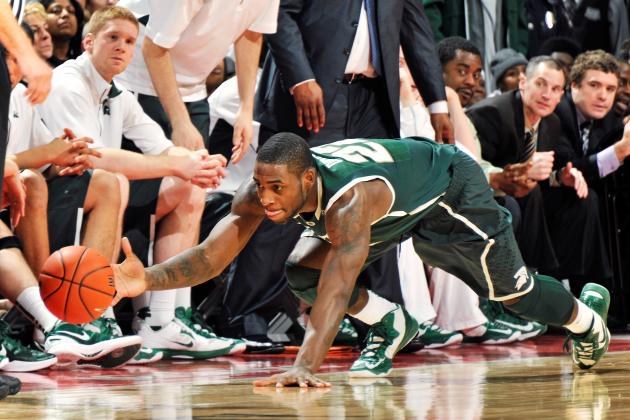 Jamie Sabau/Getty Images
Branden Dawson adds uncertainty to MSU's offense.
Now a junior, Branden Dawson has the opportunity to live up to his 5-star billing.
Analyzing Dawson's game is always tricky. How much should potential be valued in comparison to production? If Dawson's potential put point on the board, Michigan State would get about 14 to 16 each game. However, his production has been in the nine-point range.
It's difficult to predict when and where Dawson will erupt. That makes things interesting for those guarding him, but it's probably frustrating for Izzo, who, two years ago, forecast a bright future for the former Lew Wallace (Gary, Ind.) high-flyer.
Being the variable on offense will be Dawson's role this year, along with adding extra muscle on the boards and strength to the defense.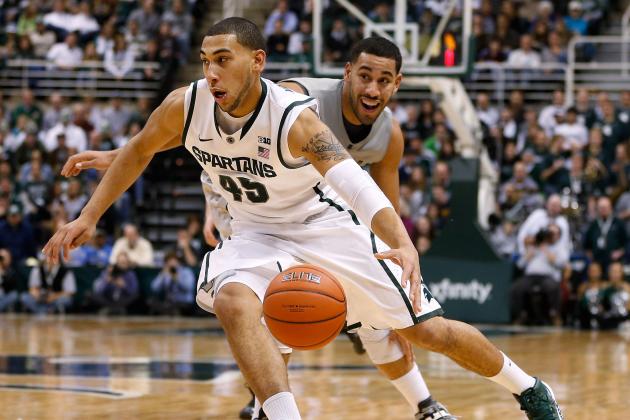 Gregory Shamus/Getty Images
Denzel Valentine could start, or he could first off the bench.
Last year, Denzel Valentine was Michigan State's top bench contributor. He's worthy of starter minutes, but he's a reliable reserve.
Tom Izzo probably wouldn't complain about that situation. Having a versatile guard capable of shooting, defending larger players, playing a physical game and dishing assists is a good thing.
Now a sophomore, Valentine should be more comfortable. He's the type of player who excels when he doesn't try too hard, as funny as that sounds. Valentine seems to get in rhythms, and that'll be his task this season: Find a rhythm. Stay in it. Score points. Play defense.
Jonathan Daniel/Getty Images
Travis Trice (right) is one of Michigan State's best defenders.
Travis Trice has to be a game manager. Although not as athletic and quick as Appling, Trice's defense makes up for his offensive shortcomings.
Bouncing back from an injury-plagued first half of 2012-13, Trice's assignment will likely be the same as it's always been. Along with Valentine, Trice was a key piece of Izzo's bench. Expect more of the same from him; averaging 20 minutes, six points and two assists per game sounds about right.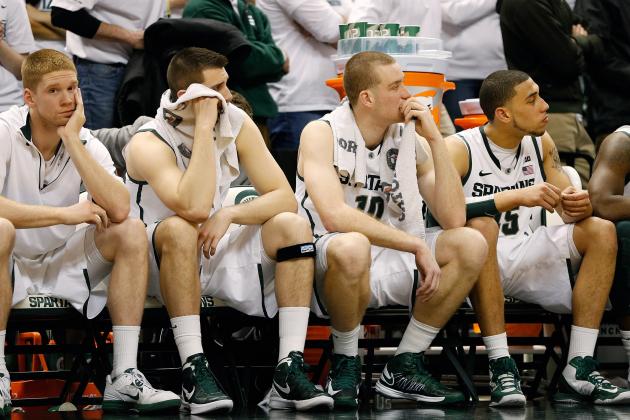 Gregory Shamus/Getty Images
Alex Gauna (left middle) and Matt Costello (right middle) bring size to the lineup.
One goes in for the other, or would it be the other way around?
Matt Costello and Alex Gauna, who are about 6'9" and 240 pounds each, have to come together as one to fill the void left by Derrick Nix, a bulldozer in the paint.
They'll likely get upwards of 10 minutes, depending on Izzo's game plan. Nix played 27 minutes per game this past season as a senior, so some form of Costello plus Gauna equaling that total is possible.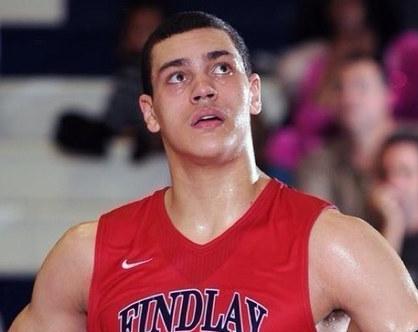 Gavin Schilling has an array of skills that make him an intriguing player to follow. (Photo: Zags Blog)
Gavin Schilling, a 3-star small forward from Findlay Prep, has an interesting game. He's smooth due to European exposure, but he can muscle around in the paint too. At 6'9" and 205 pounds, Schilling may turn into the next Goran Suton, but he'll have to gain about 35 pounds.
Suton also had the Euro style going for him. He Americanized his play at Lansing Everett, gaining aggressive techniques that established him as a premier rebounder in the Big Ten.
Schilling could evolve into something similar, but for now, his job to is to learn as much possible.
The same goes for Alvin Ellis, a 3-star 2-guard/small forward who originally committed to Minnesota. At 6'5" and 185 pounds, Ellis has the size to be an efficient scorer. Size-wise, he's better suited for the shooting guard spot until he puts on more weight.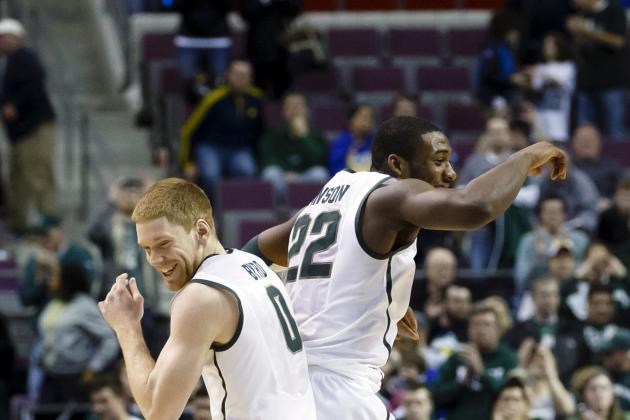 Rick Osentoski-USA TODAY Sports
Russel Byrd is due for some luck.
Russel Byrd needs a break in the worst way imaginable.
Really, he does.
As soon as he finds his confidence and shot, he can finally (and privately) have choice words for his critics.
Follow Bleacher Report's Michigan State Spartans basketball writer Adam Biggers on Twitter @AdamBiggers81