Kentucky Basketball: Breaking Down Every Wildcats' Role in 2014
Andy Lyons/Getty Images

The 2012-13 Kentucky basketball team looked lost the majority of the time it was on the floor. That can be attributed to no one understanding what his role was for the team, something that head coach John Calipari can be sure to fix for the upcoming season.
With a roster loaded with McDonald's All-Americans, veterans and talent, it will be up to Calipari to help define the role of each player if Kentucky wants to make its third Final Four in four years.
The following slideshow will take a guess of what Calipari's staff will tell each player they expect out of him for the 2013-14 season.
Begin Slideshow

»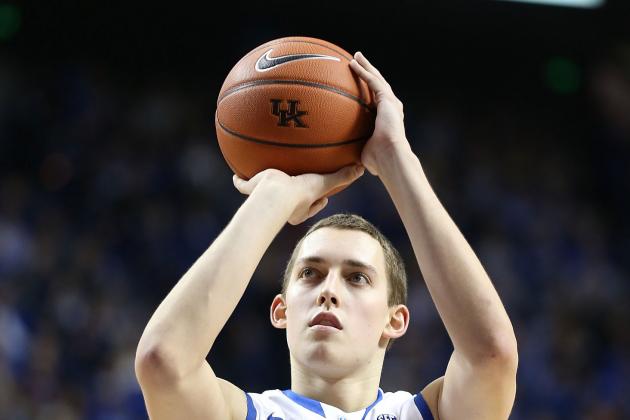 Andy Lyons/Getty Images

The future of Kyle Wiltjer at Kentucky is currently unknown. There is a chance he could transfer, redshirt or play this year at Kentucky.
If he does play, he will be called upon to help spread the floor and not allow opposing teams to play a zone defense.
If he redshirts, he will be doing exactly that in practice. He will be helping those in the rotation get used to playing against a stretch power forward.
Derek Willis could be listed as low as the fifth big man on the roster behind players like Kyle Wiltjer, Julius Randle, Willie Cauley-Stein, Dakari Johnson and Marcus Lee. However, that doesn't mean he can't contribute to the team.
Willis comes to Lexington with a polished offensive game, but where he will help the team the most is his muscle and strength down low. He will spend everyday banging against the other big men, preparing them for teams like Michigan State and Louisville while also getting himself ready for the next couple of years at Kentucky.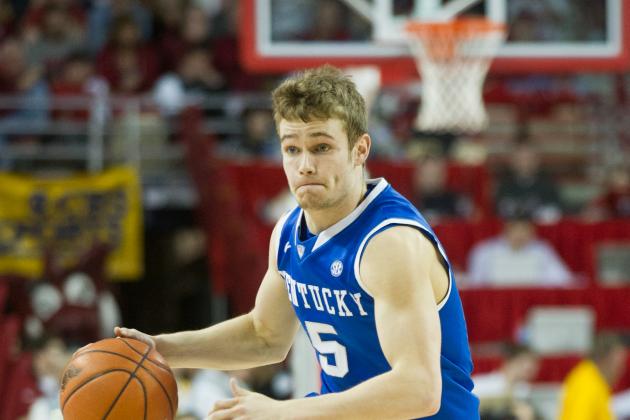 USA TODAY Sports

It's unlikely for Jarrod Polson to see the minutes he did during the 2012-13 season with the arrival of Andrew Harrison and Dominique Hawkins, but he can help the team and two freshmen point guards by being a teacher.
The senior has seen Calipari's system work as well as struggle so he will be able to provide valuable insight to Harrison and Hawkins on how to deal with the up and downs of a season in Lexington.
Dominique Hawkins is in a unique spot entering his freshman season at Kentucky. The Richmond, Ky., native can play both the point and 2-guard position and is expected to contribute during the season.
However, it will be up to Hawkins to learn Calipari's dribble-drive offense from both positions as he can never be sure what he will be called upon to do this season. He should learn not only from Jarrod Polson as mentioned earlier, but also from the Harrison twins and James Young.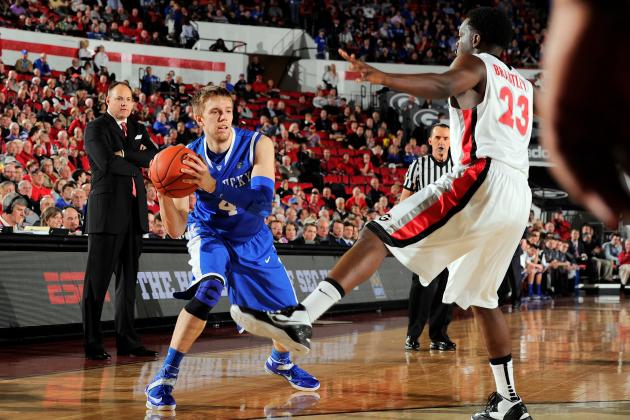 USA TODAY Sports

Jon Hood is going to have the same type of role as Polson, but I wouldn't be surprised to see Hood on the court a little bit more than his fellow senior.
Hood showed last season he can be a valuable defender while on the court and if you see foul trouble for the wing players, don't be surprised to see Calipari put Hood on the floor. Coupled with his strong defense is his ability to hit mid-range jumpers and keep defenders honest, opening up the lane for his teammates.
Brian Spurlock-USA TODAY Sports

Marcus Lee has the potential and skill to be the next great freshman shot-blocker to defend the paint at Rupp Arena. Following in the footsteps of Anthony Davis and Nerlens Noel, if Lee plays as many minutes as his two predecessors, the single-season block record could be in jeopardy.
As a senior in California last season, Lee averaged seven blocks a game. With his 6'9" frame and long arms he will be a terror for any player that attempts a shot near the rim while Lee is on the floor. Despite not playing the most minutes out of the projected big men, I predict Lee to lead the team and conference in blocked shots.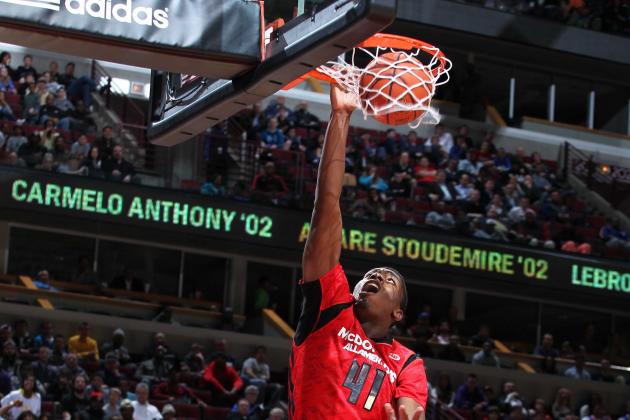 Brian Spurlock-USA TODAY Sports

Dakari Johnson is a polished true center that will have NBA scouts salivating with his talent on both ends of the court.
Johnson is a decent scoring threat, with the ability to hit short jumpers and back his defender down into the post. However, he thrives at grabbing the ball of the glass. Expect Johnson to crash the offensive boards anytime a shot goes up and more often than not getting his fingers on the ball.
Defensively, he will just be another large body Calipari can employ to help clog the lane and challenge shots at the rim. If Johnson replaces Willie Cauley-Stein in the game, don't expect the Wildcats to miss a beat defensively.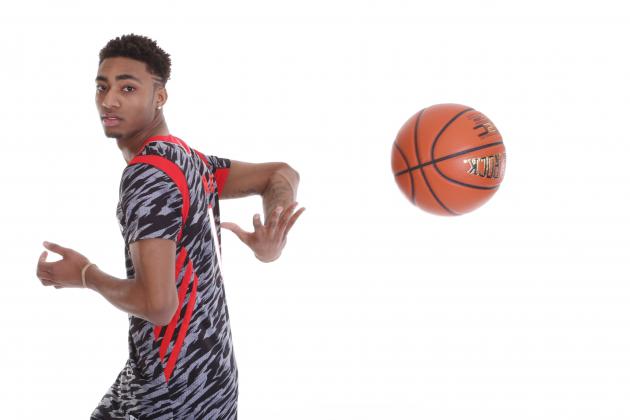 Brian Spurlock-USA TODAY Sports

James Young could start at almost any other college in America just like Jamal Crawford could start for almost any NBA team. Both players can score from anywhere in the gym and look to score the moment they enter the game.
There will be games where Young leads the Wildcats in scoring and plays minutes like a starter will. The ability to score at the rim and stretch his defender by being a strong shooter from behind the arc will make a smooth transition for Young to the college game.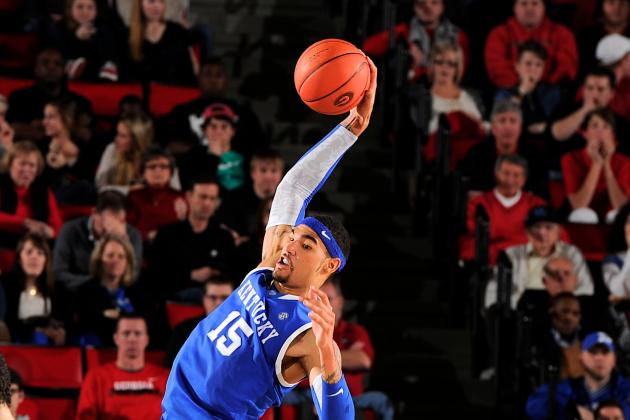 USA TODAY Sports

Don't get me wrong, there's nothing cute about Willie Cauley-Stein's game. Cauley-Stein plays his heart out every second he is on the floor and, with a year under his belt, that energy will only be used even better this time around.
Cauley-Stein scored most of his points last year simply by running the floor and crashing the offensive glass, as he becomes more polished this will only benefit him and the Wildcats. Cauley-Stein will challenge every shot, sometimes it will get him in trouble as he leaves his feet, but the one thing Big Blue Nation can never question is the sophomore's heart.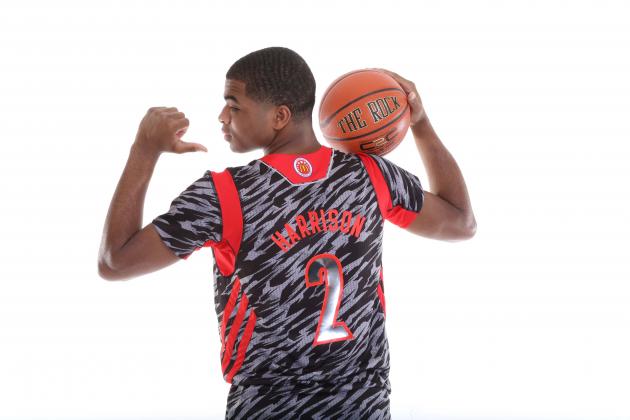 Brian Spurlock-USA TODAY Sports

When James Young isn't on the floor, it will be Aaron Harrison looking to fill the bucket for Kentucky. Playing with his twin brother will make it more helpful for Harrison, as his brother knows where to find him on the floor and hit him with the right pass to finish the play.
Aaron Harrison, at 6'5", has the ability to draw mismatches at the 2-guard position to either shoot over his defender or blow-by him for an easy finish at the rim. Harrison will be the easy option as the go-to scorer for wing players this season.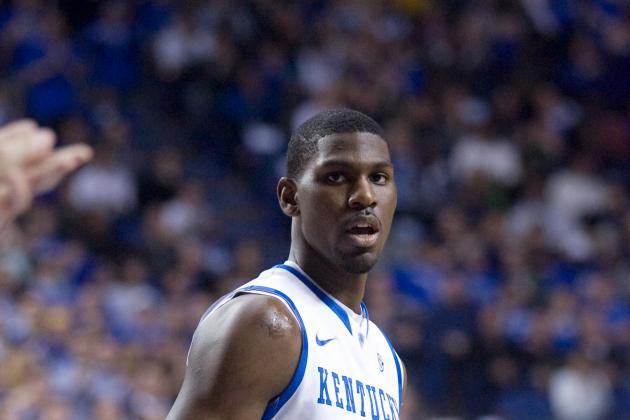 Mark Zerof-USA TODAY Sports

Last season Poythress was his own coach's nightmare due to his up-and-down play throughout the season. While he never lived up to his potential during the 2012-13 season, Poythress had games where he looked like he could be an All-American and lottery pick.
This season, expect Poythress to find his groove with no pressure on him to be the star. He has a unique ability to play in the post or on the wing and be effective from the floor, connecting on over half his shots last season.
His body is already NBA ready and he will be a constant nightmare for other coach's to prepare for. They will have to decide whether to play him with a big guy or a wing player and choose their fate.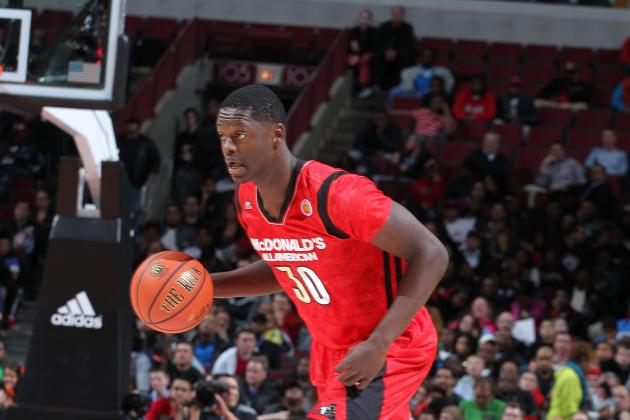 Brian Spurlock-USA TODAY Sports

Julius Randle probably won't be the best NBA player of the group in Lexington, but there's a year for that argument. What Randle will be is the best player in college basketball—and not just in Lexington.
Randle is a rare breed of a true power forward that can play that position, but also handle the ball, shoot outside jumpers and defend multiple positions. Randle is the definition of someone who is made of brute force but can play with a finesse of a guard.
He will be the star of this Kentucky team and the player who will draw most of the awards from this team. Randle will be the player that wants the ball in his hands when they need a basket.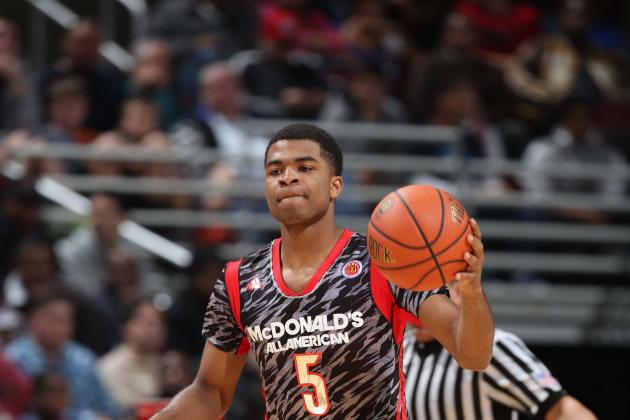 Brian Spurlock-USA TODAY Sports

While it sounds like a generic video game nickname, it will be up to Andrew Harrison to be the leader of this team and make sure he keeps everyone happy while also looking for his own shot.
Expect Harrison to play a lot like John Wall did during Calipari's first year at Kentucky. At 6'5", he has the body to overpower any point guard that attempts to guard him and finish at the rim, but Harrison also has the ability to pull up and hit a jumper.
It will be up to Harrison to be the vocal leader while on the floor and direct traffic, something that Ryan Harrow struggled with last year in Kentucky and ultimately helped the demise of the 2012-13 season.