Is Tebas Right for La Liga?
Use your ← → (arrow) keys to browse more stories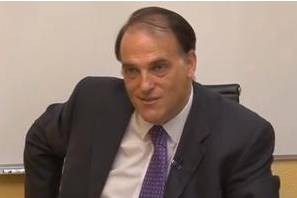 'Si el fútbol es de Javier Tebas... que anime su puta madre', read a banner held up by the Rayo Vallecano Ultras. Everyone knew exactly who was to blame and everyone voiced their anger towards LFP Vice-President, Javier Tebas, the man responsible for senseless kick-off times, times that saw games begin one day and end on another. It may have been hoisted in Vallecas but everyone agreed on the message, 'If football belongs to Javier Tebas…. Let his f*****g mother support it'. The good news for clubs is that Tebas is no longer the Vice-President, the bad news is that he got promoted. So who is the news LFP President...