Johnny Manziel has kept the spotlight on Texas A&M for the entire offseason. At times, pushing the Aggies into the BCS Championship discussion, other times turning the spotlight into an interrogation lamp as is recently the case with the now infamous Manning Passing Academy incident.
As the college football world fixes eyes on Johnny Football, the rush to completely attribute all things Aggies to him has grown mightily. There are people poking holes in the Aggies' SEC West hopes based upon distractions in the offseason and pundits knocking the reigning Heisman Winner for not being focused on the season.
The focus is all Johnny Manziel, all the time.
Not on Deshazor Everett. Not on Kirby Ennis. Not on Floyd Raven. Not on Julien Obioha. Not on Cedric Ogbuehi or Germain Ifedi or Mike Matthews.
Oh sure, Everett is the guy who picked of AJ McCarron in 2012 to seal the win. But, as far as 2013 goes, folks are certainly not talking about these key pieces. After all, there is Johnny Football stuff to discuss.
Yet when you look at the front seven in College State, there are real problems. There's experience to replace and big shoes to fill.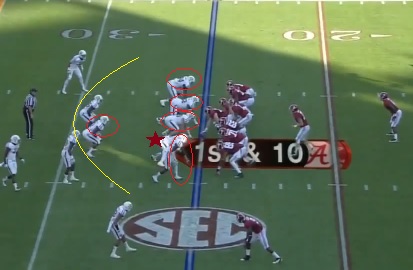 Five of the seven top players in the front seven are gone. 58 percent of the tackles for loss, including Damontre Moore, who accounted for 21 of the Aggies' 75 TFLs in 2012. The same goes for the sack front, as the Ags lost 69 percent of the sack production from a season ago.
Replacing a guy like Damontre Moore is never easy
Add in Julien Obioha returning from injury and Kirby Ennis missing spring due to a suspension, and the team has a lot to replace. Kevin Sumlin's team certainly has some talented youth in the program, but inexperience in the front seven takes the unit from a strength in 2012 to a group with a lot to prove in 2013.
The secondary is the experienced group on defense and should set the pace from the rear. The unit lost safety Steven Terrell but returns six players with starting experience and significant playing time under their belts.
That is a plus. However, the suspensions of both Deshazor Everett and Floyd Raven cut that number down until they are both fully reinstated to the squad, leaving inexperienced depth in the nickel and dime packages for the Aggies, at least early in the season, perhaps including the Alabama contest.
Being faced with repairing holes in a 2012 defense that limited SEC West opponents to 19.8 points per game is not Texas A&M's only battle to fight. On offense the weapons are there, but there has been transition on the stout offensive line.
Jake Matthews, Jarvis Harrison and Cedric Ogbuehi will be familiar to opponents. Matthews moves from right tackle to left, while Ogbuehi slides from right guard to right tackle. New positions also give way to new faces as Mike Matthews, Jake Matthews' brother, becomes the starting center after spot duty in 2012, and Germain Ifedi sees his first action.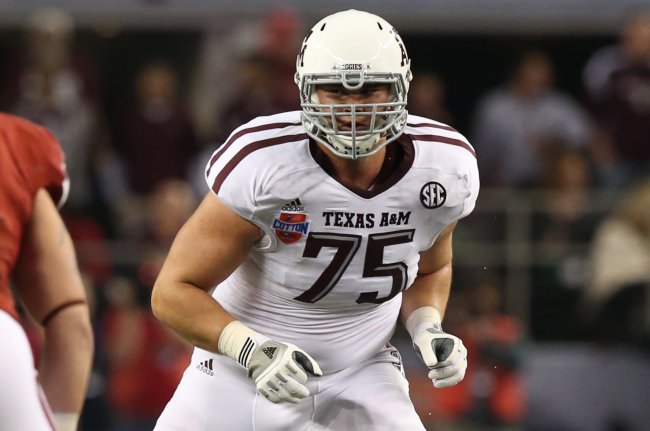 USA TODAY Sports
Talent-wise, the line is still among the nation's best. The elder Matthews is a likely top-five pick, much like last year's left tackle, Luke Joeckel. Growing together in the new spots is going to be their key to success.
The offense should be the strength of this team, especially given how much the defense needs to grow. But as folks focus on Manziel distractions, on-the-field development again goes overlooked. Last season was Manziel's first rodeo with this system and he was able, thanks to his athletic ability, to do things that the Air Raid had not truly seen.
Now, in year two, Manziel should be better versed in the offense. That means more reads and checkdowns, and less running for his life. But year two for Manziel is year one for new co-offensive coordinator Jake Spavital. Spavital's young, he's just 28, and he is going to get the keys to not only one of college football's most explosive players, but one of its most explosive offenses in general.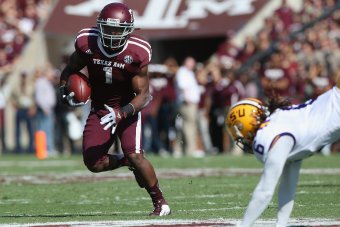 Ronald Martinez/Getty Images
This is Spavital's first shot to take the reins; he worked under Dana Holgorsen as a graduate assistant, as well as in his first, and only, full-time coaching job. Now, we'll see what the young co-offensive coordinator can do, although he will have the experienced hand of co-coordinator Clarence McKinney to remind him that running the ball is always alright.
And running the ball will certainly be a must. Texas A&M is loaded at running back, and there is no reason for Johnny Manziel, who had 1,410 yards on the ground in 2012, to duplicate that effort. Brandon Williams, Tra Carson, Trey Williams and Ben Malena should shoulder that load for the Aggies.
Texas A&M is certainly worth discussing; after all, it is a team that will likely start out ranked in the nation's Top Five. There is plenty to talk about with this ballclub and whether it has what it takes to live up to the lofty expectations thrust upon it.
Even with glossing over the offensive line as a group so talented it will make the transition without issue, the defense has enough problems to warrant a mention. Texas A&M is not just Johnny Football, unless the Heisman winner plans on playing in the front seven.
Defense always has to be a part of big success
You cannot get it done without defense. So the next time someone wants to use Manziel as the reason for writing off the Aggies, ask them when he started rushing the passer and stuffing the run. If Texas A&M cannot do either of those things, it doesn't really matter how focused Manziel is—his team is going to have issues.