Picking England's XI for the Second Ashes Test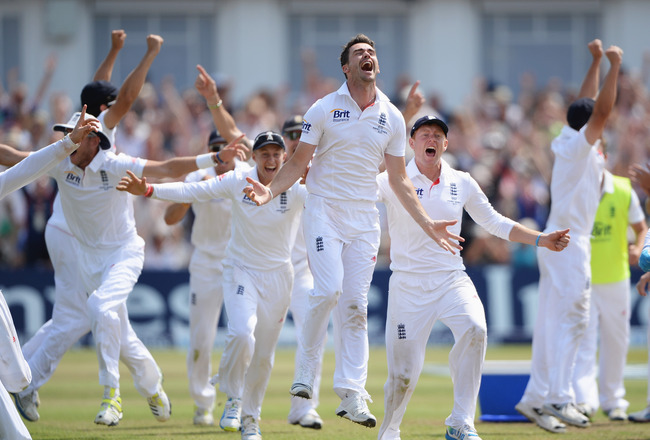 England celebrate the final wicket at Trent Bridge
Gareth Copley/Getty Images
The dust is only just settling on England's heart-stopping 14 run victory in the first Ashes Test, but we are now only two days away from the second Test of the series. England have named an unchanged squad from the thirteen that was selected for the Test at Trent Bridge, leaving them with a number of options as to whether they should make alterations to the team that won on Sunday.
No Changes to the Batting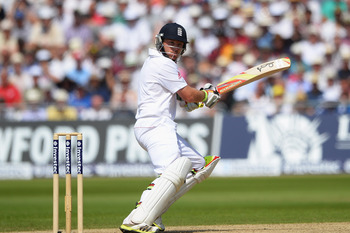 Ian Bell scored a century in the First Test
Laurence Griffiths/Getty Images
It may well be a cliché, but you don't generally make changes to a winning team. England's performance at Trent Bridge was certainly not without flaws, but having emerged victorious from Trent Bridge it would be counterintuitive to make sweeping changes to the side.
The only batsman who came under question during and after the Trent Bridge Test was Jonny Bairstow. Bairstow is the latest attempt by the England selectors to fill the enormous shoes of Paul Collingwood at number six, who has left a gaping hole in England's batting order since his retirement in January 2011.
Bairstow struggled to make much of an impact at Trent Bridge, however it must be noted that the Yorkshireman has had very little first-class cricket in the lead-up to the series and to expect him to immediately slot in comfortably at six would be optimistic.
England will not make changes to their batting personnel for the second Test.
Three Men, One Slot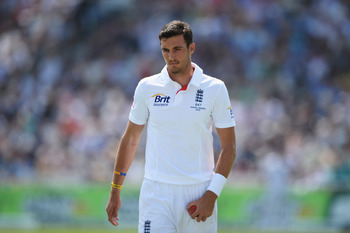 Steven Finn is under pressure after the First Test
Gareth Copley/Getty Images
England's biggest weakness during the first Test was the bowling of Steven Finn. The languid Middlesex paceman failed to offer his captain Alastair Cook much control and was quite clearly not trusted by him; only being introduced into the bowling attack after 25 overs in the second innings.
England's inability to take the tenth Australian wicket in the first Test could largely be blamed upon the fact that Finn's poor form ensured England had to share the bowling between three rather than four overs. Furthermore James Anderson's lone vigil on the final morning could also be attributed to England essentially being one bowler short.
The only selection debate England have heading into the second Test is whether it is Finn, Graham Onions or Tim Bresnan that is picked in the final bowling slot.
Steven Finn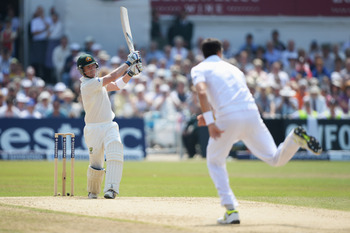 Finn's bowling almost cost England the Test at Trent Bridge
Gareth Copley/Getty Images
Why England should pick Steven Finn



"You don't change a winning side"




Lord's is his home ground




He has a good record at Lord's




When he bowls well he's a scary proposition




He played in the last match so has been bowling match overs




He's six foot seven



Why England shouldn't pick Steven Finn



He almost single-handedly lost England the first Test




He offers no control




His pace and bounce are not suited to the slow, dry wickets that are expected during the remainder of the series.




He can't bat




He's not an ideal third seamer; instead he's more of a strike bowler, England don't need a strike-bowler



Tim Bresnan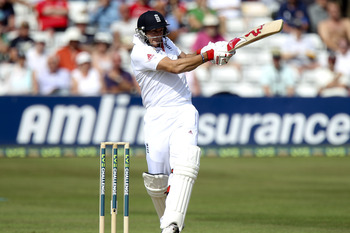 Tim Bresnan scored a hundred in the warm-up mach versus Essex
Ben Hoskins/Getty Images
Why England should pick Tim Bresnan





He's

more reliable than Finn






He can get the ball to reverse swing




He's an ideal third-seamer, offering control and helping build pressure




He is a better batsman than Finn and Onions and England lacked lower order runs at Trent Bridge




England almost never lose when he plays



Why England shouldn't pick Tim Bresnan



He probably doesn't scare the Australians




His bowling is often steady but not spectacular




He's a liability in the field



Graham Onions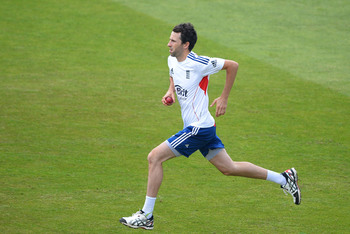 Graham Onions runs in at training
Laurence Griffiths/Getty Images
Why England should pick Graham Onions



He suits slow, dry pitches




His stump-to-stump line could be very successful on pitches with inconsistent bounce




He's had success against Australia before



Why England should not pick Graham Onions



He's had injury problems and may not be the same bowler that England saw when he last played




He hasn't played for England for a long time




His name will encourage awful pun-filled headlines that we could all do without




He can't bat as well as Bresnan



Positive Signs for England
James Anderson will hope for more help from his fellow bowlers at Lord's
Gareth Copley/Getty Images
The fact that England are looking to make alterations to a winning side is not a bad thing. Steven Finn was certainly a weakness at Trent Bridge and that they managed victory even with him bowling poorly is a good sign.
Moreover, England are historically slow-starters in big series' and the fact that they managed to scrape a win at Trent Bridge despite this poor record bodes well for the rest of the summer.
Keep Reading