MLB Futures Game 2013: Ranking the Most Impressive Prospects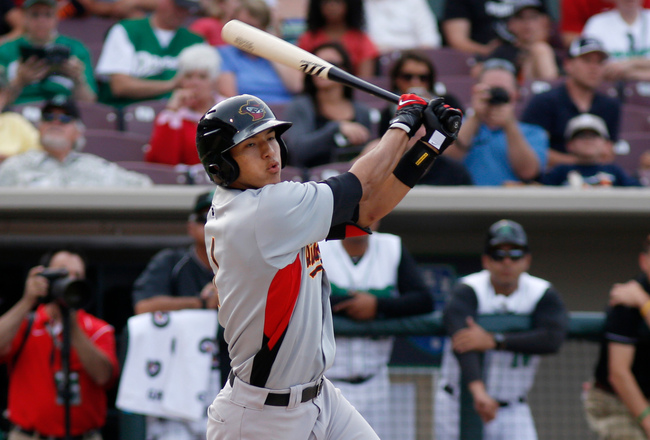 18-year-old Carlos Correa put on an impressive show during batting practice.
David Kohl-USA TODAY Sports
The Futures Game provides fans with a unique opportunity to watch baseball's top prospects compete on the same field.
However, it's the batting practice before the game that's become the day's must-see event, with a majority of the players—at least the ones with significant power—treating it as a home run derby.
This year's BP standouts included a host of prodigious sluggers such as George Springer, Matt Davidson and Miguel Sano, who each punished the ball into the left field seats multiple times. But it was the unexpectedly impressive rounds from youngsters Carlos Correa, Gregory Polanco and Joc Pederson that stole the show by launching several balls deep into the second deck.
Pitchers don't have the luxury of showcasing their talent before the game. Instead, they are evaluated based on their (hopefully) brief time on the mound.
Here are my thoughts on the 10 most impressive prospects from the 2013 SiriusXM All-Star Futures Game.
10. Matt Davidson, 3B, Arizona Diamondbacks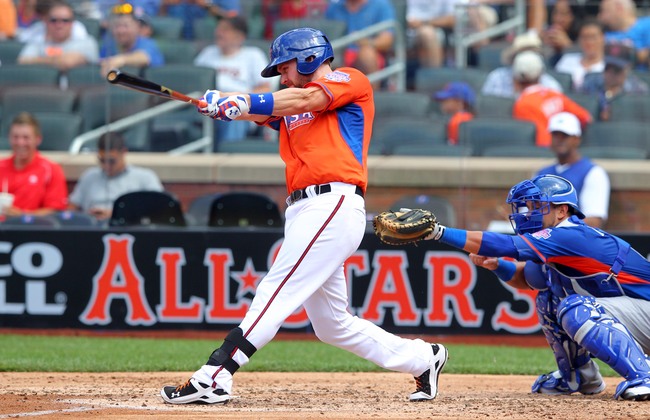 Brad Penner-USA TODAY Sports
Matt Davidson had one of the more impressive rounds of batting practice at the Futures Game on Sunday, using a strong top hand and extension through the ball to generate tons of backspin carry.
The right-handed hitter effortlessly launched balls out of the park down the line and threw in a few to the left-center field gap. Well, his pregame hacks carried over into the actual game, as the 21-year-old homered to that exact spot in the fourth inning off right-hander Michal Ynoa, and was ultimately named as the game's most valuable player.
However, Davidson lacks a path to everyday playing time in the major leagues with Martin Prado and Eric Chavez ahead of him in Arizona at third base. It will be interesting to see whether the Diamondbacks dangle him as trade bait—along with Triple-A and Futures Game teammate Chris Owings—later this month.
9. Jesse Biddle, LHP, Philadelphia Phillies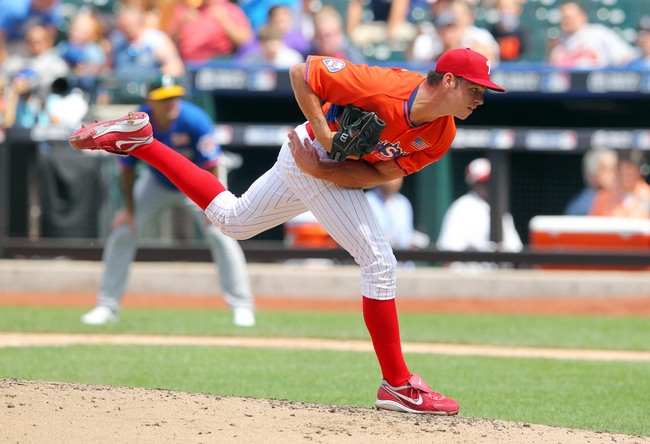 Brad Penner-USA TODAY Sports
Jesse Biddle carved up opposing hitters during the first month of the season, which was also his first at the Double-A level.
While there have been several no-hitters thrown in the minor leagues this season, the 21-year-old's 16-strikeout shutout on April 16 ranks as the pitching performance of the year so far.
Appearing in his first Futures Game, Biddle entered the game ahead of schedule when Anthony Ranaudo was unable to complete the fourth inning. Working 1.1 scoreless innings, the southpaw showcased a fastball in the low-90s, as well as the best true curveball of the event in his strikeout of Double-A teammate Maikel Franco.
8. Christian Yelich, OF, Miami Marlins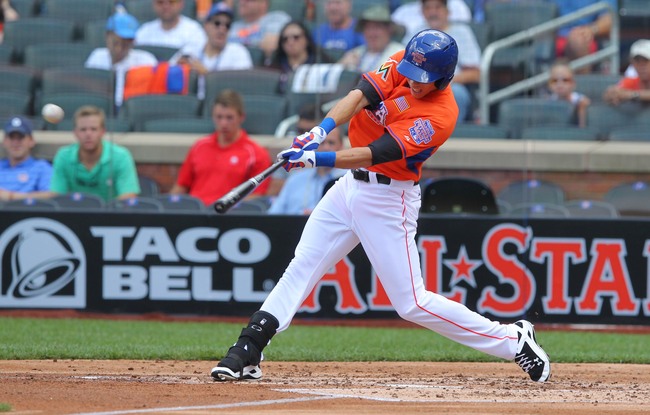 Brad Penner-USA TODAY Sports
After missing roughly five weeks with an abdominal strain, Christian Yelich returned to action with Double-A Jacksonville on July 10, just in time for the Futures Game.
As has been the story throughout his minor league career, the 21-year-old thrived on the big stage once again on Sunday. Starting the game as the U.S. team's designated hitter and batting seventh, he was 2-for-2 with a ringing RBI double off left-hander Enny Romero.
Owning the sweetest swing in the minor leagues, Yelich has the makings of a future batting champion thanks to an approach that allows him to track the ball deep and drive it to all fields.
The outfielder's power continues to be underrated. I think he will hit 20-25 single-season home runs in his prime. Besides showcasing his effortless swing, bat speed and extension after contact, Yelich also demonstrated outstanding barrel control and stays in the strike zone for an extended period of time.
7. Gregory Polanco, OF, Pittsburgh Pirates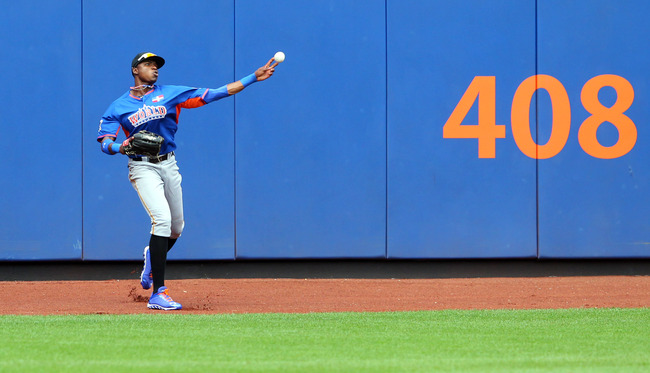 Brad Penner-USA TODAY Sports
Like Joc Pederson, Gregory Polanco turned heads during batting practice at the Futures Game with his impressive raw power to right field.
At 6'4", 170 pounds, Polanco has quick wrists and the ability to get the barrel on the ball that yields sharp line drives to all fields. With the amount of extension he makes after contact, it's easy to see him clearing more fences once he adds strength.
Polanco could hit for more power right now if he wanted to, which is exactly what he proved during BP. However, he's more concerned about managing the strike zone and making consistent contact than selling out for home runs.
6. Noah Syndergaard, RHP, New York Mets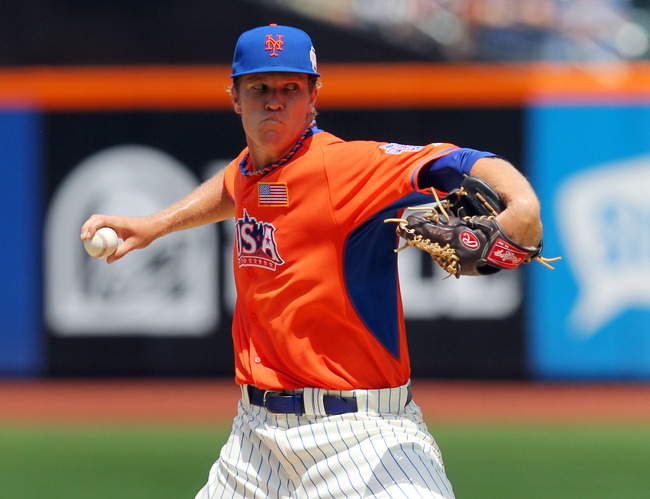 Brad Penner-USA TODAY Sports
Besides Archie Bradley, there may not be a prospect who's ascended the rankings as quickly as Noah Syndergaard.
In his first year with the Mets organization, the 6'6" right-hander has already reached Double-A and moving faster than originally expected. Due to his success this season across two advanced levels, the 21-year-old was named as the starter for the U.S. team and dazzled in front of his future hometown crowd at Citi Field.
Syndergaard sat 93-97 mph with his fastball during a scoreless inning, allowing a hit to Xander Bogaerts and recording a strikeout. The right-hander also showcased his usual two-plane curveball with late downer bite a few times and offered a taste of his new-and-improved slider at 84 mph.
5. Joc Pederson, OF, Los Angeles Dodgers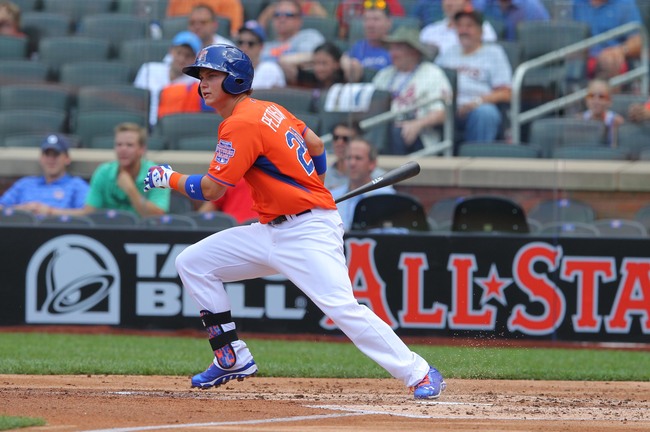 Brad Penner-USA TODAY Sports
No prospect helped his stock on Sunday more than Joc Pederson.
It began in batting practice when the left-handed hitter put on arguably the best—or at least the most unexpected—display of power by launching several balls deep into the second deck to straightaway right field.
Yes, he was definitely swinging for the fences, but he showed me enough pop to believe he'll offer above-average power at maturity.
Witnessing Pederson's batting practice made his performance during the game all the more impressive.
In his first plate appearance, he showed a quick, compact swing on a two-strike single back up the box against a plus-fastball from left-hander Enny Romero.
Making the start in left field, Pederson also displayed above-average arm strength when he nearly threw out Xander Bogaerts at the plate on a sacrifice fly. The throw actually beat the runner, but arrived slightly off target up the third-base line.
4. Eddie Butler, RHP, Colorado Rockies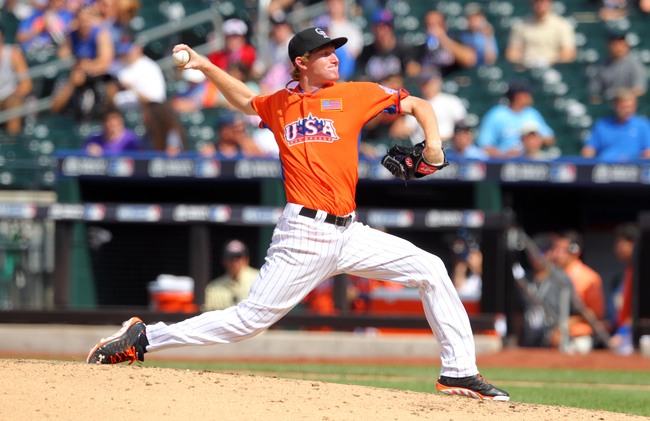 Brad Penner-USA TODAY Sports
Before taking the field for batting practice, Eddie Butler looked lonely sitting in front of his locker in the clubhouse.
After all, the Rockies' right-hander was one of the lesser-known prospects selected to play for the U.S. squad. But after his performance at the Futures Game, it's safe to say that will no longer be the case.
Butler, the No. 46 overall selection in the 2012 draft, entered the game in the sixth inning and went right after Xander Bogaerts, striking him out with a devastating three-pitch sequence that drew gasps from the crowd.
It went like this:
Pitch 1: 97 mph fastball—Called strike
Pitch 2: 88 mph slider—Called strike
Pitch 3: 90 mph changeup—Swinging strike
Simply put: Butler arguably made the Futures Game's best hitter look foolish.
3. Xander Bogaerts, SS, Boston Red Sox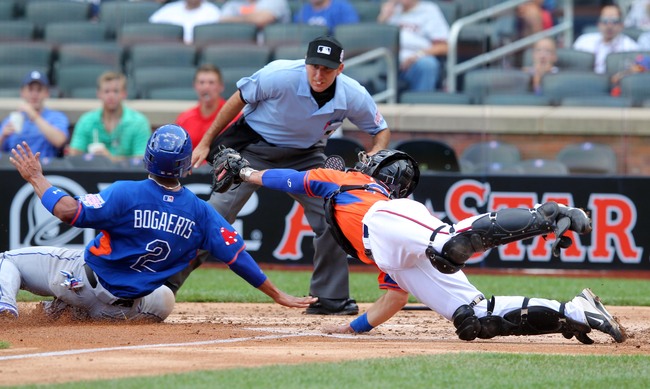 Brad Penner-USA TODAY Sports
Xander Bogaerts proved that he's close to the major leagues with his all-around performance at the Futures Game.
The 20-year-old had probably the most consistent round of batting practice, opting to employ a sound, line-drive approach rather than swing out of his shoes. That's exactly what makes him such a special hitter.
The same approach was evident during the Future's Game, as Bogaerts went 2-for-3 with a run scored and walk.
Batting in the first inning with a 2-2 count on him, the right-handed hitter smoked a 96 mph fastball from Noah Syndergaard back up the middle. He collected his second knock of the game in the third inning against Anthony Ranaudo, staying inside a 1-2 fastball and lining it to center field.
Bogaerts showed off his wheels later in the inning when he beat Joc Pederson's throw to the plate on a sacrifice fly, and then evaded Austin Hedges' tag with an athletic slide.
2. Archie Bradley, RHP, Arizona Diamondbacks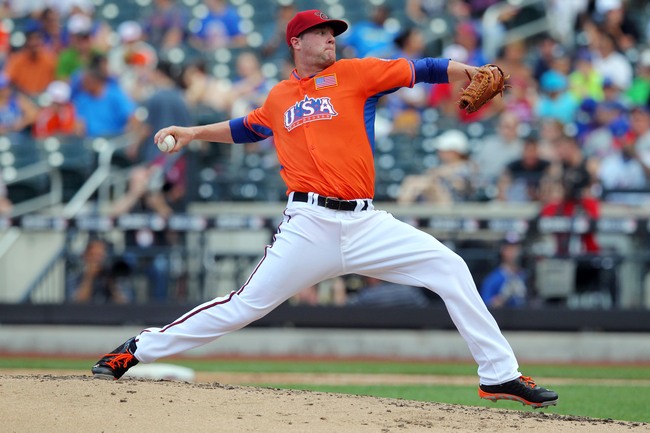 Brad Penner-USA TODAY Sports
Archie Bradley was the most impressive pitcher to take the mound at the Futures Game.
Needing only 12 pitches to complete his inning, the right-hander showcased the electric fastball/curveball combination that has helped him thrive this season as a 20-year-old in Double-A.
Powered by a high, athletic leg kick, Bradley's fastball sat in the 94-98 mph range with outstanding plane. It makes sense why opposing hitters are batting only .220 against him this season.
Meanwhile, Bradley's curveball is absolutely gross in the low-80s, with tons of depth and sharp break. The right-hander demonstrated his comfort with the pitch, throwing it in different counts during his inning of work. However, he did have a couple rough misses high and to the arm side.
While he didn't strike anybody out, Bradley's pure stuff was off-the-charts good.
1. Carlos Correa, SS, Houston Astros
After arriving at Citi Field for the Futures Game and making a brief stop in the World team's clubhouse, colleague Jason Catania and I actually entered the field for batting practice behind Carlos Correa.
While I obviously was already aware that the 18-year-old is a physical specimen listed at 6'4" and 205 pounds, it didn't truly click until standing next to him on Sunday. He's an absolute monster with room to add strength and more than enough athleticism to stick at shortstop.
Of all the right-handed hitters in the event, I was most impressed with Correa's batting practice. After stinging balls and focusing on his approach during the first two rounds, he finished the session by launching several home runs to left field, including one that reached the second deck.
Keep Reading