Big 12 Football: 5 Most Overrated Units in the Conference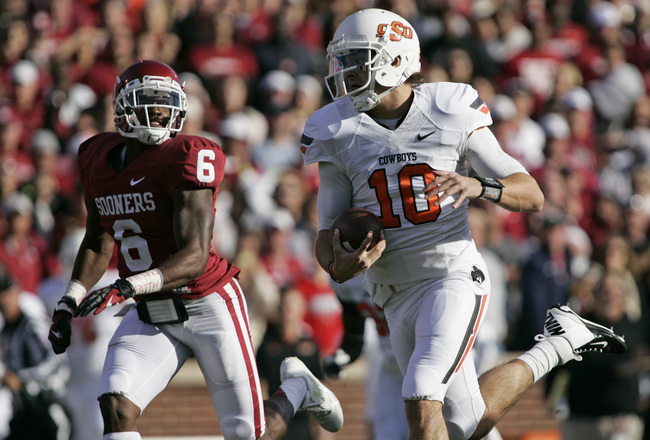 QB Clint Chelf (right)
Brett Deering/Getty Images
As the college football season is under two months away from kicking off, the Big 12's teams will be defined by their best units.
For reigning Big 12 champion Kansas State, as well as teams like Texas and Oklahoma State, their offensive line will be the catalyst for any success the teams have in 2013.
Meanwhile for schools like TCU and Iowa State, its defensive line and linebacking corps, respectively, will have to carry the teams.
However, some units throughout one of the nation's most balanced conferences are receiving too much hype by the preseason prognosticators.
Here are the top five units in the Big 12 that are being talked about just a little too much.
Baylor's Linebackers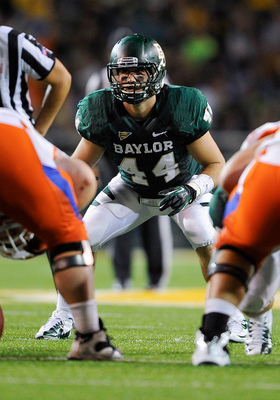 Bryce Hager
Jerome Miron-USA TODAY Sports
Only two linebackers from the entire Big 12 showed up on the watch list for the Butkus Award, the honor given to the nation's best linebacker. And Bryce Hager from Baylor was one of them.
Hager was a Second Team All-Big 12 selection in 2012, and he is poised to have a breakout year in 2013. With Eddie Lackey also coming back to the linebacking corps, this unit is being touted as one of the best in the conference.
However, looks and numbers can be deceiving when it comes to almost anybody that plays defense for the Bears.
In 2012, the Bears were one of the country's worst defenses. They gave up 70 points to West Virginia one weekend, and they averaged over 37 points allowed per game.
With teams able to move the ball so effectively against this unit, of course the linebackers will stand out. They're the ones making all the tackles after the defensive line has broken down.
Good units are ones that can carry a team to success. And despite having quality players in Hager and Lackey, the Bears still have a terrible defense. And the linebackers won't change that.
Kansas State's Running Backs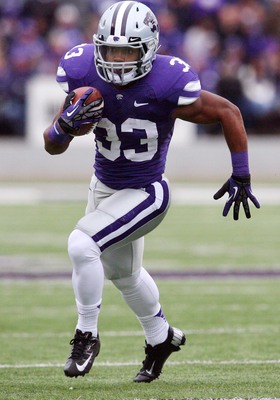 RB John Hubert
Scott Sewell-USA TODAY Sports
John Hubert is the anchor of this unit for the reigning Big 12 champions. He was First Team All-Big 12 last year and led the Wildcats with 947 yards on the ground.
Throw in Robert Rose, a back who's seen his fair share of carries over his tenure in Manhattan, and the backfield for Bill Snyder is seemingly stacked heading into 2013.
But what's missing is Collin Klein, one of the best dual-threat quarterbacks in college football history. All of the Wildcats' rushing attack had been built off of Klein.
Now Hubert and company will go from being a complement to the 2013 Heisman Trophy Finalist to the main guys. And that's a big step up.
Hubert has great vision, but not great speed. And Rose simply isn't good enough to take the full load off of Hubert when called upon.
The Wildcats still have a great offensive line. But without Klein at the helm, a growing process is sure to come for Kansas State's backfield.
Kansas' Quarterbacks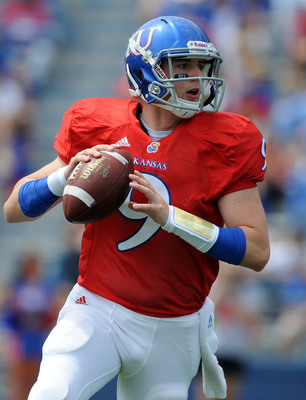 QB Jake Heaps
John Rieger-USA TODAY Sports
Jake Heaps is seen as a bit of salvation in Lawrence, Kan. as Charlie Weis continues his rebuilding project with the Jayhawks.
The BYU transfer quarterback, accompanied by transfer wideout Nick Harwell, is projected to be one of the top newcomers in the Big 12.
But in his two years as a starter for the Cougars, Heaps proved that he couldn't face up to Big 12 competition.
At BYU, Heaps faced Big 12 teams twice, once against TCU in 2010 and once against Texas in 2011. In those two games, Heaps threw three interceptions, just one touchdown and only accumulated 283 yards through the air.
Those aren't impressive numbers for a guy who's had to take a year off and now will be asked to face Big 12 teams on a weekly basis.
Things are slowly turning around for the Jayhawks, and Weis has a lot to do with it. But Heaps will not be the one to bring Kansas back to it's Orange Bowl days from a few years ago.
Oklahoma State's Quarterbacks
QB Clint Chelf
Brett Deering/Getty Images
The Oklahoma State Cowboys have two quarterbacks that have started and won games in the Big 12 in Clint Chelf and J.W. Walsh. Currently, Chelf is the man projected to be the starter in Stillwater.
However, there are still a lot of unknowns with this unit in 2013. Starring in the final five games of the season as the starter is one thing, but Chelf must now carry the load of an entire season. That's a different animal for such a young quarterback in the Big 12.
And while Chelf looked impressive in 2012, he only surpassed 300 yards once. And that was against Baylor, one of the worst defenses in the country.
Now teams have tape on this former third-string signal-caller, and Chelf will be due for an early wake-up call in 2013 as the Cowboys kick off the season against Mississippi State.
Plus, with the loss of running back Joseph Randle, the pressure on Chelf is even higher. It's hard to imagine he'll be able to fully handle it in 2013.
Texas Tech's Defensive Line
DE Kerry Hyder
Andrew Weber-USA TODAY Sports
While the Texas Tech Red Raiders are usually known for their high-octane offense, the 2013 defensive line is being hailed as one of the best heading into 2013.
And with defensive end Kerry Hyder, a First Team All-Big 12 honoree in 2012, and second-team All-Big 12 choice in Dartwan Bush coming back, this line looks talented.
But, according to Don Williams of the Lubbock Avalanche-Journal, what's missing from this unit is size and depth. In Williams' report, Red Raiders defensive line coach John Scott Jr. is quoted as saying, "We aren't the largest group."
Williams also says that the team is unsure whether to put Hyder in the defensive end or defensive tackle position in the team's 3-4 set.
If the coaches are unsure where to put the best player of a unit on the depth chart, there have got to be underlying issues with the unit as a whole.
Keep Reading