Updated 2013 World Series Odds with the AL Winning Home-Field Advantage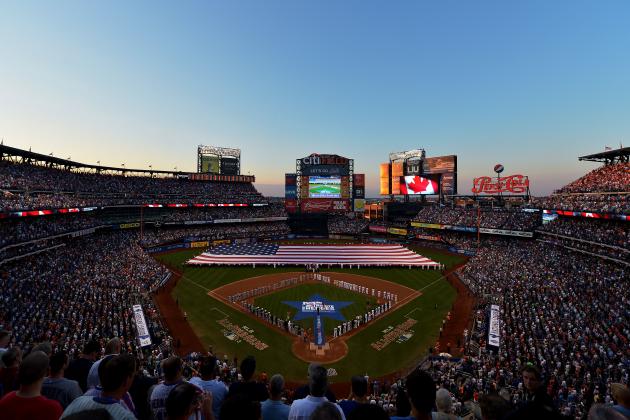 Drew Hallowell/Getty Images
The 84th All-Star Game took place at Citi Field in New York City.
The American League now has World Series home-field advantage with its 3-0 win over the National League in the All-Star Game. But even with the win, there are still a lot of intangibles that go into creating odds for the big event.
For instance, the Detroit Tigers could easily be a World Series favorite, but their bullpen struggles make the St. Louis Cardinals a safer pick. The Atlanta Braves, however, could give the Cardinals a run for their money in the playoffs—that is, if the Upton brothers ever decide to hit.
Then there are dark-horse candidates like the Pittsburgh Pirates and Oakland Athletics, who have been outperforming their preseason expectations.
Anything could happen between now and September—and usually does.
Below are the updated 2013 World Series odds with the American League winning home-field advantage.
All statistics (through All-Star break) sourced from Baseball-Reference.com.
Begin Slideshow

»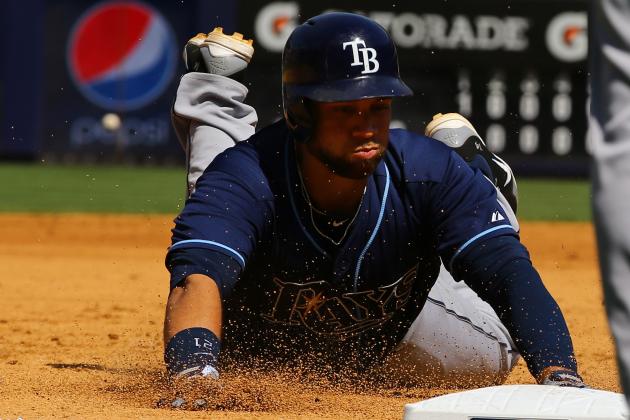 Al Bello/Getty Images
James Loney only hit .230 in 2012.
Despite dealing ace pitcher James Shields and losing B.J. Upton to free agency in the offseason, the Tampa Bay Rays have still compiled a stellar 55-41 record. The wild card-bound Rays have leaned heavily on low-cost acquisitions like James Loney, Luke Scott and Kelly Johnson as well as farm hands like Chris Archer, Alexander Torres and Alex Cobb to fill the void in 2013.
| | | | | |
| --- | --- | --- | --- | --- |
| PLAYER | BA | BB% | OPS+* | SALARY |
| James Loney | .315 | 7.8 | 133 | $2,000,000 |
| Luke Scott | .274 | 10.9 | 134 | $2,750,000 |
| Kelly Johnson | .244 | 9.2 | 112 | $2,450,000 |
| PLAYER | ERA | K/BB | ERA+* | SALARY |
| Chris Archer | 2.96 | 1.90 | 131 | Minor League |
| Alexander Torres | 0.34 | 3.67 | 1139 | Minor League |
| Alex Cobb | 3.01 | 3.30 | 128 | $502,000 |
(*Both OPS+ and ERA+ are park-adjusted statistics)
Even with their small-market budget, the Rays boast a collective .749 OPS (tied for sixth), 3.96 rotation ERA (tied for 15th) and 3.53 bullpen ERA (tied for 15th).
If David Price can bounce back from his uncharacteristically bad first half (3.94 ERA versus park-adjusted 98 ERA+), the Rays could potentially make a run in the playoffs. But if not, they stand little chance of making the World Series.
Record at Home: 34-19
Record on Road: 21-22
World Series Odds: 15-1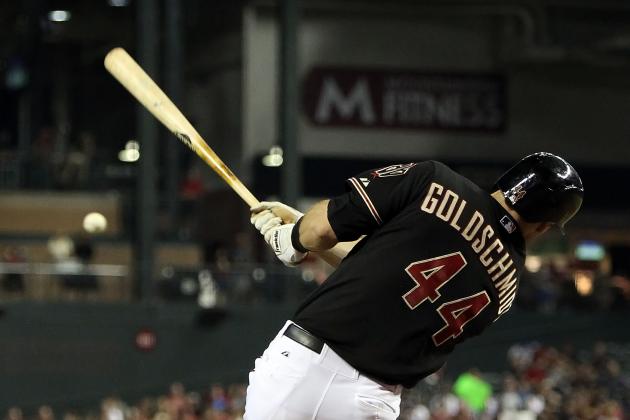 Christian Petersen/Getty Images
Paul Goldschmidt leads the National League with 77 RBI.
Most fans lambasted the Arizona Diamondbacks' two significant offseason trades, which dealt away slugger Justin Upton and top pitching prospect Trevor Bauer for seemingly lesser parts.
Criticism aside, the Diamondbacks have still managed to win 50 games in 2013. The team also currently commands a two-and-a-half-game lead over the Los Angeles Dodgers in the National League West.
While the team has received good seasons from Didi Gregorius and Gerardo Parra, both Paul Goldschmidt and Patrick Corbin deserve most of the credit for the team's success.
Goldschmidt, a potential MVP candidate, has posted a .313 batting average, park-adjusted 158 OPS+, 21 home runs and an NL-leading 77 RBI for the Diamondbacks. The 25-year-old also possesses a Gold Glove-worthy mitt at first base, gloving an 8.6 UZR/150.
After hurling a pedestrian 4.54 ERA (versus park-adjusted 90 ERA+) in 2012, Corbin has emerged as an ace in 2013. The 23-year-old's 2.35 ERA (versus 164 ERA+), 0.99 WHIP, 3.30 K/BB and 11 personal wins led to his first All-Star Game selection.
Even if the Snakes advance to the playoffs, the team unfortunately stands little chance against the more balanced St. Louis Cardinals and Atlanta Braves.
Record at Home: 27-20
Record on Road: 23-25
World Series Odds: 15-1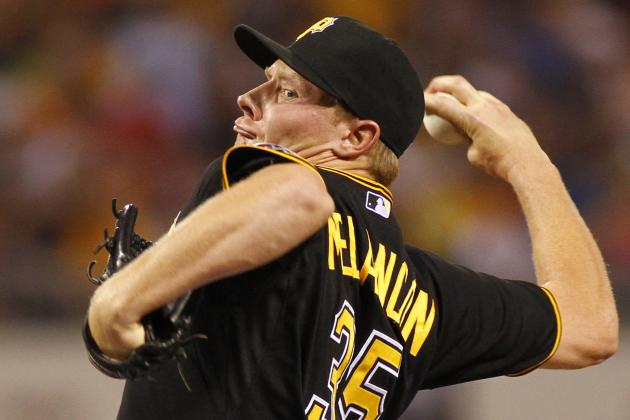 Justin K. Aller/Getty Images
Mark Melancon's ERA is 5.39 points lower in 2013 than it was in 2012.
Prior to 2013, the Pittsburgh Pirates (56-37) hadn't posted a winning season since 1992—which was also the last time the franchise advanced to the playoffs. But finally, the Pirates have found a little luck.
Pitchers like Jeff Locke, Francisco Liriano, Jason Grilli and Mark Melancon have all enjoyed career years.
| | | | |
| --- | --- | --- | --- |
| PLAYER | ERA | ERA+* | K/BB |
| Jeff Locke | 2.15 | 166 | 1.55 |
| Francisco Liriano | 2.00 | 179 | 2.86 |
| Jason Grilli | 1.99 | 180 | 7.00 |
| Mark Melancon | 0.81 | 441 | 11.50 |
(*ERA+ is a park-adjusted statistic)
The Pirates have also received consistent production from young hitters like Andrew McCutchen, Starling Marte and even Pedro Alvarez.
| | | | | |
| --- | --- | --- | --- | --- |
| PLAYER | BA | OPS+* | HR | SB |
| Pedro Alvarez | .250 | 130 | 24 | 1 |
| Starling Marte | .291 | 126 | 9 | 28 |
| Andrew McCutchen | .302 | 139 | 10 | 20 |
(*OPS+ is a park-adjusted statistic)
If the Pirates can maintain their current level of play, the team will likely grab one of the two wild-card spots. After 21 years of playoff-less baseball, Pirates fans are itching to see their team make it beyond September.
Record at Home: 32-18
Record on Road: 24-19
World Series Odds: 12-1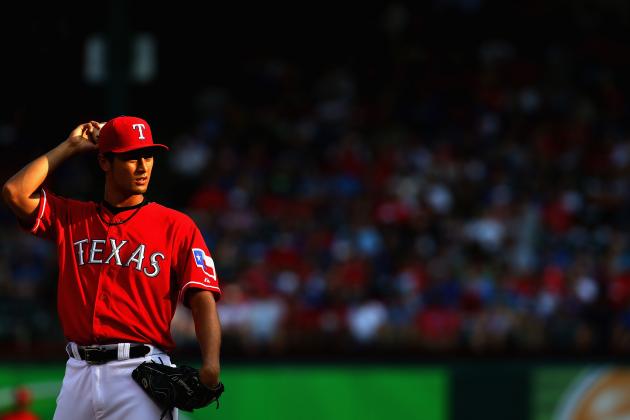 Ronald Martinez/Getty Images
Yu Darvish leads the American League with 157 strikeouts.
The Texas Rangers (54-41) are just three games back from toppling the Oakland Athletics as the American League West leader. But before the Rangers set their eyes on the division title, the team might need to find a few starting pitchers first.
The Rangers' disabled list rotation bests most teams' active ones. The likes of Yu Darvish, Neftali Feliz, Colby Lewis, Alexi Ogando, Matt Harrison and Nicholas Tepesch are all out of action. And of those six pitchers, only Ogando has begun his rehab assignment, according to MLBDepthCharts.com.
Even with a top offense (fifth in home runs and sixth in OPS), the Rangers' rotation depth is far too thin to be a serious World Series contender.
Record at Home: 27-19
Record on Road: 27-22
World Series Odds: 12-1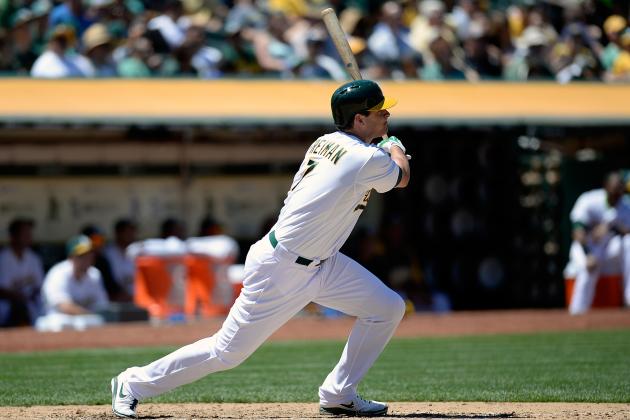 Thearon W. Henderson/Getty Images
Nathan Freiman was selected off waivers by the Oakland Athletics on March 23, 2013.
The Oakland Athletics (56-39) have been the most surprising divisional leader in the American League. With middle-of-the-pack offense (.718 OPS, 13th-best) and starting pitching (3.86 ERA, 11th-best), the team's 56 wins could be potentially just be smoke and mirrors.
Aside from their oft-productive bullpen (3.12 ERA, seventh best), a large part of the Athletics' success in 2013 is their proper utilization of platoons.
| | | | |
| --- | --- | --- | --- |
| POSITION | NAME | PLATOON (VERSUS) | tOPS+* |
| C | John Jaso | RHP | 110 |
| C | Derek Norris | LHP | 156 |
| 1B | Brandon Moss | RHP | 110 |
| 1B | Nathan Freiman | LHP | 139 |
| 2B | Eric Sogard | RHP | 103 |
| 2B | Grant Green | LHP | N/A |
| DH | Seth Smith | RHP | 109 |
| DH | Chris Young | LHP | 80 |
(*tOPS+ = OPS for split relative to player's total OPS)
In fact, the team's current four position platoons are the most of any major league team.
Needless to say, the Athletics would stand little chance against a team like the St. Louis Cardinals in the World Series. And that's assuming the team would even advance in place of the Detroit Tigers or Boston Red Sox.
Record at Home: 30-15
Record on Road: 26-24
World Series Odds: 10-1
Mike McGinnis/Getty Images
Joey Votto leads the league with a .434 OBP.
With Shin-Soo Choo, Joey Votto, Jay Bruce, Brandon Phillips, Mat Latos and Aroldis Chapman headlining their roster, the Cincinnati Reds (53-42) have far too much talent to miss the playoffs in 2013. The only problem with the Reds being a serious World Series contender is their non-core players' production.
Despite a top-three 3.40 rotation ERA, the Reds have only posted a collective .722 OPS (12th) and 3.48 bullpen ERA (13th).
If the currently injured Ryan Ludwick, Jonathan Broxton and Sean Marshall can return off the disabled list in the near future, it's possible the team's weaknesses will be resolved.
Record at Home: 30-16
Record on Road: 23-26
World Series Odds: 10-1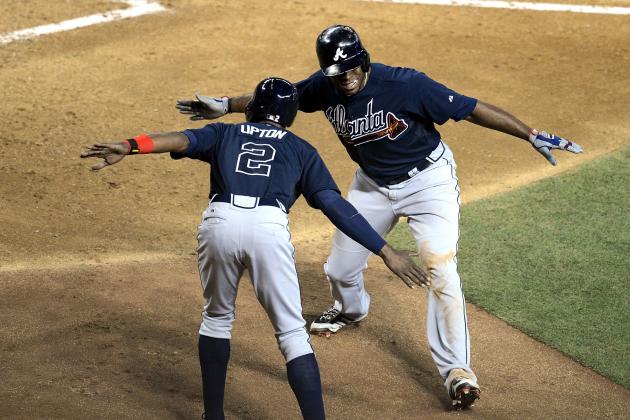 Norm Hall/Getty Images
B.J. and Justin Upton congratulating each other.
Prior to 2013, ESPN columnist Jayson Stark picked the Washington Nationals to win it all. But 95 games into the season, the Atlanta Braves (54-41)—not the Nationals—may be the team to represent the National League East in the World Series.
The Braves have enjoyed a fruitful 2013 so far, even though Justin and B.J. Upton, their two biggest offseason acquisitions, have yet to exhibit consistency.
JUSTIN UPTON

MONTH

BA

OPS

HR

March/April

.298
1.136

12

May

.211
.653

2

June

.226
.616

1

July

.319
.893

1

B.J. UPTON

MONTH

BA

OPS

HR

March/April

.143
.500

3

May

.147
.443

1

June

.238
.811

4

July

.176
.348

0
Even with the Upton brothers' struggles, the team's offense stills ranks 10th in OPS. If the Uptons find their groove in the second half, the Braves could conceivably challenge the St. Louis Cardinals as the in-season National League favorites.
Record at Home: 31-15
Record on Road: 23-26
World Series Odds: 8-1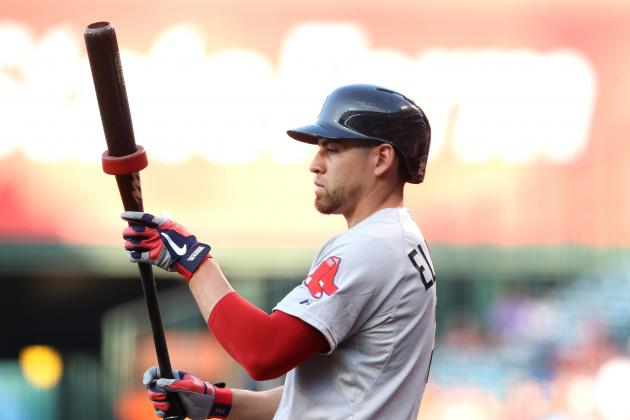 Stephen Dunn/Getty Images
Jacoby Ellsbury only played 74 games in 2012.
The Boston Red Sox have endured a laundry list of injuries in 2013. David Ross, Ryan Kalish and Joel Hanrahan are all out for the season. Stephen Drew, Franklin Morales and Clay Buchholz are currently sitting on the 15-day disabled list with a variety of bumps and bruises. But injuries aside, the Red Sox have still found ways to win games—58 of them to be exact.
The re-emergence of Jacoby Ellsbury (.368 on-base percentage, 36 stolen bases and park-adjusted 113 OPS+) and John Lackey (2.78 ERA versus park-adjusted 155 ERA+) have helped mightily.
Also, Jose Iglesias (.367 batting average and 137 OPS+), Daniel Nava (park-adjusted 132 sOPS+ versus right-handed pitchers), Junichi Tazawa (143 ERA+ and 9.40 K/BB) and Koji Uehara (254 ERA+, 7.50 K/BB and eight saves) have provided unexpected, prime production as well.
Barring a second-half run from the Baltimore Orioles (53-43) and Tampa Bay Rays (55-41), the Red Sox are the favorites to win the American League East for the first time since 2007.
With their balanced rotation, hitting and bullpen, the Red Sox make for an ideal World Series contender.
Record at Home: 31-16
Record on Road: 27-23
World Series Odds: 7-1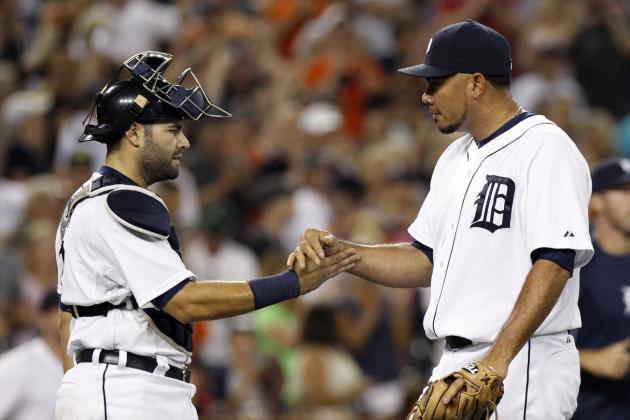 Duane Burleson/Getty Images
The Detroit Tigers tried Bruce Rondon and Jose Valverde as their closer before turning to Joaquin Benoit.
The Detroit Tigers (52-42) must have been pretty happy with the All-Star Game victory Tuesday.
The Tigers have been one of the best hitting teams in the major leagues this season. With a collective .785 OPS, the Tigers only trail the leading Boston Red Sox by .008 points in the category.
As good as the Tigers offense has been, however, the team has struggled with relief pitching. Specifically, it has yet to find long-term solace in the ninth, using three different closing options in 2013.
The latest closer, Joaquin Benoit, has actually been quite effective in the role. Benoit has hurled a 2.16 ERA, 1.26 WHIP, 3.00 K/BB and eight saves in save situations.
The Tigers' chances of advancing to the World Series are pretty closely tied to how well their bullpen performs down the stretch.
If the team were to acquire a seasoned closer like Jonathan Papelbon, for example, Benoit and Drew Smyly could be used in the eighth and seventh innings, respectively. Needless to say, a bullpen headed by Papelbon, Benoit and Smyly would be hard to beat in the playoffs.
Record at Home: 29-19
Record on Road: 23-23
World Series Odds: 5-1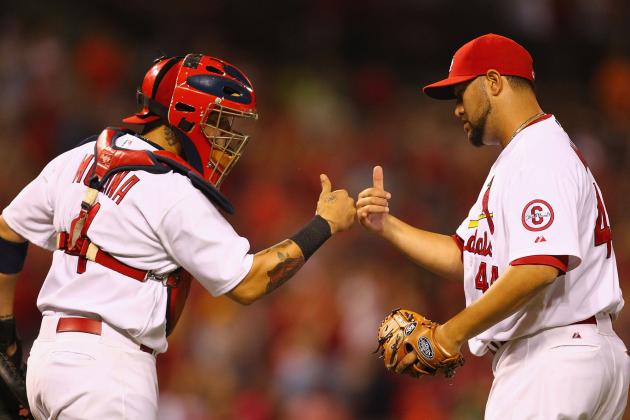 Dilip Vishwanat/Getty Images
Closer Edward Mujica only collected four saves prior to 2013.
Despite having lost Chris Carpenter, Rafael Furcal and Jason Motte even before the season began, the surging St. Louis Cardinals (57-36) still possess the best record in the National League.
The Cardinals' success in 2013 is in part due to the emergence of Matt Carpenter, Shelby Miller, Trevor Rosenthal and Edward Mujica.
When Furcal was knocked out for the year in March, Carpenter quickly became the Cardinals' new leadoff man. The 27-year-old second baseman has posted a .321 batting average, park-adjusted 146 OPS+ and league-leading 28 doubles.
Shelby Miller and Trevor Rosenthal, both highly touted pitching prospects, have helped the Cardinals at different ends of the game. Miller's performance in 2013 has received Cy Young Award chatter, hurling a 2.92 ERA (versus park-adjusted 126 ERA+), 1.11 WHIP and 3.86 K/BB.
Like Miller, Rosenthal has been one of the game's best pitchers too—but as a setup man. The 23-year-old boasts an average 97.2 mph fastball and has tortured opposing hitters with a 13.6 K/9.
Rosenthal is certainly a future closer, but for the time being, the Cardinals have gladly handed the ball to Mujica in the ninth. The 29-year-old has pitched to the tune of a 2.20 ERA (versus park-adjusted 168 ERA+), 0.73 WHIP, 17.00 K/BB and 26 saves.
With a collective .753 OPS (fifth-best), 3.33 rotation ERA (second-best) and 3.56 bullpen ERA (16th-best) the Cardinals are arguably the best team in the National League. Even without home-field advantage, it's hard not to favor a team that's won two rings in seven years.
Record at Home: 27-16
Record on Road: 30-20
World Series Odds: 4-1