The Signature Highlights from Each of College Basketball's Top 20 Stars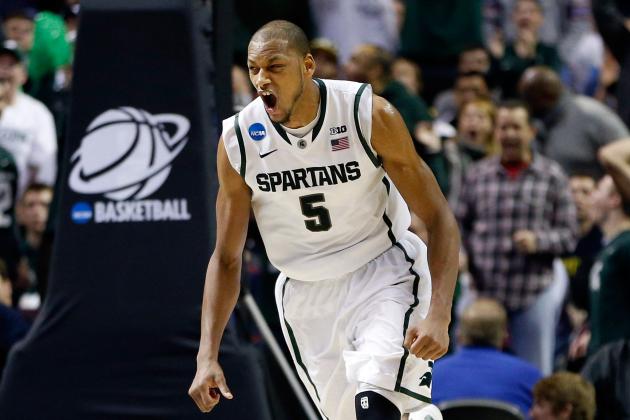 Gregory Shamus/Getty Images

There's no shortage of variety among college basketball's biggest names for next season, and that diversity makes for an impressive array of individual highlights. From three-point marksmen to high-flying dunkers to lockdown defenders, pretty much every style of play will have its representatives at the top level of college hoops in 2013-14.
One player who combines several of those virtues is Michigan State's Adreian Payne. The mobile PF is shown here celebrating a big play against Memphis in the NCAA tournament, and his enthusiasm is well warranted by the heights he reached in that game.
Herein, a look at Payne's second-round heroics, along with the highlights that best define each of the rest of the 20 brightest stars in the country.
Begin Slideshow

»
There's no shortage of highlights of Julius Randle's dunking prowess, and the Kentucky freshman-to-be will certainly get his share of jams next season.
However, the highlight that really captures Randle's value to UK is the montage of his 40-point outburst in Texas' state semifinals (shown midway through this countdown).
Few freshmen, and especially those with the size and strength of a 6'9" power forward, have the variety of offensive moves that Randle boasts.
The combination of finesse, power and shooting range that he shows off in this clip is a big part of the reason he's the likely scoring leader for a preseason Final Four favorite.
Ordinarily, Chane Behanan's workmanlike style doesn't lend itself to flashy highlights. However, the same strength and quickness that make him such a force on the glass for Louisville occasionally get a more TV-friendly outlet.
When Louisville's pressure forced a quick transition turnover during last year's visit to DePaul, Behanan got a rare chance to flaunt his dunking ability.
With plenty of runway and only one undersized defender, the rising junior power forward rose in a big way to throw down one of the best dunks of 2012-13.
As with many top-notch point guards, Kendall Williams' value to New Mexico shows up better in the win column than in any individual stat.
By the same token, Williams' definitive highlight is less about his own great moment and more about what it meant for his team.
Although this isn't the most explosive 360-degree dunk you'll ever see—indeed, it isn't even the best one in this slideshow—it starts, appropriately, with a turnover forced by New Mexico's tenacious defense.
For Williams and his mates, the ensuing slam comes as an apt finale to a hard-won championship: the Lobos' second straight year of capturing the MWC tournament title to go along with the regular-season conference crown.
Davante Gardner's below-the-rim approach to the game doesn't produce many roof-raising moments, but it has its own appeal for Golden Eagles fans.
A blue-collar forward in the best Marquette tradition, Gardner finds a much better expression of his game in a straightforward play such as this putback in a win over LSU.
At 6'8", 290 lbs, the rising senior is all about power, getting position with his wide body and finishing the shot through contact.
The highlight wouldn't be complete without a free throw, as Gardner both gets them (almost one attempt per four minutes of playing time) and makes them (.835) at an extraordinary clip.
While Jack Cooley occupied defenders in the middle, Jerian Grant quietly led Notre Dame in scoring last season. The lanky point guard was far from quiet, though, at the end of regulation in what became an epic home meeting with Louisville.
The Irish trailed by a 10-point margin when Grant ignited, draining three three-pointers in barely 30 seconds.
A concluding three-point play tied the game and sparked a five-OT marathon, to say nothing of putting Grant himself firmly on the national radar heading into his senior season.
With his 7'0", 250-pound body, Alex Kirk has the size to overwhelm most college opponents, especially in the mid-major Mountain West. It's all the more impressive, then, that New Mexico's towering center has also developed a shooting touch to match his bulk.
He showed off both assets in last season's home date with San Diego State, as captured in quick succession in this highlight package.
Kirk backs down a hopelessly undersized defender for a jump hook, then steps out to the wing and strokes a rare three-pointer (one of just 13 he hit in his terrific sophomore campaign).
Even if Jabari Parker had come out on top in the dunk contest at the McDonald's All-American festivities, those highlights alone wouldn't have done him justice.
The Duke-bound small forward has too broad of a skill set to show off in a few acrobatic finishes, especially because his defense is such a big part of his value.
Parker did plenty more than dunk in the ensuing All-America Game, and one particular highlight sequence from that night encapsulates his game especially well.
After driving past national No. 1 recruit Andrew Wiggins for the and-one finish, the 6'8" Chicagoan soars for a decisive rejection on 6'10" Kentucky-bound center Dakari Johnson.
With another 7'1" center, you might well expect his defining highlight to be a powerful dunk or a ringing rejection. Indeed, Isaiah Austin supplied plenty of each of those for Baylor as a freshman, but nothing typified his season like the three-point shot.
The lanky Austin spent much of the season hovering around the arc, using his mobility and length to fire up jumpers over outmatched defenders.
This pick-and-pop finish in a home win over Lehigh is a great example, as Austin passes up a hole in the middle of the Mountain Hawks defense to hang back and drain a trey off the pass from Brady Heslip.
The fact that Shabazz Napier has highlights from the 2012-13 season at all is worth mentioning, considering that the star point guard could easily have left UConn for another school or the NBA.
Instead, he stuck out a postseason-banned year that opened with this meeting with Michigan State on a military base in Germany.
Napier is in his element here; he's doing everything a single player can do to help the Huskies win (as they eventually did in a 66-62 upset).
The steal-and-alley-oop combo blends two of his best skills, even if it skips over the scoring punch that became so vital to his team a season ago.
Most of Glenn Robinson III's freshman season was spent playing out of position against power forwards, banging with bigger, stronger opponents under the glass.
When Robinson got a chance to get out and run, though, he showed off the sparkling athletic ability he inherited from his NBA All-Star dad.
On this easy steal against Minnesota, Robinson (a natural small forward with tremendous explosiveness) got to show what he's really made of.
An open runway and a prohibitive lead on the nearest defender sets up a dunk-contest favorite in the middle of a typically grinding Big Ten conference game.
When it comes to point guards in the recruiting class of 2013, there's Andrew Harrison and there's everyone else.
One major reason for that gulf is Harrison's ability to shine equally bright as either a primary scoring option or as a creator and playmaker.
In a pair of AAU highlights from this extended reel, the soon-to-be Wildcat (wearing No. 5) provides a bullet-point version of his well-rounded offensive game.
An eye-catching bit of ball-handling lets him draw the defense and set up a baseline finish for twin brother Aaron, but when Andrew gets open on the fast break on another possession, he's the one rising for the power dunk.
As with so much of North Carolina's 2012-13 season, James Michael McAdoo's performance against Indiana was the best part of a disappointing game.
The mobile power forward had an up-and-down night, but one string of first-half plays let him show off the scoring instincts that have him ready to challenge for All-America standing as a junior.
Squaring off with Indiana's frontcourt length, McAdoo beats it with strength (posting up freshman Jeremy Hollowell) and skill (stepping back to nail a jumper over senior Christian Watford).
On the ensuing possession, IU's Will Sheehey fouls him at the free-throw line, a wise decision when the alternative is to let the high-flying Tar Heel get a head of steam going to the rim.
Only Aaron Craft could get his signature highlight on a play that doesn't even show up on his line in the box score. The Ohio State PG is the country's most tenacious (and productive) defender, a talent that goes far beyond the stats he puts up.
With the Buckeyes clinging to a late lead on the road at archrival Michigan, he takes on Wolverine guard Nik Stauskas, chasing him across most of the breadth of the court.
When Stauskas finally loses the handle and falls out of bounds for a turnover, Ohio State gets possession on a play Craft made without even touching the basketball.
Rising senior C.J. Fair is the best player on the Syracuse roster and a leading contender for ACC Player of the Year.
Among the biggest reasons he's in a position for a monster year after serving as Michael Carter-Williams' right-hand man are his length (at 6'8") and his explosiveness when he gets even a hint of a runway.
Otto Porter Jr. learned about both of those assets, to his chagrin, in OT in the Big East tournament.
The No. 3 pick in last month's NBA draft found himself on the wrong end of one of Fair's celebrated power dunks as the Orange earned a much-needed postseason victory.
Adreian Payne is one of the rare players who actually chose to stay another year in college when he appeared to have been ready for the leap to the NBA.
The strongest element of his pro resume is a striking combination of power-forward size (6'10", 240 lbs) and small-forward finesse, both of which he showcased against Memphis in the NCAA tournament.
Payne starts off the play on the defensive end, using his quickness and length to smother D.J. Stephens when the Tiger swingman appears to have a clear path to the rim.
Trailing the play down the floor, Payne then takes the pass from Denzel Valentine and demonstrates his newest weapon, a soft touch on a mid-range jumper to add to the Spartans' lead.
Doomed to anonymity outside the Pacific Time Zone, Jahii Carson almost carried Arizona State to the NCAA tournament single-handedly.
Failing that, the explosive scoring point guard made the best of his chance to put on a show against Detroit in the Sun Devils' NIT opener.
The 5'10" Carson is a fine passer, but on a thin roster he made a far bigger impact with his shot.
This series of buckets against Ray McCallum and the Titans provides an object lesson in how easily Carson can slice through a defense (in transition or the half-court) or shoot over it when left with an opening.
Any set of Andrew Wiggins highlights will make it obvious that the incoming Jayhawk freshman has NBA athletic ability. What makes the middle of this particular reel stand out is its portrayal of the many ways the 6'7" small forward can use his physical tools.
In addition to his ubiquitous high-flying dunks, Wiggins shows flashes of his skill as a passer, shot-blocker and ball hawk. It's that versatility—plus a solid jump-shooting touch—that gives him such limitless potential as the latest face of the Kansas program.
The perception of Creighton as being a one-man team during Doug McDermott's career can easily be overblown.
Still, the super-scorer has a tendency to turn games into his own personal highlight packages on a regular basis, as he did in clinching the MVC title with a win over Wichita State last March.
The early stages of McDermott's 41-point outburst provide a nice microcosm of his varied offensive game.
Whether he's beating defenders off the dribble, from the post or with his peerless catch-and-shoot game, the rising senior is the best offensive weapon in the college ranks.
The defining game of Marcus Smart's freshman year at Oklahoma State came in the Cowboys' visit to mighty Kansas.
Undaunted by the Phog Allen Fieldhouse crowd or the then-No. 2 Jayhawks, Smart led a mammoth upset with a career game on both ends of the floor.
That effort got off to a quick start with this steal-and-score pairing in the early minutes of the game.
Always an aggressive defender, Smart sees his opportunity to pick off a sloppy pass. He then attacks the paint in transition and uses his size, strength and speed to beat a premier shot-blocker (Jeff Withey) and finish with a thunderous dunk.
For the most part, the innumerable steals that Russ Smith turned into fast-break buckets en route to the national title are all equally well suited to emphasizing the Cardinals star's frenetic style.
The most appropriate of the lot, though, is a turnover he converted into a layup against Duke during the Battle 4 Atlantis tourney.
The opportunistic Smith grabs a deflection and dashes for the rim, but this time he can't beat the Blue Devil defense down the floor.
Undeterred, the 6'1" guard challenges three bigger defenders for a circus layup that—like so many wild shots from his 2012-13 season—finds the bottom of the net.