The Good, the Great and the Awesome from Raw 7/15/13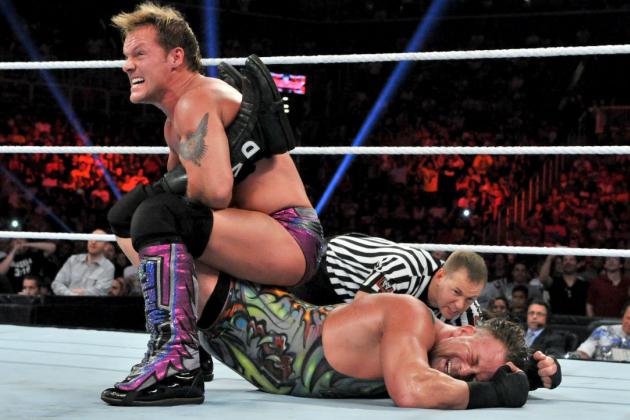 Photo Credit: WWE.com
Just 24 hours removed from WWE's Money in the Bank pay-per-view, Monday Night Raw emanated from the beautiful Barclays Center in Brooklyn, New York.
On the heels of the best pay-per-view of 2013 (so far), the sports entertainment empire delivered one of the finest episodes of its flagship program in years.
A night of solid wrestling matches and phenomenal angle advancement was capped off by a pay-per-view-quality main event featuring the returning Rob Van Dam taking on Chris Jericho and a promo segment in which Daniel Bryan's summer-long elevation continued, with John Cena choosing him as his SummerSlam opponent.
Elsewhere on the show, Brad Maddox had a great first night as Raw GM, despite Triple H and Stephanie McMahon's attempts to sway his decision-making. Mark Henry and Cody Rhodes officially switched from villains to heroes, while Dolph Ziggler and AJ Lee split rather unceremoniously.
The Wyatt family made another tremendous impact, Randy Orton continued his winning ways and the never-ending Funkadactyls-Bella Twins rivalry was represented as Naomi took on Brie.
And let's not forget CM Punk and Paul Heyman delivering the goods on the mic, while Brock Lesnar once again showcased his animalistic brutality.
The July 15 edition of Raw may very well go down as a night in which the landscape of World Wrestling Entertainment began to change for good, with the young stars being spotlighted and two veterans of the ring wars proved they could still deliver when called upon.
This is the good, the great and the awesome from Monday night's broadcast.
Begin Slideshow

»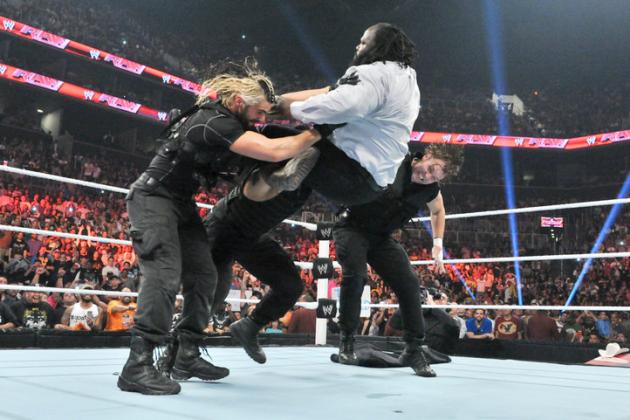 Photo Credit: WWE.com
Cody makes the turn
Moments after Christian defeated Damien Sandow in a competitive singles bout, Sandow immediately grabbed hold of a microphone and addressed the WWE Universe to a chorus of boos. He would be interrupted, however, when Cody Rhodes hit the ring and delivered a beatdown that cemented his baybface turn and ignited a rivalry that has the potential to elevate both performers over the course of this summer.
The most important aspect of the entire segment is the fact that Rhodes delivered a performance that equaled the intensity of Sunday night's, and the fans once again reacted loudly for him. Any chance he had at a successful babyface turn could have died a slow death Monday night, but it did not, and now fans can enjoy what should be a very entertaining rivalry between two highly talented young Superstars.
Mark Henry does, too

One night after tapping out to the STF at the hands of WWE champion John Cena, Mark Henry made his way to the ring to address the WWE Universe. He made no excuses for his loss to Cena, instead making his case for a rematch at SummerSlam.
He would be interrupted moments later as Dean Ambrose, Seth Rollins and Roman Reigns of The Shield stalked towards the ring. They surrounded the squared circle and appeared ready to pounce on Henry like three lions on an antelope, but "the World's Strongest Man" showed no signs of fear. He ripped off his jacket and welcomed the three young champions to attack.
They did just that.
Henry fended off The Shield for a moment, but eventually the numbers game proved to be too much. Ambrose and Rollins hoisted Henry onto Reigns' shoulders and the trio delivered an awe-inspiring triple power bomb to Henry, leaving the big man lying unconscious before posing over his fallen body.
While there is no ready explanation for The Shield's attack on Henry, the babyface turn and the potential for a rivalry between the two parties is enough to warrant a thumbs-up.
At least for now.
McMahon family drama

On his first night as Raw General Manager, Brad Maddox did a solid job of setting up matches and allowing John Cena to pick his SummerSlam opponent. Perhaps his best backstage segment came when Stephanie McMahon and Triple H addressed his decision-making, trying to sway what he was doing as some sort of revenge against Mr. McMahon for naming the former assistant to Vickie Guerrero as the permanent GM of the flagship program.
They made him second-guess his decision to allow Cena to pick his next challenger while creating doubt in his mind as to why Vince actually chose him for the job. To his credit, Maddox played the clueless putz excellently in all of his segments throughout the evening while Stephanie and Triple H were entertaining as they attempted to pull one over on the chairman.
Quick and painless segments such as this, in which the McMahon dissension continues without eating up too much time, are exactly what that story needs in order to be told efficiently. Long, drawn-out promos that take time away from younger talent and featured programs will only earn the scorn of fans.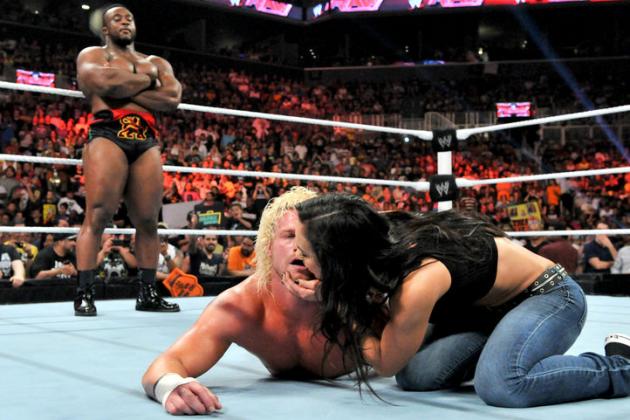 Photo Credit: WWE.com
Dolph and AJ call it quits; AJ calls Big E.

Prior to his World Heavyweight Championship rematch against Alberto Del Rio, Dolph Ziggler met up with AJ Lee in the backstage area. The current Divas champion attempted to apologize again for costing Ziggler the title Sunday night at Money in the Bank, but WWE's resident Show Off wanted nothing to do with AJ's pleas for forgiveness. He broke up with her, setting in motion the events that would doom Ziggler's attempt to regain the World title moments later.
Late in the World title bout between Ziggler and Del Rio, the challenger appeared poised to recapture the title he worked so hard to win in the first place. He flattened the champion and was seconds away from victory when the ring bell rang prematurely and the audience, referee and wrestlers were left in a state of confusion. Ziggler looked down at ringside and spotted AJ, who had come to ringside under the veil of a hoody and rang the bell to distract her former boyfriend.
Seconds later, Del Rio would deliver a hard kick to the back of the head and pin Ziggler to retain his World title.
Dolph would recover and confront AJ but would immediately regret it. Big E. Langston came from out of nowhere, running over Ziggler and leaving him lying following the Big Ending (worst name for a finishing move in wrestling, by the way). AJ would give the unconscious Ziggler a kiss goodbye before exiting the ring, looks of euphoria and heartbreak alternating across her face.
The breakup was necessary if fans were to completely get behind Ziggler as a babyface. Now the target of a scorned ex-girlfriend and her massive hired muscle/best friend, Dolph will be involved in a story in which it will be far easier for him to play the babyface than simply having a series of matches with the heel World champion.
"...follow the buzzards"

R-Truth was preparing for action on Monday's Raw when The Wyatt Family video played on the Titan Tron, signaling their arrival at the Barclays Center. The fans in Brooklyn erupted as Bray Wyatt led Erick Rowan and Luke Harper to the ring, taking a seat and blowing out his lantern, leaving the arena in complete darkness. Seconds later, the lights came up and the two massive followers of Wyatt assaulted R-Truth and sent him to the arena floor.
Wyatt would then enter the squared circle and address the fans. He questioned their need for heroes before catching R-Truth out of the corner of his eye. A steel chair in hand, Truth threatened Wyatt, who welcomed the former US champion to take a shot. It was a clever ploy as Harper and Rowan distracted Truth and left him open to attack by Wyatt.
After quickly dispatching Truth, the leader of the Wyatt family would state, "you are not the truth we seek. Kane, follow the buzzards."
Bray Wyatt's promo was phenomenal in that it came across as a sermon being delivered by a brainwashing prophet, a character which has not been done with such conviction and as believably as Wyatt has portrayed it. His message to Kane at the end of the segment seems to indicate that the "Big Red Monster" will somehow be involved in the Family's first feud.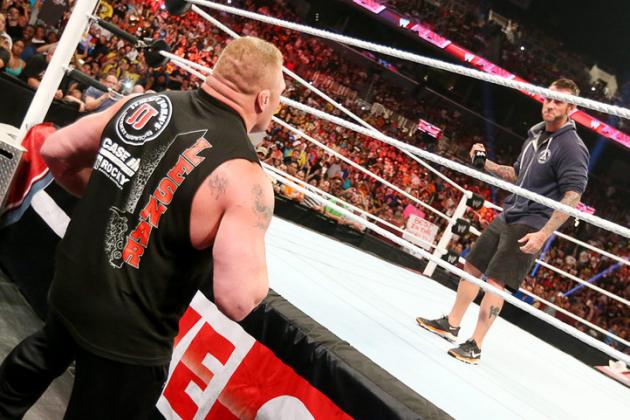 Photo Credit: WWE.com
"I'm going to get you!"

Twenty-four hours after being betrayed by his best friend and closest confidant Paul Heyman, CM Punk wasted little time in calling him and Brock Lesnar out. What followed once Heyman appeared on the entrance ramp was one of the truly great segments in recent Raw history.
Heyman got personal, retelling the story of his and Punk's relationship before pointing out the lack of family and friends Punk has. He finished his lengthy rant by stating that he betrayed Punk because he knew he could not be Brock Lesnar anyway.
Punk responded, vowing to take down anything and anyone Heyman loved or cared about in order to get his hands on him. Punk promised to "burn down" everything around his former friend until he was the only thing left standing. Then, he would leave Heyman alive just long enough to toy with him before finally getting his hands on him.
Paul looked concerned by Punk's threats but then, after mocking the former WWE champion's "it's clobbering time" entrance, introduced Brock Lensar. Punk and Lesnar would engage in a tremendous brawl that saw the smaller man continuously bringing the fight to the much larger beast of a man before finally succumbing to an F5 onto the announcers' table.
Heyman and Lesnar left to a chorus of boos while Punk fought to his feet, refusing medical care and leaving on his own volition.
The segment was a great old-school wrestling production, the kind that fans in their 20's and older grew up with. The issue was immediately recognizable, there was real emotion in the voices of the performers and the brawl seemed 100-percent legitimate. It is the easiest way to get even the most casual fans invested in a feud and it worked as well as any other non-wrestling match segments in Raw this year.
Rob Van Dam vs. Chris Jericho

One night after making his return to World Wrestling Entertainment at Money in the Bank, Rob Van Dam silenced any and all critics who may have doubted his ability to deliver at his age when he and Chris Jericho delivered a pay-per-view-quality match on free television.
Van Dam and Jericho picked up right where they left off 10 years ago, never missing a beat and improving upon their very good 2002 King of the Ring semifinal round match, which saw RVD deliver a Five Star Frog Splash to Jericho for the win.
Things ended similarly for Jericho Monday night when Van Dam exploded off the top rope with his trademark finish maneuver and picked up the pinfall victory.
There was no backstory to the match, nor was there any real reason for the two to be fighting other than to impress Brad Maddox and John Cena. But the fans did not care, enjoying every second of Jericho and Van Dam's classic wrestling match.
As the should have.
John Cena. Daniel Bryan. SummerSlam. YES!
At the beginning of Monday's Raw, General Manager Brad Maddox announced that John Cena would be allowed the opportunity to hand-pick his SummerSlam opponent later in the evening. With WWE Superstars crowding the stage, they awaited the WWE champion's decision.
Cena played to the audience, allowing them to voice their opinions on a number of Superstars before announcing his selection. The audience erupted into chants of "YES!" and "Daniel Bryan" as Cena dragged out the segment for the sake of drama. Seconds later, he announced that he would defend the WWE title at SummerSlam, and the crowd inside the new Barclays Center erupted.
Bryan made his way to the ring and celebrated the decision as Raw went off the airways.
The beauty of the entire show-closing segment was its simplicity. John Cena went to the ring to pick his next challenger. He allowed fan interaction, letting the WWE Universe feel like it was a part of the decision, and it was a stronger segment due to their involvement. Picking Bryan, who has been the hottest performer in the sport all summer and was the overwhelming fan choice, was merely the cherry on top of a magnificent sundae.
The image of fans repeatedly raising their fingers in the air and chanting "YES!" as Bryan celebrated to end the evening's broadcast was one of those truly great moments that only pro wrestling can deliver.