Arsenal Transfer Tracker: Week of July 15 News and Rumours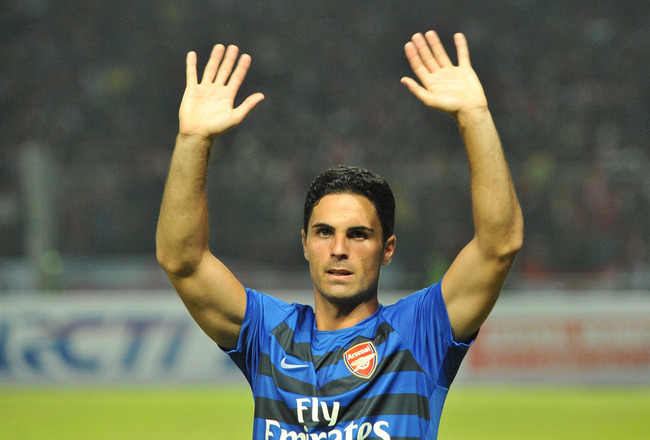 Robertus Pudyanto/Getty Images
Any Internet-browsing Arsenal fan will be bombarded with transfer rumors during every online sojourn this summer. Most will be false, and many of those will neglect the team's actual needs.
So where do the Gunners actually have to improve this summer?
While Arsenal are not quite as bad as some of the more pessimistic pundits would have you believe, their fourth-place finish—and struggle to get there—indicates that there is ample room for additions to the squad.
Let's look at four of the biggest areas that Arsene Wenger needs to look at.
---LAST UPDATED: WED. JULY 17---
Could Gonzalo Higuain Actually Stay at Real Madrid?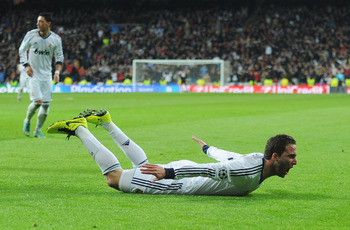 Gonzalo Arroyo Moreno/Getty Images
---UPDATE: WED. JULY 17---
Incredibly, it looks as though there is a path back into the Santiago Bernabeu for Real Madrid striker Gonzalo Higuain.
Papers like The Guardian have reported for weeks that Higuain is on the precipice of sealing a move to North London, and the Argentine's brother even said that he "cannot deny" that his more athletic sibling "is now close to Arsenal."
Not if Real Madrid president Florentino Perez has anything to say about it. Via The Mirror:
We don't want Higuain to leave. ... What's more, no-one from Arsenal has come to us and made us any offers at all for him. There are no offers on the table.
If there is any truth to those words, many Arsenal fans will undoubtedly be overcome by a wave of bottled, distilled, vitriolic emotion composed primarily of profound disappointment and hopelessness.
Or at least something like that.
---END OF UPDATE---
Arsenal Ready to Up Their Bid for Luis Suarez
Michael Regan/Getty Images
In one of the less believable stories to emerge from the rumor mill recently, Arsenal are apparently ready to get more serious about their pursuit of Liverpool's embattled striker Luis Suarez.
Per David Hytner of The Guardian:
Arsène Wenger is determined to test Liverpool's resolve over Luis Suárez with an improved £35m bid. The Arsenal manager has lined up a deal for Real Madrid's Gonzalo Higuaín, with the Argentina striker having agreed personal terms in principle on a move to the Emirates Stadium. But the delay in signing Higuaín has come as Wenger explores the possibility of pulling off a coup by landing Suárez.
Therein lies the fallacy inherent in this story. It assumes that, simply because there is a snag in understandably complex negotiations with Real Madrid for one of their better players, Arsenal are suddenly turning their sights toward a controversial striker for £10 million more.
It reads suspiciously like a script.
Arsenal Could Make a Push for Ashley Williams After Thomas Vermaelen's Injury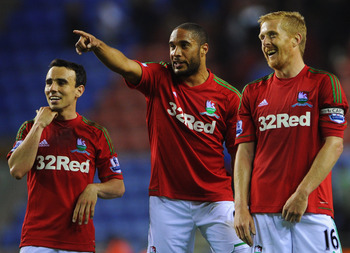 Michael Regan/Getty Images
After Arsenal skipper Thomas Vermaelen's back injury ruled him out of the club's entire preseason tour of Asia, per Sky Sports, the Gunners will travel the Far East with only two senior centre-backs.
That is unacceptable for any professional football club, let alone one with Arsenal's stated ambitions.
Therefore, Ashley Williams—who has been rumored to be on Arsene Wenger's radar for some time, via Daniel Taylor of The Guardian—is again being linked with a move to North London.
Williams faces a difficult choice: Swap Swansea for more money and, potentially, more prestige in North London while losing his automatic starting spot, or remain the captain and personification of the preeminent Welsh football club.
It is the sort of decision that every player must make individually. Ignasi Miquel, who completed a full 90 minutes against Indonesia Dream Team in Arsenal's first preseason friendly, will hope that Williams picks the latter option.
Keep Reading

Arsenal: Like this team?